Bourbon, Bands, and BBQ Comes to Bowling Green Ballpark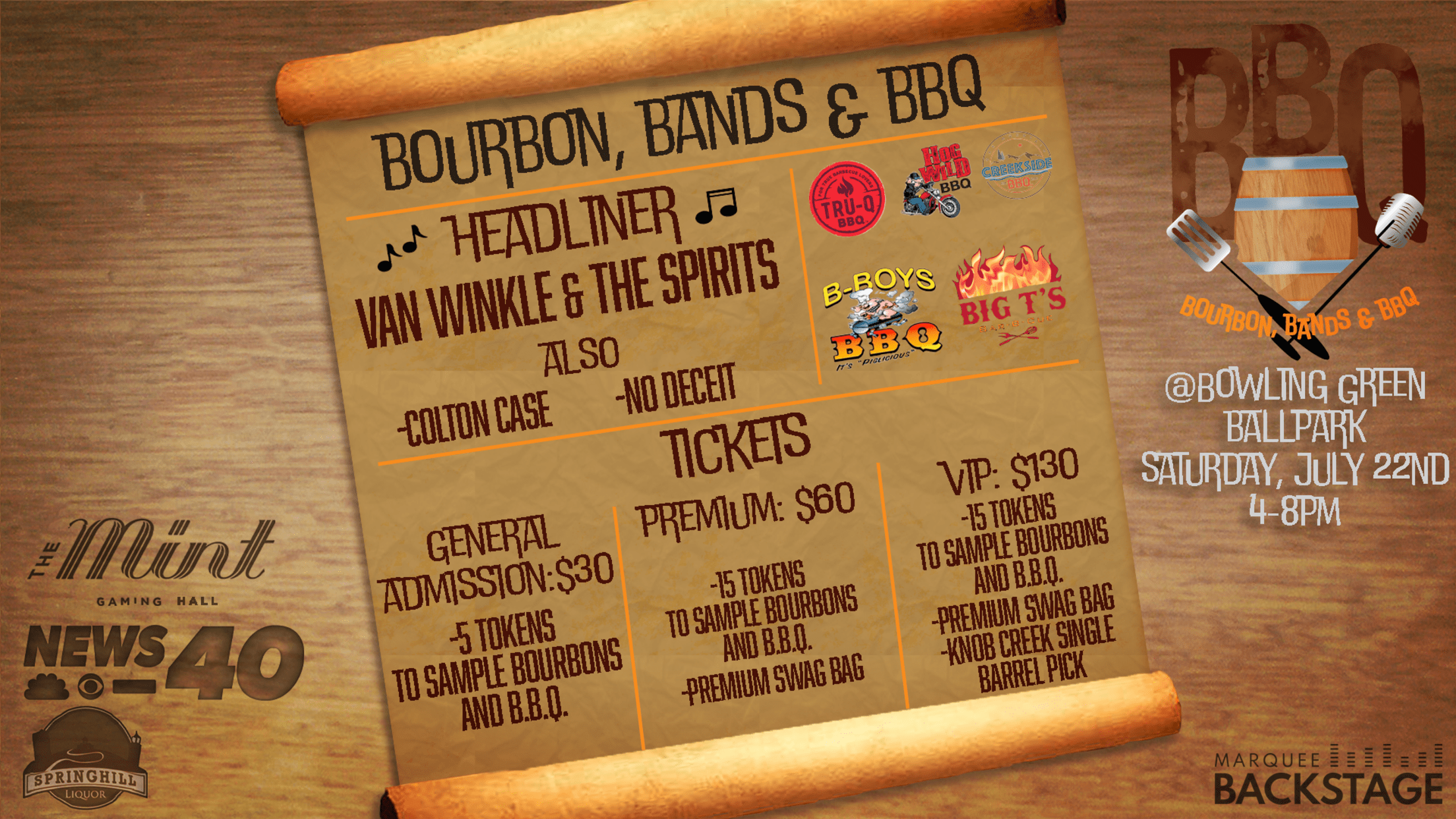 Bowling Green, Kentucky – Bourbon and Brewfest is excited to host another installment in its festival series. Bourbon, Bands, and Barbecue is coming to Bowling Green Ballpark on Saturday, July 22 from 4:00 to 8:00 PM, presented by The Mint Gaming Hall, SpringHill Liquors, and News 40. Three musical artists
Bowling Green, Kentucky – Bourbon and Brewfest is excited to host another installment in its festival series. Bourbon, Bands, and Barbecue is coming to Bowling Green Ballpark on Saturday, July 22 from 4:00 to 8:00 PM, presented by The Mint Gaming Hall, SpringHill Liquors, and News 40.
Three musical artists and bands will perform during the event, brought to you by Marquee Backstage. Colton Case and No Deceit will open, with the headliner, Van Winkle & The Spirits, performing afterwards. While the music is going on, grab food from one of the many barbecue vendors at the stadium. L B-Boys, Big T's, Tru-Q, Creekside BBQ and many others will have all your BBQ tastes covered.
Tickets are still available, along with tokens for the event. GA tickets are $30 (five tokens) and premium tickets are $60 (15 tokens, premium swag bag, access to the Performance Club and exclusive Bourbons) with only 350 still available. VIP tickets are $130 (Knob Creek Single Barrel Store Pick, 15 tokens, premium swag bag, access to the performance Club and exclusive Bourbons) with 75 tickets still available. Tickets can be purchased at bgbrewfest.com or by calling (270) 901-2121 to secure your spot today.
###
Bourbon and Brewfest