Parra Logs Three-Hit, Hot Rods Throttle Braves 10-2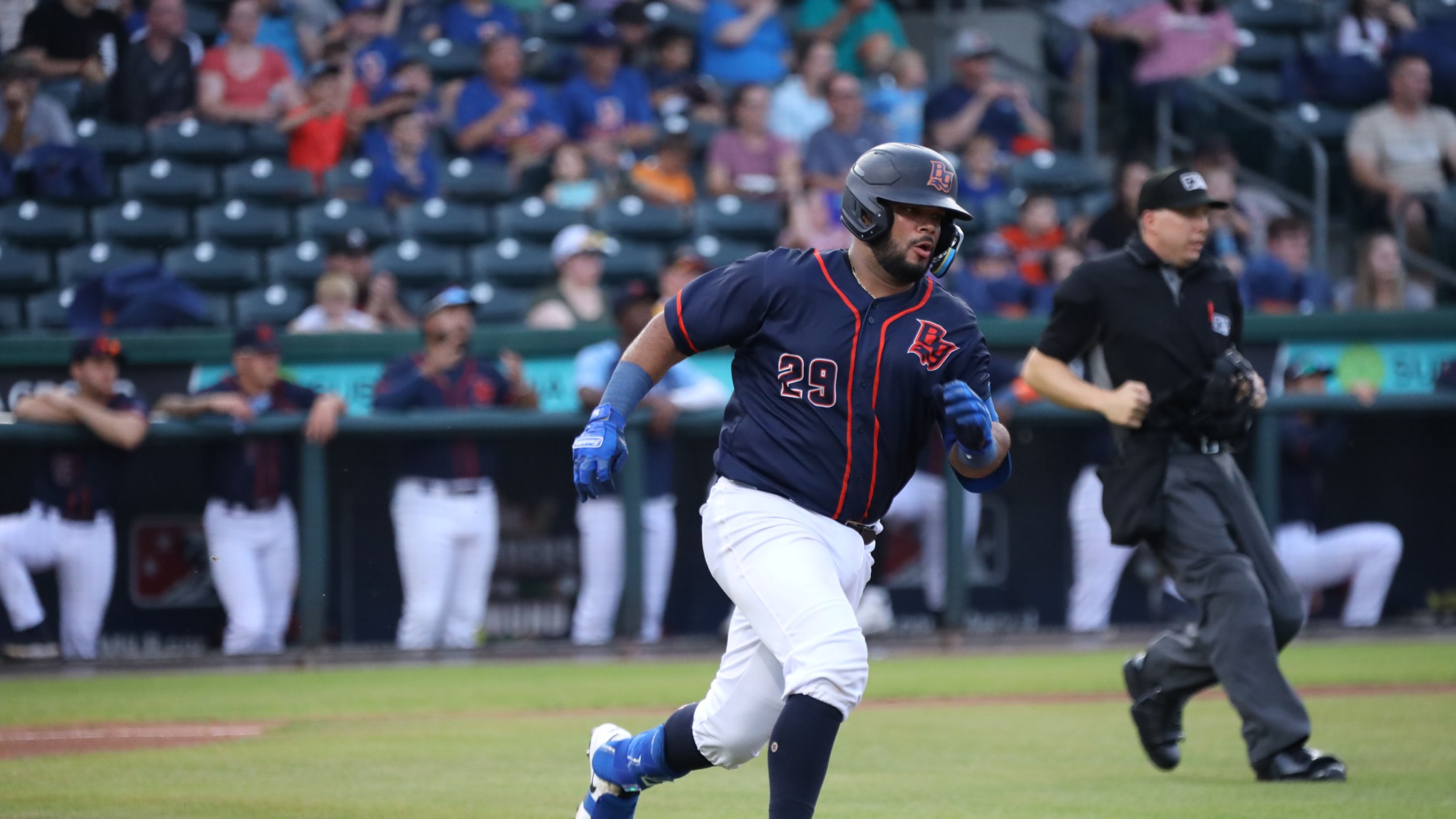 Bowling Green, Kentucky– The Bowling Green Hot Rods (23-24) collected seven extra base hits, including two doubles from Jeffry Parra that led to a massive 10-2 victory over the Rome Braves (24-27) on Sunday at Bowling Green Ballpark. The Hot Rods offense woke up in the bottom of the fourth
Bowling Green, Kentucky– The Bowling Green Hot Rods (23-24) collected seven extra base hits, including two doubles from Jeffry Parra that led to a massive 10-2 victory over the Rome Braves (24-27) on Sunday at Bowling Green Ballpark.
The Hot Rods offense woke up in the bottom of the fourth off Braves starter Hunter Riggins. Nick Schnell led-off with a single and scored on a double off the bat of Parra that put Bowling Green up 1-0. After Parra moved to third on a single from Blake Robertson, he scored on an RBI sacrifice bunt by Dru Baker that made it a 2-0 ballgame. Brock Jones plated Robertson on an RBI double that increased the Hot Rods lead to 3-0. Bowling Green went up 4-0 when Carson Williams drove in Jones on an RBI double to center.
Bowling Green scored again in the bottom of the sixth off Rome reliever Hayden Harris. Bob Seymour was hit by a pitch and moved up to second on a wild pitch. Kam James doubled to center, plating Seymour, moving the score to 5-0. In the bottom of the seventh, the Hot Rods increased their lead to six against Braves reliever Miguel Pena. Robertson was hit by a pitch and Jalen Battles walked to put runners on first and second. Baker singled home Robertson that put Bowling Green up 6-0.
In the bottom of the eighth, Seymour cranked a solo homer over the right field wall to increase the lead to 7-0. James walked and scored on an RBI double from Parra that made it an 8-0 ballgame. Parra scored on an RBI single from Jalen Battles that moved the score to 9-0. Baker put Bowling Green up 10-0 by driving in Battles on an RBI double to left. Rome scored two runs in the ninth off Hot Rods reliever Duncan Davitt, but Haden Erbe recorded the final out to carry Bowling Green to a 10-2 victory.
Keyshawn Askew (3-5) earned the win, striking out three and letting up two hits over 4.0 scoreless frames. Riggins (2-2) took the loss, going 3.0 innings while allowing three runs on six hits, two walks, and four strikeouts.
The Hot Rods enjoy a day off on Monday before beginning a six-game home series on Tuesday against the Winston-Salem Dash. First pitch is set for 6:35 PM CT.
Fans can catch all the action by watching on MiLB.tv or listening through the MiLB First Pitch App, tuning into Talk 104.1 FM and 930 AM WKCT, or visiting https://www.milb.com/bowling-green/fans/audio-listen-live.
###
Hot Rods Baseball