Peoples Punches Out 11, Hot Rods Win 5-2 in Greensboro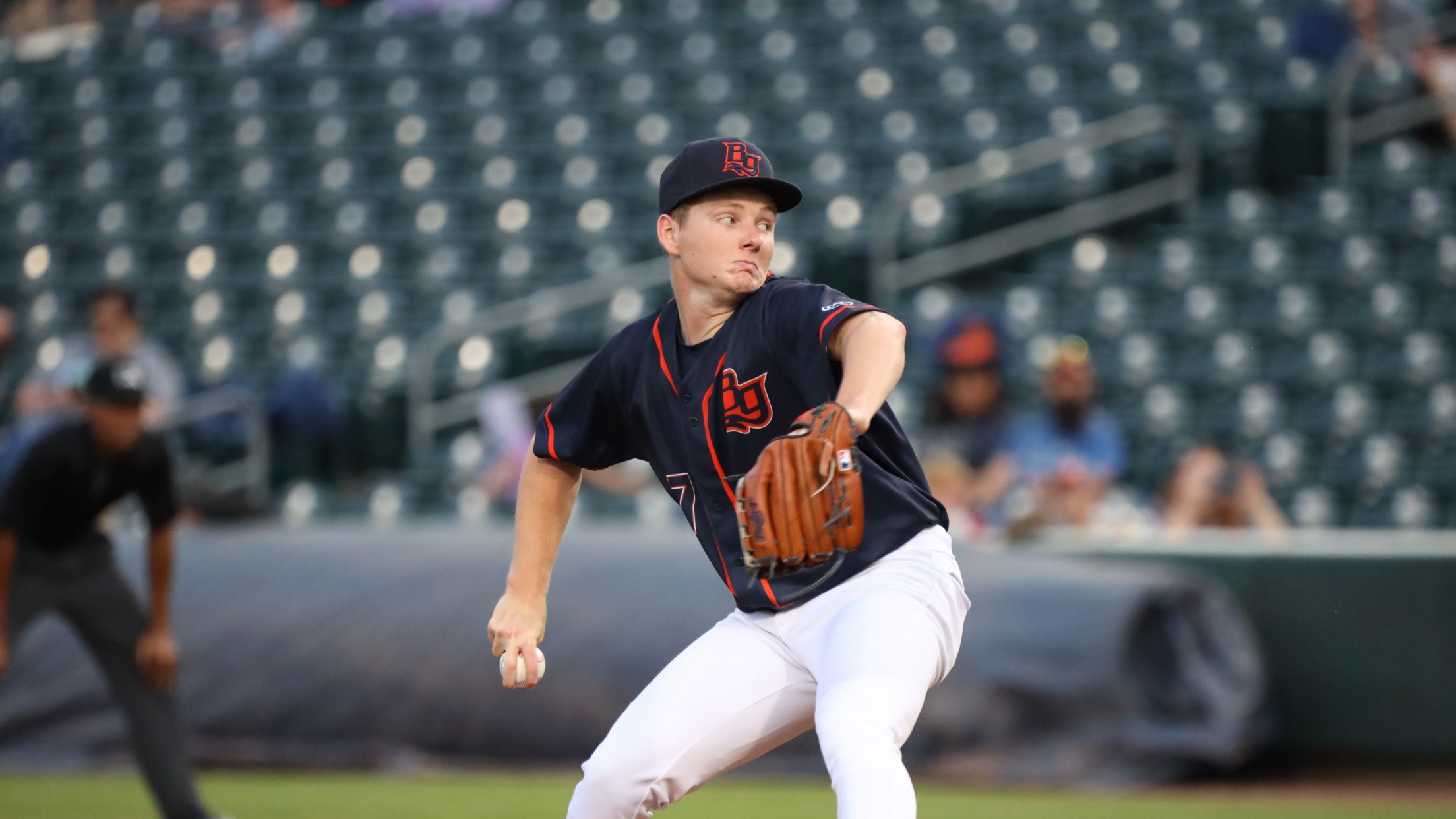 Greensboro, North Carolina – Ben Peoples collected a career-high 11 strikeouts and Bob Seymour extended his hitting streak to 15 with a 4-for-4 performance, carrying the Bowling Green Hot Rods (19-21) to a 5-2 victory over the Greensboro Grasshoppers (21-20) on Thursday night at First National Bank Field. The Hot
Greensboro, North Carolina – Ben Peoples collected a career-high 11 strikeouts and Bob Seymour extended his hitting streak to 15 with a 4-for-4 performance, carrying the Bowling Green Hot Rods (19-21) to a 5-2 victory over the Greensboro Grasshoppers (21-20) on Thursday night at First National Bank Field.
The Hot Rods notched the first run of the game off Grasshoppers starter Bubba Chandler in the top of the first. Carson Williams was hit by a pitch and moved up to second on a base hit by Junior Caminero. Left fielder Hudson Head made an error trying to corral the Caminero single, allowing Williams to score, handing Bowling Green a 1-0 lead. In the top of the fourth, Nick Schnell led off with a solo homer to center to make it a 2-0 ballgame.
Bowling Green increased their lead in the top of the sixth against Greensboro reliever Jaycob Deese. Jalen Battles walked and Blake Robertson singled to put runners on first and second. Dru Baker lined a double to left, plating Battles and putting the Hot Rods up 3-0. Two more runs came across for Bowling Green against Greensboro reliever Eddy Yean in the top of the ninth. Baker walked and Brock Jones singled to put runners on first and third. Yean balked, letting Baker score to make it 4-0. Jones scored on an RBI double off the bat of Seymour, increasing the Bowling Green lead to 5-0.
Greensboro plated two runs in the bottom of the ninth off Bowling Green reliever Antonio Jimenez, but Nate Dahle came in to record the final out and solidify a 5-2 Hot Rods victory.
Peoples (1-3) earned the win, allowing two hits and three walks to go along with his 11 strikeouts and 5.0 perfect frames. Chandler (2-2) picked up the loss, letting up two runs (one earned) on eight hits, seven strikeouts, and a walk over 4.2 innings. Dahle (2) obtained the save, creating a pop out with the last batter of the game.
The Hot Rods and the Grasshoppers play game four of a six-game series on Friday with first pitch set for 5:30 PM CT. Bowling Green is bringing out RHP Roel Garcia III (2-2, 3.20) to the mound, while Greensboro is starting RHP Valentin Linarez (0-3, 6.94).
Fans can catch all the action by watching on MiLB.tv or listening through the MiLB First Pitch App, tuning into Talk 104.1 FM and 930 AM WKCT, or visiting https://www.milb.com/bowling-green/fans/audio-listen-live.
###
Hot Rods Baseball