Vasquez Belts Game-Tying Homer, Hot Rods Fall in Extras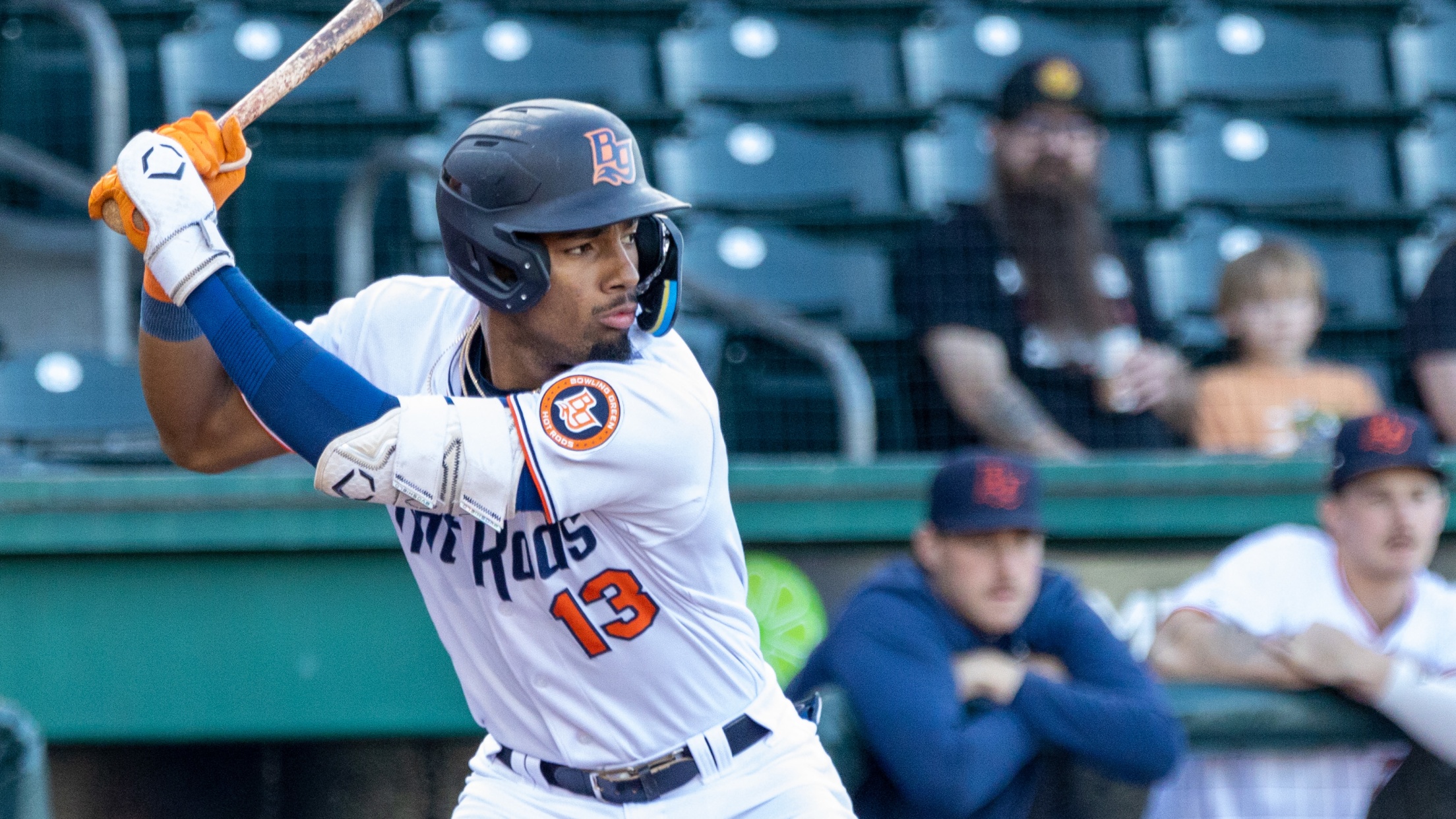 Greensboro, North Carolina – Willy Vasquez blasted a game-tying, two-run homer in the top of the fourth, but the Bowling Green Hot Rods (19-22) gave up a run in the bottom of the 10th to the Greensboro Grasshoppers (23-20) in a 4-3, extra-innings loss on Friday at First National Bank
Greensboro, North Carolina – Willy Vasquez blasted a game-tying, two-run homer in the top of the fourth, but the Bowling Green Hot Rods (19-22) gave up a run in the bottom of the 10th to the Greensboro Grasshoppers (23-20) in a 4-3, extra-innings loss on Friday at First National Bank Field.
The Hot Rods offense pounced early with a run in the top of the first off Grasshoppers starter Jack Carey. Dru Baker walked, stole second, and scored on an RBI single from Junior Caminero to put Bowling Green up 1-0. Greensboro answered back in the bottom half of the inning against Bowling Green starter Roel Garcia III. Tsung-Che Cheng worked a walk and was plated on a double by Abraham Gutierrez that made it a 1-1 ballgame.
After Greensboro took a 3-1 lead in the bottom of the second, Bowling Green tied it back up in the top of fourth off Grasshoppers reliever Valentin Linarez. Bob Seymour led-off with a single, lengthening his hitting streak to 16 games. Vasquez stepped up and lined a two-run homer to left, tying the game 3-3.
In the bottom of the 10th, Hot Rods reliever Kyle Whitten allowed an RBI sacrifice fly to Mike Jarvis, handing Greensboro a 4-3 victory.
Cy Nielson (1-0) earned the win, tossing 2.0 perfect innings while striking out three and allowing a hit. Whitten (0-2) took the loss, letting up a run on a hit, a walk, and two strikeouts over 2.2 frames.
The Hot Rods and Grasshoppers play the penultimate of a six-game series on Saturday with first pitch set for 5:30 PM CT. Bowling Green is starting LHP Keyshawn Askew (2-4, 6.39), while Greensboro brings out RHP Braxton Ashcraft (0-1, 2.53) to the mound.
Fans can catch all the action by watching on MiLB.tv or listening through the MiLB First Pitch App, tuning into Talk 104.1 FM and 930 AM WKCT, or visiting https://www.milb.com/bowling-green/fans/audio-listen-live.
###
Hot Rods Baseball