Bisons drop finale to St. Paul
Bisons were unable to solve St. Paul's pitching staff on Sunday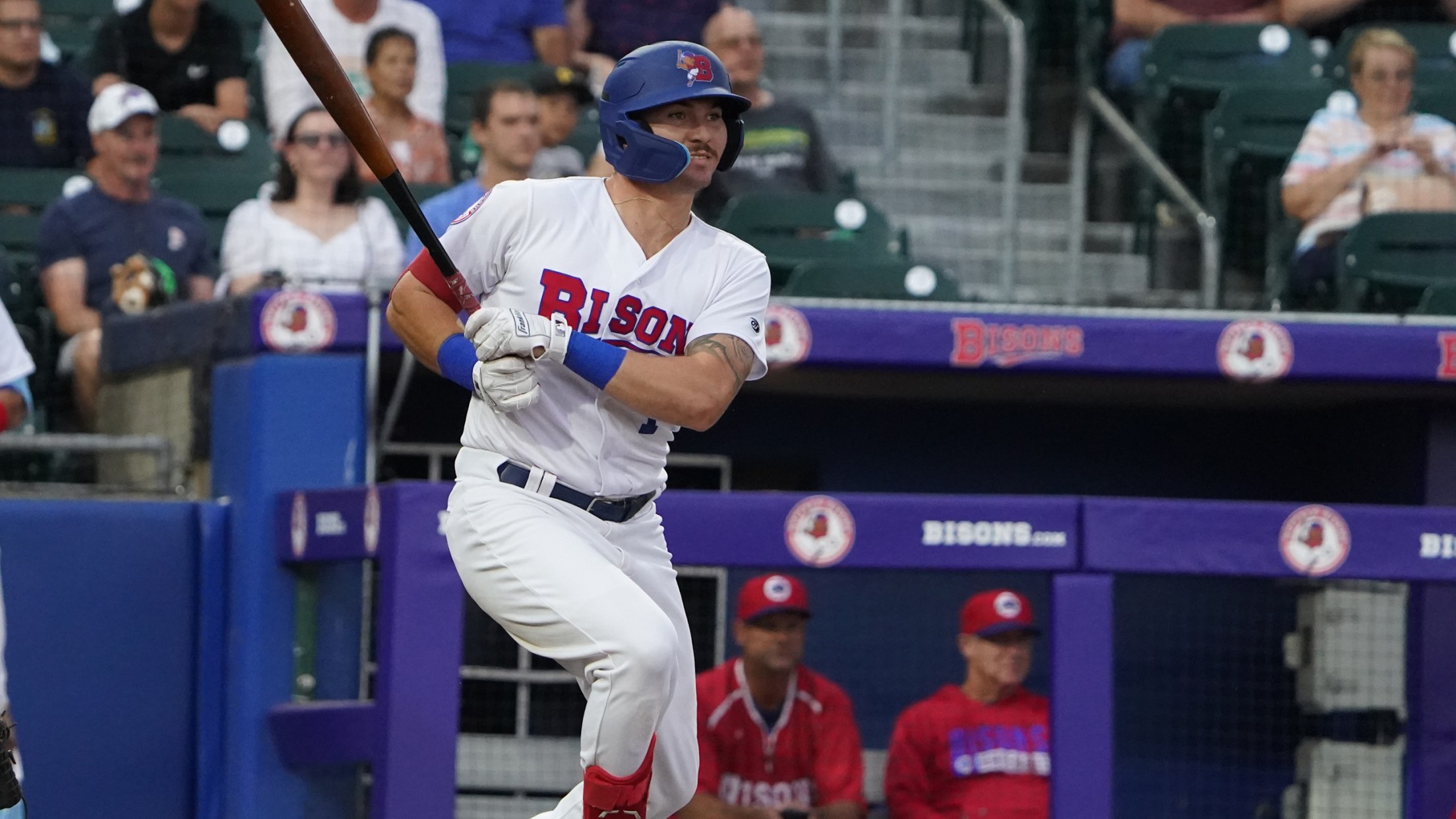 BUFFALO, NY— The Buffalo Bisons dropped the series finale against the St. Paul Saints on Sunday, losing 8-4 on a cool afternoon at Sahlen Field. Luis De Los Santos hit his first triple-A home run for Buffalo, and Herd starter Casey Lawrence worked 3.2 innings and took the loss. Andrew
BUFFALO, NY— The Buffalo Bisons dropped the series finale against the St. Paul Saints on Sunday, losing 8-4 on a cool afternoon at Sahlen Field. Luis De Los Santos hit his first triple-A home run for Buffalo, and Herd starter Casey Lawrence worked 3.2 innings and took the loss.
Andrew Stevenson sent Lawrence's first pitch of the day scorching through the infield and into right. Two batters later, Matt Walner doubled to the right field fence to score Stevenson and make the score 0-1, the only run St. Paul would score in the first.
Nine-year-old Albert from Cheektowaga Little League was the guest PA announcer for the bottom of the second inning at Sahlen Field, and he quickly proved to be good luck for the Bisons. After one quick out, LJ Talley lined Kenta Maeda's first offering into center. Then Albert announced Luis De Los Santos, and before he could even practice the next batter's name, De Los Santos lifted a home run over the left field fence, making the score 2-1 Bisons.
Buffalo went quietly the rest of the second, then Albert left the press box, and then in the top of the third St. Paul put up six runs. Stevenson started the rally with a triple, and then Jose Miranda drove him in with a single. Trevor Larnach walked next, and then Wallner hit his second double of the day to score Miranda.
The next batter, Edouard Julien homered to left center, driving in Larnach and Wallner. Mark Contreras and Alex De Goti continued the hit parade with consecutive singles through the infield, and then Tony Wolters was hit by a pitch to load the bases. After that, Elliot Soto grounded into a double play and Stevenson struck out to keep the score at 2-7.
The Saints increased their lead to 2-8 in the top of the fourth, when Julien doubled home Miranda.
Buffalo cut into the St. Paul advantage in the bottom of the eighth inning when Talley doubled home Rob Brantly to make the score 3-8. To start the bottom of the ninth, Rafael Lantigua doubled off the right-center field wall, and Wynton Bernard hit a sacrifice fly to score Brantly and make the score 4-8. That's where the score would stay.
The loss dropped the Bisons to 1-5 in the series against St. Paul. The Buffalo bullpen worked 5.1 innings consecutive scoreless to close out the game.
The Bisons have an off day on Monday, and after that the team travels to Toledo, Ohio, for a six game series with the Toledo Mud Hens. First pitch for game one of that series will be at 7:05 p.m. on Tuesday at Fifth Third Field in downtown Toledo.