Cabrera Cruises for Six Shutout Frames in Series-Clinching Win
Threshers Secure Fourth-Straight Home Series in 4-1 Victory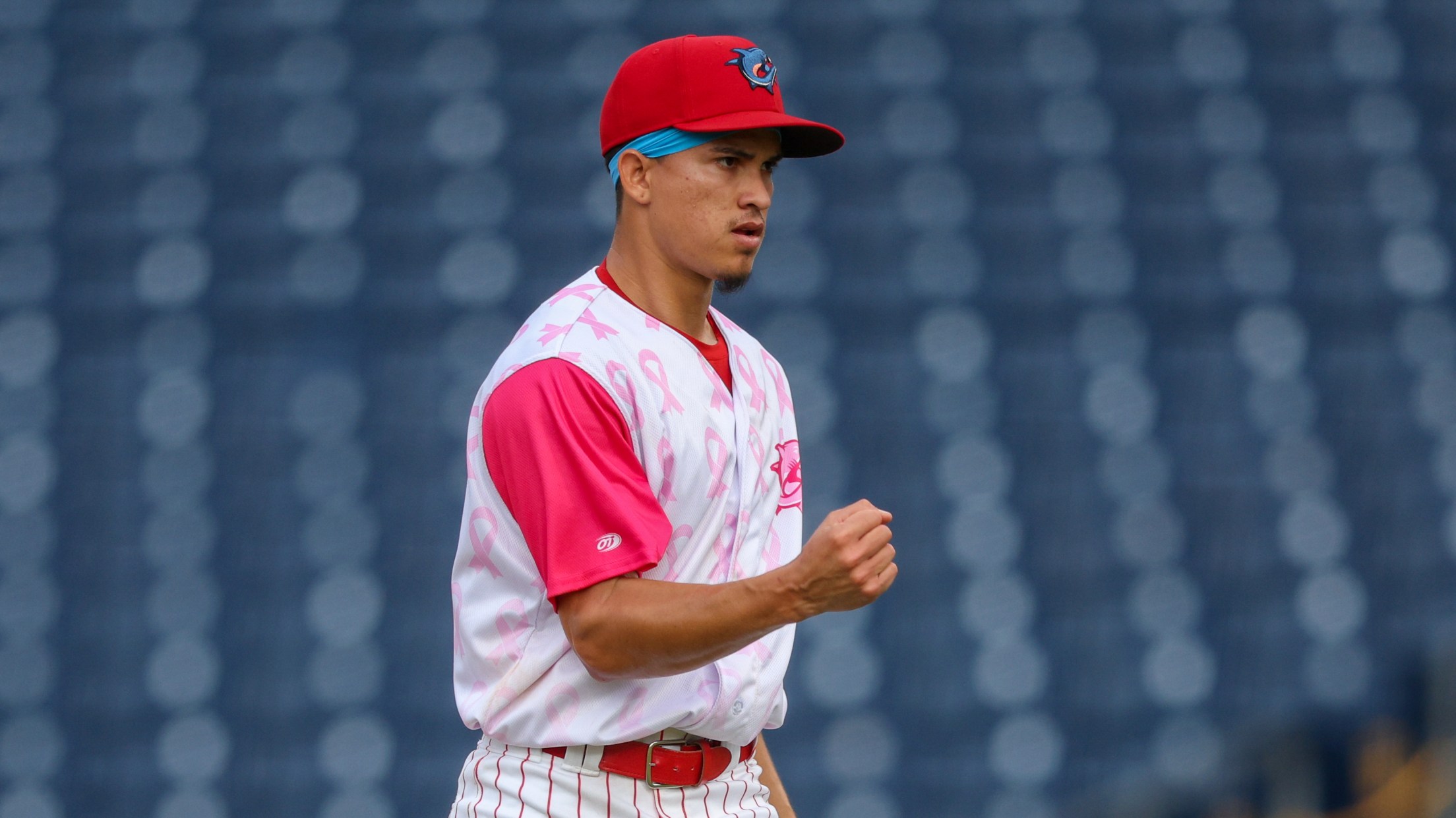 Jean Cabrera pumps his fist to celebrate one of his six shutout innings in a Threshers victory. (Nathan Ray)
WP: Jean Cabrera (2-2, 4.60) LP: Kendry Rojas (2-1, 2.29) SV: Wen-Hui Pan (1) BOX SCORE: CLEARWATER, FL – Jean Cabrera set a career-high with 6.0 scoreless innings as the Clearwater Threshers (35-13) led the entire game for the second-straight night in a 4-1 defeat of the Dunedin Blue Jays
WP: Jean Cabrera (2-2, 4.60)
LP: Kendry Rojas (2-1, 2.29)
SV: Wen-Hui Pan (1)
CLEARWATER, FL – Jean Cabrera set a career-high with 6.0 scoreless innings as the Clearwater Threshers (35-13) led the entire game for the second-straight night in a 4-1 defeat of the Dunedin Blue Jays (24-25) on Friday night at BayCare Ballpark. The Threshers and Blue Jays continue their series on Saturday evening in Clearwater.
Emaarion Boyd led off the game with an infield single, but an errant throw by Blue Jays third baseman Ryan McCarty allowed him to advance to second. He moved to third on a wild pitch by Dunedin's starter Kendry Rojas and scored on a sacrifice fly hit to left field by Bryan Rincon to give the Threshers a 1-0 lead.
Rincon sent the first pitch of the fourth into the leftfield corner for a leadoff double. With two outs in the frame and two strikes on him, Felix Reyes plated Rincon with a single to left to double the Threshers lead up to 2-0.
Ricardo Rosario led off the fifth with a single to left center and Erick Brito promptly drove him in with a single of his own. Brito advanced to second on the throw home and attempted to steal third during Rincon's at-bat. Brito stole the base safely and came around to score after the throw from Blue Jays catcher Nicolas Deschamp sailed into left field to give the Threshers a 4-0 lead.
The Threshers allowed one run in the ninth but got a pop-up with the bases loaded to seal a 4-1 victory and clinch their fourth-straight home series win.
Cabrera (2-2) tossed 6.0 shutout innings with five hits, two walks, and four strikeouts to earn the win. Wen-Hui Pan earned the save in 3.0 innings, allowing one run on two hits, two walks, and four strikeouts.
The Threshers have not trailed since the fourth inning of Tuesday's game...Cabrera set a career-high with 6.0 innings pitched... It was the longest outing by a Threshers pitcher this season... All of Pan's first 17 pitches went for strikes...He earned the first save of his career...Three of Rincon's four hits this series have gone for extra bases... Reyes has two RBIs in two starts this series...The Threshers resume their series against the Dunedin Blue Jays on Saturday, June 3rd... First pitch is at 6:30 pm EST... You can purchase tickets for Threshers games at ThreshersBaseball.com/tickets or by calling 727-467-4457.