Threshers Tie Game in Seventh Before Extra-Inning Defeat
Dissin and Viars Drive in Back-to-Back Runs but Threshers Drop Series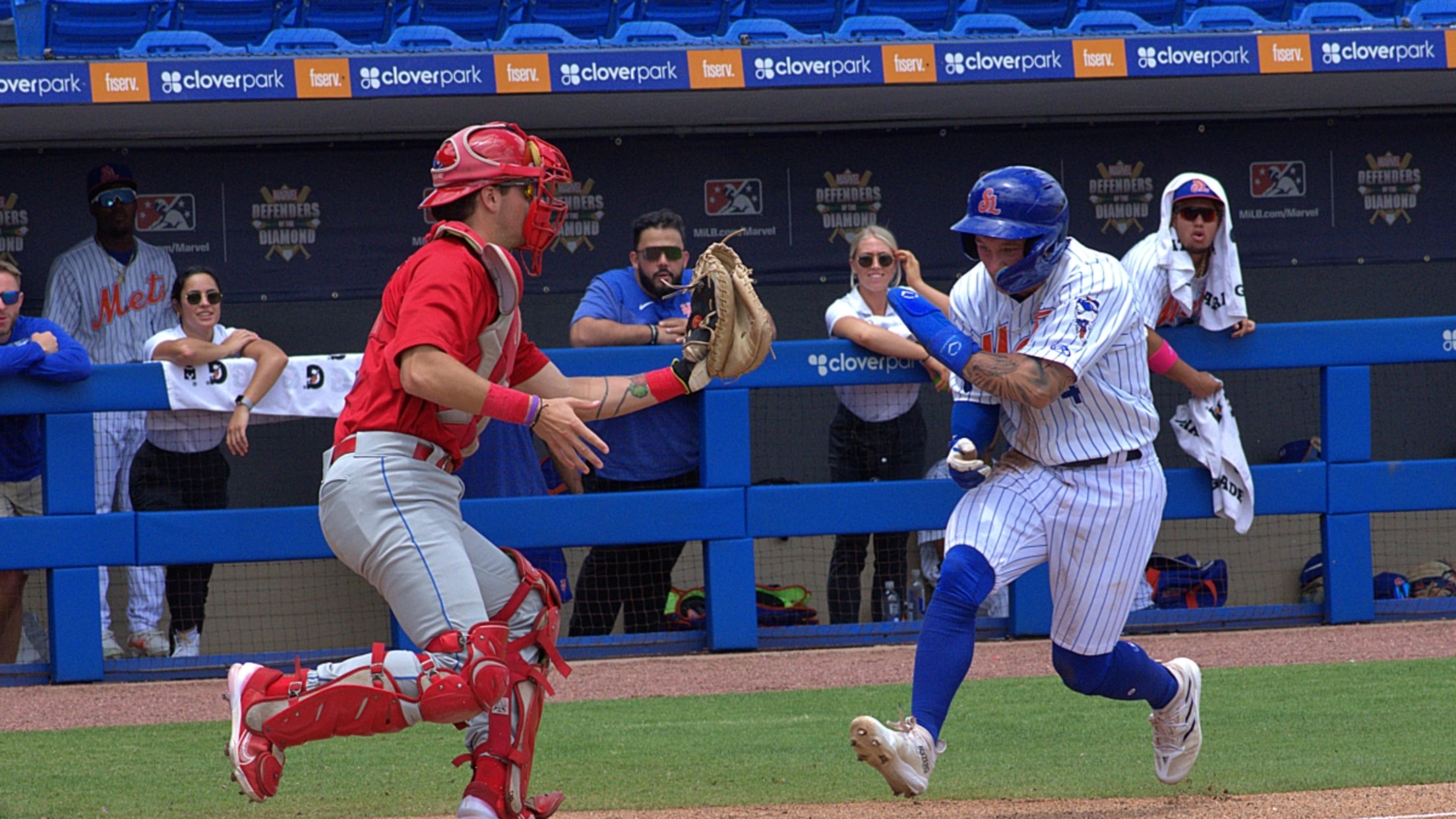 Jordan Dissin prepares to tag out Jett Williams at home plate in a 3-2 loss at St. Lucie. (Chuck King)
WP: Eli Ankeney (1-0, 0.00) LP: Jack Dallas (2-2, 0.35) BOX SCORE: PORT ST. LUCIE, FL – Jordan Dissin and Jordan Viars got the Clearwater Threshers (31-13) out of a one-run deficit, but the St. Lucie Mets (13-31) tied up the game and won 3-2 in ten innings on Sunday
WP: Eli Ankeney (1-0, 0.00)
LP: Jack Dallas (2-2, 0.35)
PORT ST. LUCIE, FL – Jordan Dissin and Jordan Viars got the Clearwater Threshers (31-13) out of a one-run deficit, but the St. Lucie Mets (13-31) tied up the game and won 3-2 in ten innings on Sunday afternoon at Clover Park. Clearwater returns home to BayCare Ballpark to face the Dunedin Blue Jays on Tuesday, May 30th.
After the Threshers saved a run via a relay throw from left field, the Mets scored the first run of the game in the bottom of the first on a Jacob Reimer RBI single.
Gabriel Rincones Jr. led off the seventh with a double into right centerfield off of Mets reliever Jawilme Ramirez. Viars sent him home on the very next pitch with a double off the wall to tie the game at one. After Emaarion Boyd pinch-ran for Viars, Dissin gave the Threshers their first lead of the game with an RBI single that made it 2-1.
St. Lucie tied the game on a sacrifice fly in the home half to make it 2-2. After each team was retired in order in the ninth inning, the game went into extra innings. The Threshers stranded the go-ahead run on third in the tenth, and a sacrifice fly by Kevin Villavicencio completed a 3-2 walkoff win for St. Lucie
Estibenzon Jiménez allowed one run on four hits in 5.0 innings with two walks and four strikeouts in a no-decision. Wen-Hui Pan walked three and struck out one in 1.0 inning, allowing one run on two hits. Wesley Moore walked one and struck out three in 2.0 hitless innings with a blown save. Jack Dallas (2-2) took the loss in 1.2 innings with one run allowed on one hit.
Clearwater is on a three-game losing streak for the first time this season... They lost their first series of 2023 in St. Lucie... Dissin recorded his sixth multi-hit game of the season... Minyety has recorded at least one hit in every game he's played over the last two series... He is 9-for-his last 20 on a six-game hit streak... Boyd scored his second run as a pinch runner for Viars this season in the seventh... Rincones Jr. Moves into a tie for second in the league with 19 extra-base hits and into third with 13 doubles... The Threshers return home to face the Dunedin Blue Jays on Tuesday, May 30th...First pitch is at 6:30 pm EST... You can purchase tickets for Threshers games at ThreshersBaseball.com/tickets or by calling 727-467-4457.