Threshers Win 9-2 and Fall Two Outs Shy of a No-Hitter
Crawford Scored one and Drove in Three Runs in Perfect 4-4 Game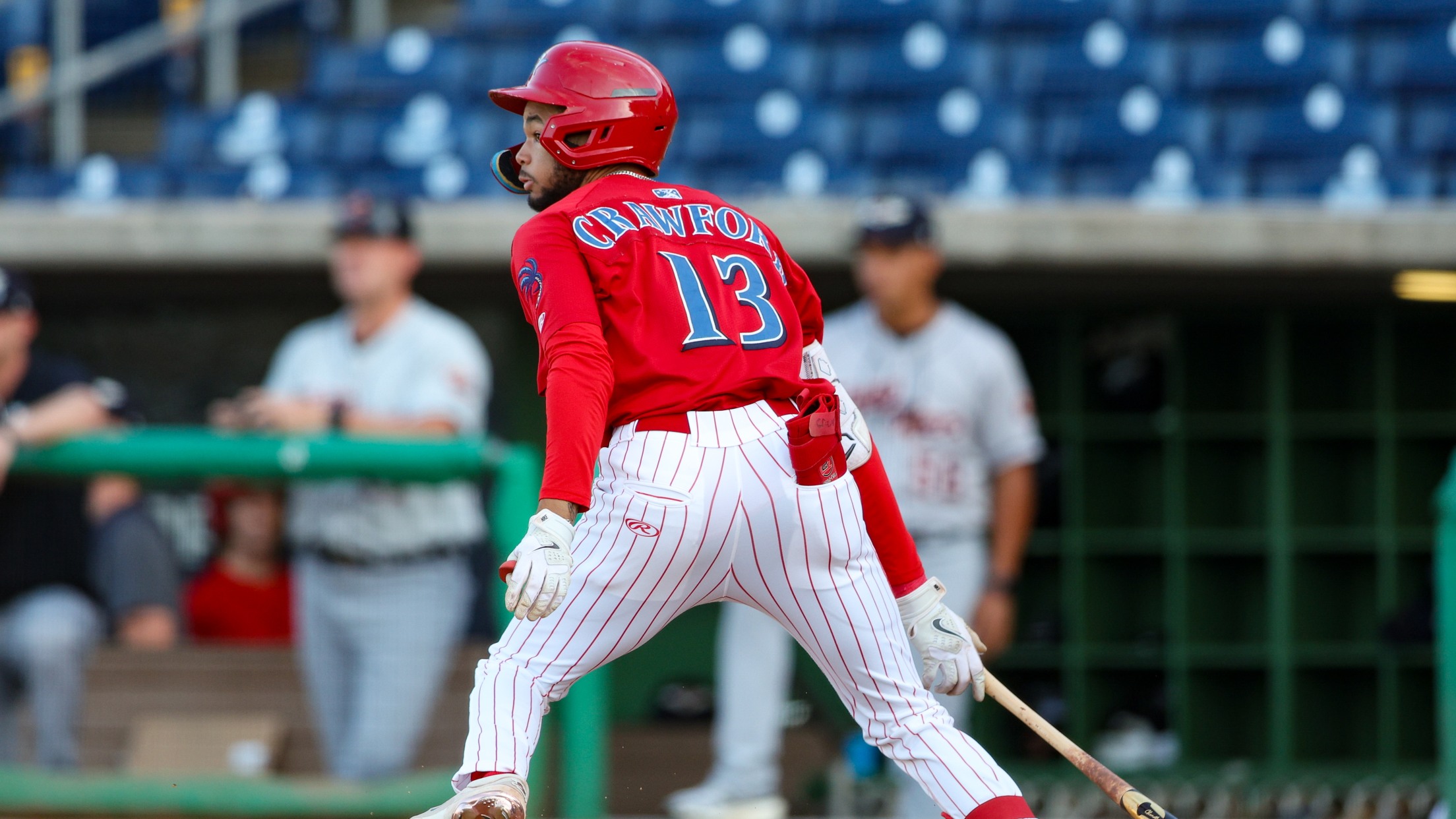 (Nathan Ray)
WP: Jonh Henriquez (7-0, 2.93) LP: Rafael Ohashi (1-4, 5.59) BOX SCORE: CLEARWATER, FL – Justin Crawford tied a career-high with three RBIs and went 4-4 at the plate as the Clearwater Threshers (33-13) took a no-hitter into the ninth in a 9-2 victory over the Dunedin Blue Jays (24-23)
WP: Jonh Henriquez (7-0, 2.93)
LP: Rafael Ohashi (1-4, 5.59)
CLEARWATER, FL – Justin Crawford tied a career-high with three RBIs and went 4-4 at the plate as the Clearwater Threshers (33-13) took a no-hitter into the ninth in a 9-2 victory over the Dunedin Blue Jays (24-23) on Wednesday night at BayCare Ballpark. The Threshers look for their third straight win against the Blue Jays on Thursday evening in Clearwater.
After an hour-long rain delay, Crawford hit the second pitch of the game from Rafael Ohashi for a double off the left-field wall. He moved to third on a groundout and scored on a single up the middle by Gabriel Rincones Jr. to give the Threshers a 1-0 lead after the first.
Darick Hall led off the fourth with a double to left centerfield and advanced to third on a groundout. Otto Kemp sent the first pitch he saw in the inning to centerfield, deep enough to plate Hall on the sacrifice fly and double the Threshers' lead to 2-0.
The first two batters reached in the fifth, with a leadoff walk to Jordan Dissin and a double by Bryan Rincon. Dissin scored on an RBI single by Crawford, and a sacrifice fly by Emaarion Boyd plated Rincon to bring the lead up to 4-0.
Rincones Jr. hit a single with one out in the sixth and stole second base off Blue Jays reliever Lazaro Estrada. Kemp reached on an error by Blue Jays centerfielder Jaden Rudd that plated Rincones Jr. and gave the Threshers a 5-0 lead. Jordan Viars and Dissin each traded run-scoring doubles to make it 7-0. Rincon walked and Crawford cleared the bases with a triple off Dunedin reliever Harry Rutkowski to extend the lead to 9-0.
Clearwater's pitching staff took a no-hitter into the ninth inning before Blue Jays third baseman Tucker Toman lined a double into left with one out in the final inning to plate Dunedin's first run. The Blue Jays added another run on a groundout before the game finished in a 9-2 win for the Threshers.
Jonathan Petit did not allow a run or a hit in 4.0 shutout innings, striking out five with two walks in a no-decision. Seth Nightingale pitched 1.0 scoreless inning without a hit or a walk allowed. Jonh Henriquez (7-0) earned the win in 3.0 scoreless and hitless frames with one walk and two strikeouts. Wesley Moore allowed two runs on one hit without a walk or a strikeout in the final 1.0 inning.
Clearwater's pitchers took a no-hitter into the ninth for the second time this season... Crawford was the first Thresher to finish perfect at the plate with multiple hits this season...He tied the Threshers season-high with four hits... His four-hit game set a new career-high for him as well...Crawford also became the second Thresher to finish a home run shy of the cycle this year... Henriquez leads the league with seven wins...Petit has not allowed a run or a hit in his last two starts... He is on a 7.0-inning scoreless streak The Threshers resume their series against the Dunedin Blue Jays on Thursday, June 1st... First pitch is at 6:30 pm EST... You can purchase tickets for Threshers games at ThreshersBaseball.com/tickets or by calling 727-467-4457.