RECAP: TinCaps Rally for Road Win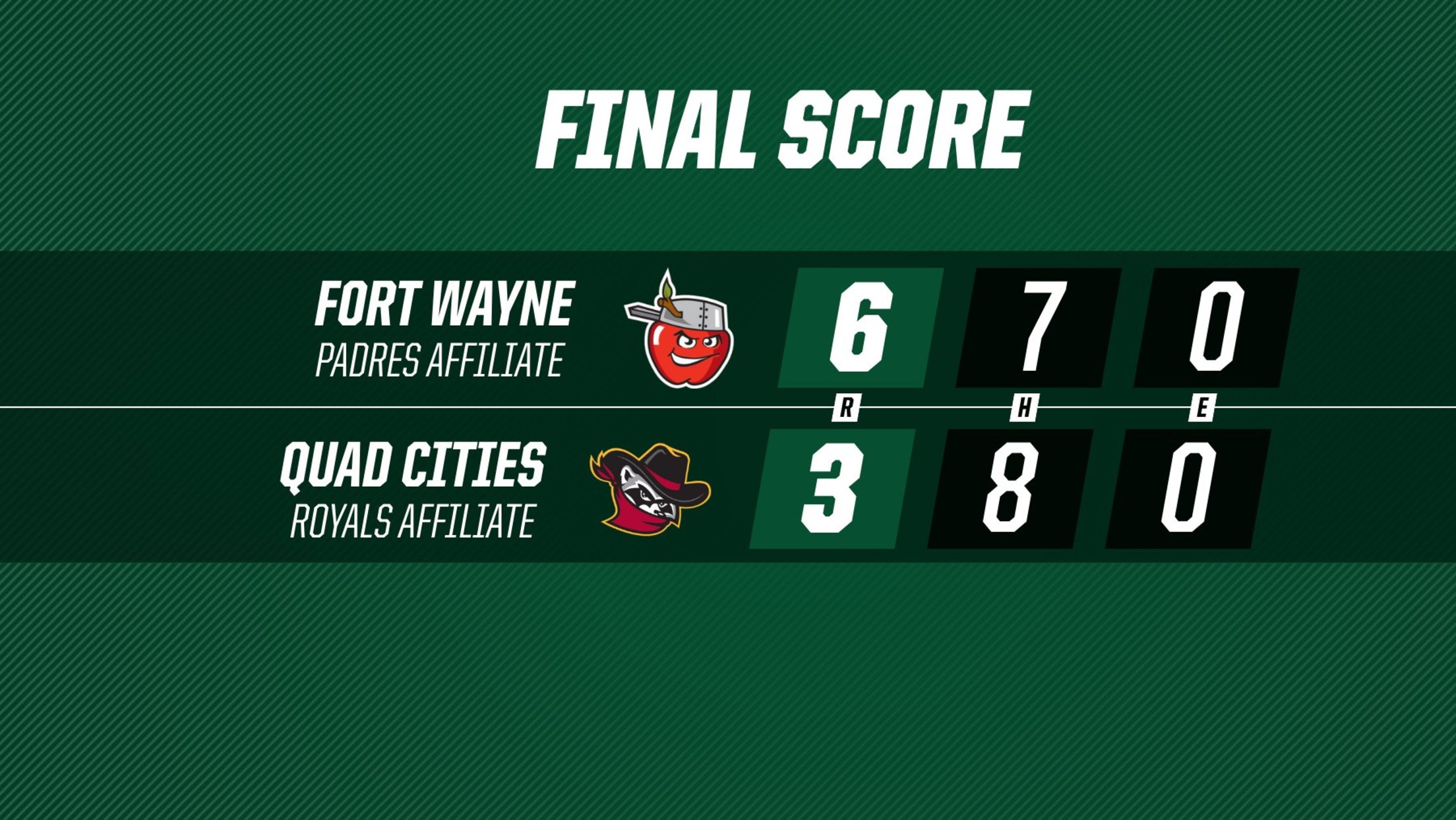 DAVENPORT, Iowa -- The TinCaps overcame a 3-0 deficit to win on the road, 6-3, against the Quad Cities River Bandits (Kansas City Royals affiliate) on Tuesday night at Modern Woodmen Park. The 'Caps have won two games in a row and are 9-5 over their last 14. Initially, Quad
DAVENPORT, Iowa -- The TinCaps overcame a 3-0 deficit to win on the road, 6-3, against the Quad Cities River Bandits (Kansas City Royals affiliate) on Tuesday night at Modern Woodmen Park. The 'Caps have won two games in a row and are 9-5 over their last 14.
Initially, Quad Cities took a 2-0 lead in the third inning as Cayden Wallace (No. 5 Royals prospect) hit a two-run homer. The Bandits added another run with two outs in the fourth.
But Fort Wayne finally got on the board itself in the fifth inning against Luinder Avila (No. 29 Royals prospect). Center fielder Jakob Marsee (No. 22 Padres prospect) was hit by a pitch with the bases loaded and shortstop Jackson Merrill (No. 1 Padres prospect) provided a sacrifice fly. The TinCaps then equalized in the sixth as left fielder Justin Farmer came through with a two-out RBI single.
The 'Caps took their first lead in the eighth, scoring two on a pair of wild pitches. In the ninth, third baseman Marcos Castañon added insurance with a sac fly.
Jairo Iriarte (No. 11 Padres prospect) struck out four over four-plus innings. Raul Brito pitched three scoreless innings of relief, lowering his ERA to 1.29 across 14 innings, while Keegan Collett closed it out for his first save of the season.
In a team effort, Fort Wayne tallied seven hits, six walks, and two hit by pitches. Everyone in the lineup either reached base or drove in a run.
Next Game: Wednesday, June 7 @ Quad Cities River Bandits (7:30 p.m.)
TinCaps Probable Starter: RHP Adam Mazur(No. 6 Padres prospect)
River Bandits Probable Starter: RHP Mason Barnett (No. 17 Royals prospect)
*Watch: *Bally Live | MiLB.TV | MLB.TV
*Listen: *1380 The Fan & 100.9 FM | TinCaps.com