RECAP: Martorella Homers Twice, 'Caps Offense Explodes in Dominant Road Win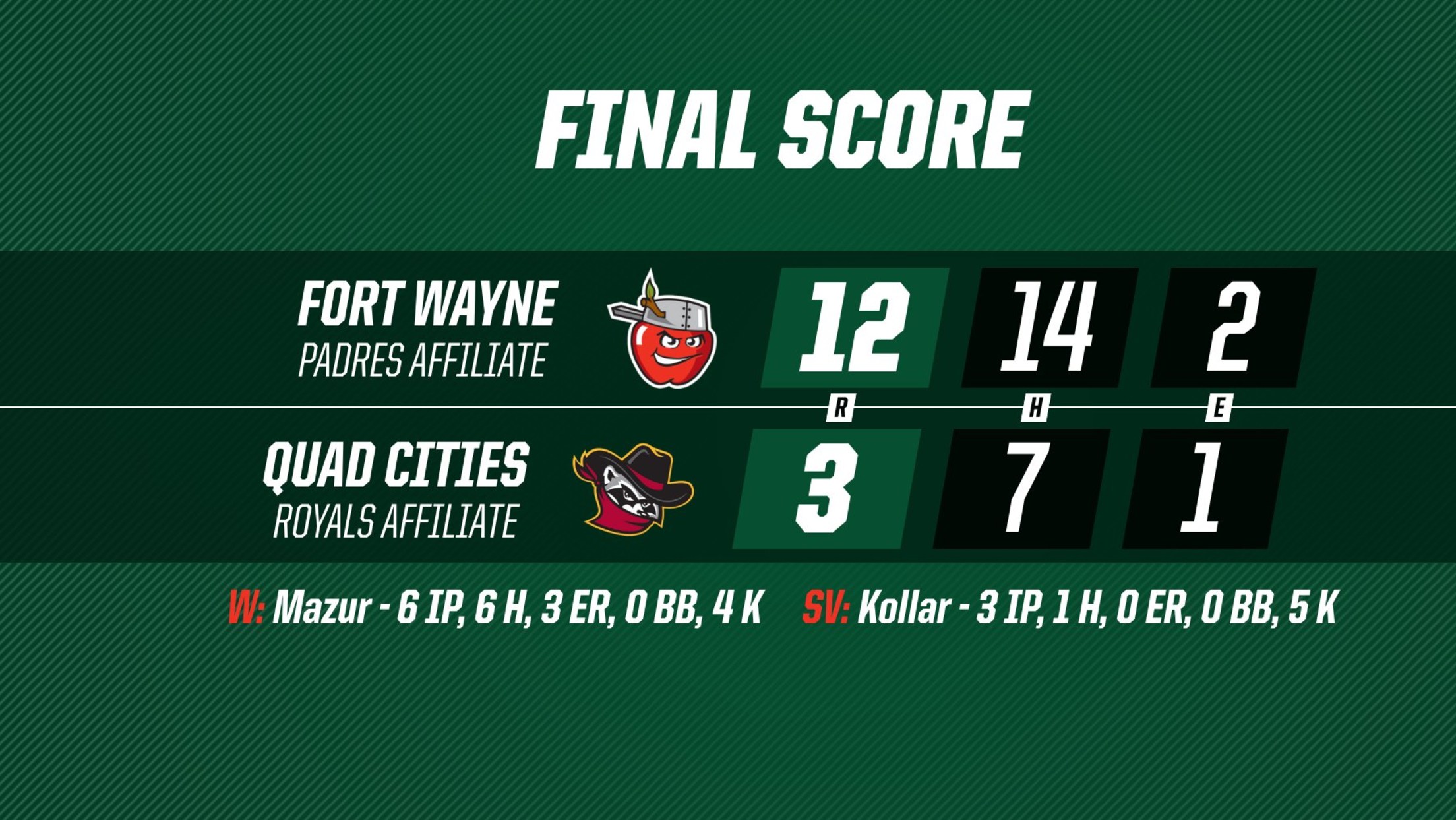 Box Score DAVENPORT, Iowa– First basemanNathan Martorella(No. 23 Padres prospect) clobbered two homers Wednesday, leading the TinCaps to a dominant, 12-3, win over the Quad Cities River Bandits (Kansas City Royals affiliate) at Modern Woodmen Park. The 'Caps have won 10 of their last 15 games, including three in a
DAVENPORT, Iowa– First basemanNathan Martorella(No. 23 Padres prospect) clobbered two homers Wednesday, leading the TinCaps to a dominant, 12-3, win over the Quad Cities River Bandits (Kansas City Royals affiliate) at Modern Woodmen Park. The 'Caps have won 10 of their last 15 games, including three in a row overall and four straight on the road.
It was Martorella's second time this season registering two home runs in the same game. The other was at Lake County on May 5.
The Cal alum is tied for the Midwest League lead in extra-base hits (23). He ranks second in homers (nine) and RBIs (39).
On the mound, TinCaps rightyAdam Mazur(No. 6 Padres prospect) turned in six quality innings in his start, allowing three earned runs while striking out four.Jared Kollarearned the save in relief, tossing three shutout innings and recording five punchouts.
Martorella's first homer came in the first inning when he opened the scoring with a two-out, two-run shot. The 'Caps later added a third run on designated hitterCarlos Luis's RBI single, making it 3-0 after the first.
Fort Wayne scored two more in the second, thanks to a run-scoring single by shortstopJackson Merrill(No. 1 Padres prospect) and a sacrifice fly by third basemanMarcos Castañon. It was 5-0 through two innings.
Quad Cities' only three runs of the night were scored in succession in the bottom of the third, highlighted by RBI singles from left fielderDavid Hollieand shortstopJack Pineda. They trailed 5-3 at the time, which is as close as the River Bandits would get the rest of the game.
The TinCaps started pouring it on in the fifth, with two more runs on a single by Luis, who finished the game 2-for-5 with three RBIs. Then they scored two more in the sixth thanks to Martorella's second bomb of the night – one that traveled 417 feet to right. Fort Wayne led 9-3.
In the eighth, TinCaps catcherBrandon Valenzuela(No. 30 Padres prospect) belted a solo blast to join the power party. He was a triple shy of the cycle, going 3-for-4 with a walk. Later in the frame, second basemanKervín Pichardoand left fielderJustin Farmerhit RBI doubles on back-to-back pitches, finishing the scoring at 12-3.
The nine-run margin of victory was Fort Wayne's largest of the season. TinCaps pitching also did not walk a batter for the second time this year.
Next Game:Thursday, June 8 @ Quad Cities (7:30 p.m. ET)
TinCaps Probable Starter: RHPRyan Bergert(No. 24 Padres prospect)
River Bandits Probable Starter: RHPAdrian Alcantara
Watch:Bally Live app| MiLB.TV | MLB.TV
Listen:1380 The Fan& 100.9 FM|TinCaps.com