NEW FOOD & DRINKS: Check Out Menu
From Black Bean Burgers to Beer Bats to Bourbon Slushies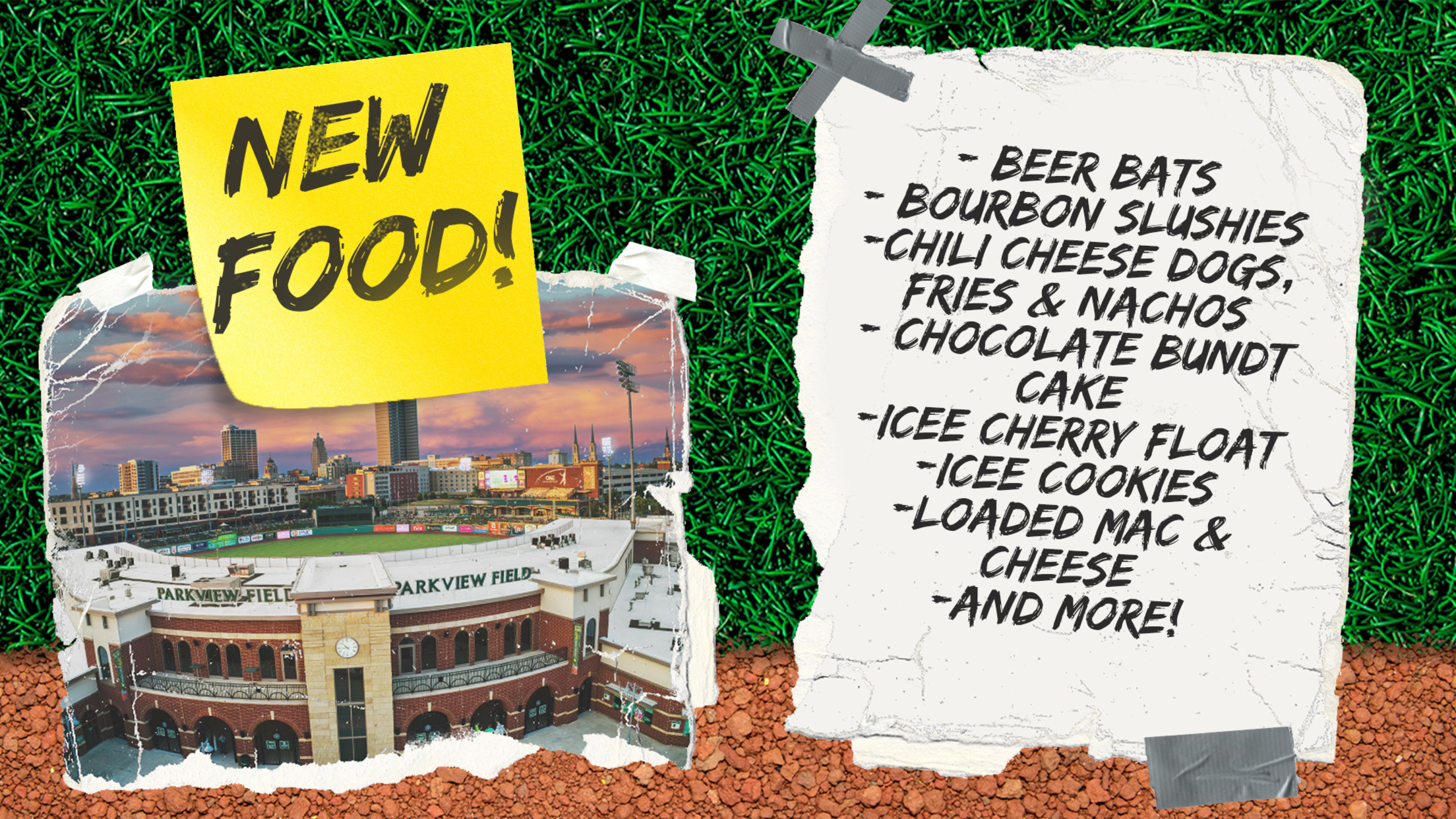 FORT WAYNE, Ind. – Parkview Field's award-winning food and beverage department is excited to announce more than 20 new menu items for the 2023 Fort Wayne TinCaps season. While fans can still enjoy their classic favorites like hot dogs, peanuts, and Cracker Jack, now they can also try everything from
FORT WAYNE, Ind. – Parkview Field's award-winning food and beverage department is excited to announce more than 20 new menu items for the 2023 Fort Wayne TinCaps season.
While fans can still enjoy their classic favorites like hot dogs, peanuts, and Cracker Jack, now they can also try everything from black bean burgers to beer bats to bourbon slushies.
"We take great pride in Parkview Field having been ranked as the No. 1 Minor League Baseball ballpark experience for fans for many years now," said TinCaps President Mike Nutter. "We're hoping to continue raising the bar with these new food and drink offerings."
See below for a full list of the new options at Parkview Field. Click here for a complete list of the ballpark's concessions menu.
Fans can get their first taste of the upcoming season on Tuesday, April 4 with Meet the Team Nightbeginning at 5 p.m. Parkview Field will also host an Open House on Saturday, April 8 (11 a.m. – 1 p.m.). Both events are free to enter. (Note: Not all concession options will be available for these pre-season events.)
While the TinCaps play their first three High-A Midwest League games on the road against the West Michigan Whitecaps beginning Thursday, Opening Day at Parkview Field is Tuesday, April 11 (6:35 p.m.), as the TinCaps take on the Lake County Captains (Cleveland Guardians affiliate). This year's TinCaps squad will be led by top San Diego Padres prospects, including 19-year-old shortstop Jackson Merrill.
TinCaps tickets start at just $7 and are available at TinCaps.com, by calling 260-482-6400, and at the Parkview Field Ticket Office. There's also still a limited time to lock in season ticket plans and book group outings. Click here for the team's 2023 Hospitality Guide.
New Beverages at Parkview Field in 2023
Beer Bats
Bourbon Slushies
Busch Light
Celsius Energy Drink
Dew Zero
Pepsi Zero
Starry
New Food Items at Parkview Field in 2023
Black Bean Burger
Cheese Curds
Chili Cheese Hot Dog
Chili Cheese Fries
Chili Cheese Nachos
Chocolate Bundt Cake
Cotton Candy Dippin' Dots
Funnel Cake Fries
ICEE Cookie: Blue Raspberry / Cherry
ICEE Cherry Float
Loaded Mac and Cheese
Pork Tenderloin*
Pulled Chicken Sandwich
Velvet Ice Cream
*Will be available for games August 3-6, when the TinCaps will take on an alternate identity as the Hoosier State Tenderloins. Read more here.