HOMESTAND HIGHLIGHTS: May 30 - June 4
Presented by Lancia Homes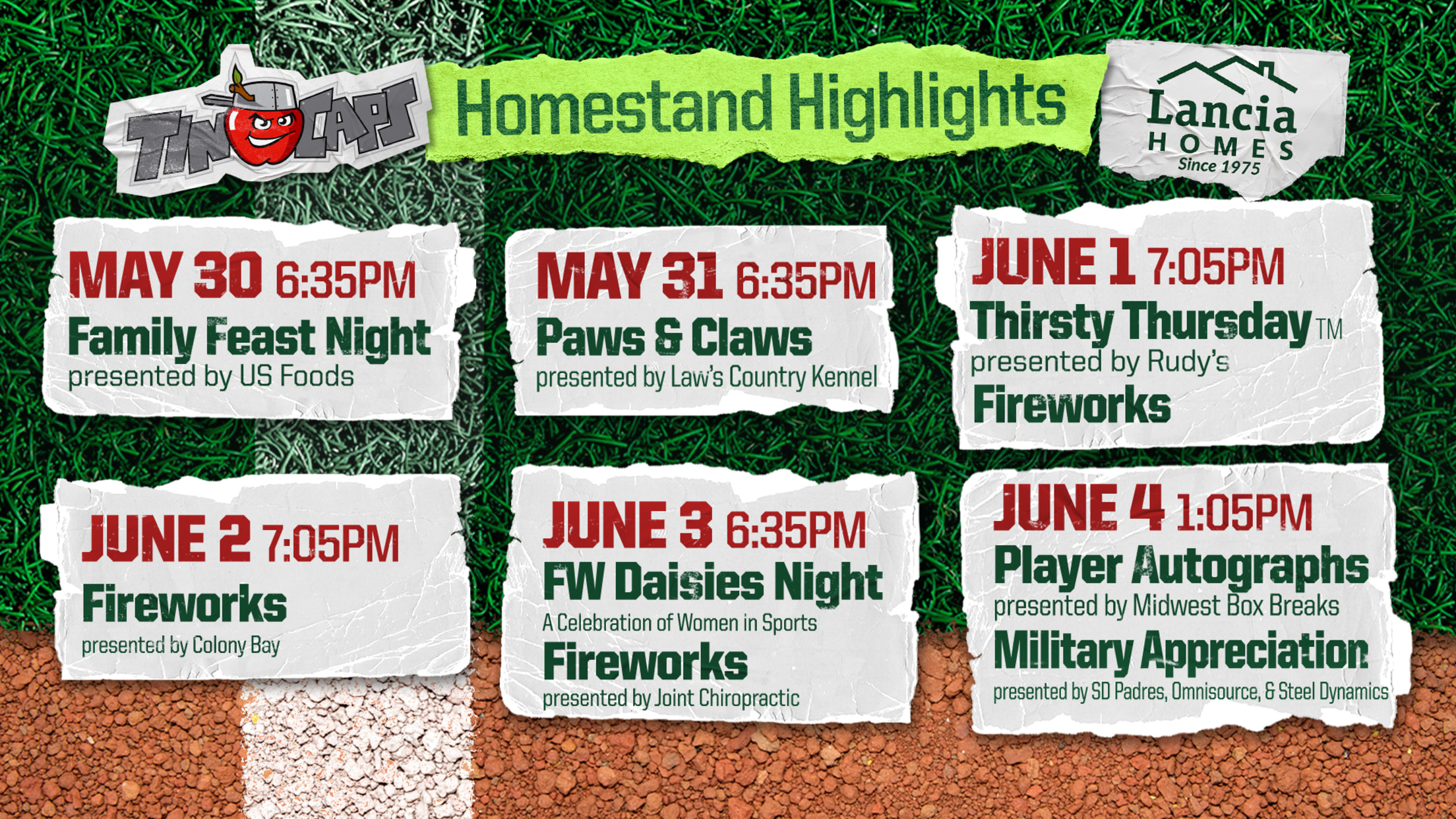 vs. South Bend Cubs (Chicago Cubs affiliate) Tuesday, May 30 (6:35 p.m.) - Family Feast Night presented by US Foods ($2 hot dogs, pizza slices, popcorn & soft drinks) - TICKETS ----- Wednesday, May 31 (6:35 p.m.) - Paws & Claws presented by Law's Country Kennel (pets welcome with purchase
vs. South Bend Cubs (Chicago Cubs affiliate)
Tuesday, May 30 (6:35 p.m.)
-----
Wednesday, May 31 (6:35 p.m.)
-----
Thursday, June 1 (7:05 p.m.)*
-----
Friday, June 2 (7:05 p.m.)
-----
Saturday, June 3 (6:35 p.m.)
-----
Sunday, June (1:05 p.m.)
-----
Bonus Promotion: Kids can run the bases after every game!
WATCH: Bally Live app | MiLB.TV | MLB.TV
*Also on MyNetwork TV (channel 21.3 and Comcast Xfinity 1172)
LISTEN: 1380 The Fan & 100.9 FM | TinCaps.com
Learn more about Padres and Cubs prospects at the A+ level on MLB.com/Pipeline. The TinCaps feature 11 of San Diego's Top 30 prospects, including 20-year-old shortstop Jackson Merrill, who's rated as the top prospect in the Midwest League this season.