FEATURE: TinCaps Toss Franchise's 3rd No-Hitter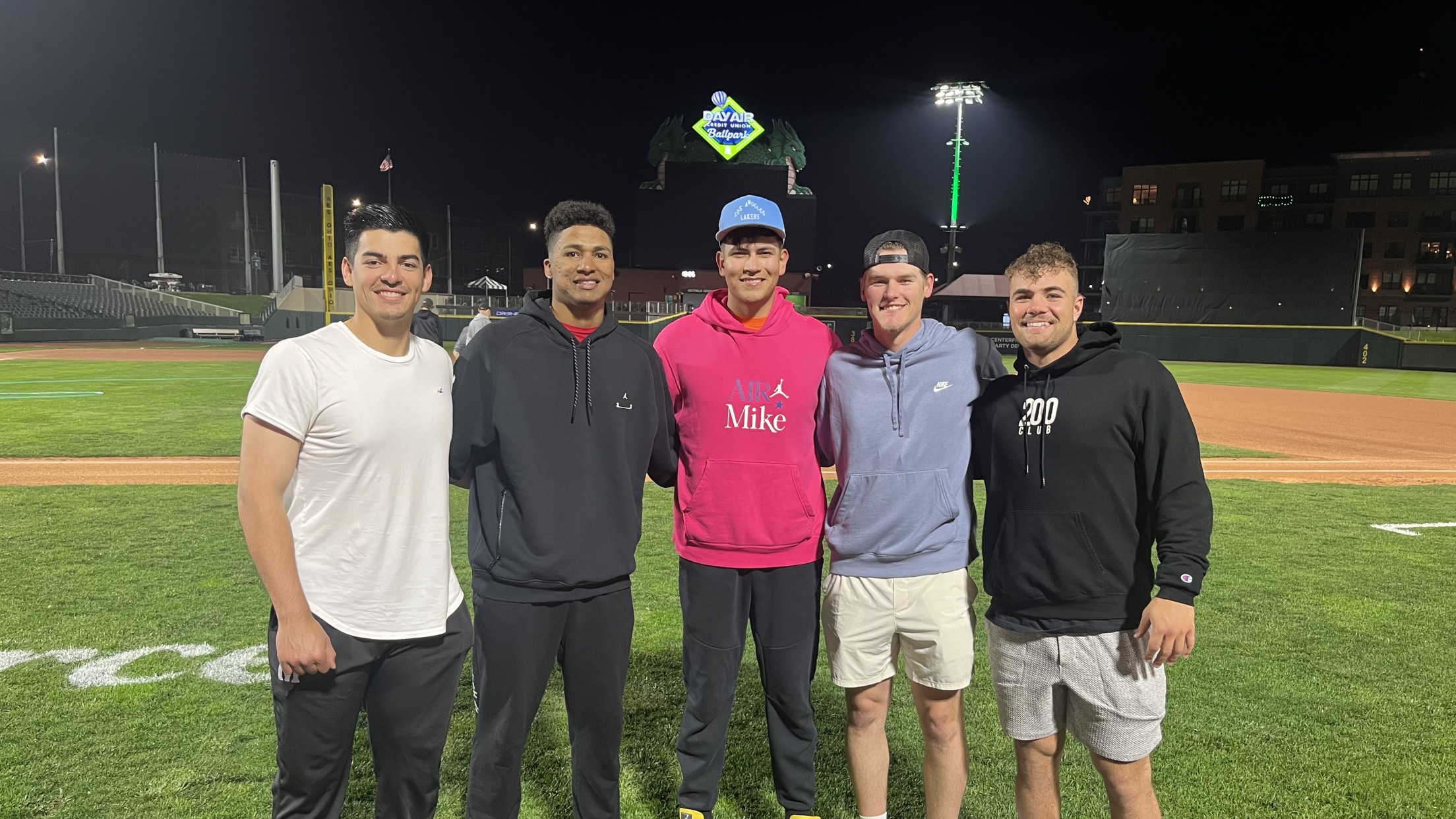 Left to right: catcher Brandon Valenzuela; starting pitcher Jairo Iriarte; reliever Alan Mundo; reliever Adam Smith; center fielder Jakob Marsee
DAYTON, Ohio – TinCaps pitchers Jairo Iriarte, Alan Mundo, and Adam Smith combined to throw the first Fort Wayne no-hitter in a decade at Dayton this May. The historic accomplishment marks just the third time the TinCaps have thrown a no-hitter in the 30-year history of the franchise. It's only
DAYTON, Ohio – TinCaps pitchers Jairo Iriarte, Alan Mundo, and Adam Smith combined to throw the first Fort Wayne no-hitter in a decade at Dayton this May.
The historic accomplishment marks just the third time the TinCaps have thrown a no-hitter in the 30-year history of the franchise. It's only the second time it's happened in a nine-inning game, and the first time it's ever been done on the road.
All no-hitters have their own unique flair, and this one was no different. This took place on a Tuesday—a travel day—and the team got to the ballpark well behind schedule because of a traffic delay.
"Just how we drew it up," TinCaps manager Jonathan Mathews said. "We didn't get to take batting practice on the field, we didn't get to do any of our work. So yeah, it all fell right into place," Mathews said with a smile.
The game also got under way about a half hour late, thanks to rain delaying the start.
The TinCaps controlled the game early, dominating the first few innings to build a 6-0 lead. Both offenses were quiet past the fifth inning, giving Fort Wayne the opportunity to complete what would end up being a night to remember.
Right-hander Jairo Iriarte, MLB.com's No. 11 Padres prospect, spun the first six innings and fanned eight, utilizing his overpowering fastball, which touches 96 mph, to carve up Dayton hitters.
"His fastball is invisible," Mathews said. "It's electric. He's an impressive young pitcher."
Mathews also said because there weren't many baserunners, it was easy to "become a fan" and take in what was in progress.
"It was pleasantly kind of boring," Mathews said. "Jairo just completely dominated his opponent."
The lone two baserunners to reach in the six innings against Iriarte came via a walk and a hit batter.
Fort Wayne's first reliever, Alan Mundo, worked the seventh and part of the eighth, but was forced to exit the game in the middle of his outing because of a split fingernail he'd sustained prior to the start of the game.
"It didn't fully go to script for him either," Mathews said. "He was pounding the zone and got five outs, and then we had to go get him."
Mundo was a part of the first no-hitter in the history of the Single-A Lake Elsinore Storm's franchise last August, when he teamed up with current TinCaps starting righty Garrett Hawkins to hold Inland Empire hitless in a 15-0 win.
When Mundo was removed, a third righty, Adam Smith, was tasked with locking down the final four outs, and they certainly didn't come without drama.
In the top of the ninth inning, center fielder Jakob Marsee made a spectacular diving catch to keep the special night intact. Before the play developed, Marsee took a step in to make sure he didn't get burned.
"I just scooted in a little bit. Didn't think he would beat me over the top in that moment, and once I saw the ball hit, I just made a play on it," Marsee said.
While the ball was in the air, Smith said he felt confident Marsee could make the play.
"I was a little nervous at first, but then I realized Marsee's in center, so I knew he was gonna snag it because he's always snagging all my mistakes," Smith said.
Marsee said he's made some great catches in the past, but considering the situation, nothing topped this one.
"I think some of the other ones might have been cooler, but I think with what it helped, that was definitely number one," Marsee said.
Then, just minutes later, Dragons right fielder Austin Hendrick pounded one in the air to straightaway center.
"I thought it was gone," Smith said. "Me and Valenzuela both thought it was gone
But Marsee backpedaled to haul it in near the warning track. At the time, Marsee says he'd even forgotten the no-no was still in progress.
"I knew in the seventh and I didn't want to say anything," Marsee said. "And then I just kind of forgot about it until I saw everyone run onto the field."
The last Fort Wayne no-hitter took place ten years ago to the week, when future MLB All-Star Max Fried, Matthew Shepherd, Leonel Campos and Roman Madrid combined to blank Great Lakes at Parkview Field on May 9, 2013.