Drive offense explodes, Greenville downs Hickory 13-6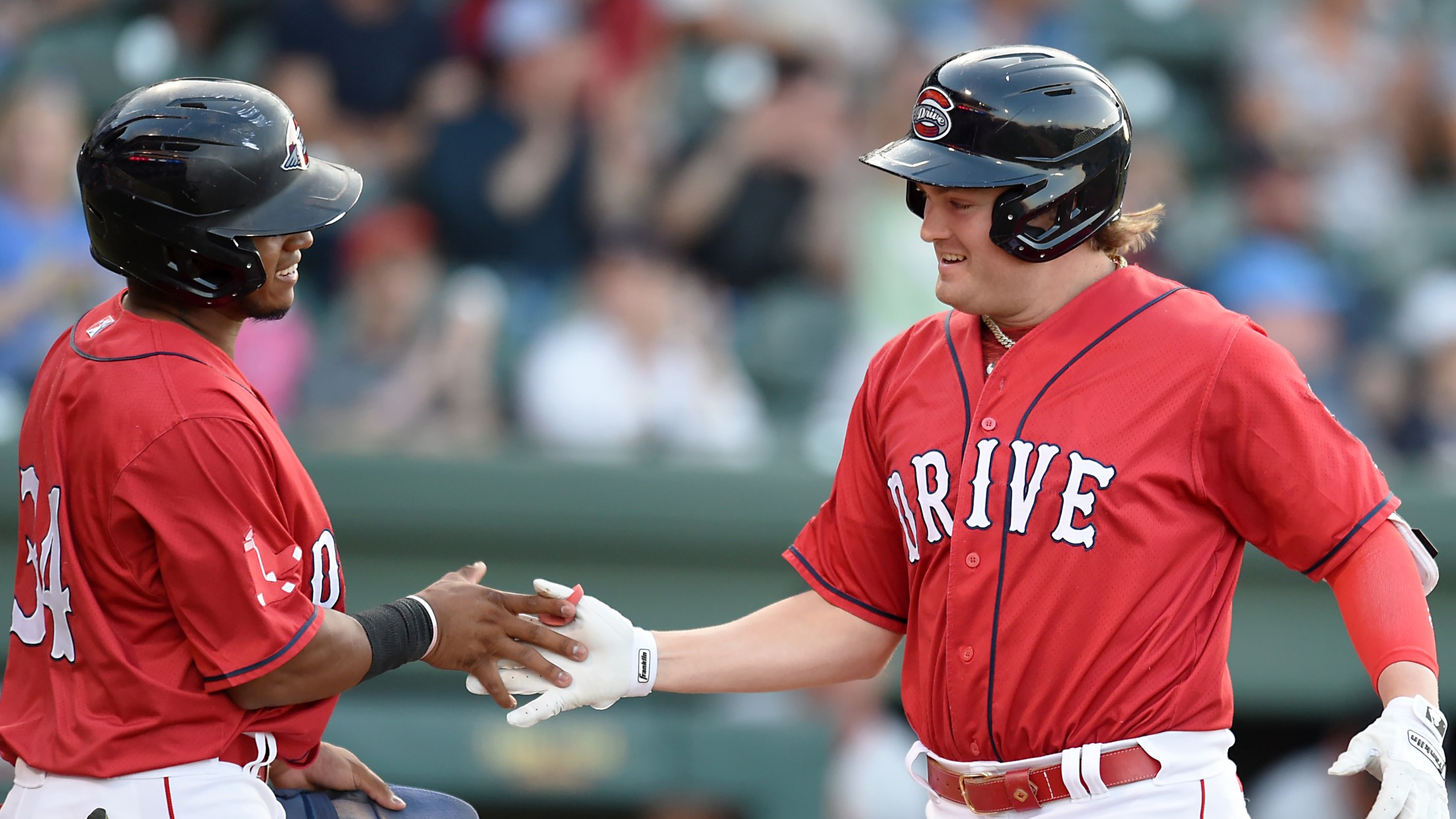 Six Drive batters record multi-hit days The Greenville Drive (27-22) exploded at the plate Friday night, hammering Hickory Crawdads (17-28) pitchers for 13 runs on 18 hits as six Drive batters picked up multi-hit games and doomed the Crawdads, 13-6. Drive starter Hunter Dobbins picked up his third victory of
Six Drive batters record multi-hit days
The Greenville Drive (27-22) exploded at the plate Friday night, hammering Hickory Crawdads (17-28) pitchers for 13 runs on 18 hits as six Drive batters picked up multi-hit games and doomed the Crawdads, 13-6. Drive starter Hunter Dobbins picked up his third victory of the year as well, tossing six solid innings allowing just three runs on five hits while fanning seven without giving up a walk.
The Drive didn't waste any time Friday night, jumping on Crawdads starter Larson Kindreich on just his second pitch of the night as Drive second baseman, Max Ferguson blasted a line drive to deep right field and over the wall to give the Drive a 1-0 lead. With two away in the inning, Eduardo Lopez would begin his night with a single to right field scoring Blaze Jordan, before Alex Erro followed that up with an RBI single of his own to make it 3-0 as Tyler Miller crossed the plate.
Kindreich exited after he hit Kier Meredith with a pitch during the ensuing at-bat, loading the bases for the Drive's Jonathan Diaz. Diaz took the next pitcher's 0-2 count to right field to score Lopez giving the Drive a 4-0 lead. Ferguson would get up to bat again in the inning, this time walking bringing home another run to make it 5-0 Drive.
The offensive campaign continued in the second inning as Lopez added his second RBI single, scoring Jordan again. Two batters later, Meredith drove a double to right field, scoring Lopez to boost the lead to 7-0.
For the third inning in a row, the Drive jumped on the Crawdads as Jordan sent a no-doubt two-run homer over the Green Monster in left field which Tyler Miller followed up by sending a deep fly to right that cleared the wall making it 10-0 Drive. Miller's homer marked his second homer in as many games.
Dobbins didn't relinquish a run until the fourth inning as a wild pitch scored one and Daniel Mateo later reached on a throwing error allowing two runs to cross to make it 10-3.
Jordan would follow up his third-inning homer with a soft liner to right to score another giving the Drive a 11-3 lead. Meredith added his second RBI-double on the night in the fifth before Diaz added his second RBI-single to round out Drive scoring on the night and giving the Drive a 13-3 lead.
Maceo Campbell relieved Dobbins in the seventh, allowing two runs to score as an Alejandro Osuna double made it 13-5. A wild pitch from Campbell allowed another to score, rounding out the scoring for the night and making it 13-6.
Campbell spun a scoreless eighth giving way to Casey Cobb in the ninth. Campbell ended the night allowing three runs on five hits while picking up four strikeouts. Cobb spun a scoreless ninth to close out the night, allowing just one hit while striking out one to give the Drive a 13-6 lead.
The Drive (Boston Red Sox) return to action tomorrow, for game five of the six-game series with the Hickory Crawdads (Texas Rangers) with first pitch slated for 7:05 p.m. at Fluor Field. The series currently sits at 3-1, in favor of the Drive.