Lugnuts open with an 11-4 rout at Fort Wayne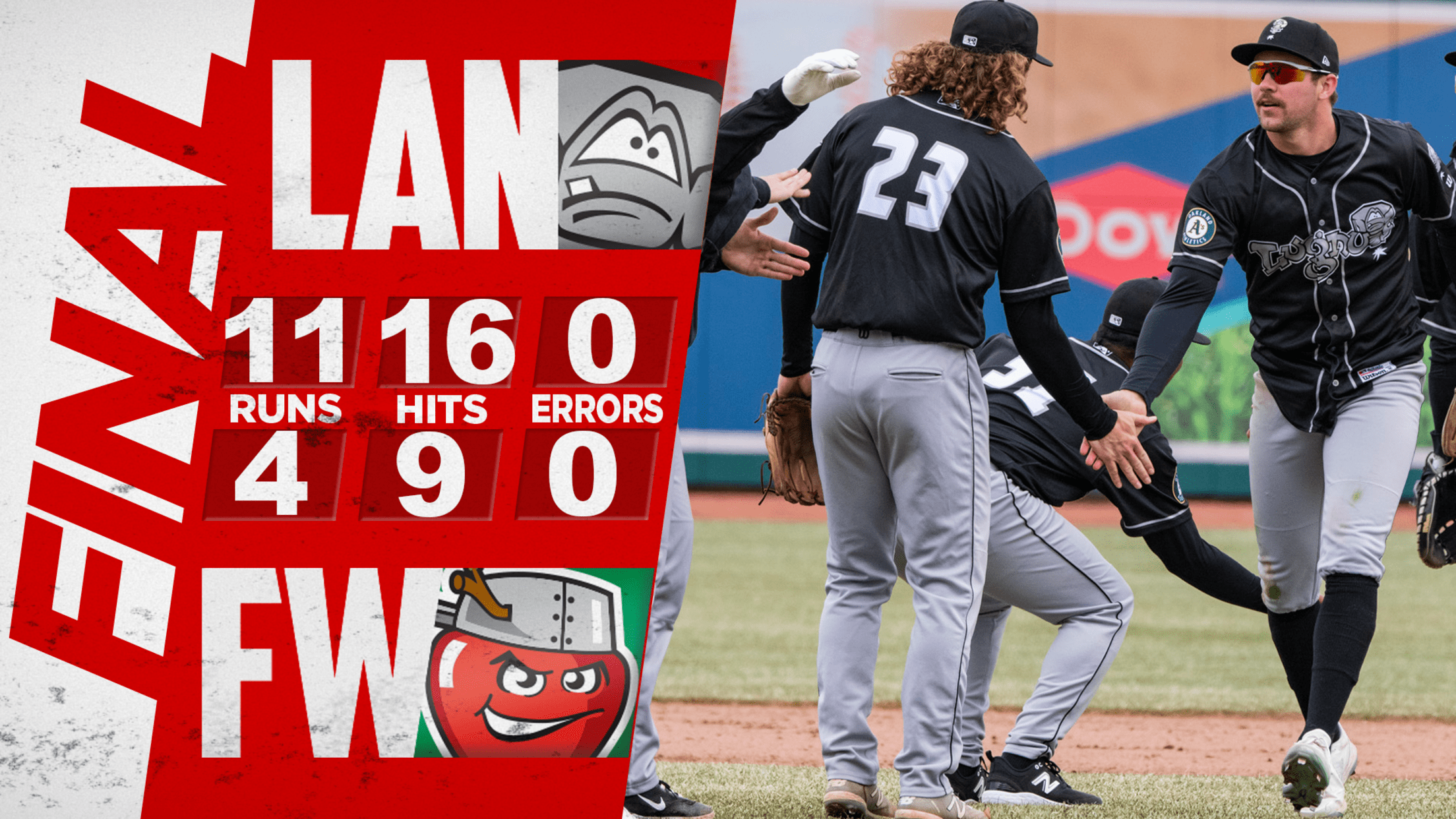 FORT WAYNE, Ind. – The Lansing Lugnuts (20-20) set new single game highs in base hits (16) and runs scored, routing the Fort Wayne TinCaps (15-25), 11-4, in the opener of a six-game series on Tuesday night at Parkview Field. The TinCaps scored the game's first two runs with a
FORT WAYNE, Ind. – *The Lansing Lugnuts (20-20) set new single game highs in base hits (16) and runs scored, routing the Fort Wayne TinCaps (15-25), 11-4, in the opener of a six-game series on Tuesday night at Parkview Field.
The TinCaps scored the game's first two runs with a two-out first-inning rally against Lansing starter *Christian Fernandez. They gave that 2-0 lead to had the league's reigning Pitcher of the Week on the mound, Padres No. 11 prospect Jairo Iriarte, who had allowed only six runs total all season and entered having allowed only two hits and no runs in three prior starts in May, tossing six no-hit innings in his last outing.
Iriarte fired two scoreless innings on this night. Then things changed.
Jonny Butler singled, stole second, and scored on a Max Muncy RBI single in the third inning to bring the Lugnuts within 2-1.
In the fourth, Clark Elliott launched the Nuts into the lead with a two-run single. Euribiel Ángeles then doubled home Elliott, Sahid Valenzuela singled in Ángeles, and Muncy doubled in Valenzuela to cap a five-run rally off Iriarte, putting the Lugnuts ahead, 6-2. The Fort Wayne ace's ERA jumped from 1.73 to 3.30, allowing six runs on seven hits and two walks in four innings.
Reliever Ruben Galindo fared no better, surrendering five more hits and four more runs in the fifth, finished by a Butler two-run single that gave the Nuts a 10-2 lead.
Butler and Muncy closed out the fun in the seventh against José Geraldo; Butler doubled to right field, his third hit, and Muncy followed two batters later with an RBI single, his third run-scoring hit.
Butler and Muncy's three-hit efforts were joined by a three-hit showing from Junior Pérez, who left the game in the sixth for pinch-runner Brayan Buelvasmaking his return to the Midwest League.
Every Lugnuts starter except for Daniel Susac hit safely. Right fielder Danny Bautista, Jr. finished 1-for-3 with an RBI single, a walk and an HBP to extend his hitting streak to nine games.
Nuts starter Fernandez excelled following his rough start, striking out seven batters while allowing four hits, one walk and two runs in five innings. Jack Owen pitched the sixth and seventh innings, allowing two runs on four hits, and Brock Whittlesey blanked the TinCaps in the eighth and ninth, striking out three.
Lansing left-hander Brady Basso gets the ball for the second game of the series, with right-hander Mitch Myers expected to follow as a piggybacker. Fort Wayne counters with right-hander Jared Kollar. First pitch is at 6:35 p.m. on Wednesday.
The Lugnuts' trip to Fort Wayne runs through Sunday, with a homestand against the Cedar Rapids Kernels arriving next week, May 30-June 4. Tickets are available via lansinglugnuts.com or call (517) 485-4500.
# # #