IronPigs Late Comeback Snuffed Out in Extra Innings by RailRiders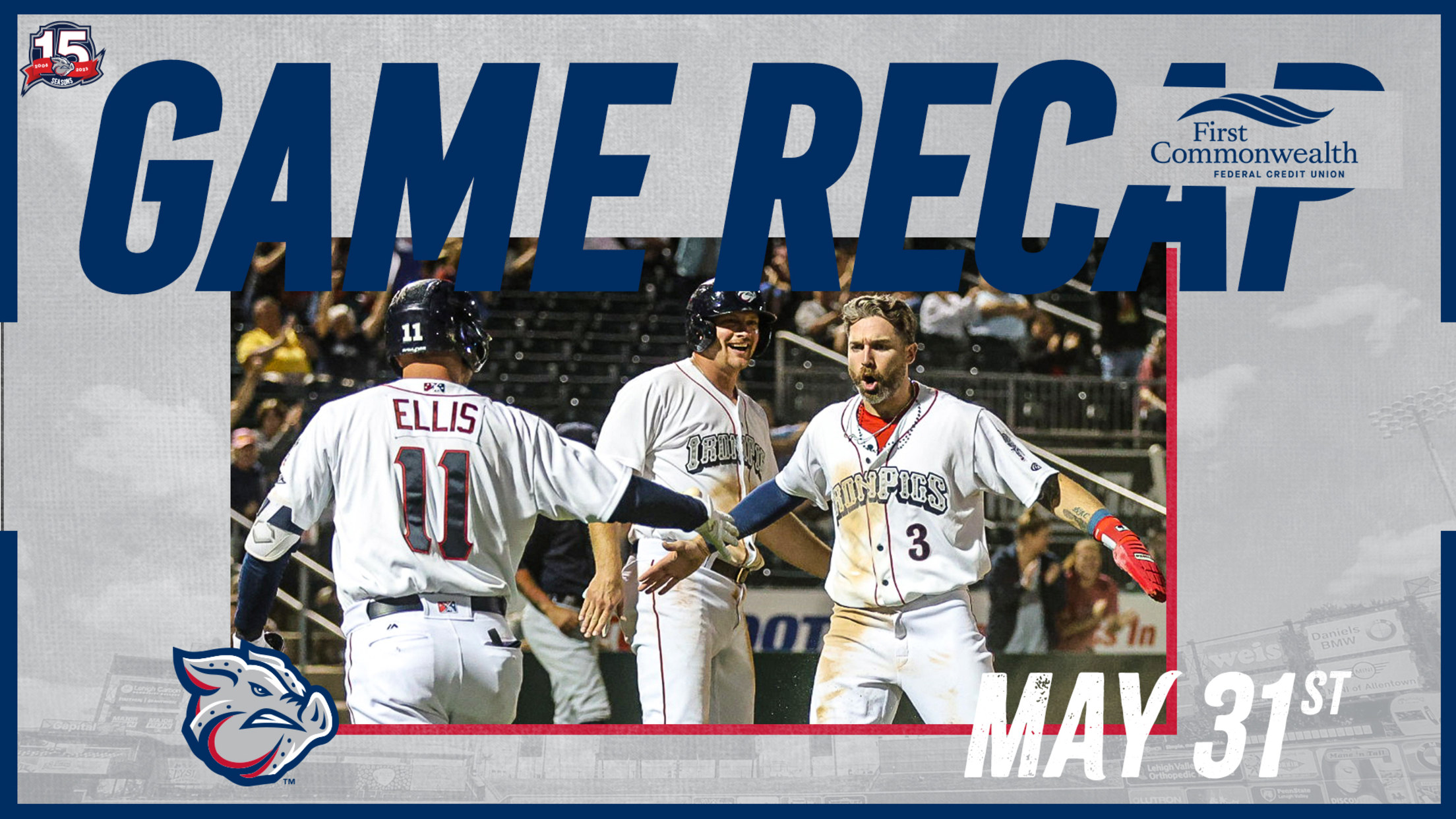 Allentown, Pennsylvania (May 31, 2023) – After going scoreless for 14 consecutive innings, the Lehigh Valley IronPigs (25-27) roared back for a late lead, only to lose 7-5 in 10 innings to the Scranton/Wilkes-Barre RailRiders (27-26) on Wednesday night at Coca-Cola Park. Oswald Peraza singled with one out in the
Allentown, Pennsylvania (May 31, 2023) – After going scoreless for 14 consecutive innings, the Lehigh Valley IronPigs (25-27) roared back for a late lead, only to lose 7-5 in 10 innings to the Scranton/Wilkes-Barre RailRiders (27-26) on Wednesday night at Coca-Cola Park.
Oswald Peraza singled with one out in the first and then moved to third on an Elijah Dunham single. After a strikeout, Kole Calhoun lined a single to right to score Peraza to put the RailRiders on the board first.
Both teams settled in on the mound after as the next run of the game wasn't scored until the seventh. In the seventh, Peraza blasted a solo homer to make it 2-0 Scranton/Wilkes-Barre.
The IronPigs came roaring back to life in the eighth. Esteban Quiroz walked to begin the inning and John Hicks doubled him to third. After a strikeout, Jake Cave walked to load the bases. Weston Wilson drove in a run with a sacrifice fly before Simon Muzziotti vaulted the IronPigs ahead with a two-run double.
Peraza struck again though in the ninth for the RailRiders, swatting his second solo homer of the day to tie the game and force extra innings.
In the 10th, Kole Calhoun began the frame by scoring the place runner with a triple. He then scored himself on a Rodolfo Duran single. Carlos Narvaez singled him to third with one out when a passed ball allowed Duran to score. Estevan Florial capped the scoring in the frame with an RBI triple.
The IronPigs fought back in the last half of the 10th, as Wilson ripped a two-out, two-run double to bring the tying run to the plate. The RailRiders got Muzziotti to ground out to the pitcher though to end the game for a Scranton/Wilkes-Barre 7-5 win.
Matt Bowman (2-0) earned the win in relief for the RailRiders, going two innings, allowing two runs (one earned) on one hit and a walk, striking out one.
Erich Uelmen (1-2) suffered the loss for the IronPigs, allowing four runs (three earned) in an inning of work on four hits, striking out one.
The IronPigs and RailRiders meet again on Thursday, June 1, for game two of their series. First pitch is slated for 6:45 p.m.
Follow the IronPigs on Twitter at @IronPigs and like them on Facebook via www.facebook.com/LHVIronPigs.
The IronPigs are presented by Capital**BlueCross**.
--#YourHometownTeam--