Jake Cave Named International League Player of the Week  
Cave is the second consecutive IronPig to earn the award, following Drew Ellis last week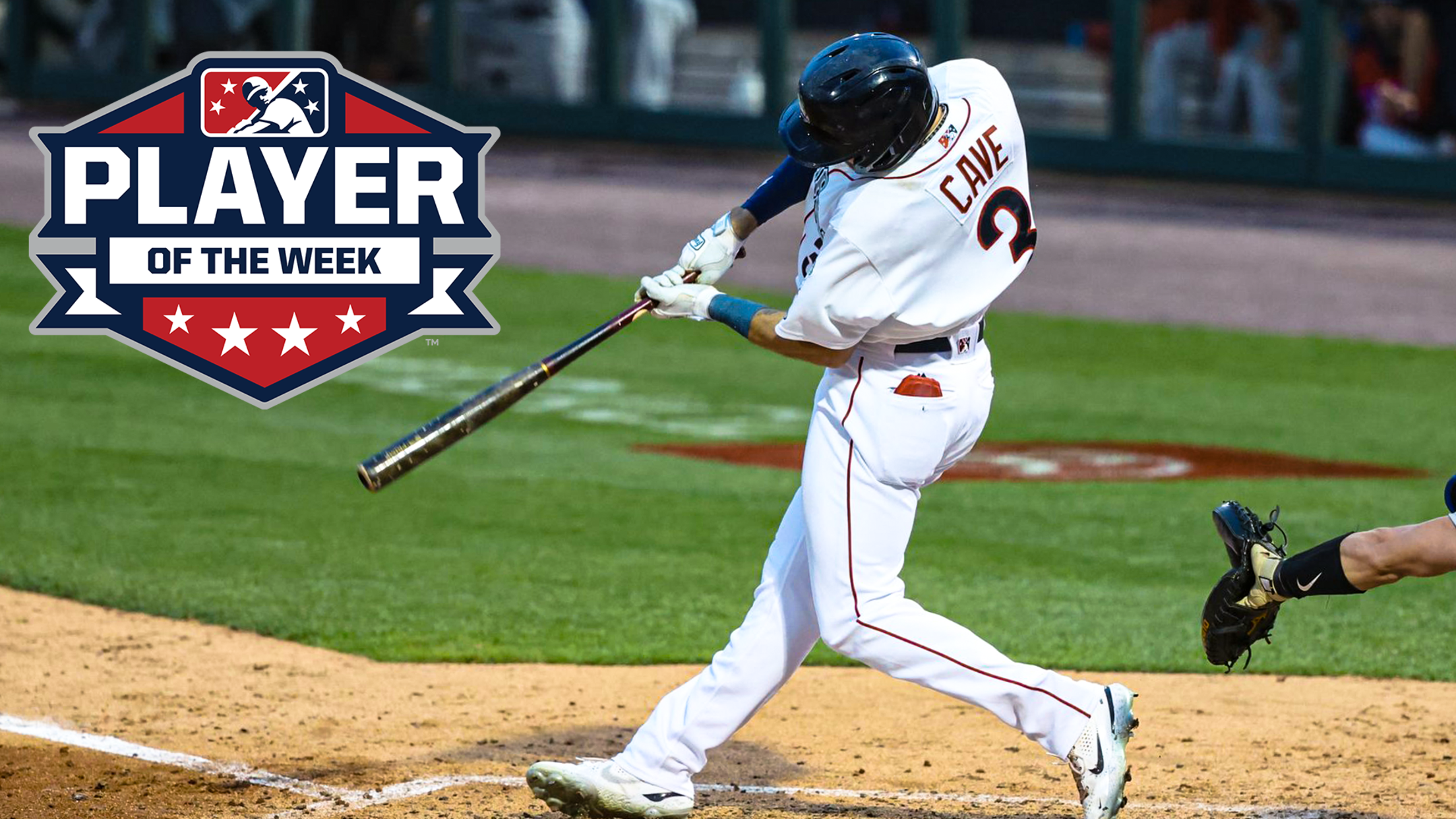 Allentown, PA (May 29, 2023) – Minor League Baseball has announced that Lehigh Valley IronPigs outfielder Jake Cave has been named the International League Player of the Week, for the week of May 22-28. Cave is the second consecutive IronPig to earn the weekly honor, following infielder Drew Ellis who
Allentown, PA (May 29, 2023) – Minor League Baseball has announced that Lehigh Valley IronPigs outfielder Jake Cave has been named the International League Player of the Week, for the week of May 22-28.
Cave is the second consecutive IronPig to earn the weekly honor, following infielder Drew Ellis who was honored for the week of May 15-21. Cave put together yet another superb week, playing in all six games against the Buffalo Bisons he went 9-for-19 (.474) with a .630 on-base percentage and 1.211 slugging percentage, good for a 1.840 OPS. Cave totaled five doubles and three homers, driving in seven runs while scoring 11 times and walking 7 times while striking out just four times. Cave's offensive performance helped lead the IronPigs to a 4-2 series win over Buffalo.
Cave started off his week by homering in each of the first two games, going 5-for-8 to begin the series. Cave scored four times in the next two games of the series, collecting a double in each game. He rounded out his week with a four-RBI performance with a homer on Saturday before going 1-for-3 with a double and a run scored on Sunday. Cave had an extra-base hit in each game played this week.
In the past week, Cave ranked 5th in the International League in batting average, 1st in runs scored, tied-1st in doubles, tied-2nd in homers, 2nd in OBP, 1st in SLG, and 1st in OPS.
Since Cave joined the IronPigs and played his first game on May 4th, he is on a 21-game hitting streak (tied-fourth in franchise history for longest hitting streak with Domonic Brown), encompassing his entire time with the IronPigs. Since that same date, Cave is at or near the top of numerous International League categories including: AVG (.437, 1st ), OBP (.524, 3rd ), SLG (.862, 1st ), OPS (1.386, 1st ), runs (31, 1st ), 2B (16, 1st), HR (7, t-3rd), and RBI (22, t-5th).
Cave is in his first season in the Phillies organization after being claimed off waivers from the Baltimore Orioles this past offseason. Cave made the Phillies Opening Day roster and was optioned to Lehigh Valley on May 2 after playing in 20 games for the Phillies, slashing .222/.286/.333 in 70 plate appearances. Cave was originally drafted by the New York Yankees in the 6th round of the 2011 draft out of Kecoughtan HS (Hampton, VA).
Follow the IronPigs on Twitter at @IronPigs and like them on Facebook via www.facebook.com/LHVIronPigs.
The IronPigs are presented by Capital BlueCross.
--#YourHometownTeam--