Big Red Machine! De La Cruz rips 117.3 mph double
Top-ranked Reds prospect laces 4th-hardest ball in Triple-A of 2023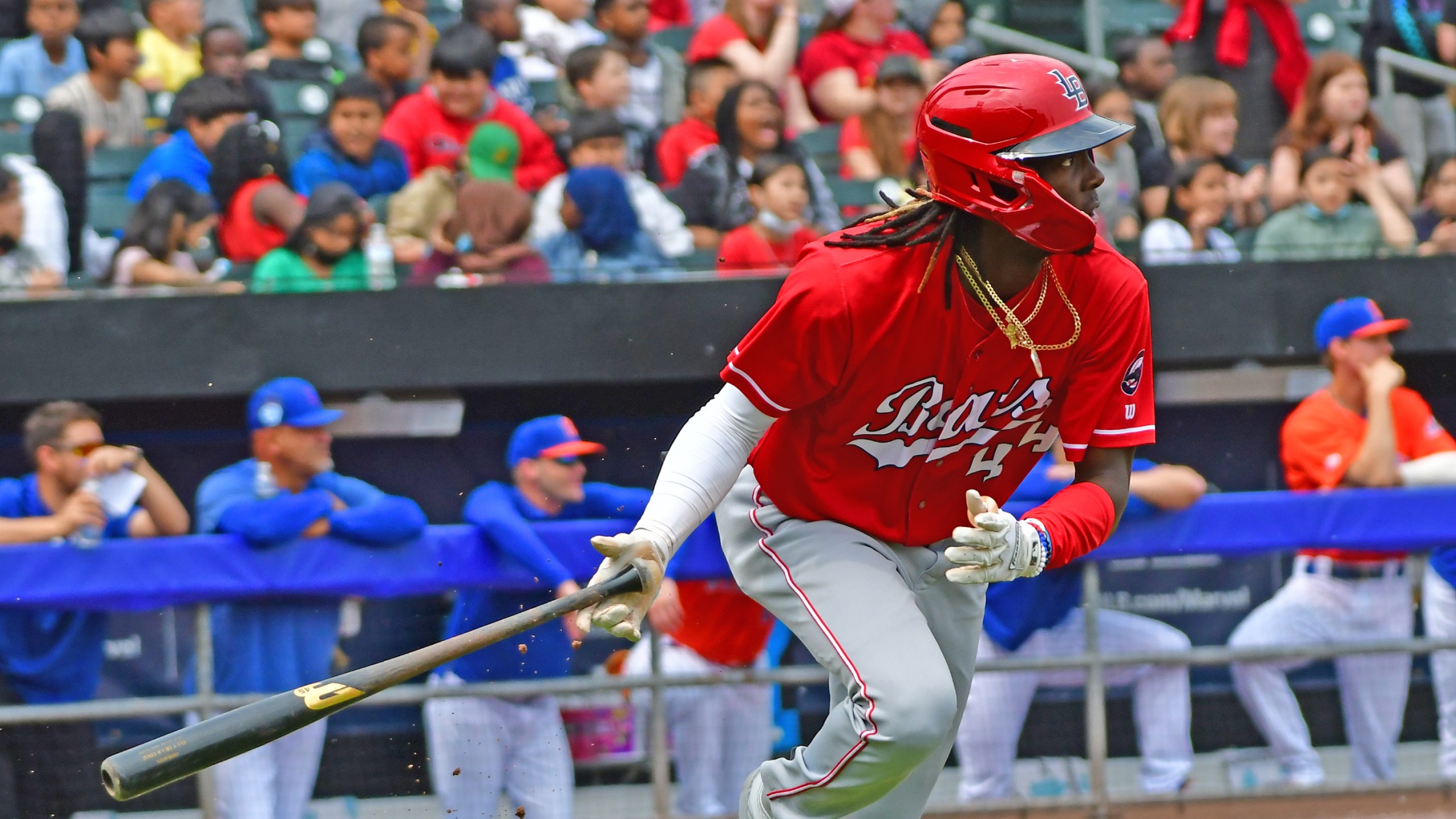 Thirty-two balls have been hit at least 116 mph this year at the Major League and Triple-A levels. Seven of those came from Elly De La Cruz's bat. The only other batters to break 116 multiple times this season are: Giancarlo Stanton (4), Jake Burger, Jo Adell and Ronald Acuña
New Mayer of Portland breaks out offensively
Baseball's No. 5 overall prospect collects first three Double-A hits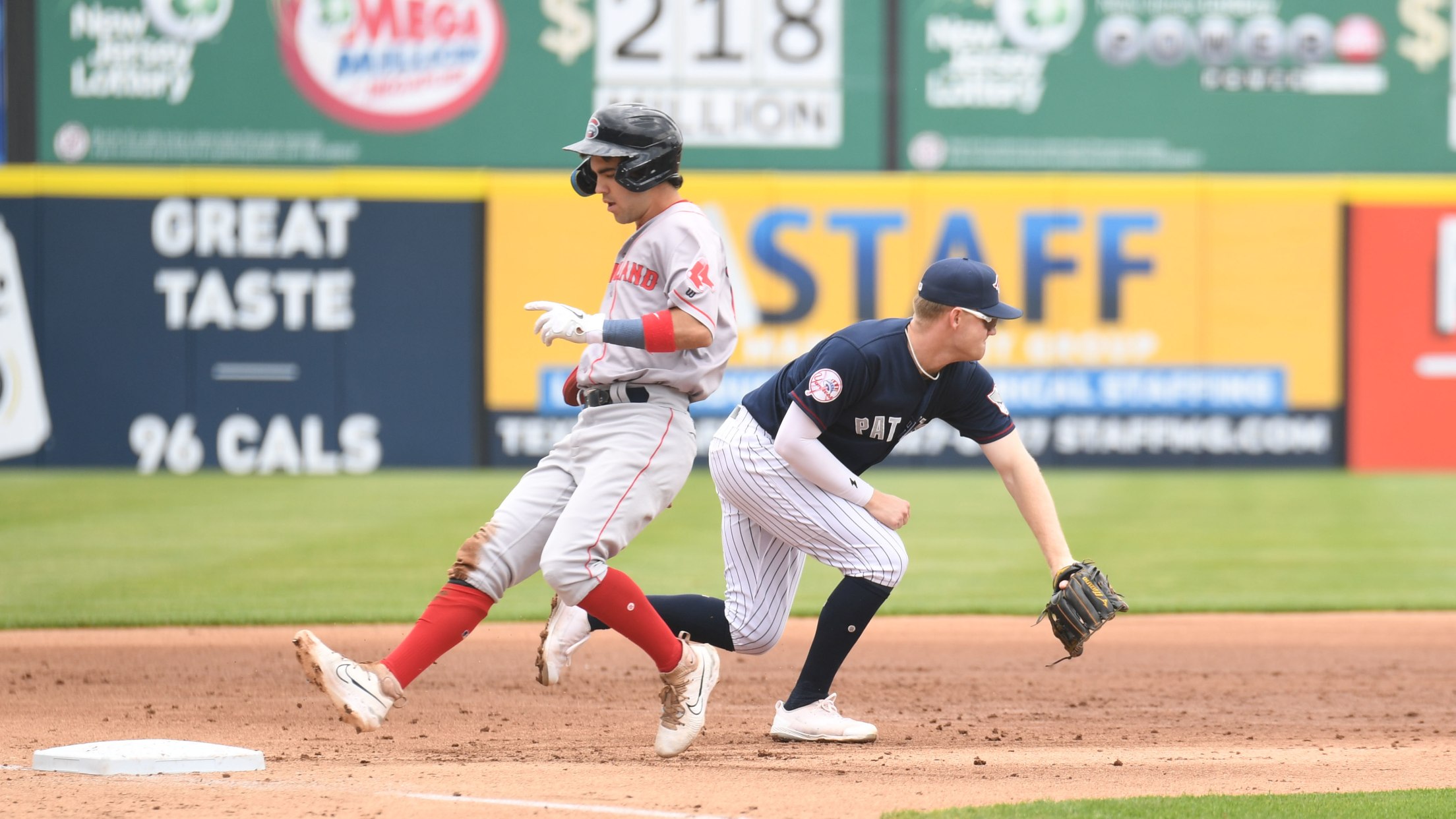 Multihit Marcelo Mayer has officially arrived for Double-A Portland. The No. 5 prospect in baseball per MLB Pipeline smacked his first hit for the SeaDogs and followed it up with two more, going 3-for-4 in Portland's 5-4 loss to Somerset. Mayer was promoted on May 30, but didn't play his
The I's have it: Iowa Cubs become Caucuses again
Alternate identity honors state's first-in-the-nation voting status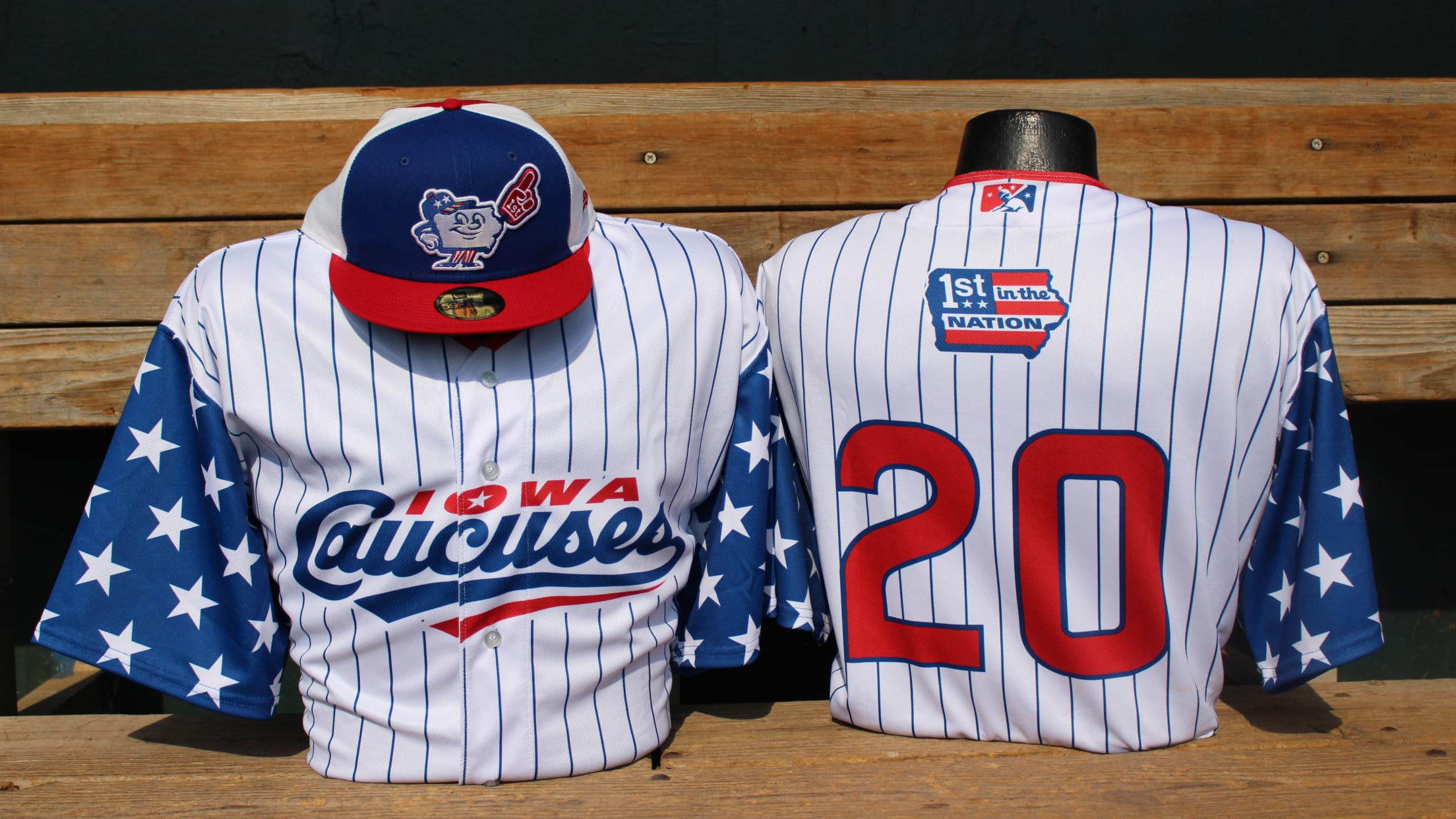 A version of this story originally ran on MiLB.com in 2019, at the time of the I-Cubs' inaugural appearance as the Caucuses. On Sunday, the Iowa Cubs are assuming an identity that checks off all the boxes. The Cubs, a Des Moines-based Pacific Coast League entity, are celebrating their state's
Certified fresh: The RubberDucks of Akron
"All Out 90s" night celebrated in front of packed house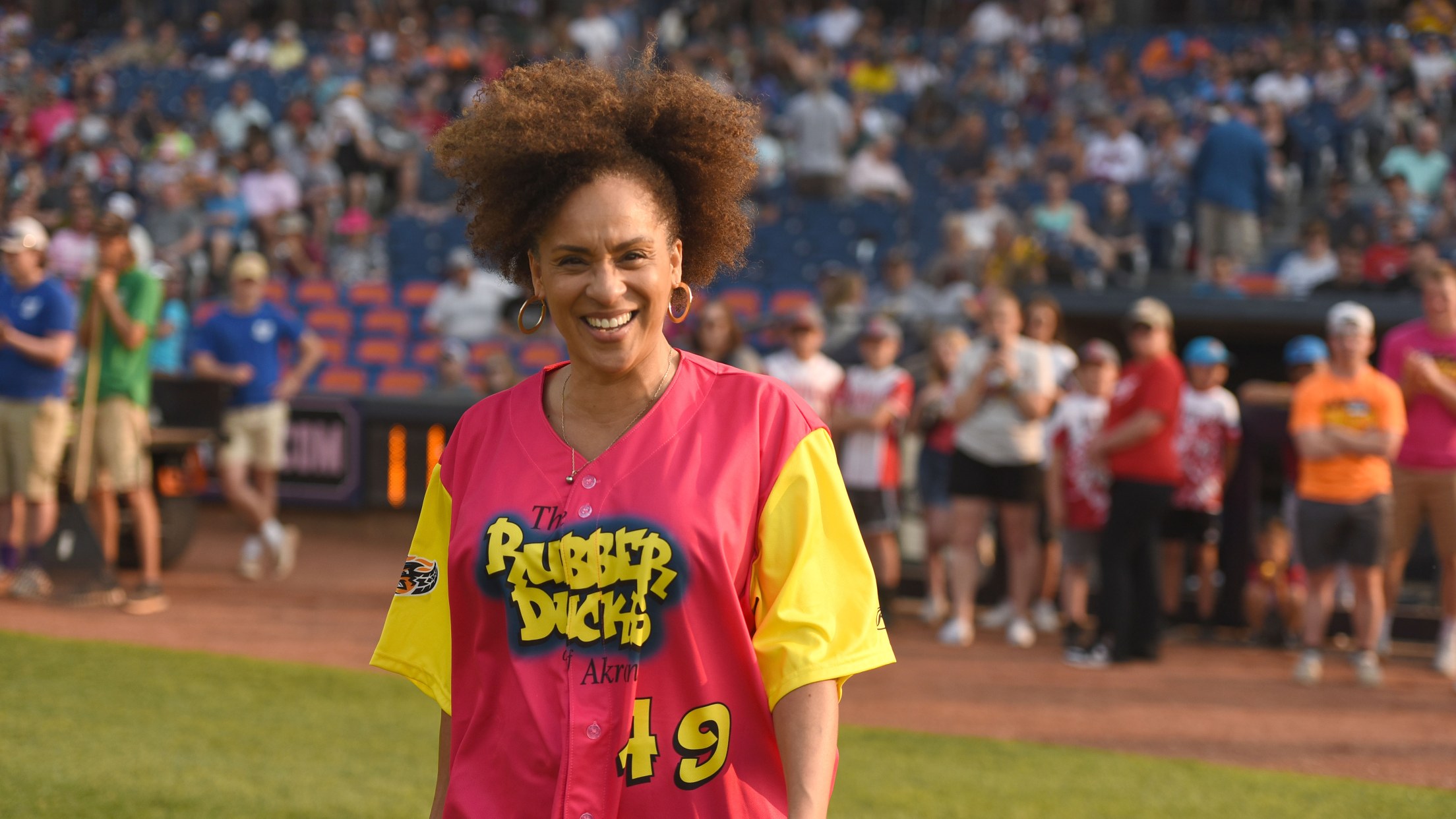 Now this is a story all about how the Akron RubberDucks were flipped-turned upside down, so please take a minute and sit right there and I'll tell you how Akron honored "The Fresh Prince of Bel-Air." On Saturday night, Double-A Akron hosted "All Out 90s" night with a special appearance
Fort Wayne tips cap to historic women's Daisies club
Monument dedicated to female pro team Daisies unveiled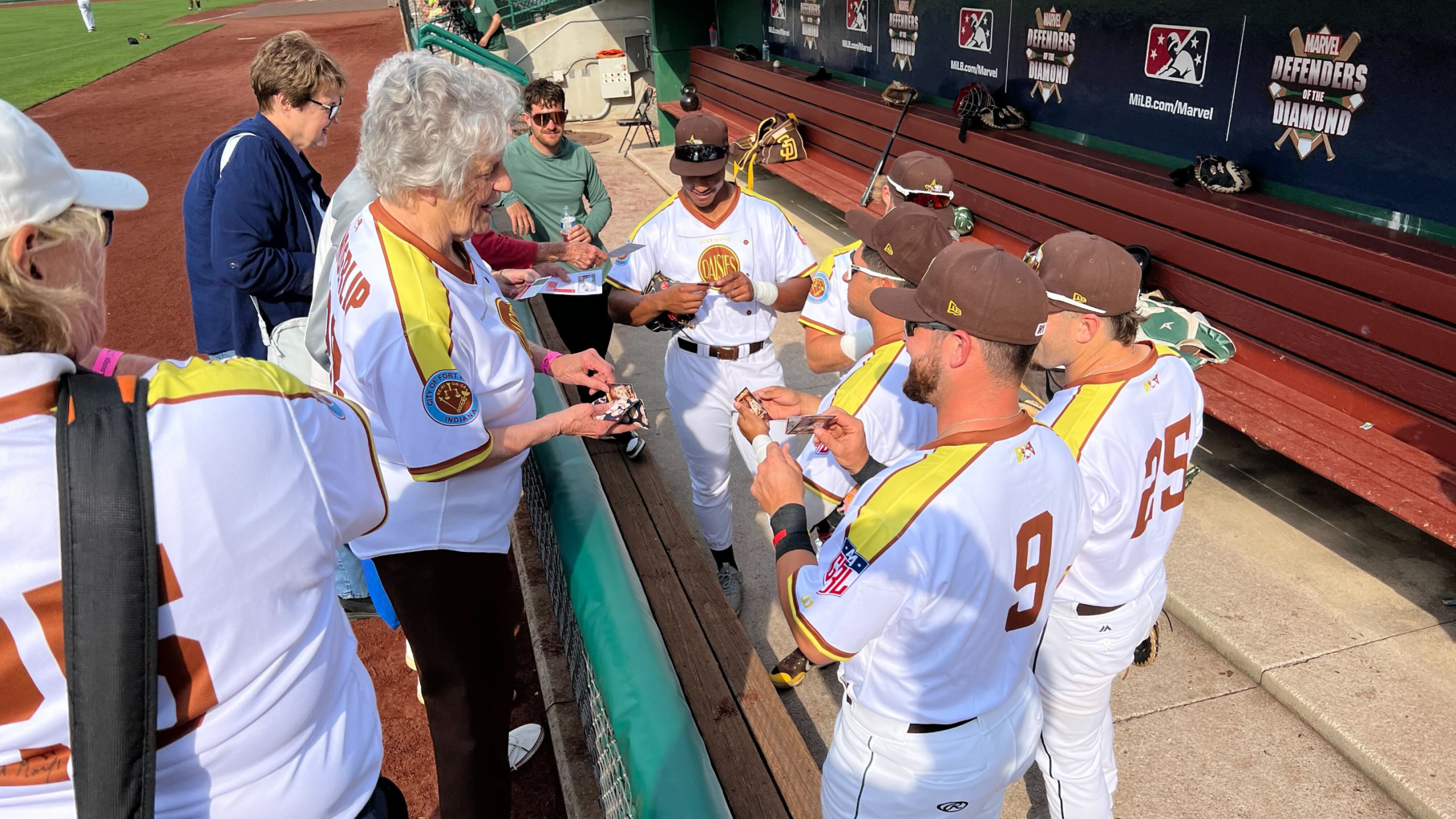 On a warm June night in northeast Indiana, Fort Wayne's Parkview Field was full of daisies. The Daisies of the All-American Girls Professional Baseball League, to be exact. The High-A TinCaps honored the city's AAGPBL team on Saturday, wearing replica jerseys and unveiling a monument dedicated to the club that
Soderstrom homerin' away again for Aviators
Top-ranked A's prospect swats two taters in Margaritaville threads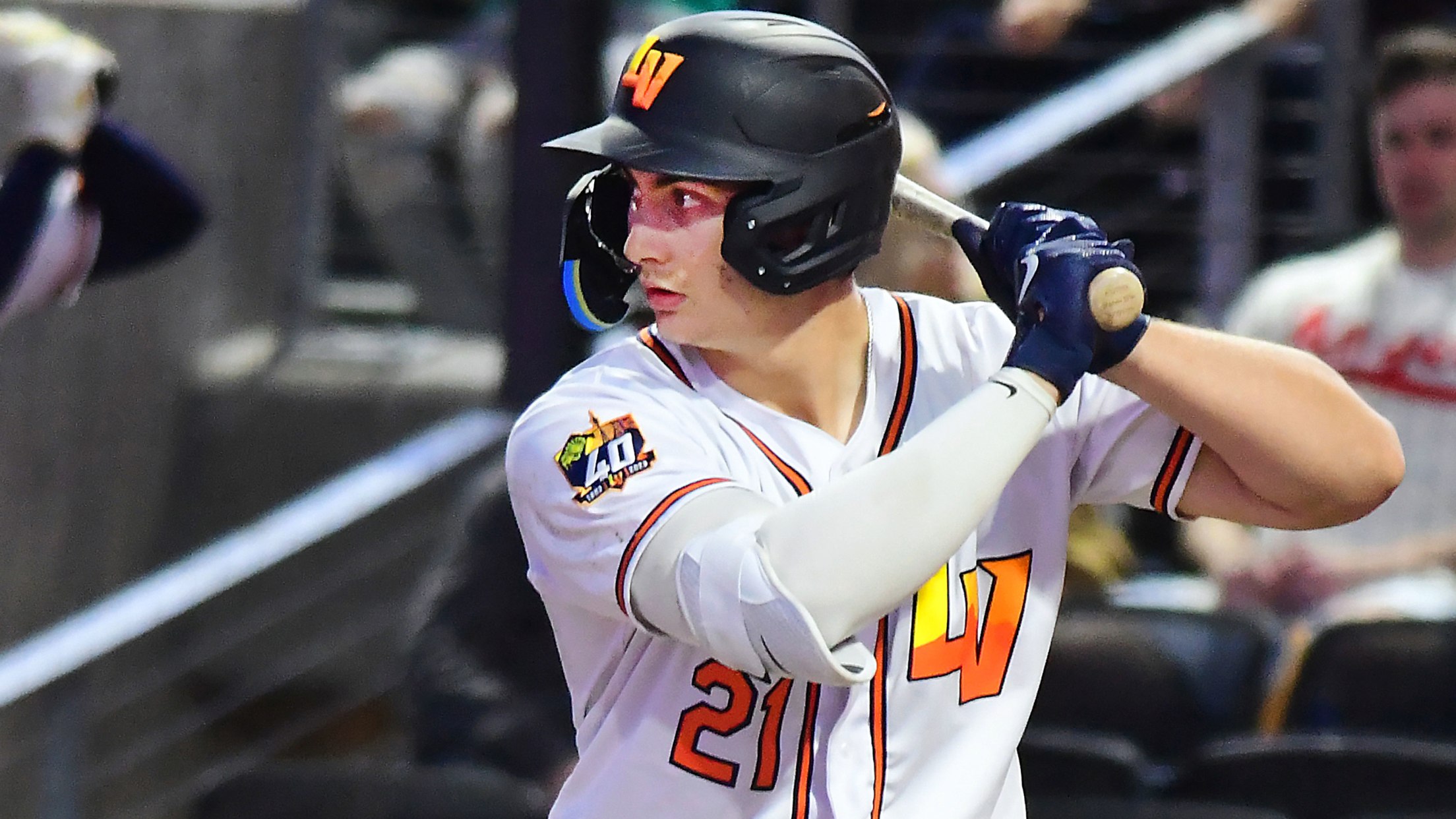 Welcome to Margaritaville, where it's always 5 o'clock, the jerseys (and vibes) are crisp and apparently, Tyler Soderstrom is launching baseballs into orbit. The top-ranked Athletics prospect was homerin' away again in an 11-8 Aviators victory on Saturday at Las Vegas Ballpark, as the club gave a nod to the
Louisville lightning: Elly wows with speed, power
Bats' De La Cruz activates record burners on RBI knock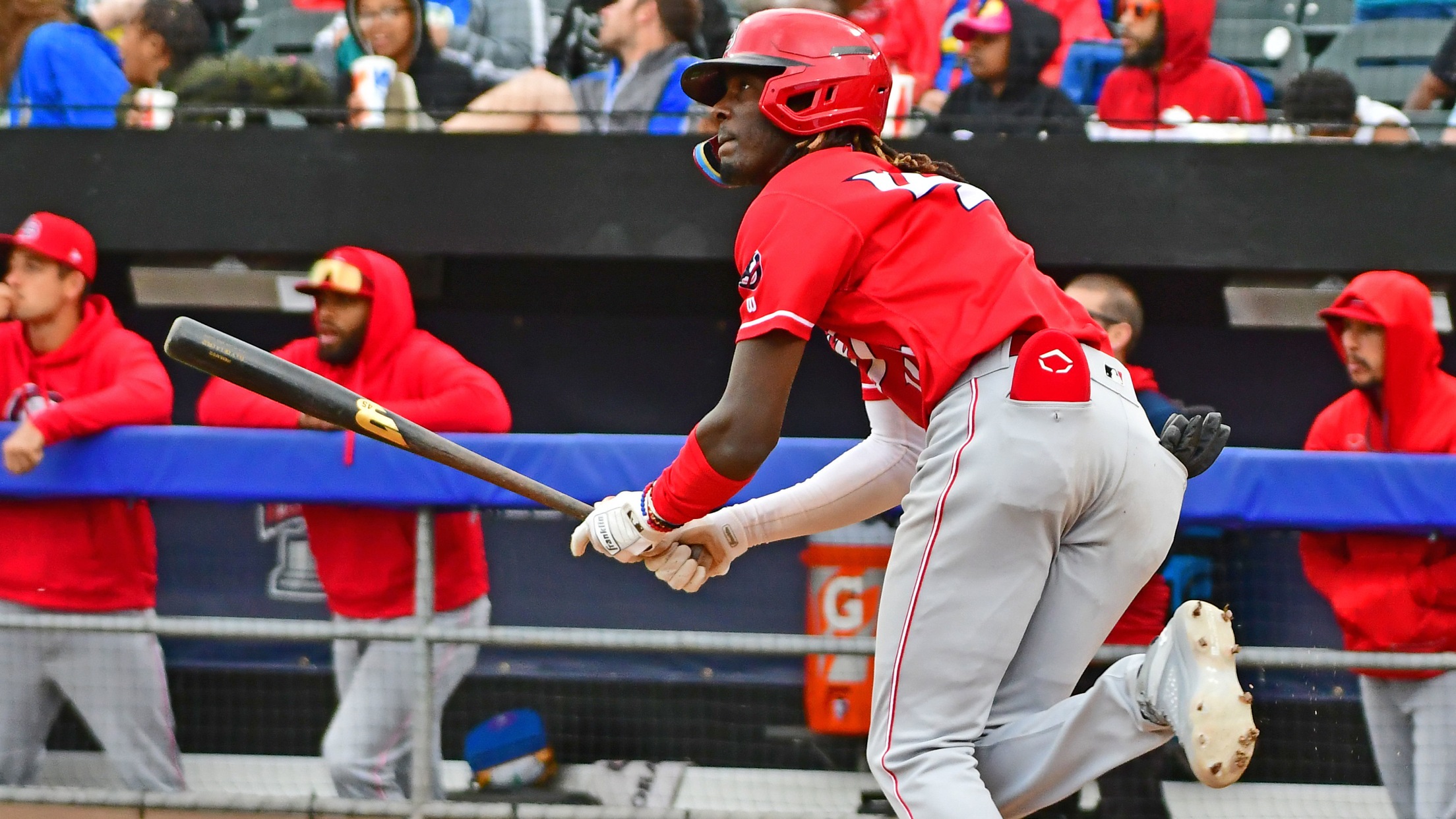 Top-ranked Reds prospect Elly De La Cruz's game is defined by speed. MLB Pipeline's No. 4 overall prospect, De La Cruz boasts high exit velocities off the bat, zips the baseball from the left side of the infield to first inexplicably fast and also can get around the bases quicker
Ben's Biz: A night of High-"Eh" baseball in Vancouver
Ben Hill goes north of the border to majestic British Columbia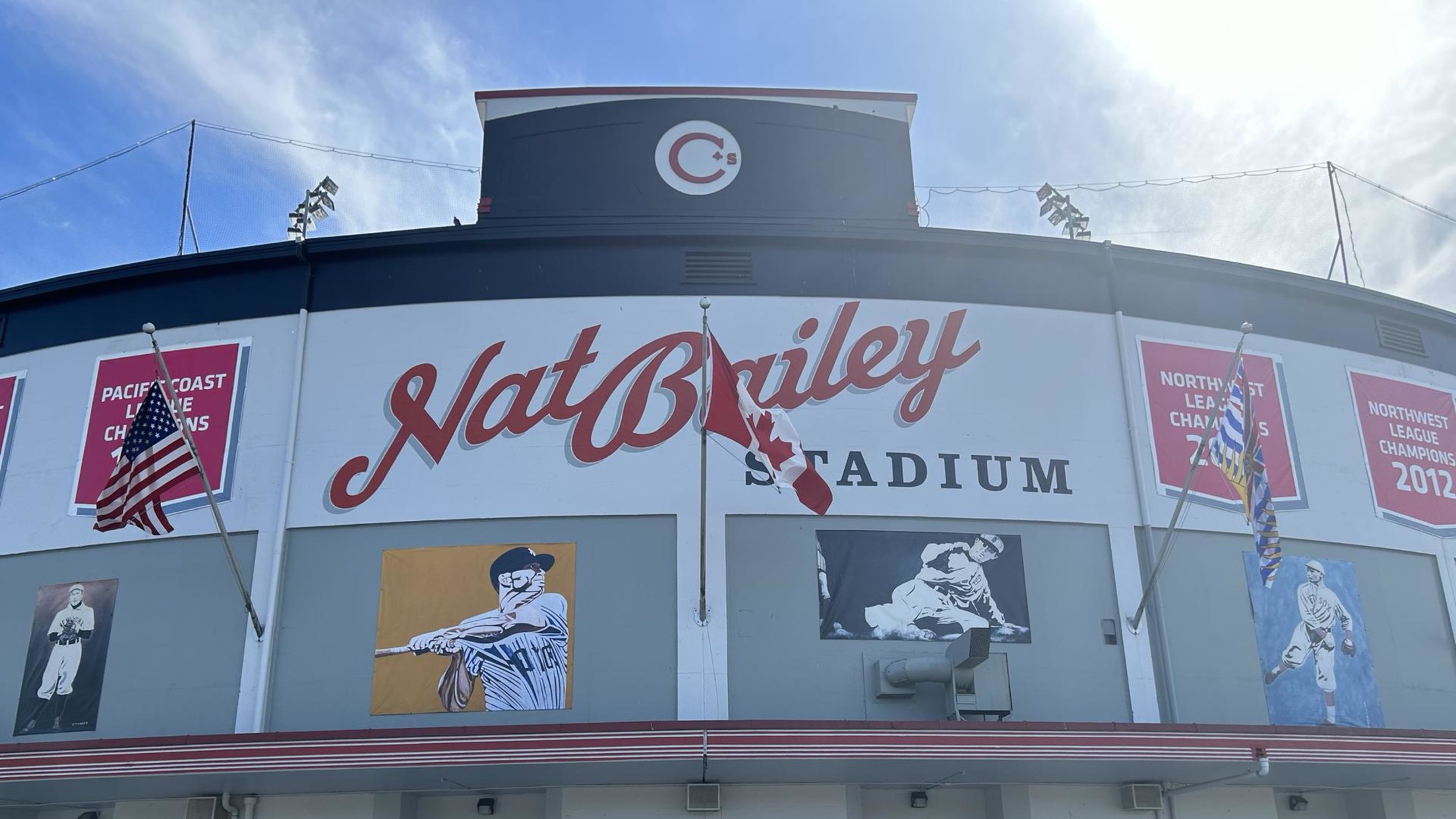 This is an excerpt from the latest edition of the Ben's Biz Beat Newsletter, bringing Minor League Baseball business and culture news to your inbox each and every Thursday. Check out the full newsletter HERE. Subscribe HERE.
Podcast: Honoring AAGPBL's Daisies in Fort Wayne
TinCaps set to honor local AAGPBL club, the Fort Wayne Daisies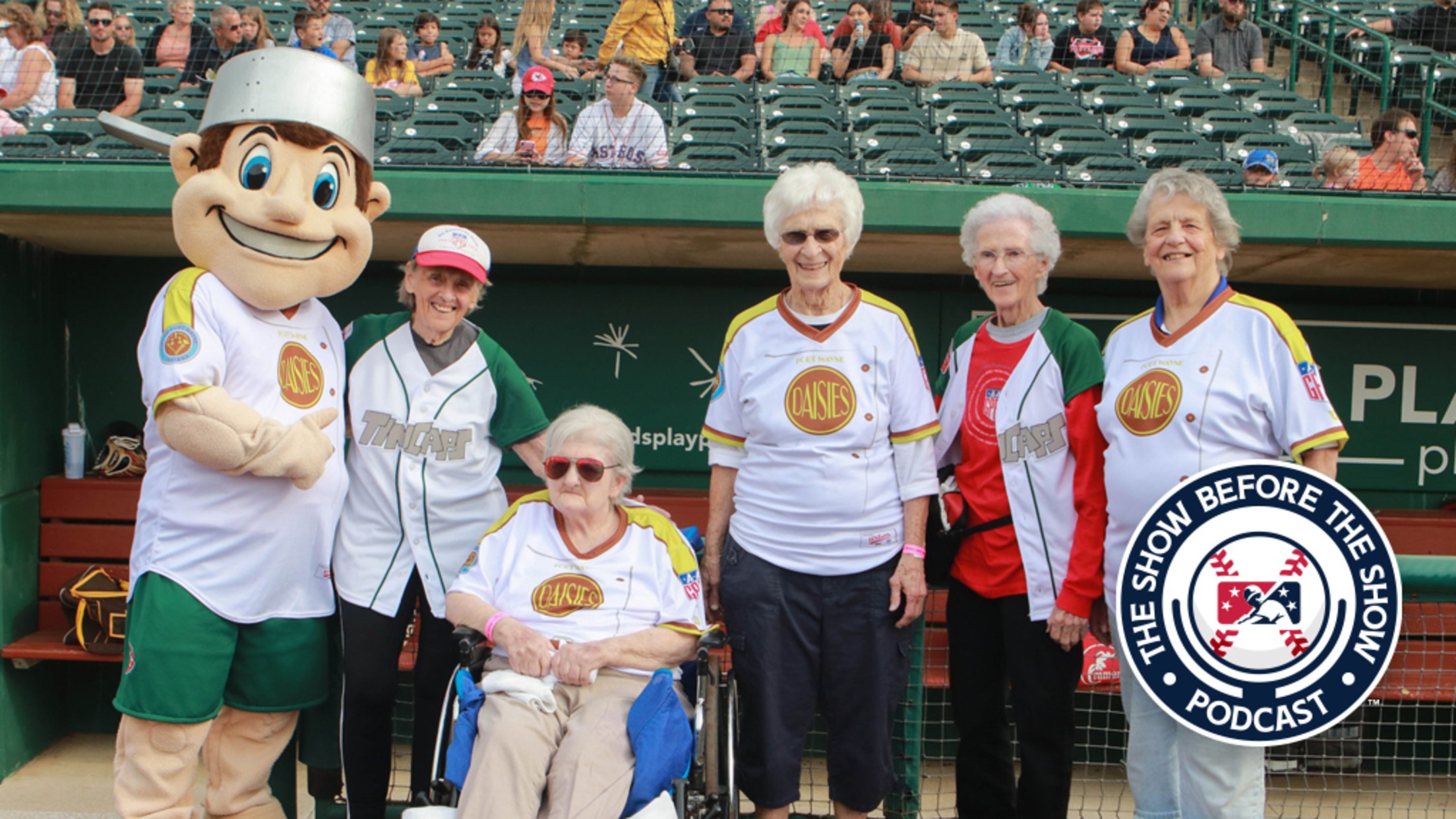 Check out the latest episodes of The Show Before the Show, MiLB.com's official podcast. A segment rundown is listed below, in case you want to skip to a particular section. Like the podcast? Subscribe, rate and review on Apple Podcasts. The podcast is also available via Spotify, Stitcher and other
Copa de la Diversión goes beyond the ballpark
Monarcas among clubs making connections beyond the ballpark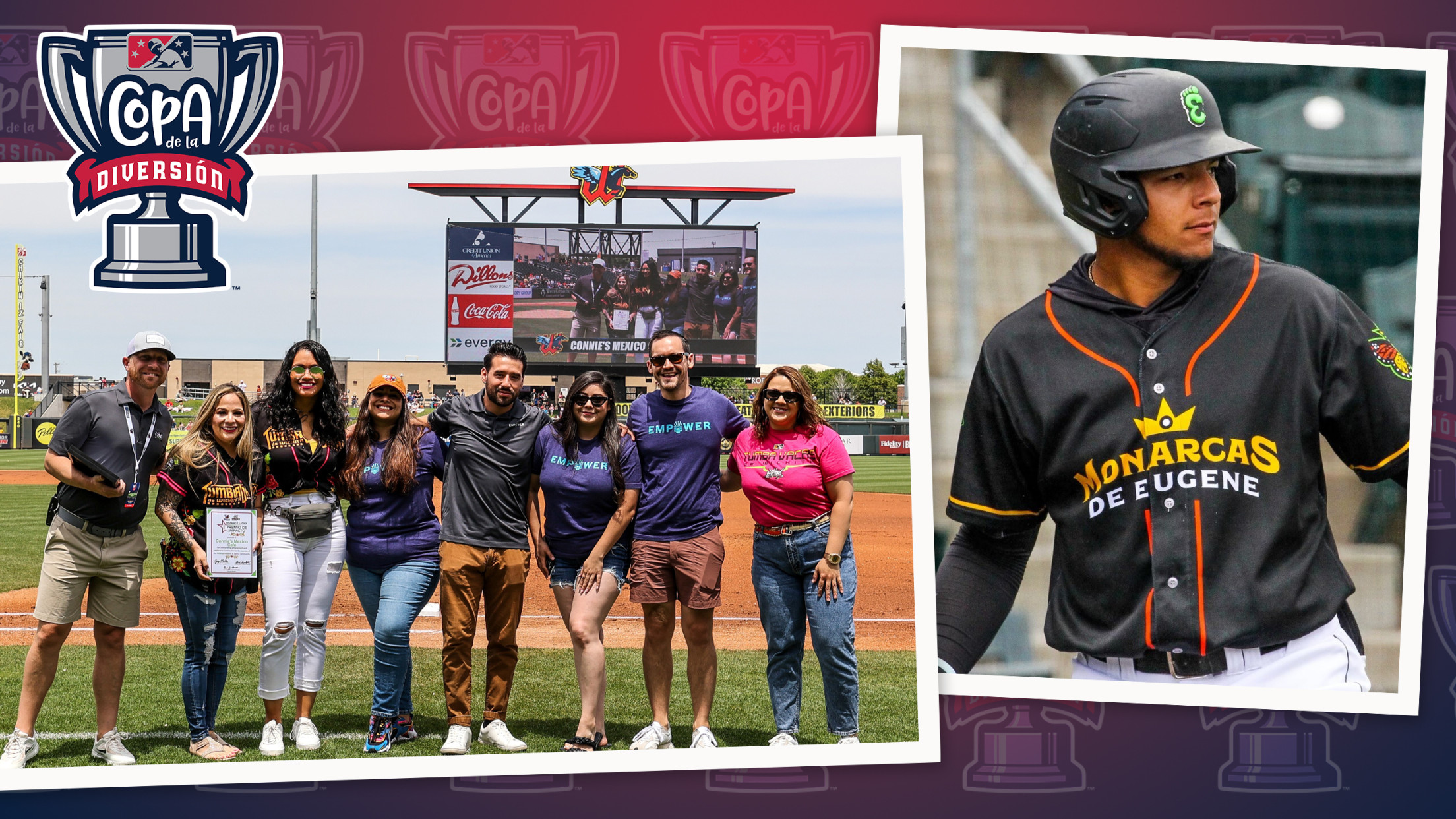 Copa de la Diversión is a multi-faceted fan engagement platform focused on embracing the cultures and values that resonate most with local Latino/a communities. Indeed, some of the greatest success stories within Copa -- sponsored by Nationwide, the platform's official insurance partner -- relate to each club's ability to make
Cartaya starts June like he ended May, with a HR
No. 1 Dodgers prospect goes yard in fourth consecutive game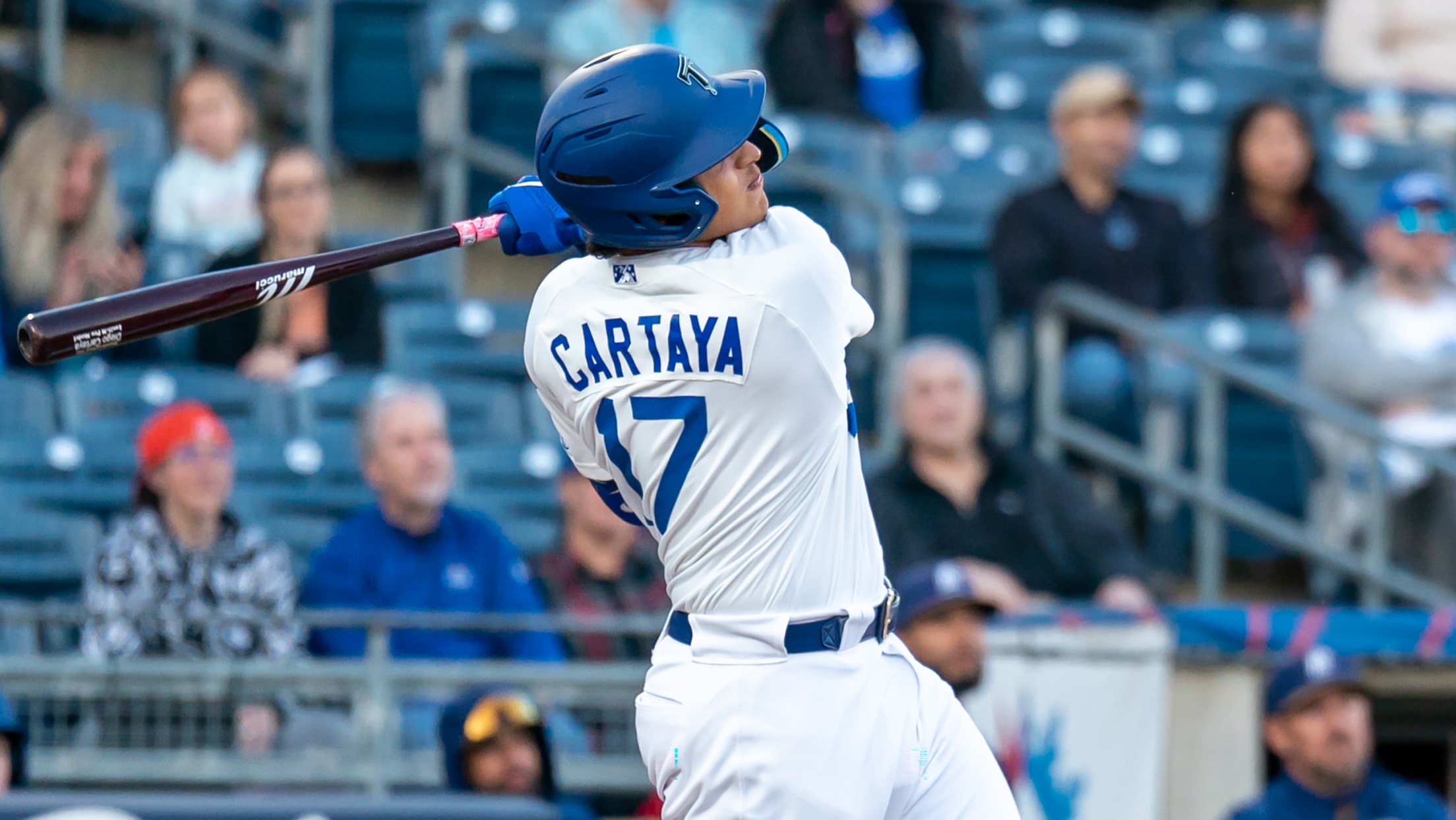 Diego Cartaya, the top-ranked prospect in the Dodgers' organization, has been as potent offensively as advertised over his last eight outings with Double-A Tulsa. While he may have started the season with a .190/.288/.337 slash line in 26 contests, he showed up to Riverfront Stadium for Thursday night's tilt at
Wood introduces power early in Senators' tenure
Top Nats prospect's first Double-A extra-base hit is 9th HR of year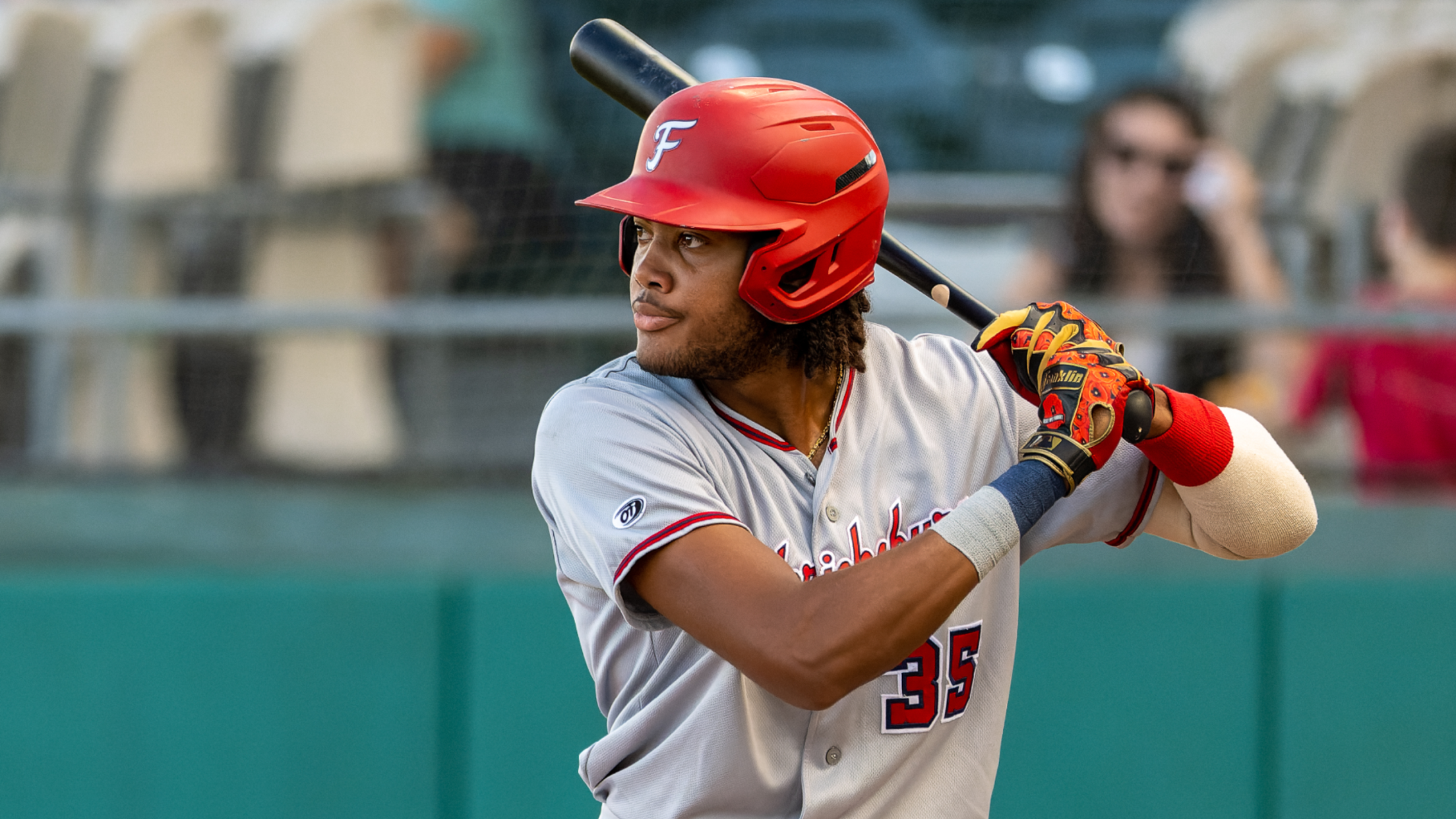 James Wood is moving on up, and moving on up with style. The top Nationals prospect clubbed his first Double-A home run on Thursday, his first extra-base hit since being promoted on May 28. Wood sports 60-grade power -- tied with his speed for his highest-graded tool -- and he
Walker, Winn find seats together for first time in '23
Cards' top two prospects go deep in same contest to spur rally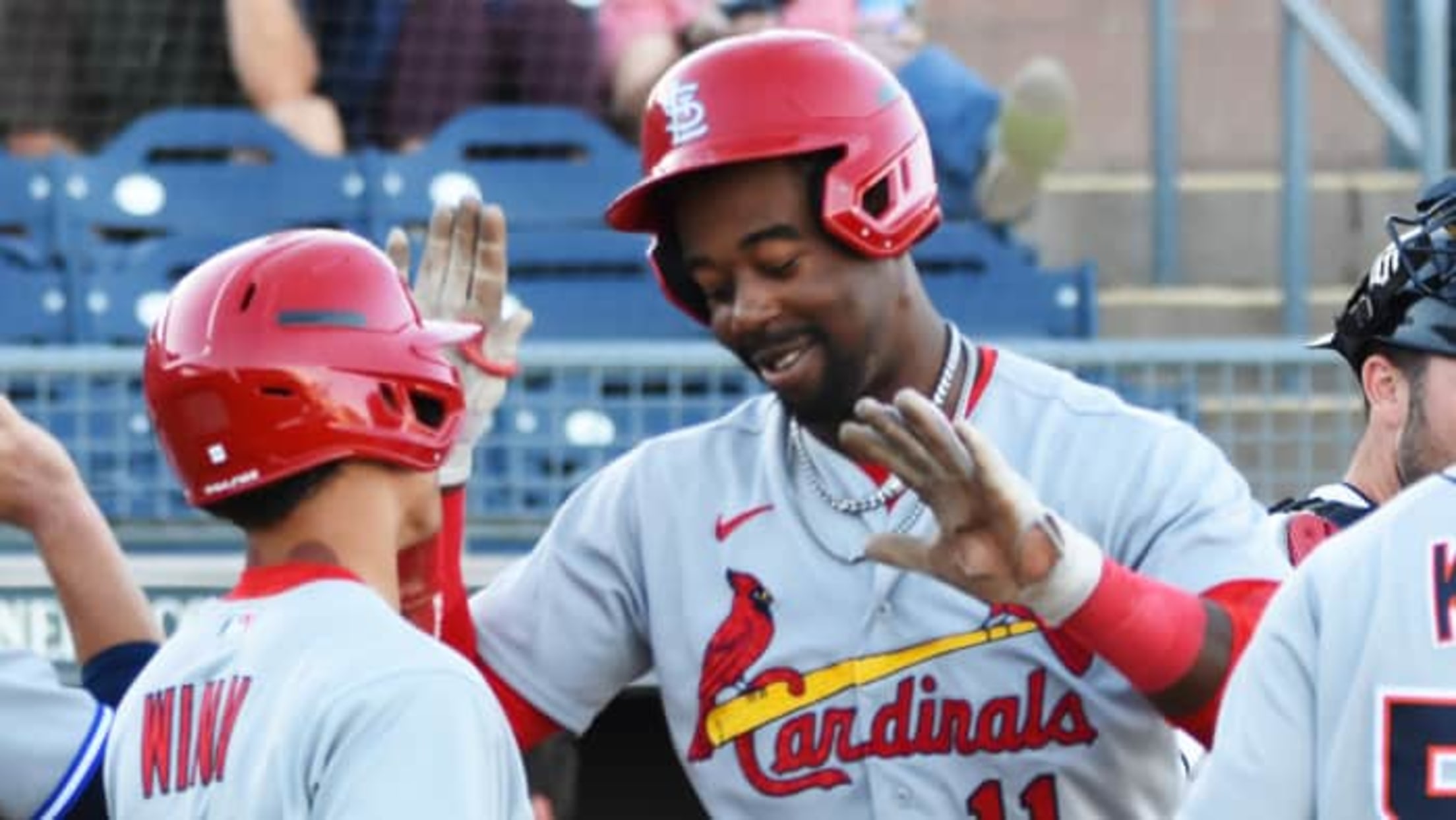 The Triple-A Memphis Redbirds delivered a 1-2 punch to the Omaha Storm Chasers Wednesday night, with the top two Cardinals prospects each going yard. Jordan Walker, the top prospect in baseball, and MLB No. 38 Masyn Winn hit their fourth and six homers, respectively, at the level on the season.
Jays' Spain goes from US hockey to Canadians baseball
Blue Jays prospect grew up on ice, now takes the field in Vancouver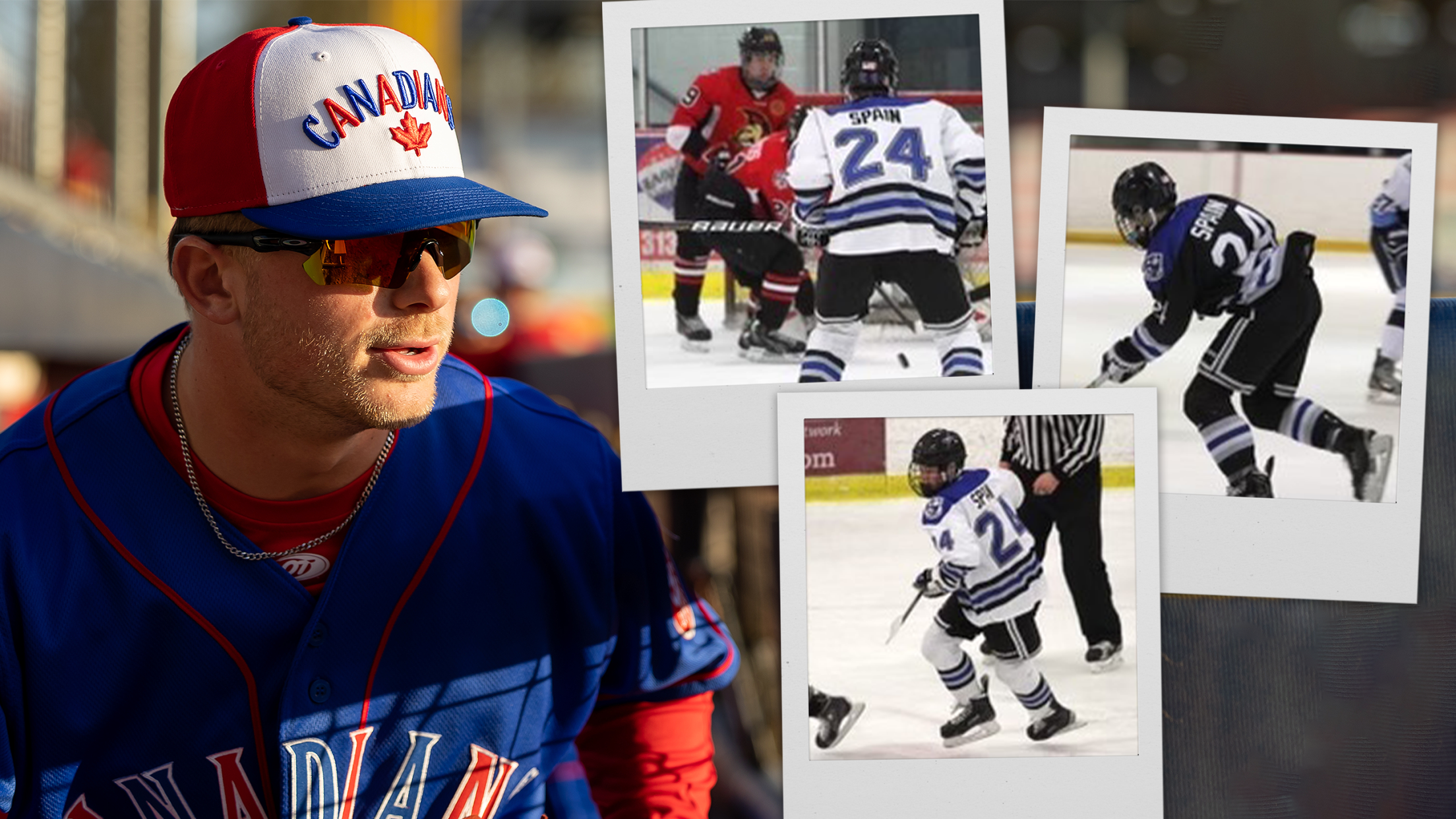 Garrett Spain grew up playing hockey in the United States, where baseball is the national pastime. These days, he's playing professional baseball in Canada. It's funny how life works out. Spain, an outfielder selected by the Toronto Blue Jays in the 15th round of the 2021 Draft, is currently in
Teen sensation Salas lives up to billing in his pro debut
Padres phenom doubles, singles and scores Storm's go-ahead run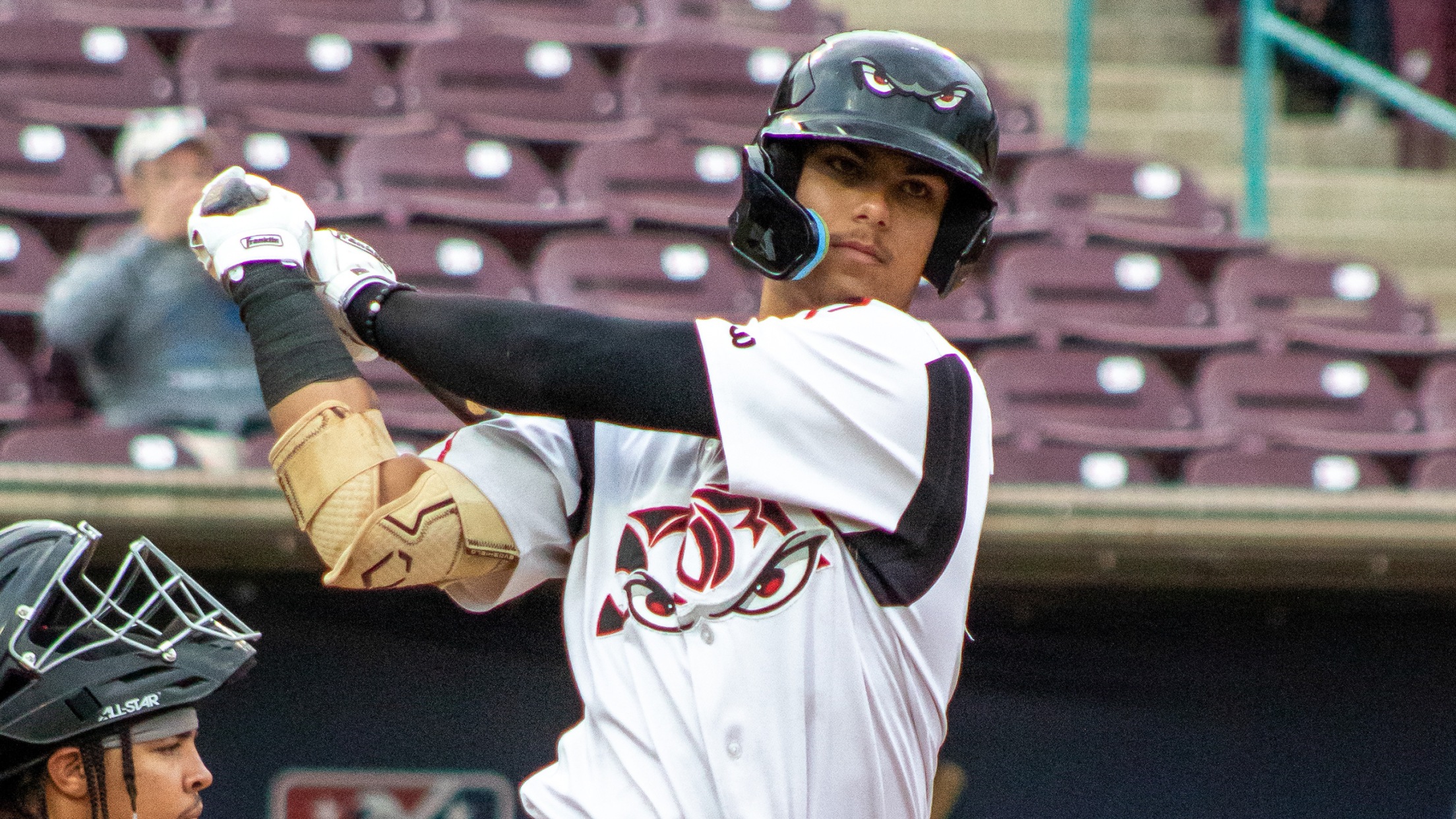 Ethan Salas doesn't even have a learner's permit yet, but the 16-year-old phenom already has a license to hit. The Padres' No. 3 prospect skipped over the Rookie-level Complex League entirely and was assigned to Single-A to begin his professional career. As if that wasn't impressive enough, Salas scored the
Elly De La Crush: The Louisville walk-off edition
Cincinnati's top prospect crushes a 432 foot homer for Louisville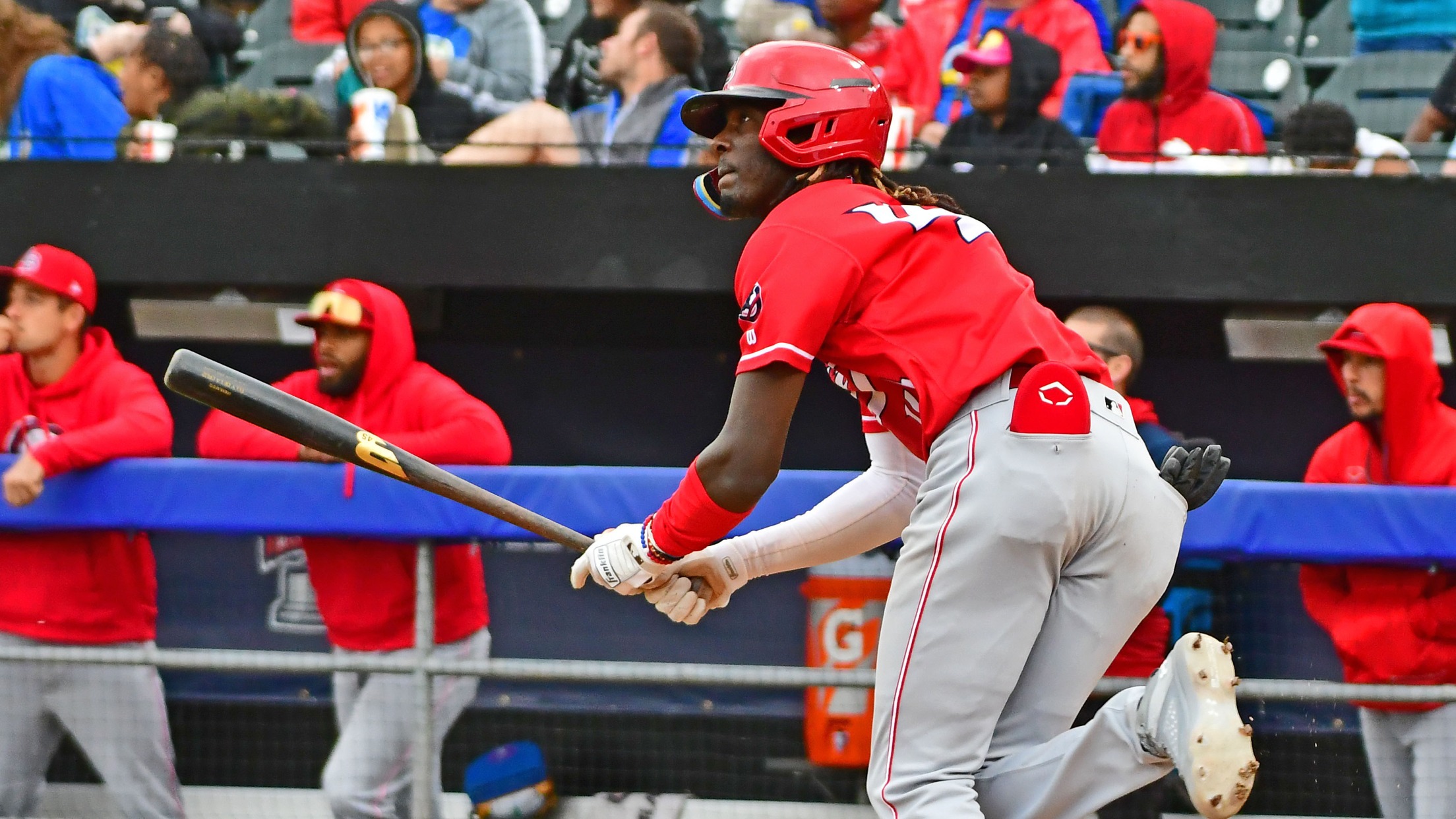 The streak that Elly De La Cruz is on is starting to feel like a tall tale you might hear from your grandparents, hard to believe and most likely embellished. But the only thing tall about this tale is EDLC's height: 6-foot-5.
Road to The Show™: Forecasting next promotions
Reds' De La Cruz, Mets' Mauricio knocking on door to Majors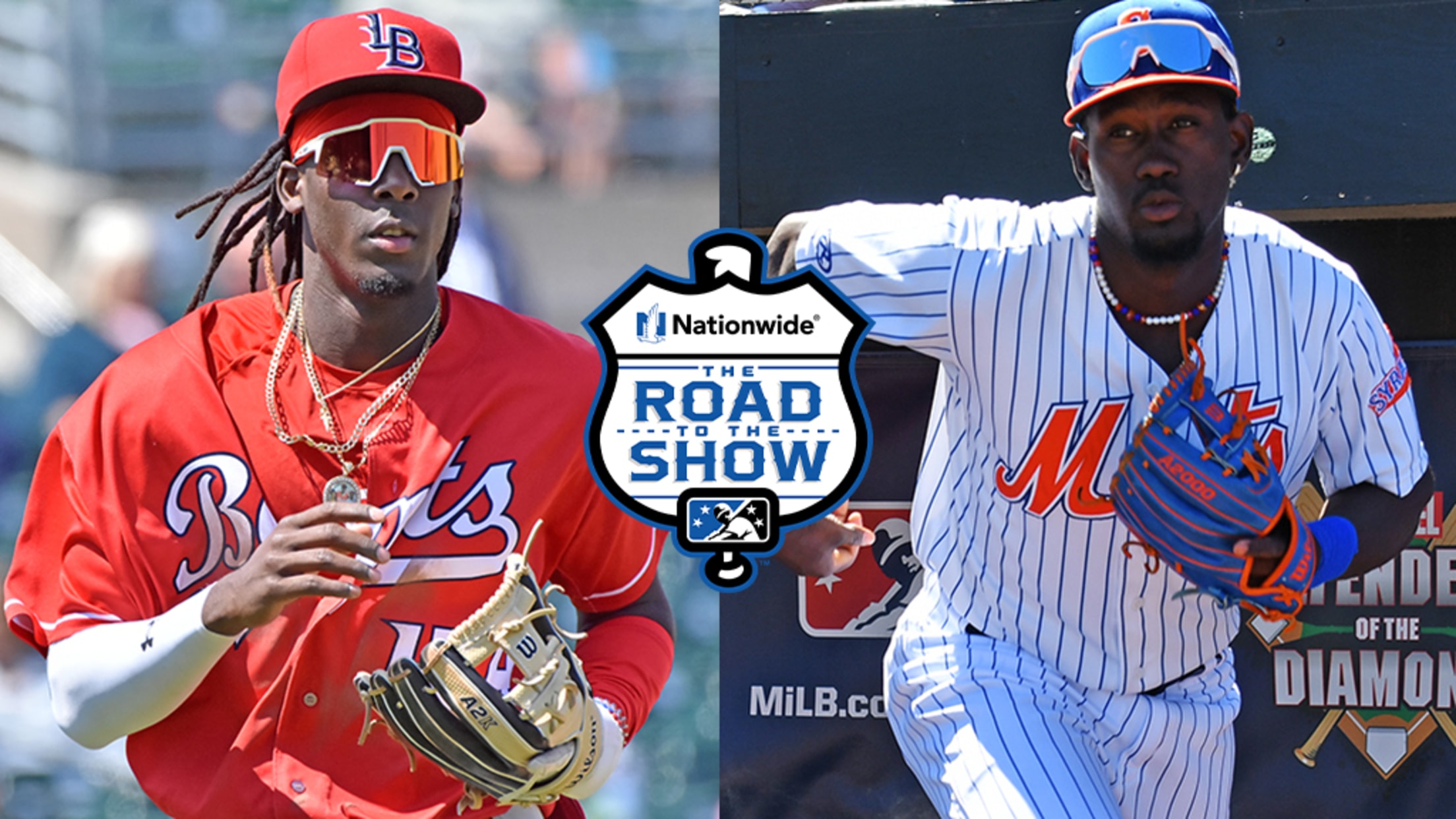 Each week, MiLB.com profiles an elite prospect by chronicling the steps he's taken toward achieving his Major League dream. For more stories about players on The Road to The Show, click here. For top prospects throughout the Minors, two months of play can go a long way toward revealing which
Durham's Pride Night celebrates baseball for all
Bulls kick off Pride Month by hosting LGBTQ+ advocate groups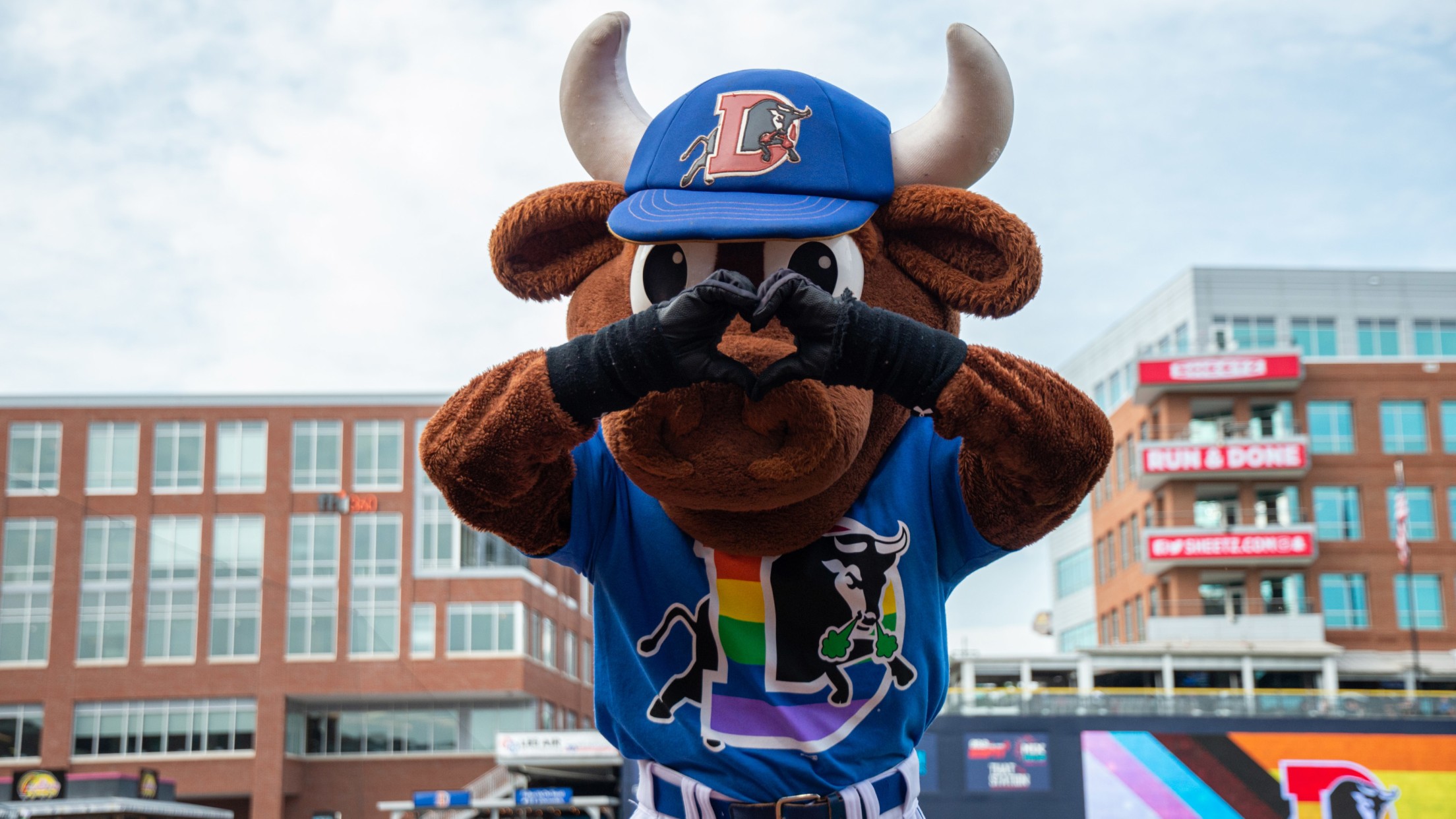 It's time to take Pride in the Minor Leagues. Pride Month will begin Thursday with Triple-A Durham's second annual Pride Night, kicking off the run of Pride-related promotions throughout the Minor Leagues. Durham Bulls Athletic Park will be decked out with a rainbow flag in center field and other special
The best of the Marlins' Minor League ballparks
From Jupiter to Jacksonville, affiliates packed with enthusiasm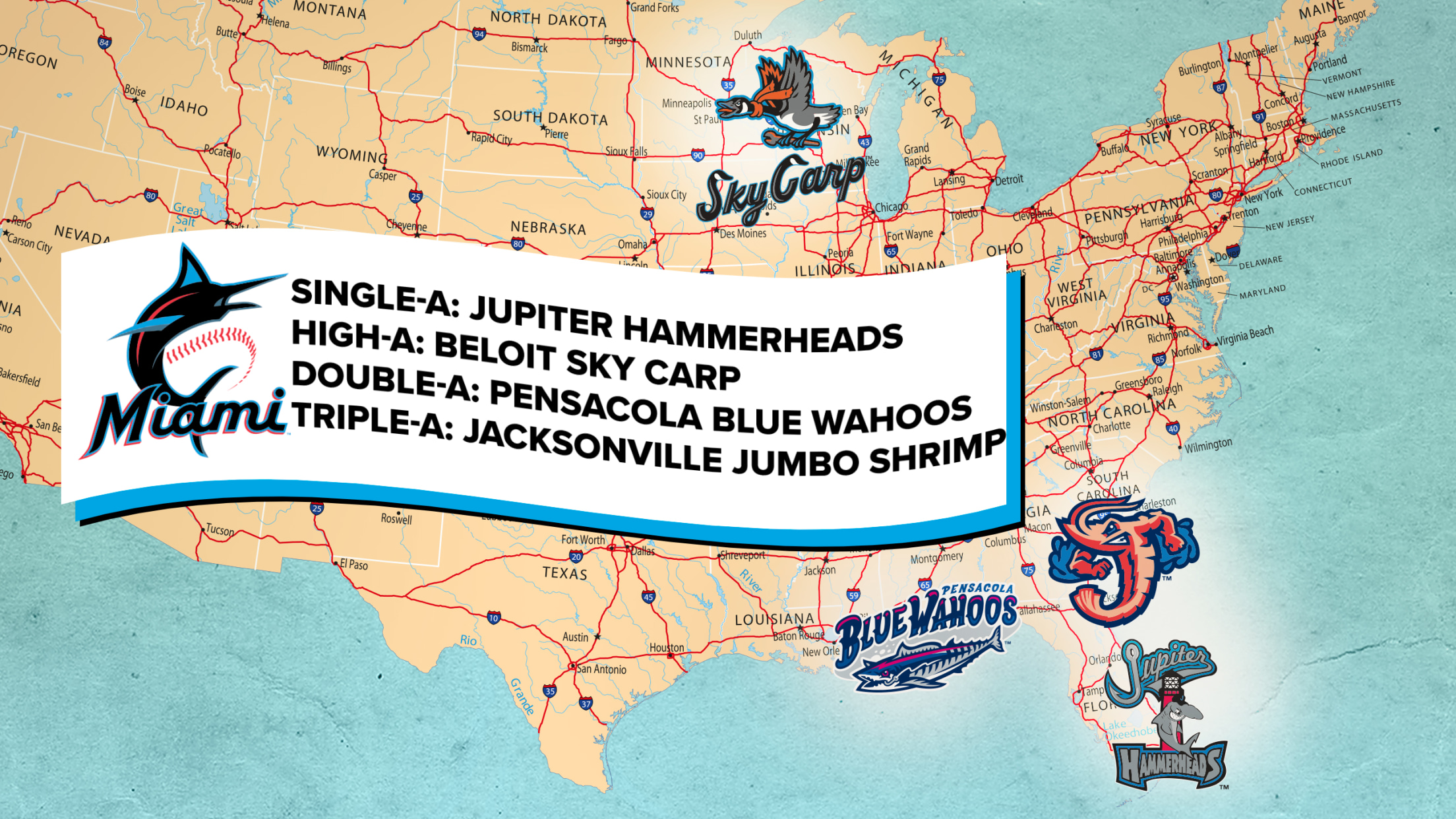 The Minor League Ballpark Guides series brings all the most fun features of Minors ballparks across America (and one in Canada!) onto your desktop, tablet or mobile device, whether you're interested in taking a virtual tour from where you sit or planning a trip to catch some games. Here, we
Scorching May drives Boston's Mayer to Sea Dogs
Boston's top prospect slashed .290/.366/.524 with Greenville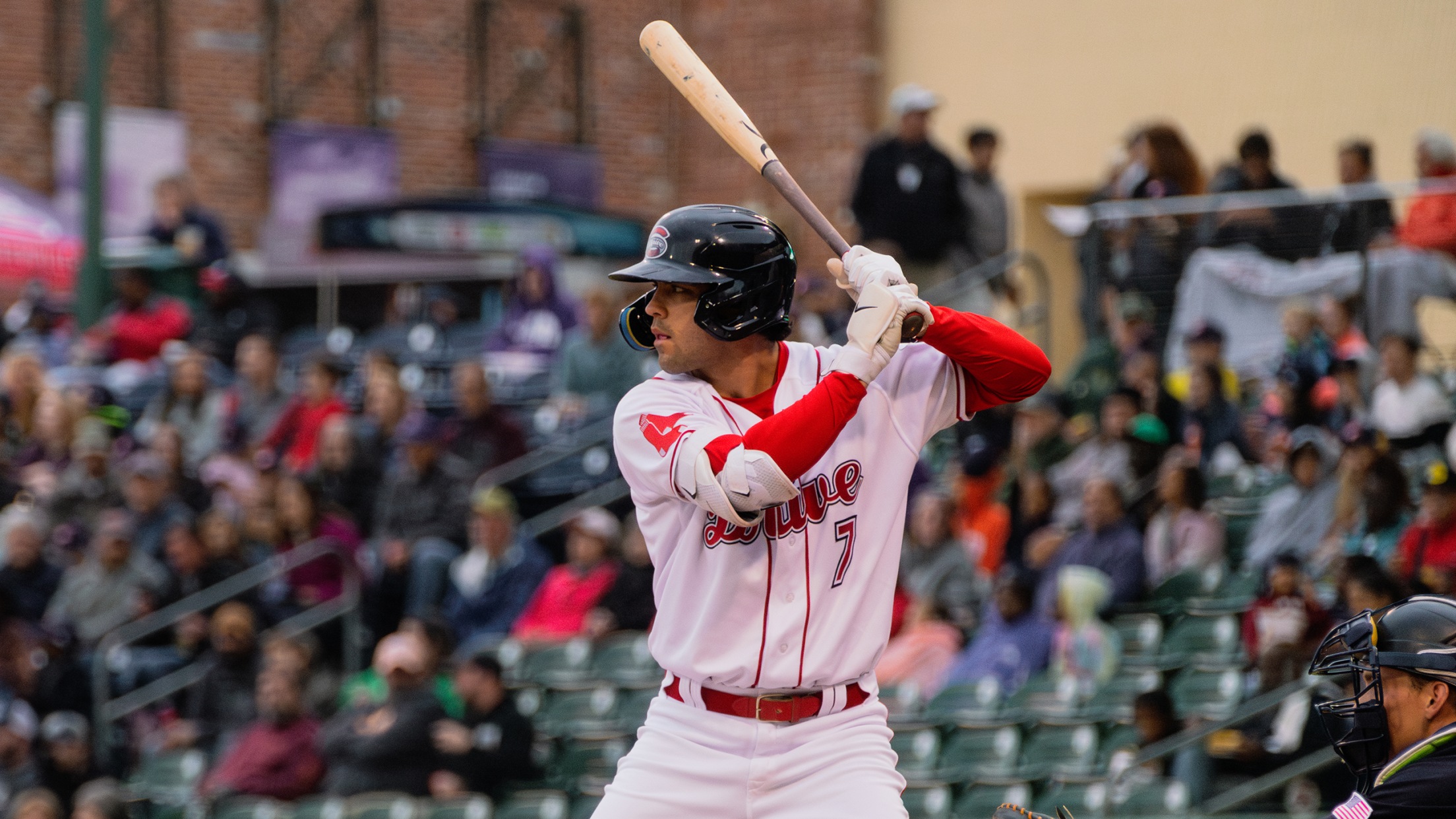 Marcelo Mayer is officially too hot for the South Atlantic League. Baseball's No. 5 overall prospect, according to MLB Pipeline, has been promoted to Double-A Portland after tearing the cover off the ball with High-A Greenville. The news was reported first by the Boston Globe's Alex Speier and confirmed by
Clippers and Indians set to salute Negro Leagues
Columbus, Indianapolis will take the field as the Blue Birds, ABCs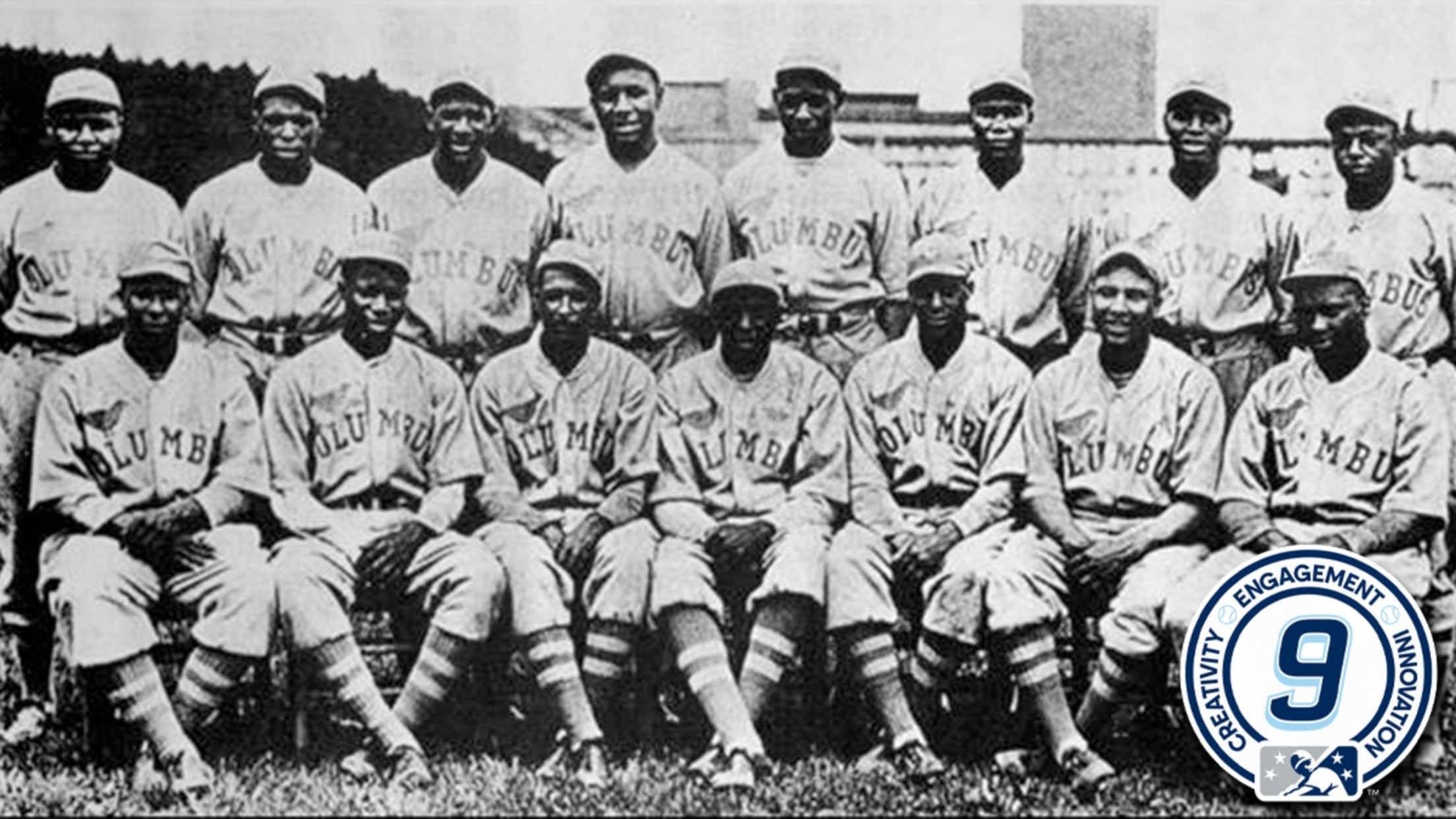 When Columbus and Indianapolis take the field at Huntington Park on Sunday, it won't be as the Clippers and the Indians. Instead, the clubs will pay homage to the Negro Leagues as they kick off the Negro Leagues Summer Series as the Blue Birds and the ABCs. As part of
Jumbo-sized night: Triple play, 20 runs ... and a wedding?
Jacksonville pulls out all the stops in action-packed victory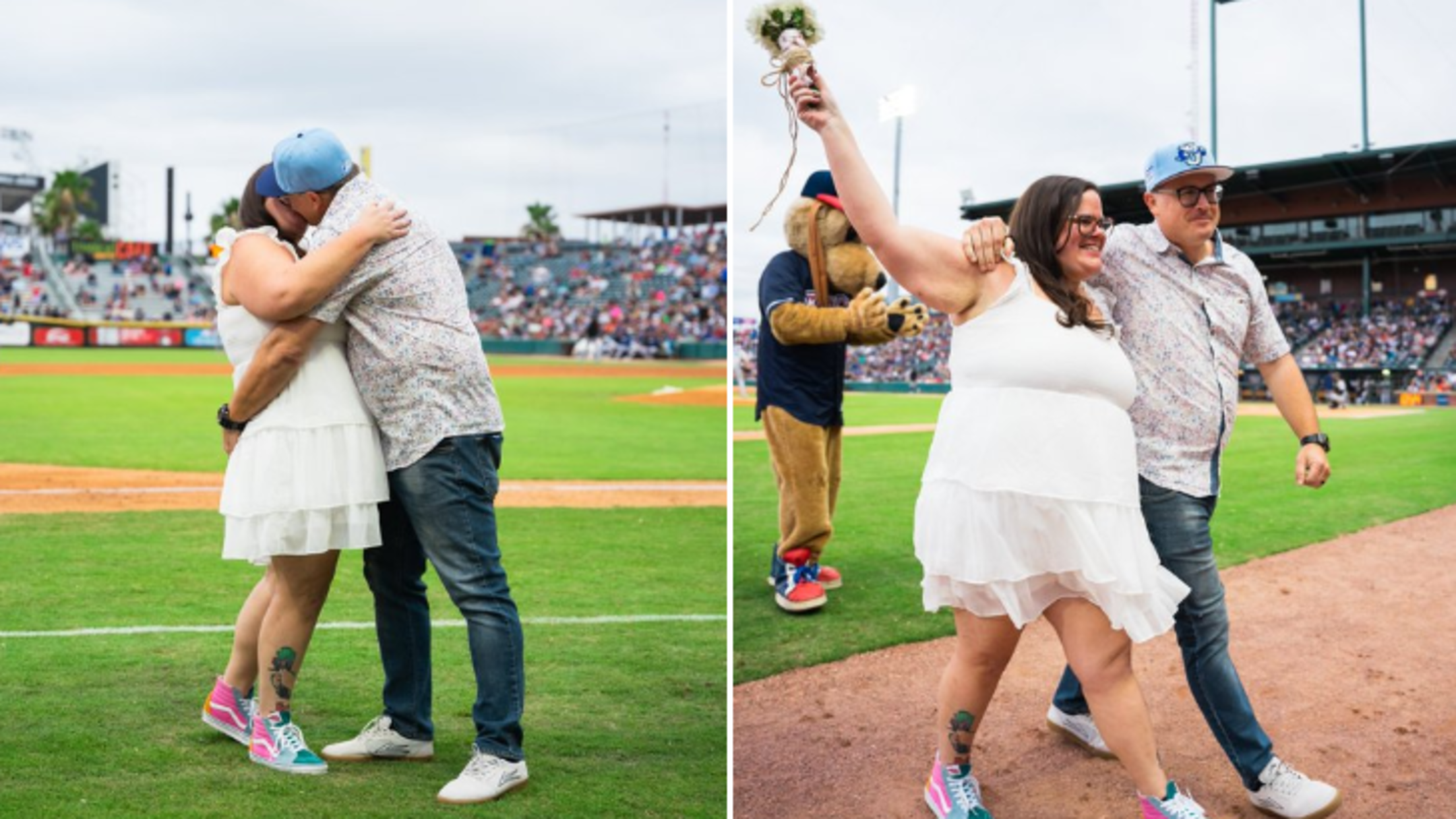 A lot of things happened at the Jacksonville Jumbo Shrimp game on Saturday. It started with a triple play to escape a jam in the first inning and ended with the Marlins' Triple-A affiliate hitting two grand slams and putting up 20 runs in a home game for the first
Baker's barrel? To third. The ball? Over the wall
Memphis masher reclaims International League HR lead in style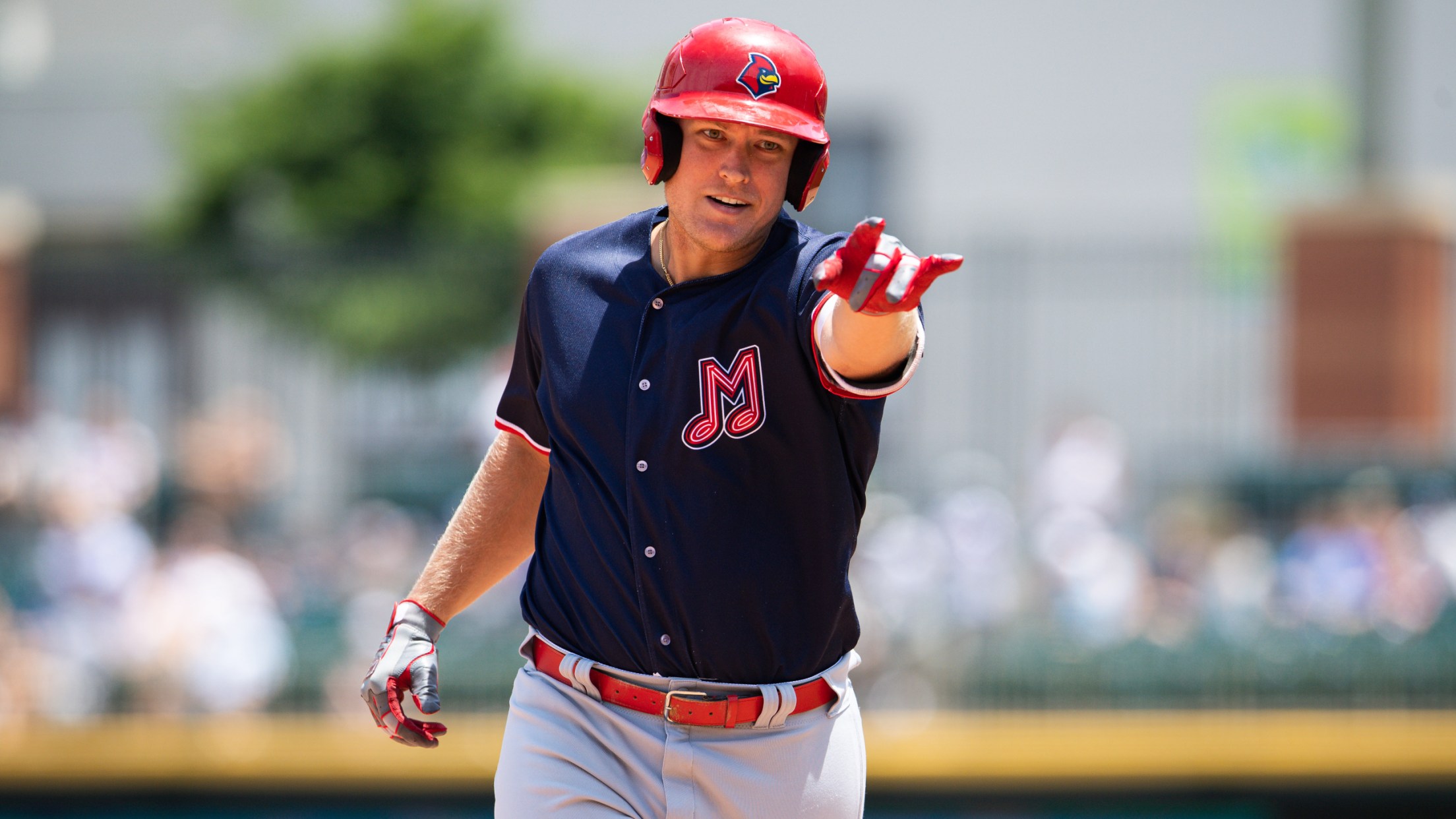 With a crack of the bat -- literally -- Luken Baker reclaimed the lead in the International League home run title race. Although it's how he did so that was notable. The 15th homer of the year for the Cardinals prospect at Triple-A Memphis came off a broken bat, yet