Buddy Bailey Collectes Win No. 2,300 as Pelicans Take Down Woodpeckers 3-1
Bailey is the winningest active manager in Minor League Baseball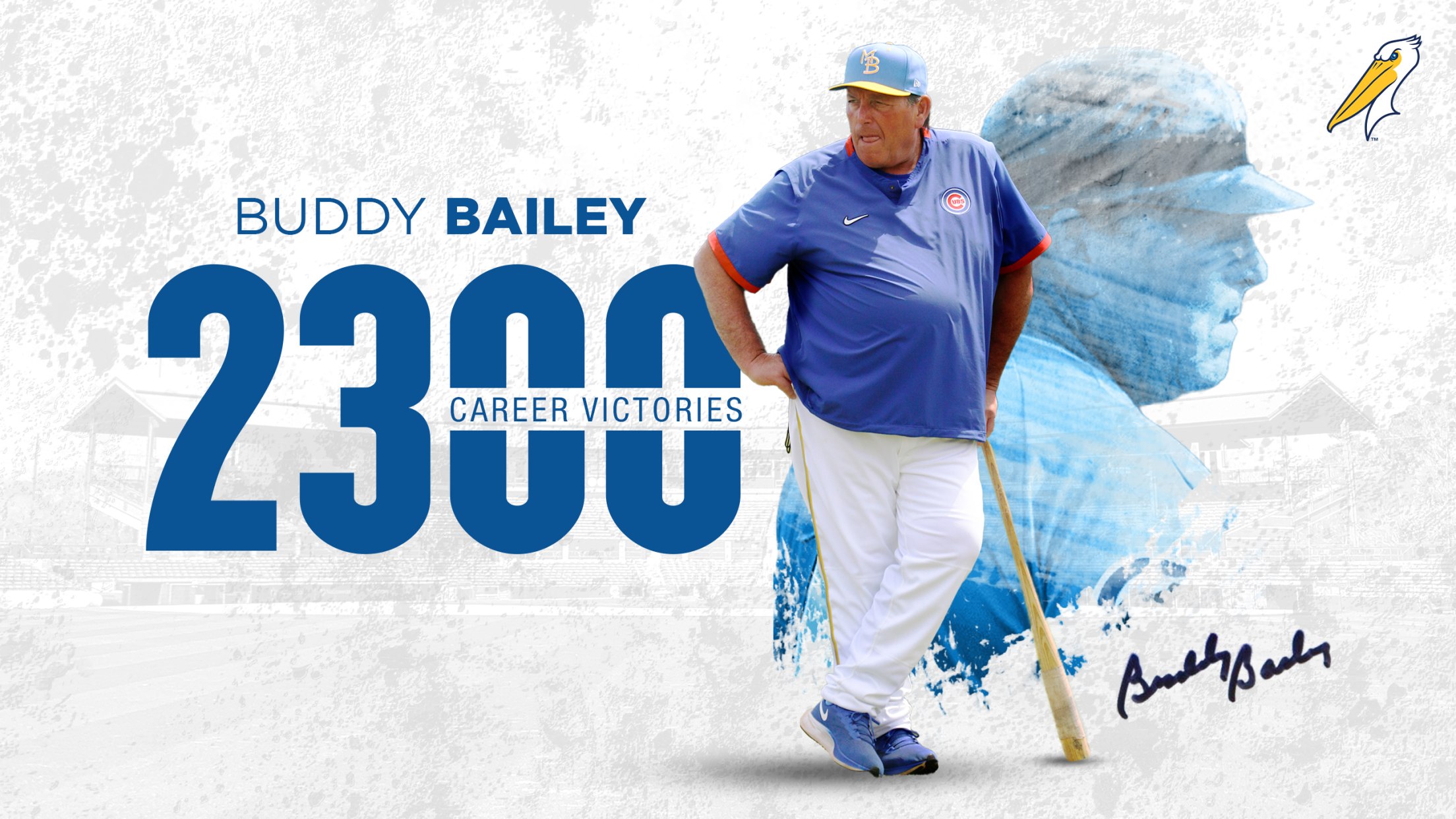 By Sam Weiderhaft A three-run home run by Felix Stevens was all the Myrtle Beach Pelicans needed to win the first game of the series over the Fayetteville Woodpeckers 3-1 on Tuesday night. The Pelicans got pushed back up to .500 with the win at 20-20 while the Woodpeckers dropped
By Sam Weiderhaft
A three-run home run by Felix Stevens was all the Myrtle Beach Pelicans needed to win the first game of the series over the Fayetteville Woodpeckers 3-1 on Tuesday night. The Pelicans got pushed back up to .500 with the win at 20-20 while the Woodpeckers dropped to 16-23. The victory was career win number 2,300 for Pelicans' manager Buddy Bailey in his 35th season in Minor League Baseball.
Stevens (2-3, HR, 3 RBI) provided the only offense for Myrtle Beach with his three-run blast in the top of the second in route to a two-hit game. The Pelicans totaled just five hits for the game and three walks.
In his second appearance for Myrtle Beach during his AAA rehab stint, Jordan Holloway (1-0) earned the win with 1 2/3 shutout frames with just one walk allowed and a pair of strikeouts. Saul Gonzalez picked up save number four of the season by pitching a shutout ninth inning. Starter Grant Kipp held the opponent scoreless for his second-straight outing as he struck out four through four innings.
Fayetteville was held to just four hits with the big one being Jackson Loftin's (2-3, HR, RBI) solo homer in the eighth. The Woodpeckers walked four times but went 0-for-4 with runners in scoring position while grounding into two double plays.
Starter Nolan DeVos (2-1) took the loss by allowing the home run and five hits in his four innings. Trey Dombroski shut the door out of the bullpen with five shutout innings without allowing a hit and racking up eight strikeouts.
Following a one-out walk to Cristian Hernandez and a single by Miguel Fabrizio, Stevens came up in the top of the second and hit an opposite-field home run to right to put the Pelicans in front 3-0. It was his team-leading sixth of the year.
Both teams were silent until the home half of the eighth when Loftin flew a homer over the wall in left to get the Woodpeckers on the board. Reliever Koen Moreno walked the following two batters before getting an inning-ending double play off the bat of Ricardo Balogh.
Fayetteville put one runner on with two outs in the bottom of the ninth before Sandro Gaston popped up to first to end the game.
The Pelicans and Woodpeckers will continue their series on Wednesday at 7:05 p.m.