Two Home Runs Launch Pelicans to Victory over Hillcats 7-2
Cristian Hernandez hit the third grand slam for the Birds this season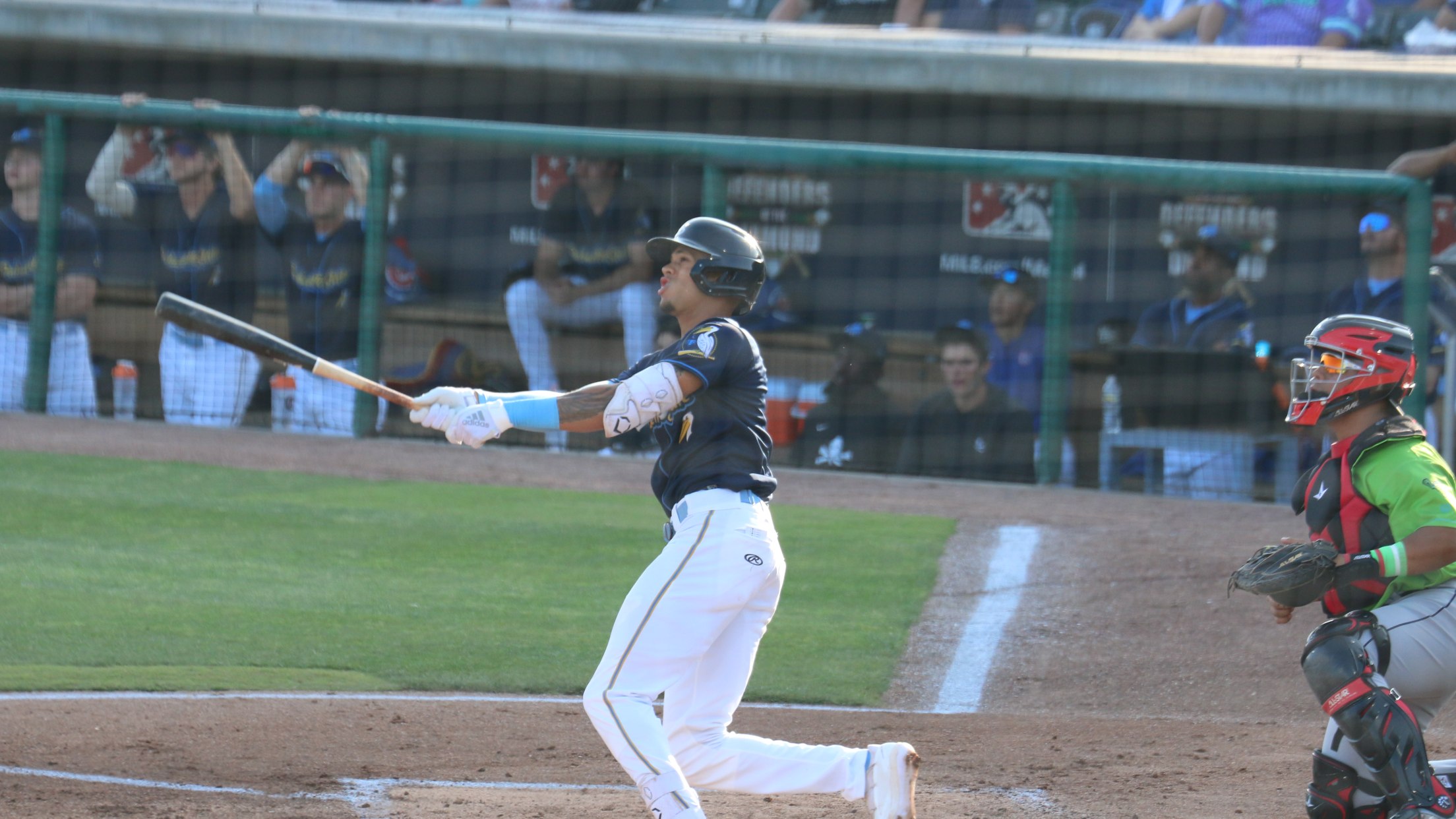 (Larry Kave/Myrtle Beach Pelicans)
By Sam Weiderhaft The five-game losing streak was snapped on Saturday night as the Myrtle Beach Pelicans defeated the Lynchburg Hillcats 7-2 in the fifth game of the series. The win moved the Birds to a 15-16 record while the Hillcats fell to 17-15. It was the Pelicans' first win
By Sam Weiderhaft
The five-game losing streak was snapped on Saturday night as the Myrtle Beach Pelicans defeated the Lynchburg Hillcats 7-2 in the fifth game of the series. The win moved the Birds to a 15-16 record while the Hillcats fell to 17-15. It was the Pelicans' first win of the week.
It was the long ball that was the difference as Cristian Hernandez (1-4, HR, 4 RBI) hit a grand slam and Parker Chavers (2-3, HR, 2 RBI) hit a two-run home run in the win. The Pelicans ended with six hits for the night by five different players.
Reliever Erian Rodriguez (2-1) earned the win with just one earned run allowed through his three innings after sacrificing three hits and three walks and striking out three. Starter Nick Hull went just shy of five innings with an earned run and four strikeouts.
For the second night in a row, the Hillcats stranded 14 runners on base in the loss. Nate Furman (3-3, RBI, BB) reached base four times and brought home a run with Juan Benjamin (1-4, RBI, BB) accounting for the other run. Jordan Brown (3-4) also posted a three-hit game. All 11 hits for Lynchburg were singles.
It was a tough outing for starter Adam Tulloch (2-1) with five earned runs in his lone inning of work. Braunny Munoz gave up the home run to Chavers but was relatively solid through his five innings in relief following the first.
For the first time this week, the Pelicans grabbed the lead first as five runs came across in the bottom half of the opening frame. With runners on first and second, Andy Garriola lined a single to left that hit off the wall as the runners on base hesitated. The throw in from right bounced away from the cutoff as Reivaj Garcia came in to score ending up on third base. Following a single by Felix Stevens, Hernandez lifted a grand slam to left field for his third home run of the year and first at Pelicans Ballpark to open it up to a 5-0 lead.
Lynchburg added one in the top of the third as Furman hit a sacrifice fly to right with runners on the corners to put the Hillcats on the board.
Chavers' home run came in the bottom of the fourth as the centerfielder drove a two-run shot to right-center to extend the lead to 7-1. It was his fourth of the season.
The Hillcats left the bases loaded in the seventh and eighth innings with one run scoring in the eighth on a bases-loaded walk by Benjamin to make it a five-run game.
Myrtle Beach and Lynchburg will wrap up the series on Sunday night at 6:05 p.m.