Two-Week Homestand Ends with 3-1 Loss to GreenJackets
The Pelicans went 5-8 in the 13 home games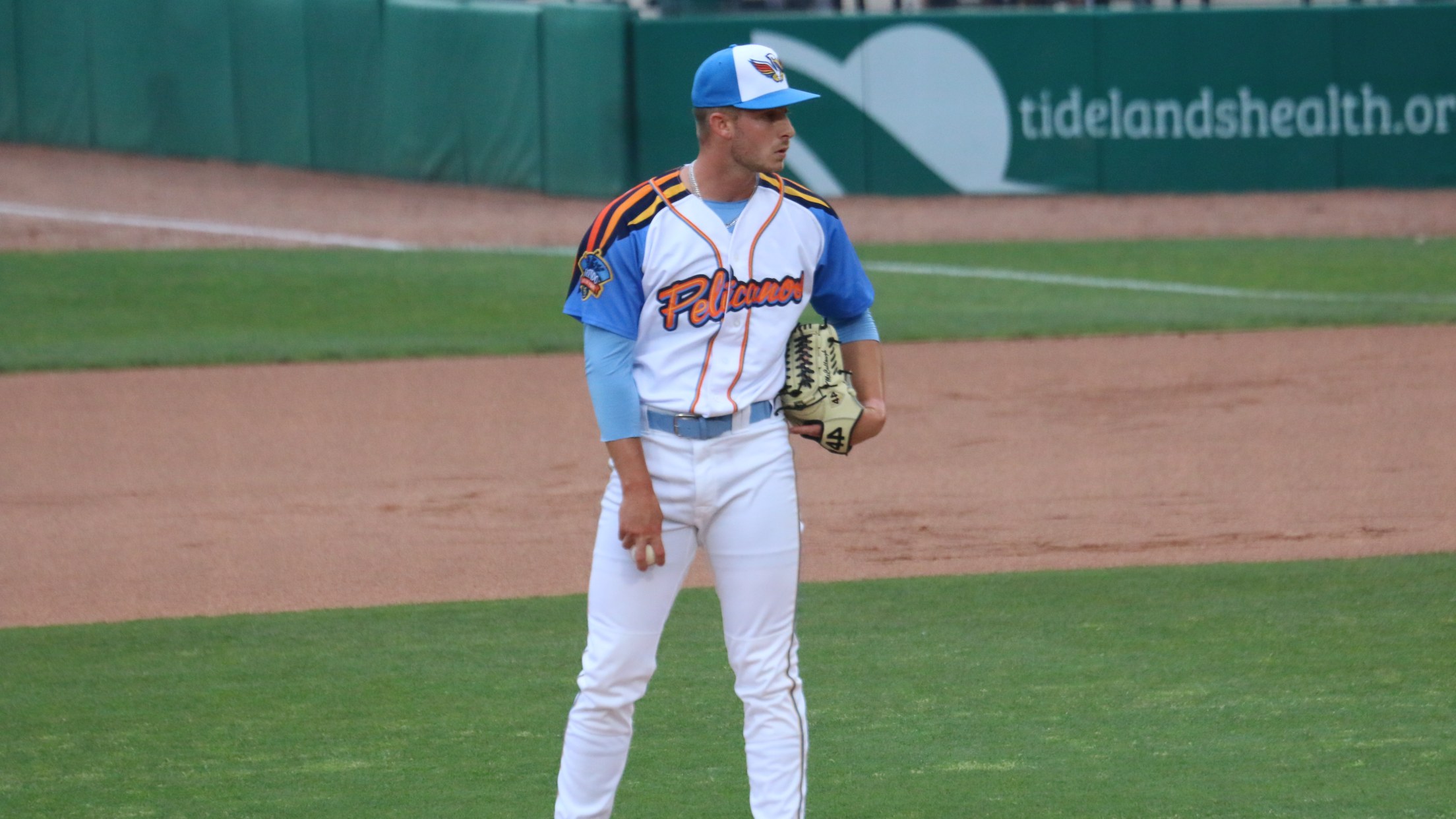 (Larry Kave/Myrtle Beach Pelicans)
By Sam Weiderhaft Despite a great pitching performance, the Myrtle Beach Pelicans still fell in the series finale to the Augusta GreenJackets 3-1 on Sunday night. The loss gave the series win to Augusta with four wins in the seven games and moved both teams' records to 19-20. It was
By Sam Weiderhaft
Despite a great pitching performance, the Myrtle Beach Pelicans still fell in the series finale to the Augusta GreenJackets 3-1 on Sunday night. The loss gave the series win to Augusta with four wins in the seven games and moved both teams' records to 19-20.
It was a great night on the mound for Pelicans' starter Brody McCullough (2-1) as he tied his career-high with eight strikeouts through just under five innings. McCullough gave up two hits and an earned run in the top of the fifth to take the loss. In his Single-A debut, Scarlyn Lebron tossed 3 1/3 innings in relief with two earned runs and a pair of strikeouts.
The Pelicans had chances at the plate but left eight on base and went 0-for-6 with runners in scoring position. Jefferson Encarnacion (3-4, 3B) led the charge offensively with a three hit game and scored the only run for Myrtle Beach.
Augusta emptied out their bullpen by using five different pitchers with Chad Bryant (1-0) getting the win by throwing one shutout innings with two hits allowed. Elison Joseph earned his third save of the year by retiring the Birds in order in the bottom of the ninth.
Dawson Dimon (1-2, 2 RBI) drove home a pair off a sacrifice fly and a single to lead the GreenJackets lineup. Justin Janas (2-4, 2B) and Bryson Worrell (2-4, 2B) each collected multi-hit games for the road team.
McCullough held the GreenJackets hitless through the first four innings before giving up back-to-back hits to start off the fifth. With runners on second and third, Dimon lifted a sacrifice fly to right that brought home Janas to take a 1-0 lead.
Augusta cushioned their lead again with a sacrifice fly as E.J. Exposito brought home Janas with a fly ball to center in the top of the seventh. With Worrell on third, Dimon knocked him in with a line-drive single to left to extend the GreenJackets lead to 3-0. With one out in the bottom half, Encarnacion lined a ball to center field that Ethan Workinger missed on a slide that allowed the ball to get to the wall for a triple. He would score moments later on a wild pitch by Nolan Martinez to make it a 3-1 game.
Joseph retired the Pelicans in order in the bottom of the ninth to secure the victory.
The Pelicans hit the road to take on the Woodpeckers in Fayetteville with game one on Tuesday at 7:05 p.m.