Ball hogs: St. Paul's porcine baseball legacy 
For as long as they've existed, Saints have celebrated pigs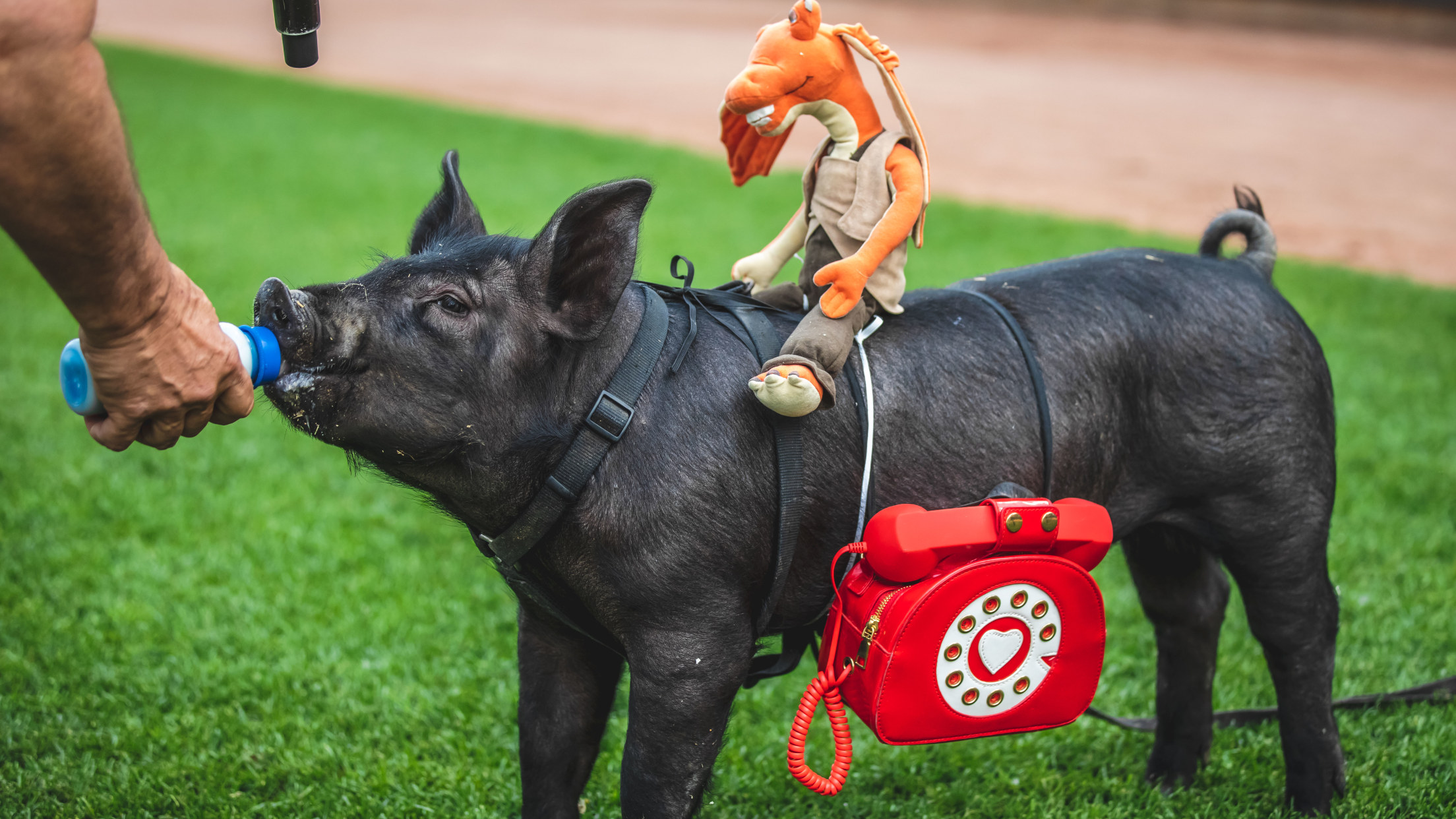 The Saint Paul Saints' 2022 ball pig, 867-530Swine, has a name derived from a hit Tommy Tutone song. (Rob Thompson/St. Paul Saints)
ST. PAUL, Minnesota -- During their inaugural 1993 campaign at Midway Field and in every season since, the St. Paul Saints have employed a ball pig whose job is to deliver baseballs to the home plate umpire. These saddlebag-wearing dugout messengers are the most prominent aspect of a gameday experience
ST. PAUL, Minnesota -- During their inaugural 1993 campaign at Midway Field and in every season since, the St. Paul Saints have employed a ball pig whose job is to deliver baseballs to the home plate umpire. These saddlebag-wearing dugout messengers are the most prominent aspect of a gameday experience laden with porcine iconography.
How do Saints love pigs? Let us count (some of) the ways: Their mascot, Muddona, is a pig. A statue on the concourse of their current home of CHS Field depicts a Saints player unwittingly feeding his hot dog to a pig. The onsite City of Baseball Museum prominently features a photo of Saints co-owner Bill Murray wearing a pig nose mask while holding a pig. The Saints have even erected their own version of Yankee Stadium's Monument Park; Monument Pork, located on the first base side of the concourse, honors beloved ball pigs Little Red Porkette, Notorious P.I.G. and the one who started it all, 1993's The Saint.
Minor League teams don't always have (or need) a specific reason to do the bizarre and colorful things they do, but the Saints' pig preoccupation is rooted in St. Paul history. The first person of European descent to live in what eventually became St. Paul was trapper Pierre Parrant, a Frenchman with a big personality and exceedingly dubious moral character. Parrant was nicknamed "Pig's Eye" due to the allegedly piggish qualities of his deformed left eye, and he went on to open a tavern by that name. Before St. Paul was St. Paul, it was known as Pig's Eye Landing.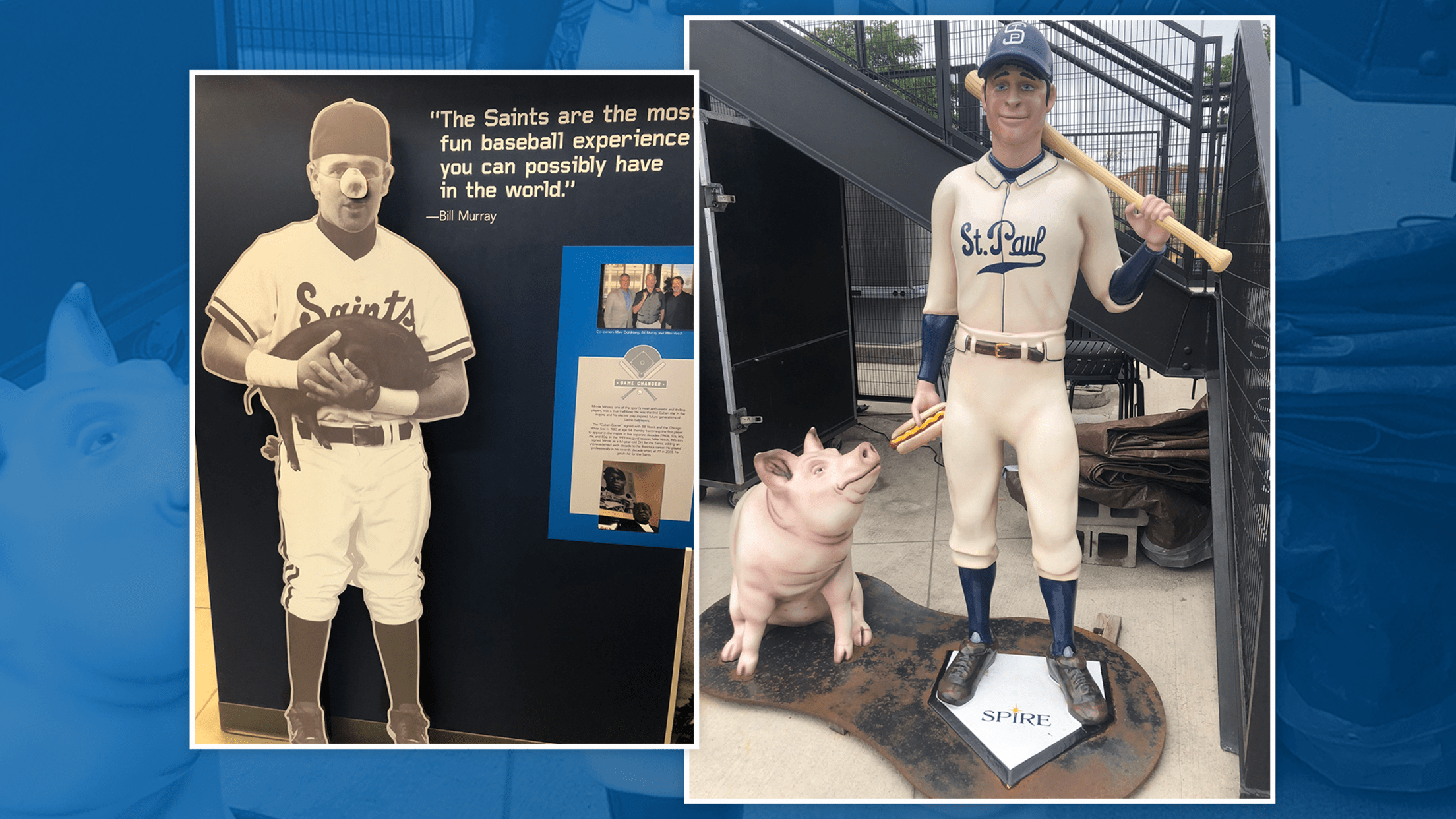 The Saints, an independent team before affiliating with the Twins prior to the 2021 season, knew from the start that they wanted to honor this local history by having a ball pig. Before they signed a single player for their inaugural 1993 season, they signed Dennis and Marilyn Hauth to provide, care for and create costumes for the pigs.
The Hauths are still employed in this role today. At CHS Field, where the Saints have played since 2015, they can be found directly adjacent to the home dugout in their aptly named Pig Pen. The pig that resides there with them changes each season; 2022's ball pig, the 30th in team history, is named 867-530Swine. (This mouthful of a name is a pun on Tommy Tutone's biggest, and perhaps only, hit song.)
But did we mention how cute our ball pig is... pic.twitter.com/flibo7Lt10

— St. Paul Saints (@StPaulSaints) April 13, 2022
The Hauths keep the pigs on their farm, located in the general vicinity of Prescott, Wisconsin. The Saints first contacted them in 1993 because at the time they were "providing a lot of different animals for commercials on television." So how about providing a pig?
"I felt, I'm sure we can get the pig to do something out there. Do it and see what they think," he said, as 867-530Swine slept in a small enclosure located directly behind him. "Now, I personally do not raise pigs. I had to find pig farmers, and we had to devise a way. The Saints were very good. They gave me total freedom. And so I found various pig farmers over the years, selling me little pigs, and I would train 'em and bring 'em up here."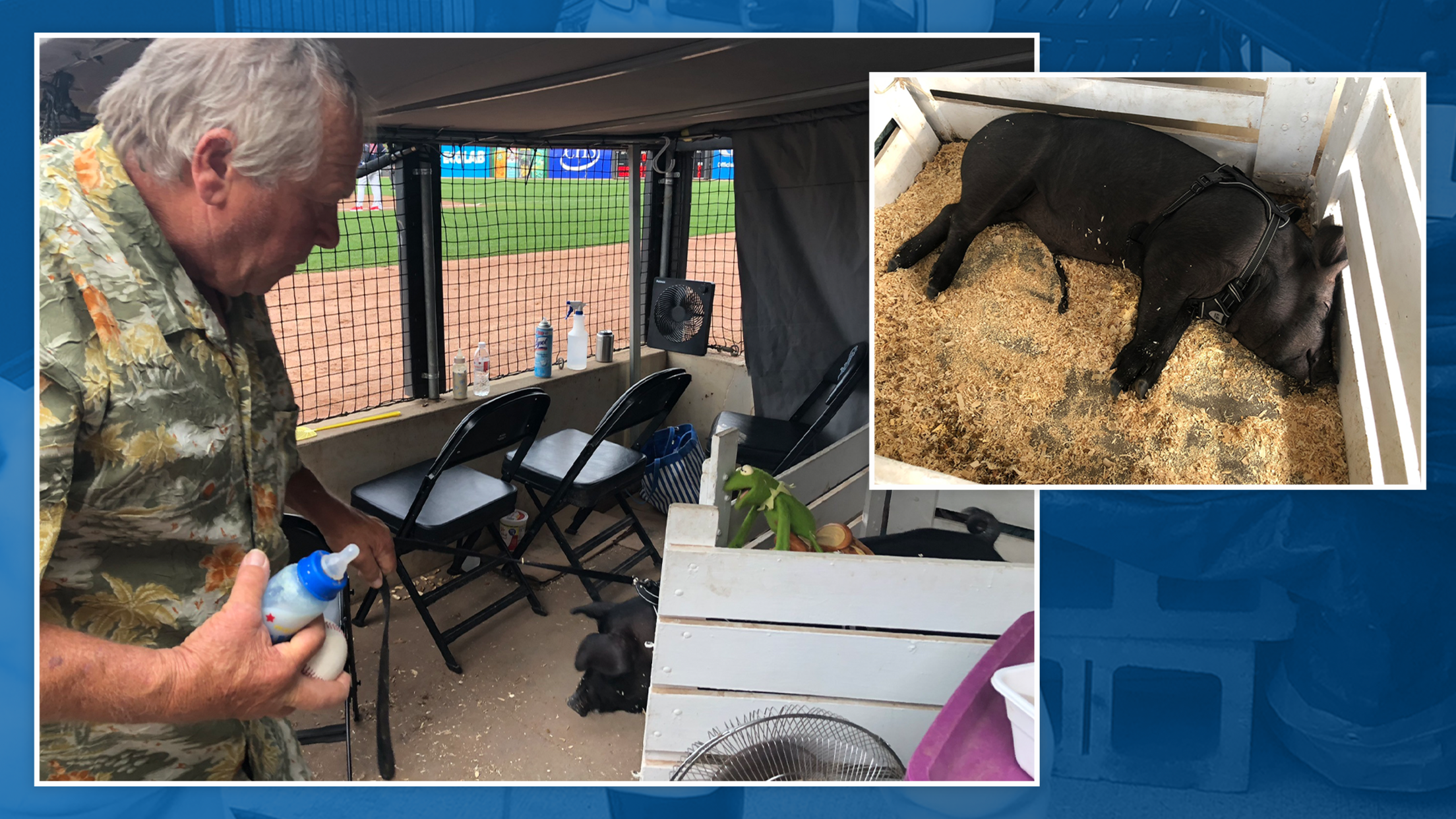 The training process begins at a very young age.
"Number one, you're starting out with a two- or three-week-old pig. So it's a baby," said Dennis. "First thing to do is to get it to walk on a leash with you. That takes time. You're gonna spend a week, and he's gonna scream and holler and yell. But a pig evolves very quickly. They've very, very intelligent. I'll take him out to the ump a couple times, and the ump will feed him, and within two or three days he'll go out there by himself. Now I go with him because he's gotten so big. He's on a leash. He's at the size now where he'd wreck the field and the grounds crew really doesn't want me to let him do that."
Like a diplomatic parent, Dennis says that when it comes to his favorite-ever ball pig, "they all are." That's not to say that they all approach the job the same way.
"We made the mistake, the second year, of using a girl pig [St. Paula]," he said. "She had issues from day one. She didn't like wearing the outfits, so she'd scream. She didn't want to go out to the ump, so she'd scream.... That was the only female we used. The boys are fixed. Otherwise, no, they would not be so much fun either."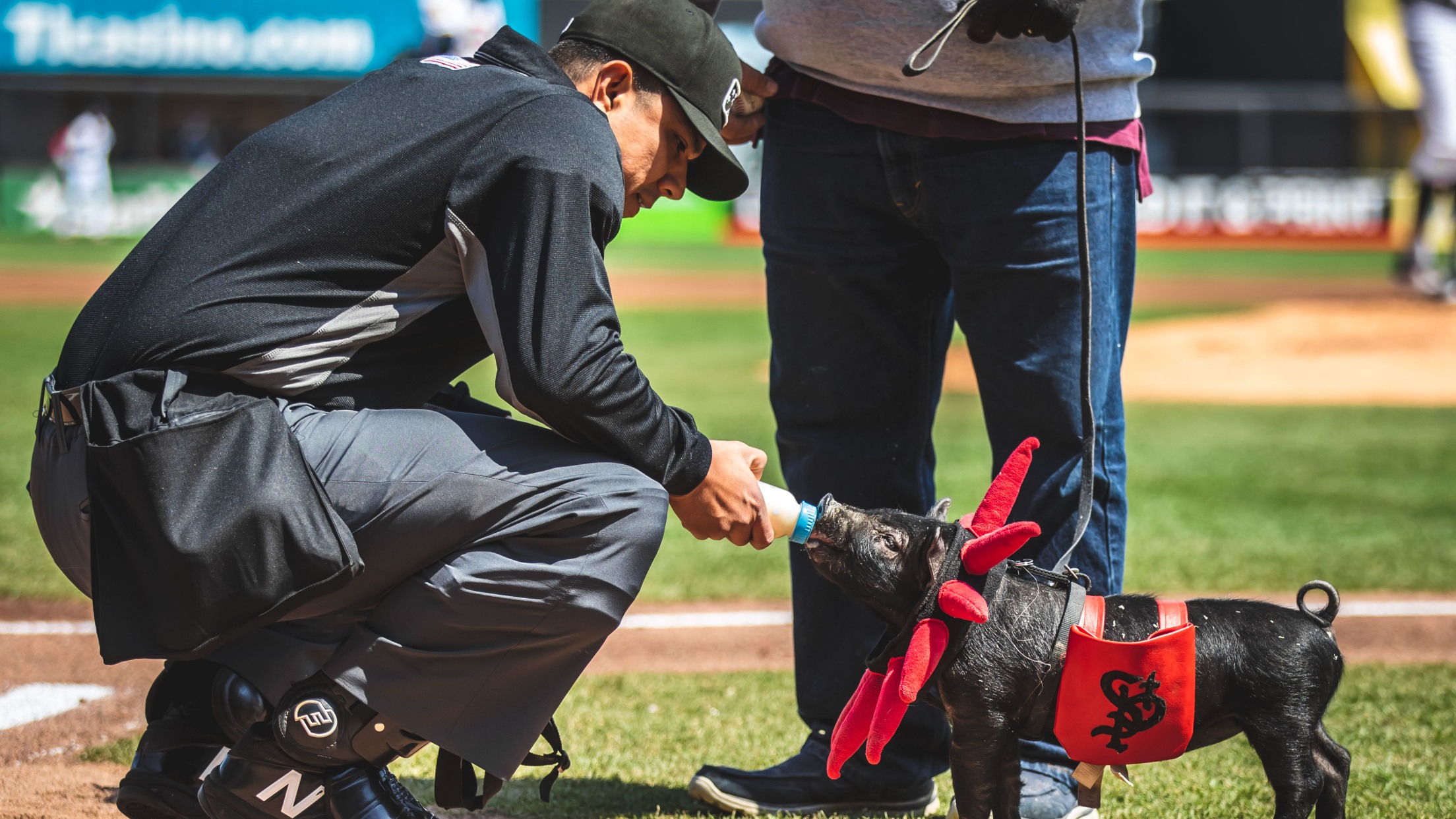 The boys might be fixed, but their wardrobe changes constantly. Marilyn Hauth designs and creates pig outfits that put the "sty" in "stylish."
"There's the traditional uniform, which is saddlebags," she said. "He has tutus, he's a rabbit, he's a skunk, he has a saddle with Kermit [the Frog] or somebody else riding it. We have like three tubs of costumes for them, so it's hard to say exactly.... But you have to remember how much a pig grows. If you come up with a costume, you have to have three or four different sizes just for one season."
867-530Swine will soon outgrow his ball pig role, with his tenure concluding at the end of the season. At that point, the pig acquisition and training process begins anew.
"At first we thought this will go on for a year, a couple years or something," said Hauth. "But we're still on this ride, and we'll ride it until the end."