Hot Rods force Game 5 in High-A East Finals
Qsar, Williams set stage for winner-take-all finale with 'Hoppers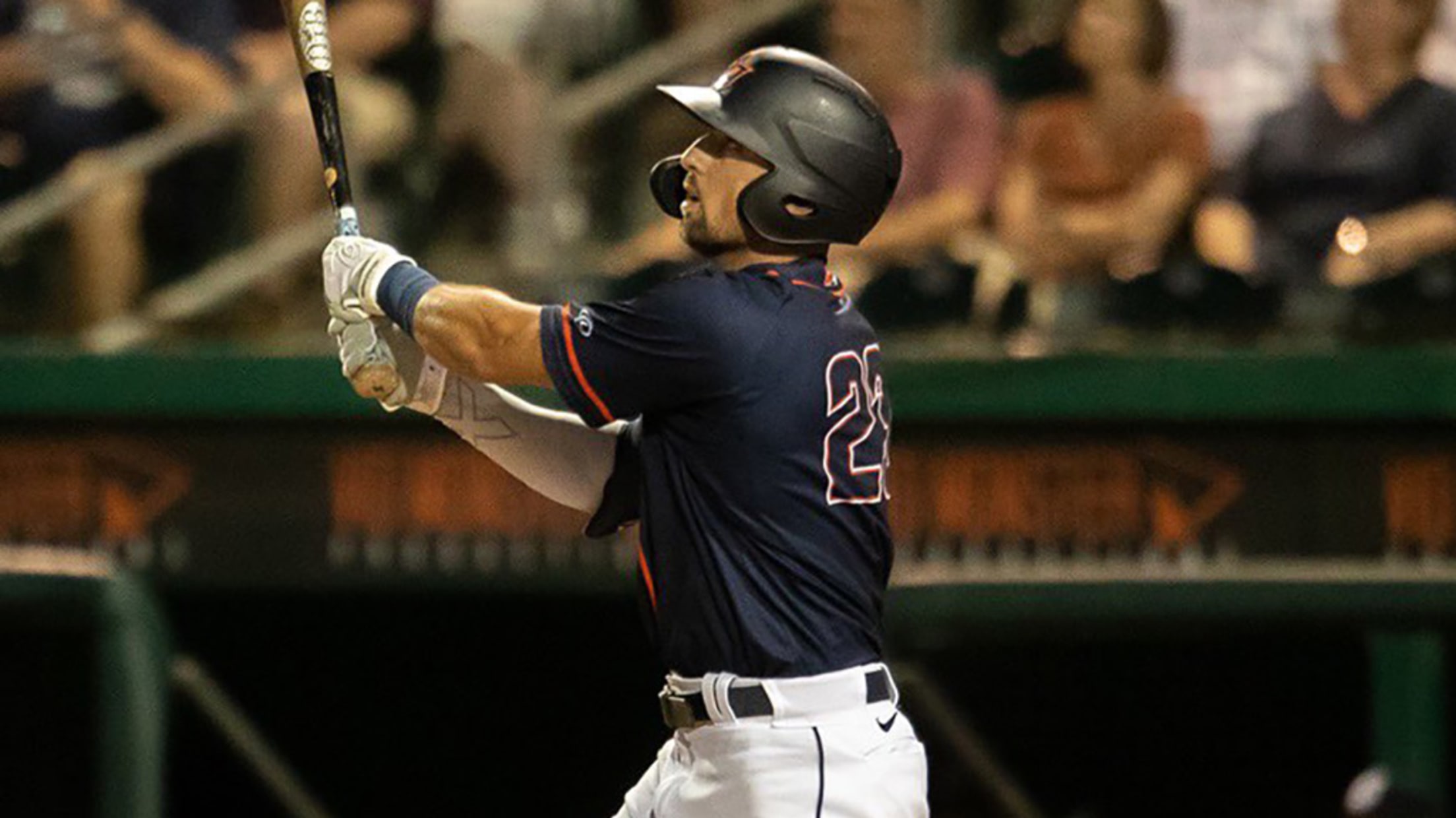 Jordan Qsar has homered in three straight postseason games, driving in six runs in that span for Bowling Green. (Bowling Green Hot Rods)
There was no tomorrow for Bowling Green, and the Hot Rods played like it.
There was no tomorrow for Bowling Green, and the Hot Rods played like it.
It was the prototypical team effort as six different players drove in at least one run and five pitchers combined to propel Bowling Green past Greensboro, 7-5, in Game 4 of the High-A East Championship Series at Bowling Green Ballpark. The teams combined for 22 hits -- with six going for extra bases -- and three lead changes.
"It was like a boxing match out there, just back and forth -- exchanging blows -- the entire night," Hot Rods skipper Jeff Smith said. "We struck, they came back. We hit, they came back and hit. Just back and forth all game. We had some great at-bats with two strikes that prolonged innings, and everyone just chipped in and did their part. It was a gritty performance by the whole team."
Curtis Mead and Alika Williams paced Bowling Green's offense with three hits apiece. Mead, Tampa Bay's 14th-ranked prospect, capped a three-run frame in the sixth with a two-out RBI single to right. The 20-year-old also legged out his first triple of the postseason to lead off the fifth.
Williams, the 25th-ranked prospect, laced a pair of doubles -- including a game-tying two-bagger in the second. The No. 37 overall selection in last year's Draft also scored twice. The second baseman also contributed on defense in the third.
"He really has been so important to us, and he came up with huge hits all night," Smith said. "He also made a play up the middle that really changed that inning for us. That kept us in the lead."
The biggest single swing of the night for the Hot Rods came from Jordan Qsar, who launched his third homer in as many games to provide a three-run cushion for Bowling Green in the third with a rocket that traveled 427 feet. The 25-year-old has six RBIs this series.
"Jordan has been coming up with big hits for us the entire season, and this series, he has continued to step up in big moments," Smith said. "He's really carried us."
After making a highlight-reel catch in the first, Grant Witherspoon also delivered one of the biggest blows of the night for Bowling Green with an RBI triple in the sixth -- after Greensboro had tied the score in the top half of the frame. Witherspoon finished with a pair of knocks, a walk and two runs scored.
Right-hander Angel Felipe earned his second victory of the series with 2 1/3 frames of hitless relief. The 24-year-old worked around a pair of walks and whiffed four.
"When we brought in Felipe, he really settled the game down for us and gave us a chance to score a few more runs," Smith said. "But they have such a good offensive team, they came at us all night. I think there was only one inning in the entire game where they didn't have someone on base."
Greensboro had traffic on the basepaths in every inning except the seventh -- when Felipe retired the side in order on nine pitches. In five of the other eight frames, the Grasshoppers had multiple players reach base.
Greenboro struck first in the game on a solo home run byWill Matthiessen to center in the second. Matt Gorski also found the seats for the Grasshoppers on a solo blast to left-center in the fourth. A bases-loaded walk taken byLolo Sanchez tied the score, 4-4, in the sixth. The outfielder finished with a pair of walks and a knock.
The decisive Game 5 will be played at Bowling Green Ballpark at 7:35 p.m. ET on Tuesday.
"We know what we gotta do. Both teams are going to give it everything, and we're just so evenly matched, we know it'll be a lot of fun," Smith said. "From a developmental side, just to be here and experience this is so incredible. But we're going to be ready to go, it's going to be a good game."
Rob Terranova is a contributor to MiLB.com. Follow him on Twitter @RobTnova24.