Jethroe blazed way through Triple-A
Negro Leagues star became 33-year-old Rookie of the Year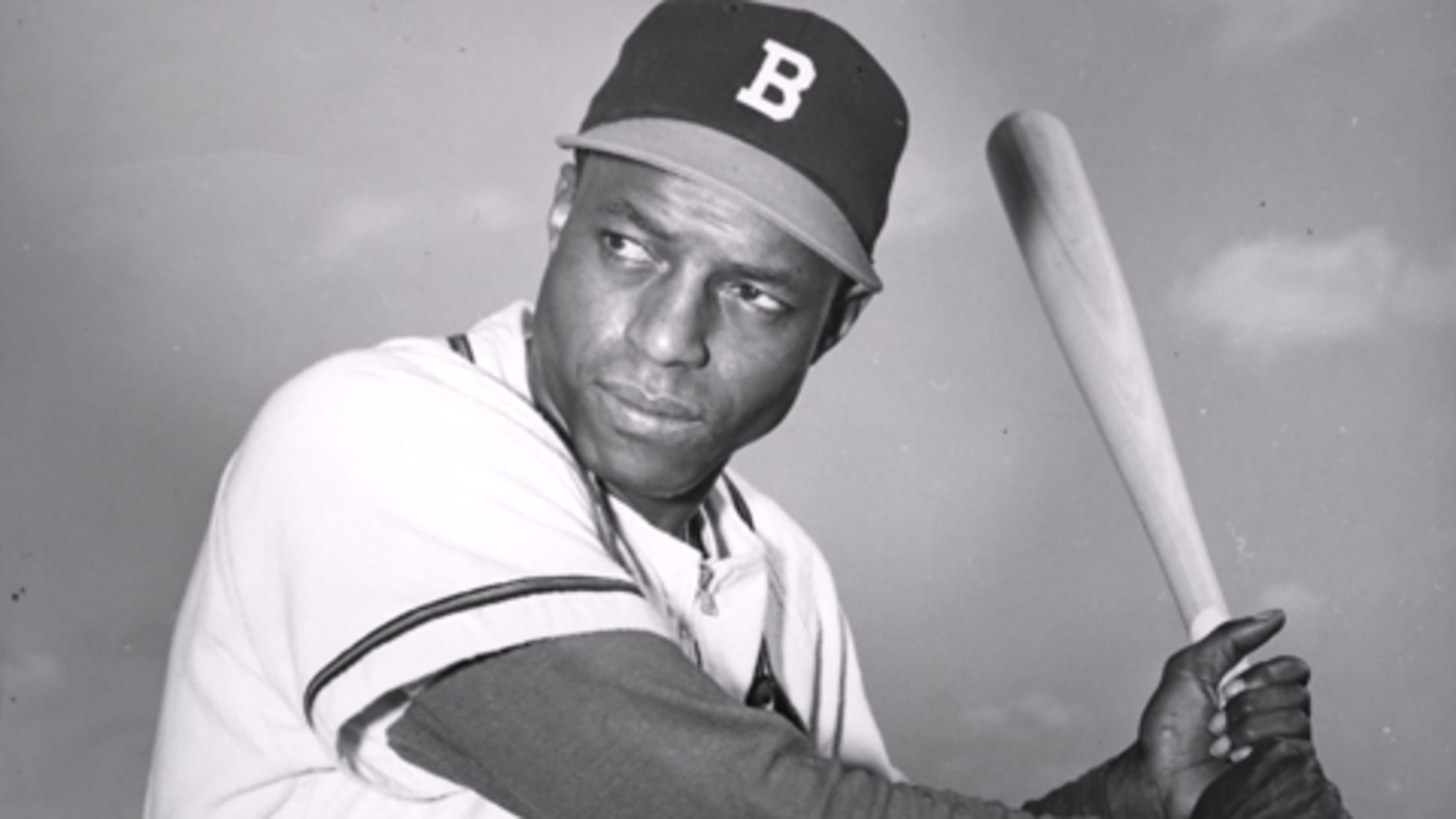 Sam Jethroe had been a pro ballplayer for nine seasons before getting a chance in the Majors. (National Baseball Hall of Fame Library, Cooperstown, N.Y.)
He was well past his prime by the time he got a chance in integrated ball, but Sam Jethroe didn't waste a minute once he got to the big leagues. At 33, he became the oldest player to win a Rookie of the Year award, a mark that still stands.
He was well past his prime by the time he got a chance in integrated ball, but Sam Jethroe didn't waste a minute once he got to the big leagues.
At 33, he became the oldest player to win a Rookie of the Year award, a mark that still stands. In his debut season of 1950, Jethroe scored 100 runs, belted 18 homers and led the loop with 35 thefts for the Boston Braves. He again led the league with 35 steals in '51, swatting 18 more round-trippers and crossing the plate 101 times. In 1952, he stole 28 bases and cranked 43 extra-base hits.
Before Jethroe charged onto the Major League field, he'd established himself as a star in the Negro Leagues and then dismissed all doubters with two solid seasons with the Montreal Royals in the International League.
Jethroe had garnered attention from the Major Leagues as early as 1945, when he was one of three black players -- along with Jackie Robinson and Marvin Williams -- to try out for the Boston Red Sox.
The three men were chosen, wrote Jonathan Eig in Opening Day: The Story of Jackie Robinson's First Season, because they were "intelligent men who had played with white athletes [in exhibition games] and who weren't afraid of a little harassment."
It's clear now the Red Sox never had any attention of being the first team to break the color barrier (Boston's AL team remained all white until 1959). But decades later, the tryout serves not only as evidence of Jethroe's talent, but also of his intelligence and strong spirit as a competitor.
Three years later, Branch Rickey brought Jethroe from the Negro American League's Cleveland Buckeyes to the Brooklyn system, and although Jethroe would make less money as a Minor Leaguer than he had as a Negro League star, the 31-year-old played with the spunk of a young rookie.
Sent to Triple-A Montreal during the 1948 season, Jethroe hit .322 over 76 games and tied for first with 18 stolen bases. He had 31 extra-base hits in fewer than 200 at-bats. While Jethroe was clearly a threat with a bat, it was his speed that impressed the most.
Burning up the basepaths
Dodgers legend Don Newcombe, who played with Jethroe in Montreal in 1948, would later recall the outfielder as "the fastest human being I have ever seen," and skipper Clay Hopper, who managed in the Minors for 25 years, echoed Newcombe's sentiment.
In Spring Training the next spring, "the Jet" revealed his wheels to the rest of the Dodgers organization. According to New York Times reporter Arthur Daley, the players partook in "thousands of foot races" that spring, and Jethroe was easily "the fastest man in the camp."
"His time," during one of those foot races, "was close to a world record," scholar James A. Riley wrote in The Biographical Encyclopedia of the Negro Baseball Leagues.
Jethroe was sent back to Montreal for the start of the 1949 season, possibly in part because the Dodgers' big league roster already had three black players: Robinson, Newcombe and Roy Campanella. There, he used his speed to great advantage both during games and before them.
As they do today, Minor League teams in the late '40s tried to increase attendance with creative promotions. Jethroe's speed made for a great draw, and he entertained hordes of fans by twice racing in pregame 75-yard dashes against Barney Ewell, who won three medals for Team USA in the 1948 Olympics. Jethroe beat Ewell in the first race, but lost the second.
To his teammates and the most loyal Montreal fans, he was obviously more prized for what he did after the first pitch. In 153 International League tilts, he stole a whopping 89 bases, which was a modern-era record on the circuit. It stood until Otis Nixon ripped off 94 bags in 1983 for the Columbus Clippers.
Although the Royals finished the season in third place, author William Brown described Jethroe as the team's "driving force," in Baseball's Fabulous Montreal Royals. He hit .326 with 34 doubles, 19 triples, 17 homers and 83 RBIs.
Jethroe, wrote Brown, "brought Montreal fans to their feet every time he got on base."
At least one opposing manager also was compelled to stand up when Jethroe was on base that season. Paul Richards, who managed the IL's Buffalo Bisons from 1947-49 and went on to a 12-year Major League managing career, sought out an unorthodox way to limit Jethroe's effectiveness on the basepaths.
In one '49 game, Richards' Bisons were leading in the eighth inning with two outs and the pitcher at bat. With Jethroe on deck, Richards signaled for an intentional walk. His pitcher either missed the sign or interpreted it as a joke and threw the first pitch for a strike.
"I ... went out to assure the pitcher I meant it. I wanted him to issue a deliberate pass to the other pitcher," Richards told a _Chicago Daily News _reporter two years later. Richards knew Jethroe had a good chance of getting aboard whenever he came to the plate -- he posted a .408 on-base percentage that season -- and he wanted a slower player clogging the bases in front of the speed demon.
"I figured this way, the only way Jethroe could hurt us in that particular spot was with a triple. If he'd led off the ninth, he might hurt us plenty even with a base on balls," Richards said.
His strategy worked as Jethroe popped up and the Bisons won the game.
Boston and beyond
Jethroe had proven beyond doubt he was ready for the Major Leagues. The Dodgers, in the meantime, had Duke Snider in center field, and there were still concerns over fielding a team with too many black starters.
Baseball's Great Experiment, by Jules Tygiel, quotes Rickey as confessing, "Ownership thought there was a surfeit of colored boys on the Brooklyn club."
As such, Jethroe's contract was sold to the Braves for more than $100,000. He became their first black player and provided NL fans in Boston with a great reason to come to the ballpark during the team's last seasons in the city.
After three seasons in the Majors, Jethroe was 36 by the time the 1953 season rolled around. He played for the American Association's Toledo team that season and was sold to the Pirates before the '54 campaign.
From then to 1958, Jethroe was back in the International League, playing for Toronto and making it into just one Major League game. Although the notion of a one-time great fading away in the Minor Leagues may strike some as sad, Jethroe was anything but depressing during his time with the Triple-A Maple Leafs.
Clearly, he loved baseball. Even if national prejudice robbed him the opportunity to play on the game's grandest stage during his prime years, he saw no reason to retire.
Though he played in just 68 games in his final year and recorded only five thefts, he stole more than 20 bases each year from 1954-'57, taking 24 bags and belting 15 homers at age 40.
After his death in 2001, The New York Times ran a quote from Jethroe in his obituary.
"I'm not the type of person to be bitter. I was honored to play," he said. "I'm thankful that I was able to do what I did."
Josh Jackson is a contributor to MiLB.com.