Ortiz reflects on lessons en route to Hall of Fame
Big Papi grew in Mariners, Twins systems before reaching Red Sox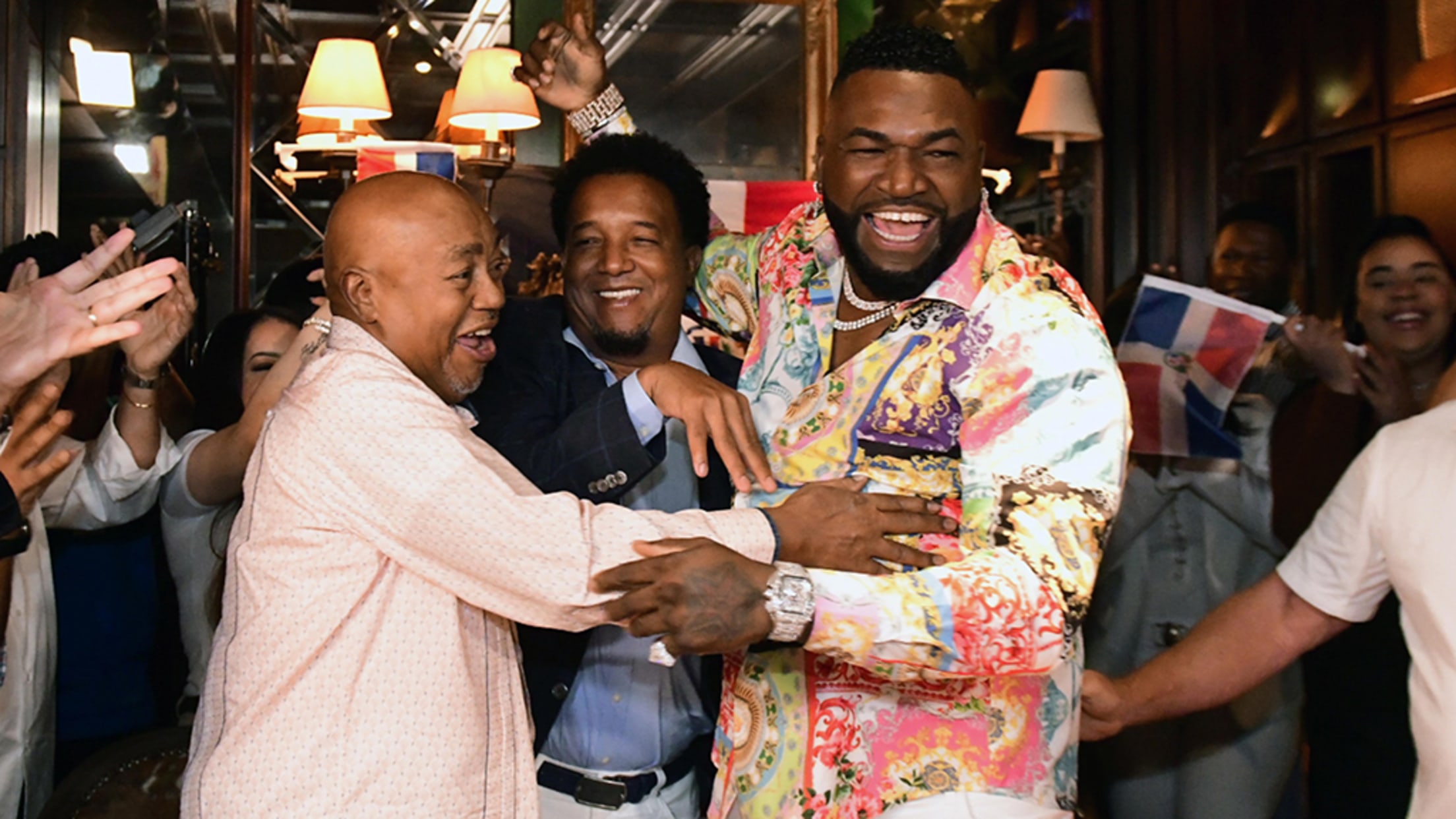 David Ortiz (right) celebrates getting into the Baseball Hall of Fame with his father, Leo Ortiz (left), and former teammate, Pedro Martinez. (Manolito Jimenez/AP)
David Ortiz went from "player to be named later" to "Hall of Famer to be elected immediately." In his first year on the ballot, it was announced Tuesday that the designated hitter was voted by the Baseball Writers' Association of America to enter Cooperstown. "It's a wonderful honor to be
David Ortiz went from "player to be named later" to "Hall of Famer to be elected immediately."
In his first year on the ballot, it was announced Tuesday that the designated hitter was voted by the Baseball Writers' Association of America to enter Cooperstown.
"It's a wonderful honor to be able to get in my first rodeo," he said. "It is something that is very special to me."
Ortiz's road to Cooperstown wound through the Mariners and Twins farm systems before he found a home for good with the Red Sox. Through the promotions and demotions, the trade and the transactions, Ortiz learned how to become Big Papi.
"When I was coming up through the Minor Leagues, the player that I ended up being in the big leagues was what I showed from the very beginning of my career," he said. "Look at my numbers in the Minor Leagues. It tells you that I was a feared hitter with power, that I was in the learning process, and once I figured it out, it was going to be a wrap."
Seattle signed David Américo Ortiz Arias on Nov. 28, 1992, and in 1994, the Dominican Republic native made his pro debut. Going by his maternal surname of Arias at the time, Ortiz spent his first two campaigns playing for the Rookie-level Mariners before making his full-season debut in 1996. With Low-A Wisconsin, Ortiz hit .322/.390/.511 with 18 homers and 93 RBIs.
That summer, Ortiz turned the power on, and on July 29, he used that surge to snag the spotlight from some of the Majors' bright young stars. In a home run derby that pitted the Midwest League club against the American League squad, Ken Griffey Jr. and Alex Rodriguez combined for eight homers while Ortiz drilled seven by himself.
"He was just a kid that we didn't really know anything about, and here he was competing with the big boys and just crushing balls," said former Mariner Dan Wilson, who also participated in the derby. "He was hitting balls out of the ballpark. He really opened a lot of eyes that day."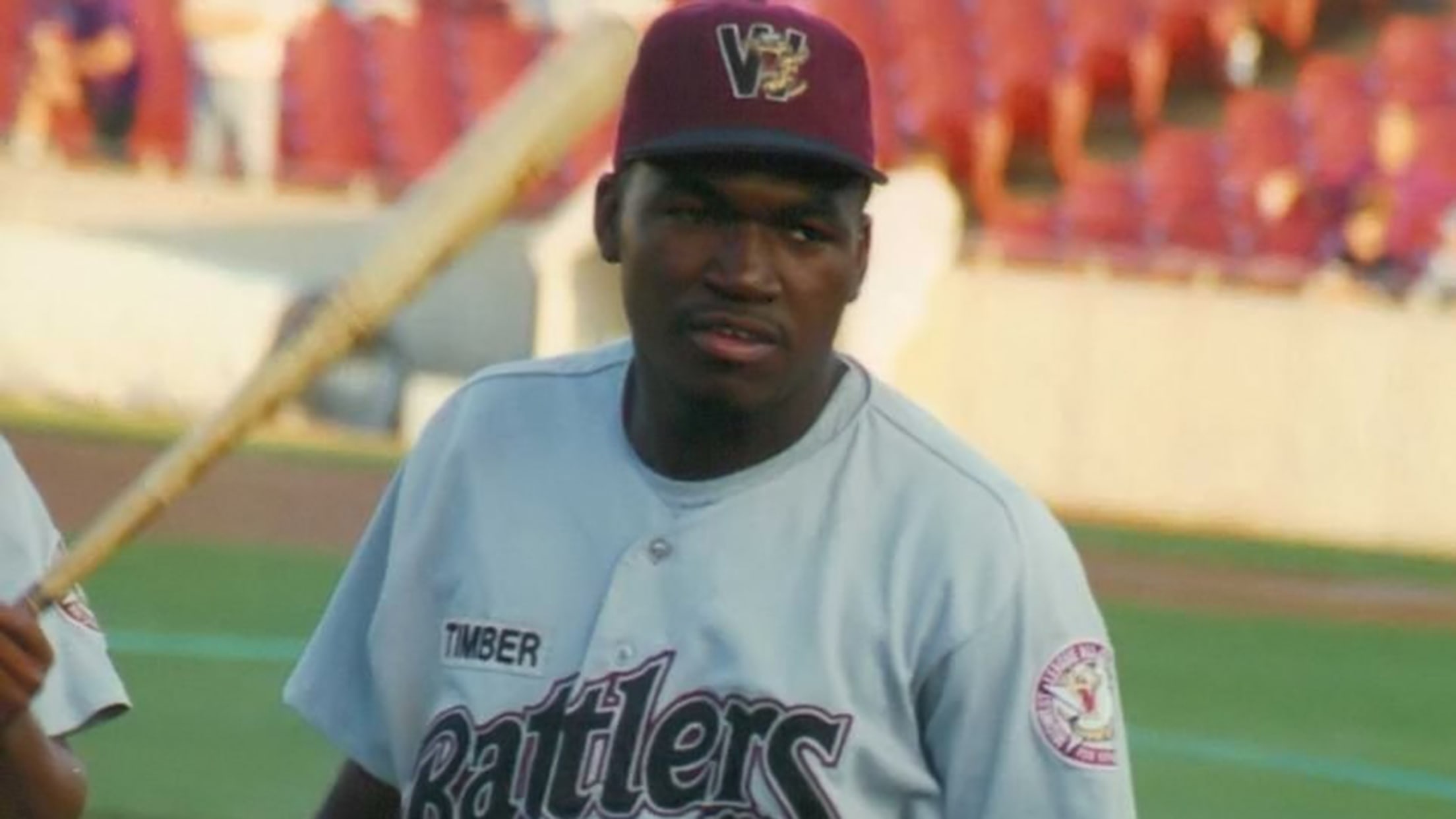 The momentum Ortiz gained that summer led him to the Twins when he was announced on Sept. 13 as the player to be named later in the Mariners' deal for Dave Hollins two weeks prior.
In the new system, the first baseman switched to his paternal last name. Ortiz quickly rose through the Minors, making stops at High-A Fort Myers, Double-A New Britain and Triple-A Salt Lake. Before ending the year in the Majors, the left-handed hitter posted a .317/.372/.568 slash line with then-career highs of 31 homers and 124 RBIs across the three levels.
Ortiz kept his hot bat going in the Majors, batting .327 in his first 15 games to close out 1997. The following year, the slugger was with Minnesota for the season, aside from an 11-game rehab stint at Salt Lake after fracturing his wrist. But he wasn't a bona fide Major Leaguer just yet.
"I was the type of player that I know I got the talent, but all I was looking for was the opportunity to be able to be an everyday player," he said.
Following a rough Spring Training, Ortiz was assigned to Triple-A to start 1999. Working on his defense and plate discipline, the 6-foot-3 first baseman cut down his strikeout rate to 18.7, a career best to that point. That September, Ortiz was back in the Majors. Finding his place as the Twins' designated hitter in 2000, the slugger only returned to the Minors for rehab stints in 2001, 2008 and 2013. Ortiz completed his Minor League career with a .309/.381/.532 slash line with 91 homers, 402 RBIs and a .913 OPS in 537 games.
In December 2002, the Twins released Ortiz due to budgetary concerns. That offseason, the then-27-year-old caught up with countryman Pedro Martinez, who reached out to the Red Sox and insisted they sign Ortiz. Boston listened.
"I'm always going to thank the Minnesota Twins because the one thing that I learned in that organization was opportunities are not out there every day," he said. "But once you get it, hold on to it, because once you let go, it probably never come back to you."
Congrats to David Ortiz on his selection to the @baseballhall! Ortiz donned the Sea Dogs uniform for three games in 2008 on a MLB rehab appearance. pic.twitter.com/qvwFdmXa1X

— Portland Sea Dogs (@PortlandSeaDogs) January 25, 2022
Ortiz "went in there like a sponge," making sure to pick the brains of Martinez, Manny Ramirez and Nomar Garciaparra to find out what made them All-Stars.
"It doesn't matter how much talent you've got if you don't have the right people around you that you can learn from and that have the patience and have the work ethic to bring your ability to the highest level. It's never going to happen [without them]," Ortiz said Tuesday, with Martinez sitting right behind him. "I played with so many players that have way more talent than me, but they don't have the patience, they don't have the discipline, they don't have the dedication. I got to Boston, and I was all ears."
With a group of "Idiots," Ortiz went on to break the Curse of the Bambino, finishing his career with three rings, 10 All-Star nods and seven Silver Slugger awards. He received 307 votes (77.9 percent) to officially get into Cooperstown.
Not bad for a player to be named later.
Kelsie Heneghan is a writer for MiLB.com. Follow her on Twitter @Kelsie_Heneghan.