Readers share their MiLB scorekeeping stories
An ode to the joys (and occasional frustrations) of scorekeeping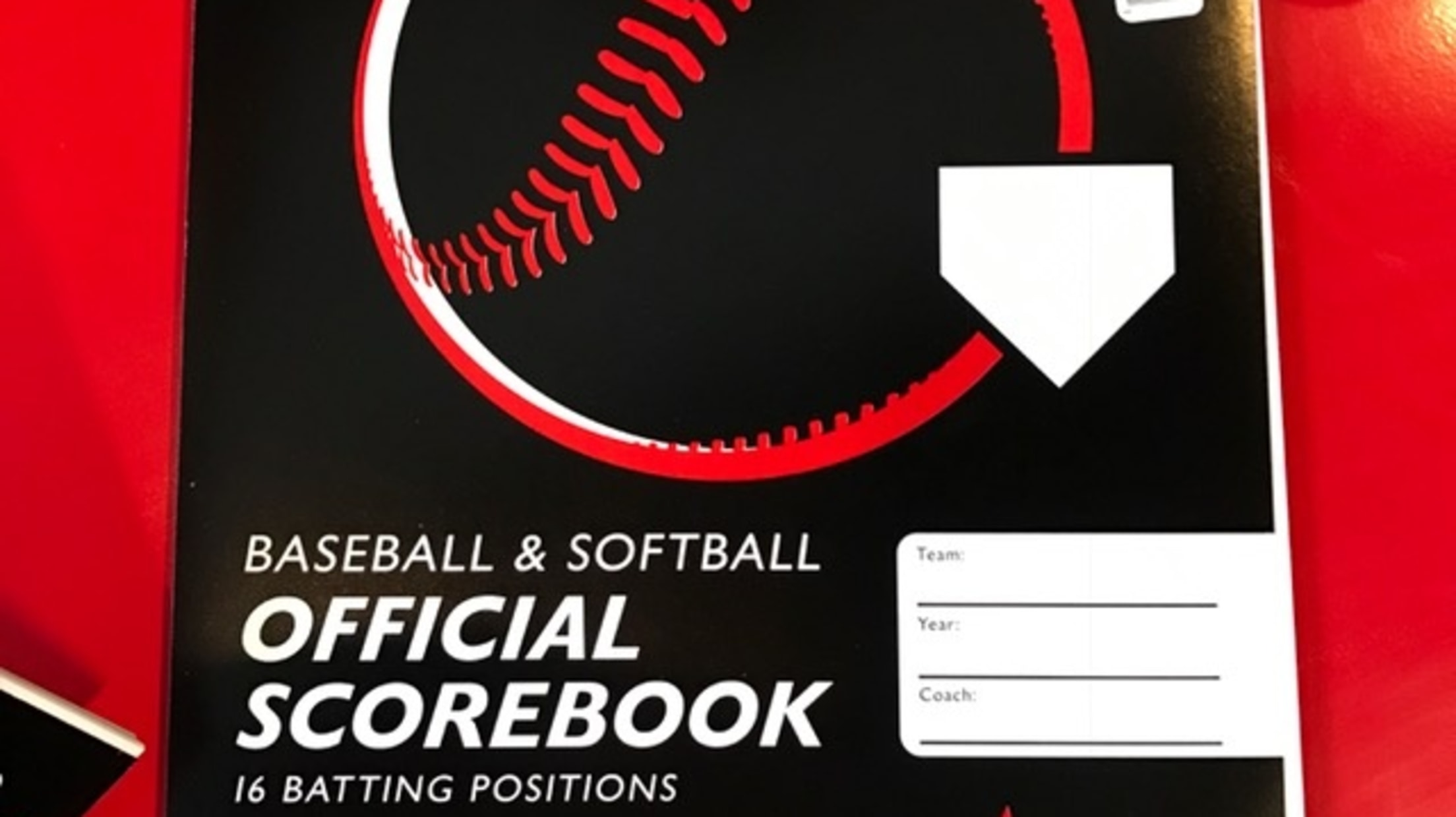 This story was excerpted from the Ben's Biz Beat newsletter. To read the full newsletter, click here. And subscribe to get it regularly in your inbox.
This story was excerpted from the Ben's Biz Beat newsletter. To read the full newsletter, click here. And subscribe to get it regularly in your inbox.
Last week I shared the story of Scranton/Wilkes-Barre RailRiders official scorer Dick Devans, who had responded to my newsletter query: "Do you keep score at Minor League games?" Devans was of one many who replied, and I want to share as many of those responses as I can. Thus, this 42nd edition of the Ben's Biz Beat is devoted to the joys (and occasional frustrations) of scorekeeping.
"I find it keeps me more involved with the game. The people who sit near me often ask my opinion on hits and errors and whether I agree with the official scorer or not. This is particularly the case when a fielder muffs an easy ground ball and the scorer gives the batter a hit, or when a hot smash gets through and the fielder is given an error. Sometimes we simply cannot understand what is going through the scorer's mind, and talking to some of the players, they can't either.
"I wish I'd kept those older score books, but I scored the first home openers for Ty France and Fernando Tatis Jr., when the [Tri-City] Dust Devils were a Padres affiliate." -- Mark Jensen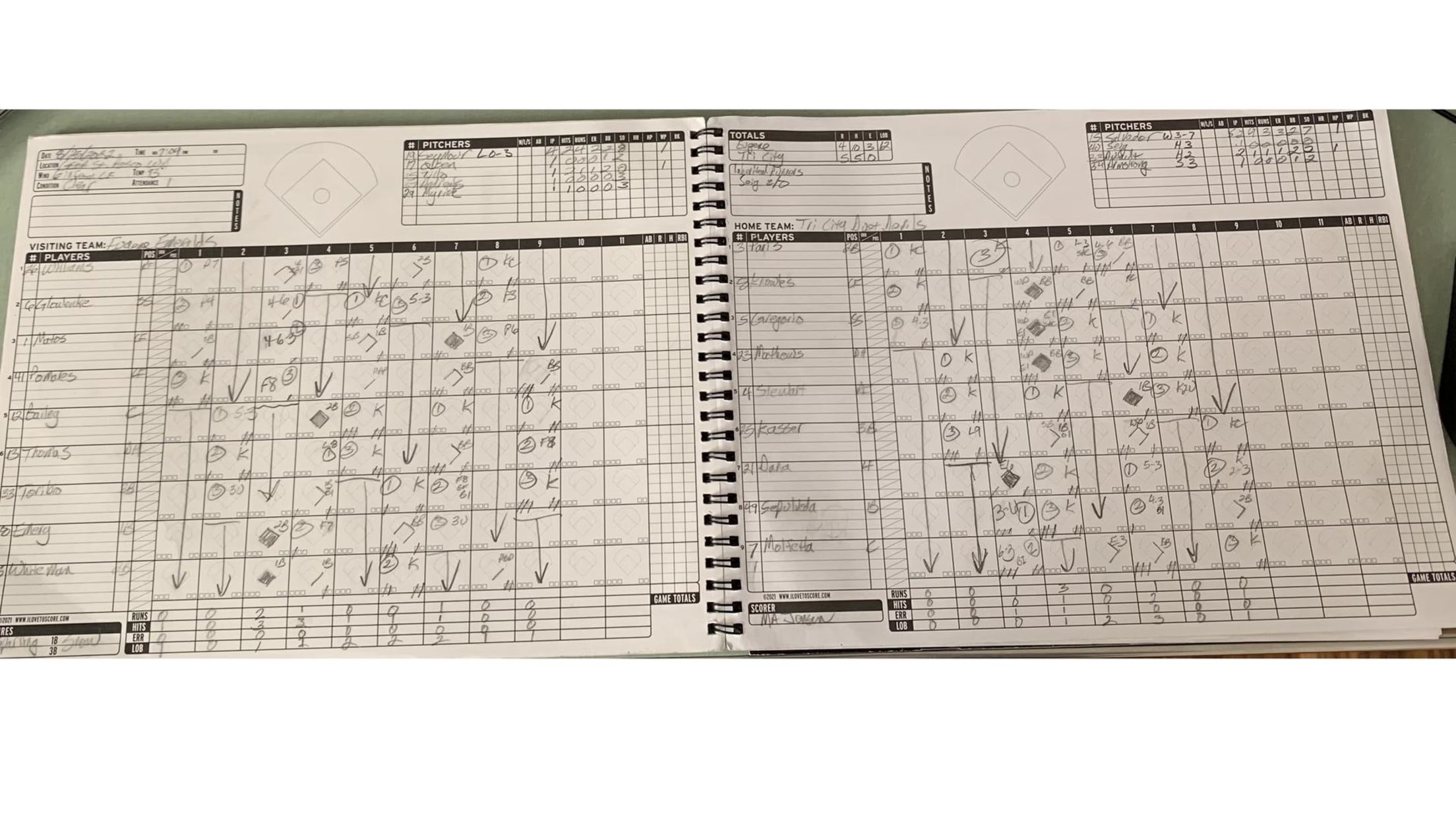 "I kept score for the longest time, and it is great to look back and see some of the names on those scorecards (Bobby Bonilla playing for the Nashua Pirates, Mark Grace for the Pittsfield Cubs, among so many others).
"I finally gave it up when I realized I was missing too much of the game with my head down, trying to figure out how to score that last play. After I had enough of hearing my buddy say, 'Wow, did you see that?' and realizing I hadn't, I finally put the pencil and scorecard down and just started watching the game. Kudos to those who still do -- it is a great keepsake!" -- Brian Alexander
"I always keep score whenever I attend a Minor League Baseball game, because it always gives me an opportunity to keep track of which player is on the doorstep of making it to The Show. Or every once in a while, witnessing a historic feat such as a no-hitter or a player hitting for the cycle." -- LaMichael Mitchell
Speaking of which, LaMichael scored the first no-hitter in Charlotte Knights history: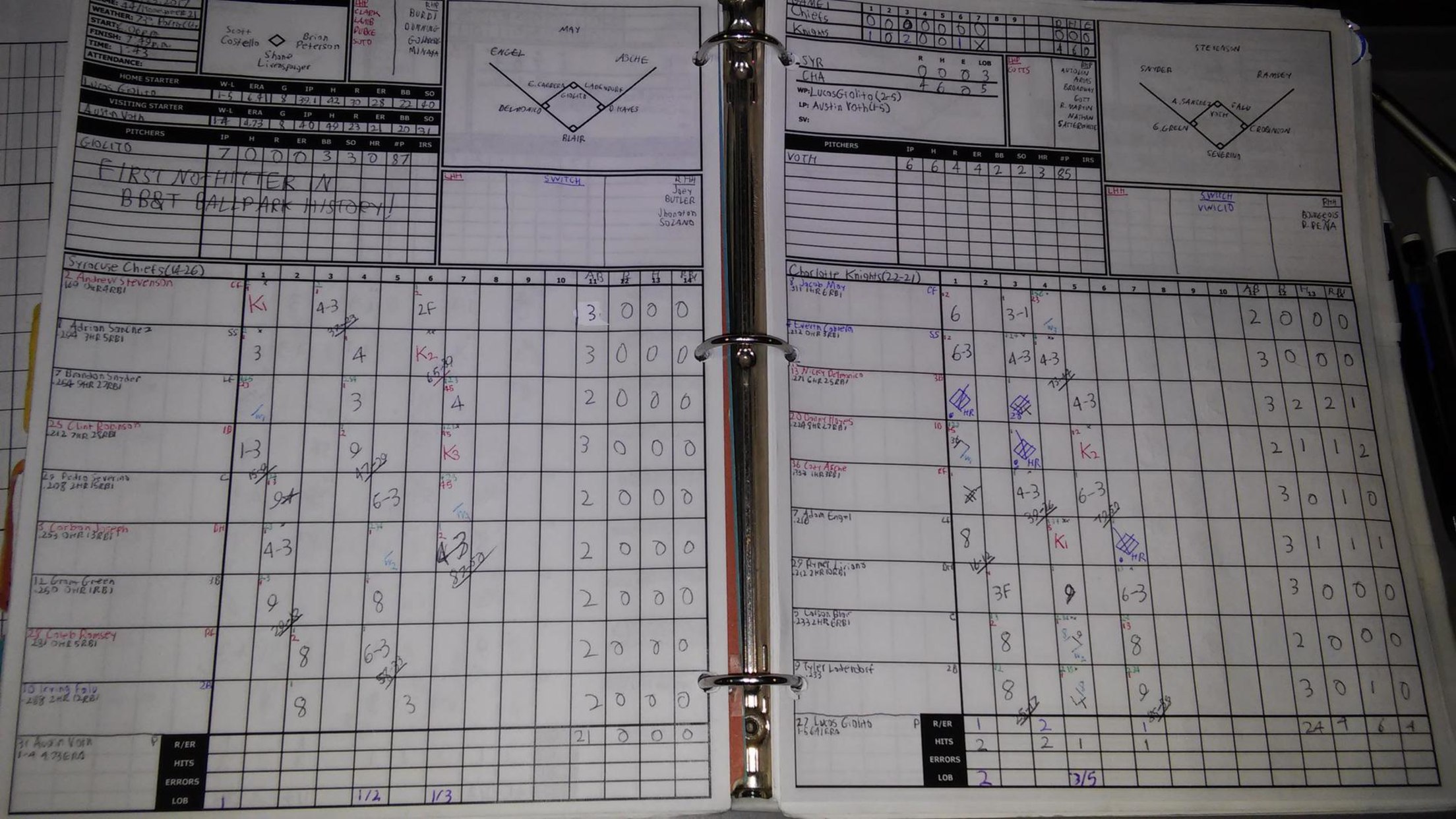 "The part of my [scorekeeping] story that really makes me proud is my kids and their love of scorekeeping. From 2012-19 my family had at least a partial season-ticket package for the Cleveland Indians. At the time we moved to Cleveland, my daughter and son were 7 and 3, respectively. My daughter took a curiosity first, asking what daddy was doing, and asking me to teach her. She was a natural. Every game we went to, she requested that I 'bring the book.' By the time my son reached 7 years old, he made similar requests. From 2016-19 at Indians games, and up to today at Akron RubberDucks and Kent State University games, we will all three rotate the book by half inning." -- Shane Schirmer
"I was the OS [Official Scorer] for the Bakersfield Blaze from 1995 thru 2016, the year our franchise was contracted to the Carolina League. During my tenure, I scored a total of 1,540 games, the first 1,439 consecutive (damn cancer broke my streak).
"The independent Pecos League expanded into California the next year and I've been the OS for the Train Robbers ever since. Additionally, I'm the OS for Cal State University Bakersfield and this year I will surpass 2,000 games scored.
"I know there has to be others with more games scored (Harry Kargenian of Visalia comes to mind). Our collective score sheets contain an incredible amount of, 'Ya, he used to play here on his way to The Show.'" -- Tim Wheeler
Tim Wheeler's bulging Bakersfield Blaze binders: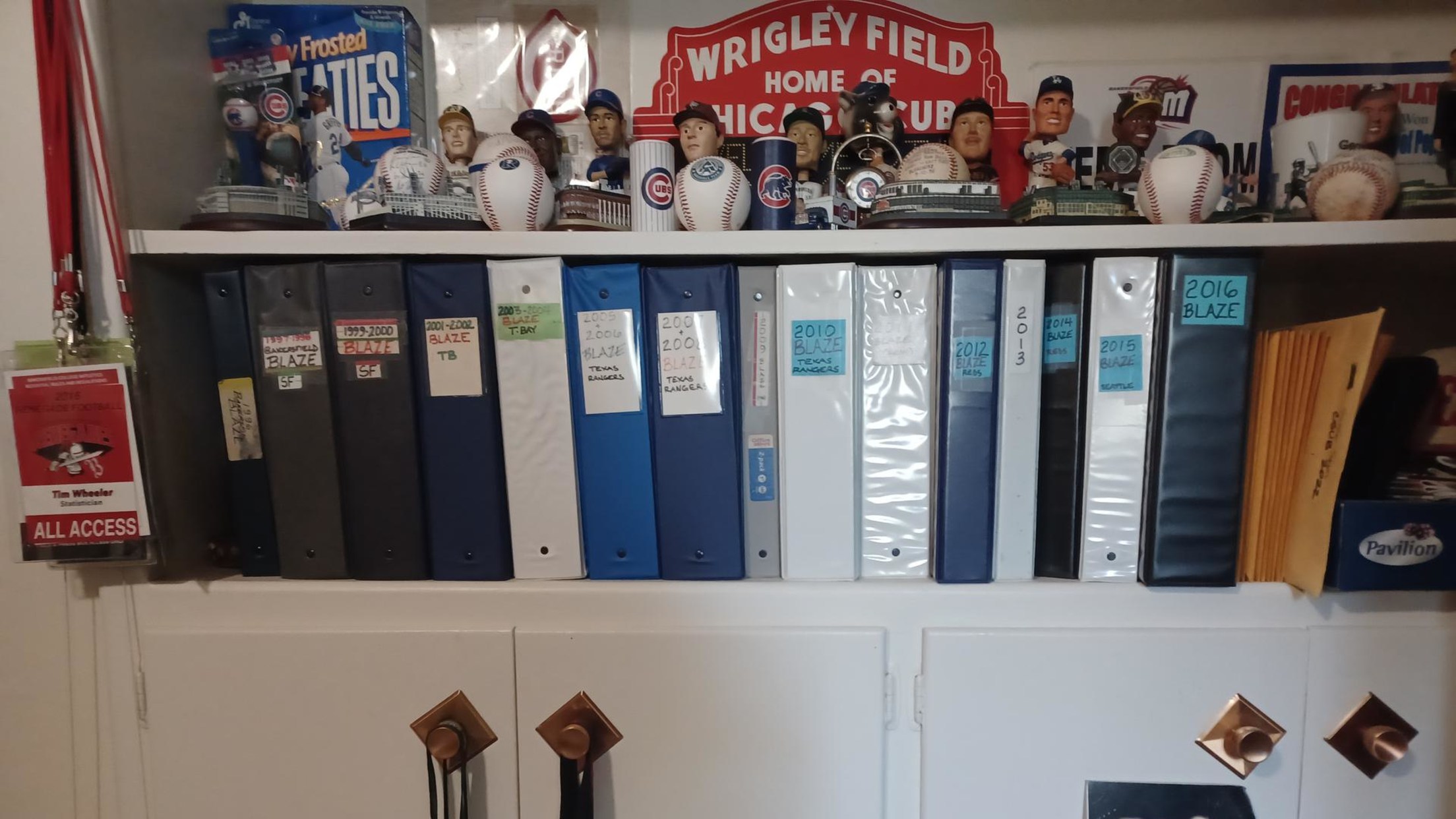 "I was a baseball loving 5-year-old boy who had just started playing baseball with the neighbors. I wasn't old enough to play organized baseball. My older brother was playing, and my mom was asked to be the official scorekeeper for the league tournament. I sat beside her for every game. I watched intently as she made annotations in the Petersen Scorebook. I didn't have a clue what they meant, so I asked her to explain it to me.
"During one of the games, nature called, and Mom had to use the restroom. So for a half inning, I took over the scorebook. The tournament wouldn't wait on Mom to go to the bathroom. Nobody from either team noticed Mom wasn't under the scorekeeper's tent. … To make a long story short. At age 64, whenever I go to a ballgame, I score it." -- Marty Buffington
"I've kept score at every Major League, Minor League and Spring Training game I've attended since 1966 (when I was 13), with one exception. My 50th birthday party was held at a Lakewood BlueClaws game, and I spent most of the time talking with friends I hadn't seen in years. I thought my streak was broken until I found out that my daughter kept score for me." -- Roy Meyer
"My fifth grade teacher allowed us to watch the New York-Milwaukee 1958 World Series in class, justifying it by calling it a 'math lesson.' He taught the class to keep score, and I have done it ever since: Major League, Minor, Little League, even city league softball. ... Maybe the most important skill I learned in elementary school!" -- Frank Austin
"Most people use pen and pencil, but I use my iPad and use the GoodNotes app, thanks to Paul Severino of the Marlins! He shared how he scored his games, and I took his template and made it my own. Every single game I go to, whether it's Minor League, MLB, AFL [Arizona Fall League] or Cape Cod League games! Keeping score keeps me focused on the game, and I enjoy every minute of it!" -- Paul Nicholson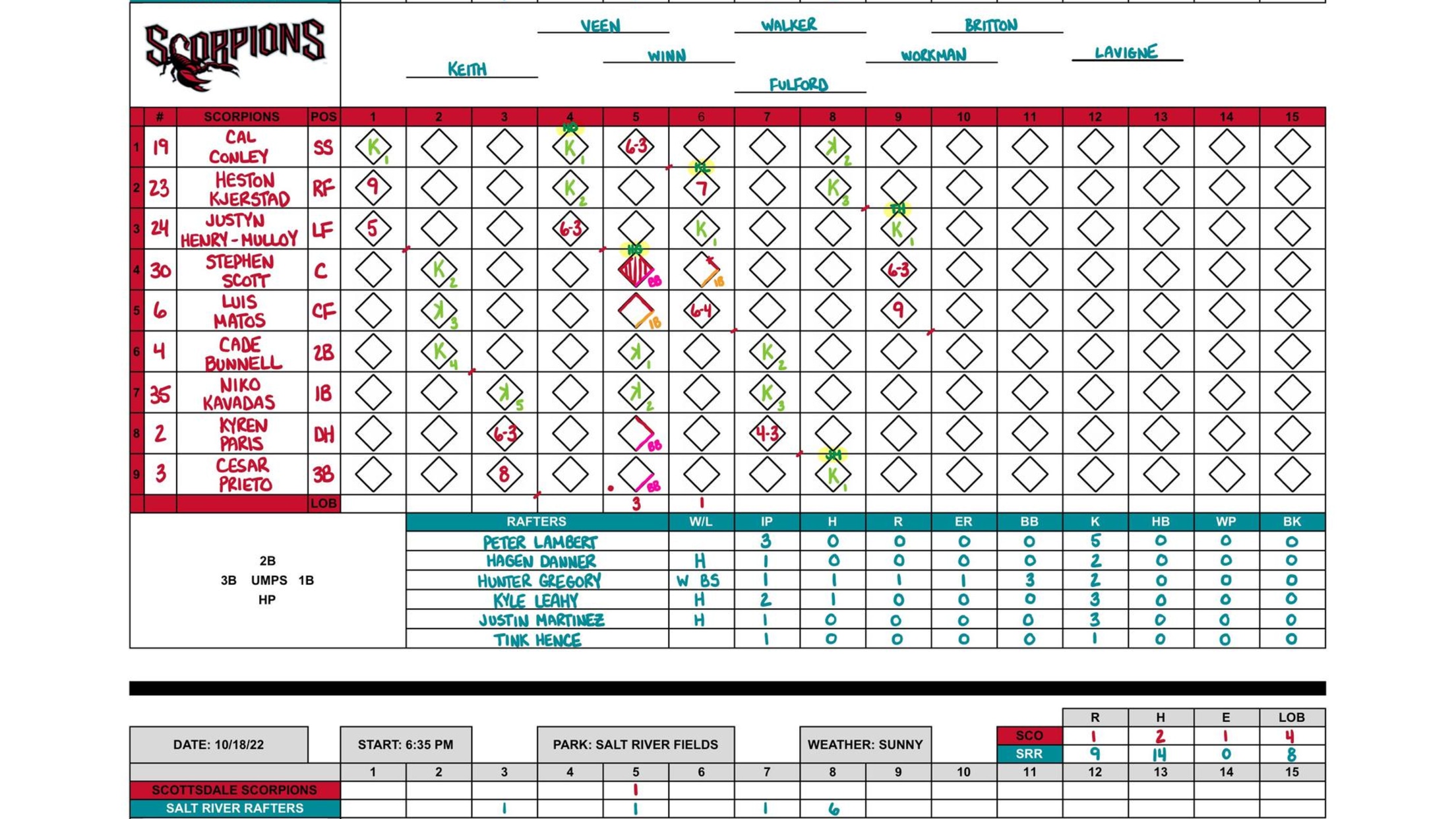 "For 20 years, I was a contractor for STATS LLC and was assigned the Atlanta Braves press box to cover home games, compiling box scores for USA Today, AP etc. That was an awesome time, especially since it covered the 14-year period from 1991-2005 when the Braves won 14 consecutive division titles and a World Series [1995].
"When I retired and moved from Atlanta to Lakeland, Fla., I became a season-ticket holder for the Lakeland Flying Tigers, the Minor League team for the Detroit Tigers. After so many years of keeping score, it's in my blood and so I now keep score at every Minor League game I attend (average 20-40 games each season). My personal scoresheet is the STATS paper data entry sheet customized for Minor League games.
I cherish my years covering Major League Baseball games but keeping score at Minor League games can be a new adventure for anyone with love for the game." -- Jean Berken
"I've passed scorekeeping on to my daughter. We now keep score together. We sometimes mix it up -- she will score the home team, I'll do the visiting. Or I'll do the odd innings, she'll do the even. Or we both do it together, helping each other as sometimes it helps having an extra set of eyes on the game. It definitely helps staying engaged when a game may not be very exciting." -- Eric Murto
I finished with Eric's anecdote because he was the individual who suggested this topic in the first place. Thanks to him, as well as everyone who took the time to share their scorekeeping stories, procedures and memories.