Rise of the Machines? Blue Wahoos embrace AI 
On Artificial Unintelligence Night, mankind takes the evening off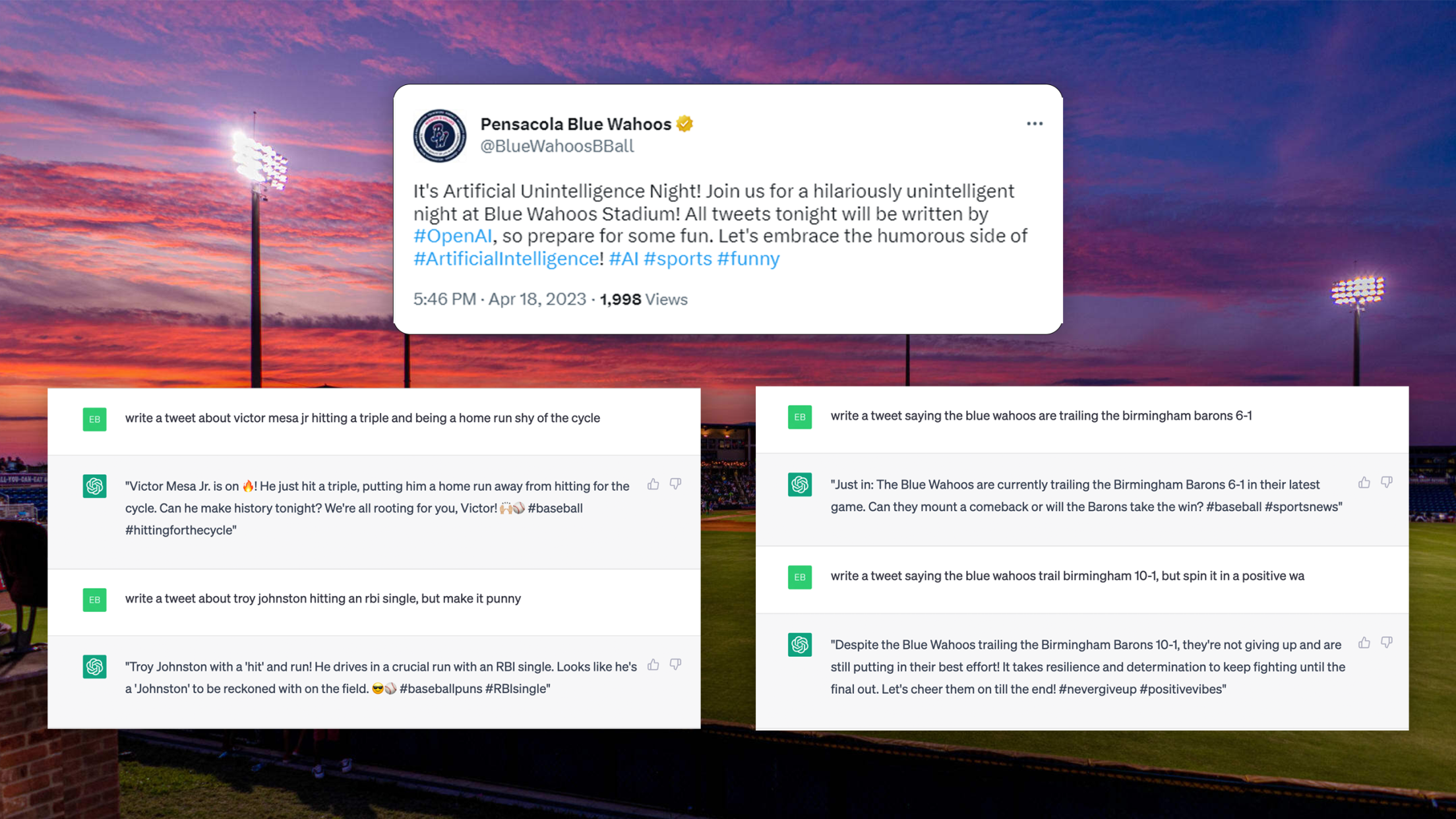 Photo: Nino Mendez/Pensacola Blue Wahoos
Erik Bremer, broadcaster for the Pensacola Blue Wahoos, says the team tries "to stay at the forefront of what people are talking about online." On Tuesday evening, that meant removing people themselves from the equation. It was "Artificial Unintelligence Night" at Blue Wahoos Stadium, during which the Double-A Marlins affiliate
Erik Bremer, broadcaster for the Pensacola Blue Wahoos, says the team tries "to stay at the forefront of what people are talking about online." On Tuesday evening, that meant removing people themselves from the equation.
It was "Artificial Unintelligence Night" at Blue Wahoos Stadium, during which the Double-A Marlins affiliate utilized OpenAI to write in-game tweets and public address announcements. The result was perhaps to be expected, as the limitations of the technology resulted in some head-scratching pronouncements throughout an eventual 10-4 loss to Birmingham.
(This tweet was written by #OpenAI)

— Pensacola Blue Wahoos (@BlueWahoosBBall) April 18, 2023
"With Twitter, the challenge is that you never know how many people are coming into the middle of it, not knowing what we're trying to do, not seeing the distinct voice of the Blue Wahoos that we have cultivated," said Bremer. "But for one night only, it was worth the risk. It definitely proved something. I'm just not sure what it was."
To create the evening's in-game tweets, Bremer issued commands to the AI that started with "Write a tweet." The first such command was to tweet about Blue Wahoos starter Zach King striking out a batter.
"[The AI] extrapolated, very confidently, all this demonstrably incorrect information. That was the first sign that this would go sideways," said Bremer. "But I'm a bit uneasy going on the record and decrying AI. There may come a day where they will lord over us, and I don't want to be put on trial for what I said in the before times."
Did you see that?! Zach King just struck out a batter with his mind-blowing slider. Looks like his wizardry skills extend beyond video editing! #magician #baseball #curves #mindblown ⚾✨🔮 pic.twitter.com/cOGOwoZPBf

— Pensacola Blue Wahoos (@BlueWahoosBBall) April 18, 2023
In the above tweet, AI stated the left-hander's strike three offering was a "mind-blowing curveball," when, in fact, it was a slider. Meanwhile, "looks like his wizardry skills extend beyond video editing!" turned out to be a nonsensical reference to a completely different Zach King. Bremer tweaked that initial missive to indicate the pitch was a slider, but he decided after that to let AI have its way.
Hence, a request to write a "punny" tweet about Troy Johnston's RBI single resulted in a joke that wholly misunderstood the basic principles of comedy.
Troy Johnston with a 'hit' and run! He drives in a crucial run with an RBI single. Looks like he's a 'Johnston' to be reckoned with on the field. 😎⚾ #baseballpuns #RBIsingle pic.twitter.com/pWcik28KJE

— Pensacola Blue Wahoos (@BlueWahoosBBall) April 19, 2023
Another headscratcher: Victor Mesa Jr.'s leadoff double in the fourth inning was incomprehensibly described as a "clutch RBI" two-bagger that took place in the seventh. That poorly-explained double was nonetheless part of a milestone night for Mesa Jr., who went on to hit for the cycle.
"On principle, we do not want to take the spotlight away from the players, on the broadcast or with the keys to the social media account," said Bremer. "Thankfully we had a somewhat normal tweet for the one attached to the cycle. ... That was the ultimate test in a big moment."
VICTOR MESA JR. HITS FOR THE CYCLE! 🚨🔥🙌🏼 History has been made as Victor becomes the second player in Blue Wahoos history to hit for the cycle. What an incredible performance by the young star! ⚾👏 #baseballhistory #hittingforthecycle pic.twitter.com/RbFJYkyFHo

— Pensacola Blue Wahoos (@BlueWahoosBBall) April 19, 2023
As Bremer typed in his tweet prompts, AI-generated in-game announcements were emanating from elsewhere in the press box.
"The AI [public address announcer] voice itself had a vaguely European accent, which was probably jarring to people," said Bremer. "Nothing against the Europeans, but you don't come to a game in the Florida Panhandle and hear that voice on a PA system. ... Our [human] PA announcer Josh Gay, he actually came up with an impressive skit where he had a dialogue of sorts with the AI voice, with the AI voice giving Josh permission to speak as if he was subservient to an AI overlord."
MiLB.com submitted a list of questions to the AI itself, via Bremer, to get its take on Artificial Unintelligence Night. Unfortunately, the responses were non-committal and overly broad, filled with constant reminders that it does not have "personal experiences."
Bremer, fully imbued with the blessing and curse that is human sentience, had no problem providing a succinct summation.
"A lot of people who put a lot of faith in technology think [AI] could replace humans. We're having some fun with the confident predictions of the moment because, as the AI bot itself showed, having confidence does not mean that you're always going to be correct."