Cowser Wins Second International League Player of the Week Award
Orioles No. 3 Prospect, No. 31 on MLB Pipeline Top 100 Prospects Earns Second Weekly Award for Norfolk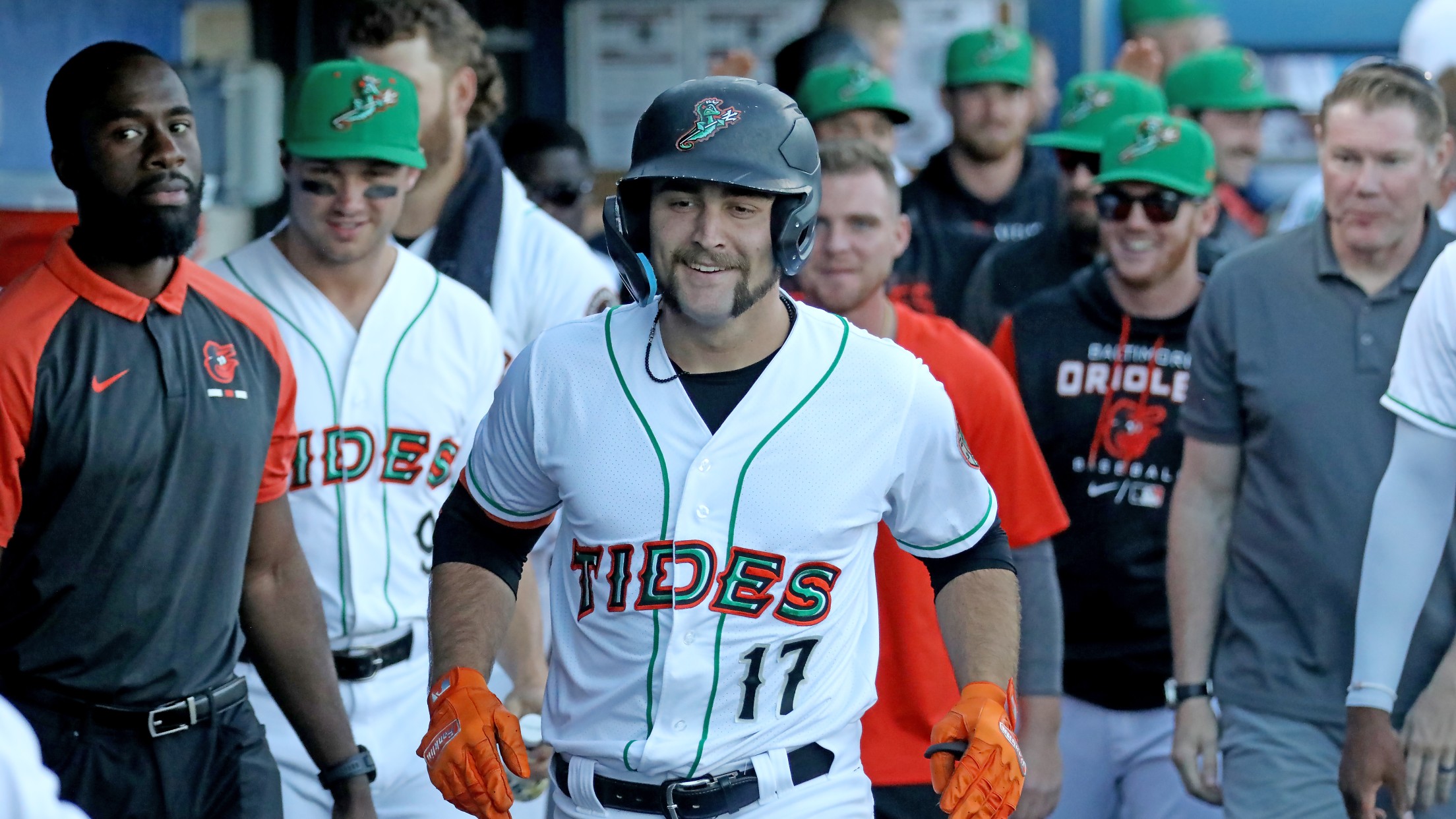 (Sydney Smith)
Minor League Baseball today announced the International League's Player and Pitcher of the Week Awards. Norfolk Tides outfielder Colton Cowser was named Player of the Week while Durham's right-hander Evan McKendry was named Pitcher of the Week. It was the second time this season Cowser has won the International League
Minor League Baseball today announced the International League's Player and Pitcher of the Week Awards. Norfolk Tides outfielder Colton Cowser was named Player of the Week while Durham's right-hander Evan McKendry was named Pitcher of the Week. It was the second time this season Cowser has won the International League Player of the Week Award, with the other happening from April 18 – 23.
In the six games at Jacksonville from May 9 – 14, Cowser hit .500 (11-for-22) with nine runs, two doubles, two home runs, five RBI, and eight walks while slashing .613/.864/1.477. During the week, he led the International League in average, on-base percentage and runs, while also ranking in hits (T-2nd), OPS (3rd), walks (4th) and slugging percentage (T-8th).
The Tides went 4-2 at Jacksonville during the week, outscoring them 38-28 in the series. Cowser recorded four multi-hit efforts during the week, including two three-hit games. He reached base safely four times in four of the six games. On Thursday, he went 3-for-3 with two home runs and a walk. On Friday, he started the night 2-for-2 to make it five straight at bats for him recording a hit. Thursday was his second multi-home run game this season (April 22 vs. Rochester). On Saturday, he matched his career-high with four runs and went 3-for-4 with a double and two walks.
Cowser is having a stellar month of May, leading the league in average (.436) and runs (16), while ranking among league leaders in walks (2nd, 14), on-base percentage (2nd, .564), OPS (3rd, 1.308) and slugging (7th, .744). If he keeps his pace, he will likely be a candidate for International League Player of the Month, which would be his first such award in his career.
As far as the 2023 season league leaders go, he leads the International League in runs scored (43) and on-base percentage (.477). In runs, he leads his teammate Connor Norby who is tied-for-second with 32 runs. In 36 games so far this season, Cowser is slashing .336/.477/.567/.1.044. If he were to play the entire season with Norfolk this year, he's on pace to play 142 games, recording 178 hits, 170 runs, 32 doubles, four triples, 28 home runs, 111 RBI, 136 walks in 687 plate appearances. If he were to maintain this pace, he would top the franchise records in runs (Randy Milligan, 99, 1987), walks (Pepe Mangual, 126, 1977), RBI (Clint Hurdle, 105, 1983) and hits (Kevin Elster, 170, 1987).
Ticketing Information
Fans can purchase tickets in person at the Harbor Park box office or online at NorfolkTides.com/Tickets. The Harbor Park box office is currently open from 10 a.m. - 5 p.m., Monday through Friday each week. The box office also opens at 10 a.m. on Saturdays when the team is at home, and is open from 10 a.m. – 2 p.m. on Saturdays with no home game.
Single-game tickets start at $14 for Reserved Seats, with Box Seats available for $15. The Tides also offer special discounts to children ages two through high school, active military with ID (4 tickets per ID) and senior citizens (60 +). These special discounts are available in the Lower and Upper Reserved sections and can be purchased for $12. Children under two years old are admitted free of charge. For groups of 20 or more, please call the Norfolk Tides front office to speak with a group sales representative at 757-622-2222.