Wild Pitches in Extras the Difference in Tides Win
Norfolk, Memphis Go Back-and-Forth in Extra-Inning Thriller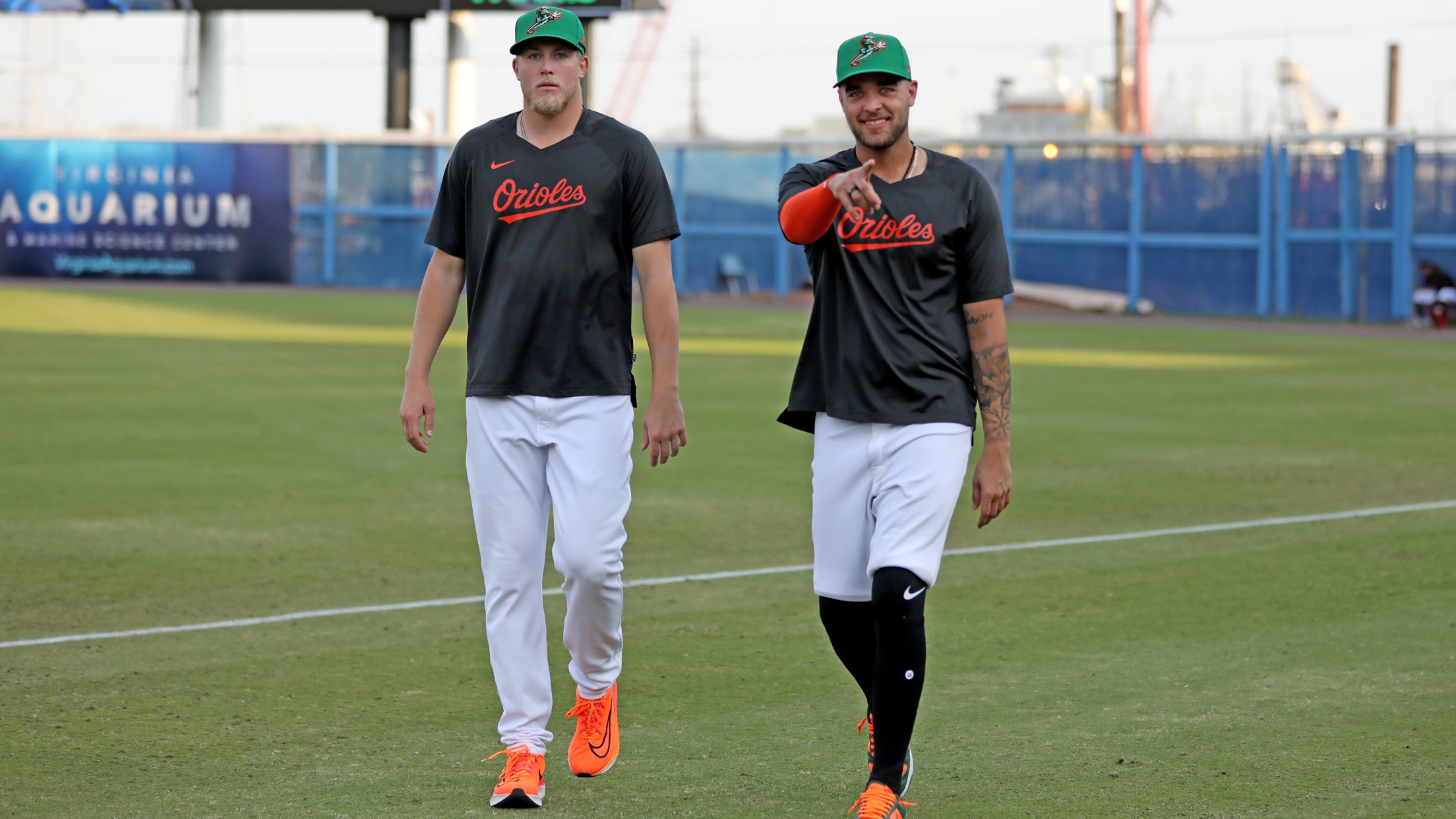 Ryan Watson (left) and Chris Vallimont (right) (Sydney Smith)
MEMPHIS, Tn. --- The Norfolk Tides (32-13) defeated the Memphis Redbirds (25-21), 13-12, in 11 innings on Tuesday night at AutoZone Park. The Tides took the series opener in a crazy back and forth shootout. The shootout started off right in the first inning. Daz Cameron knocked in the first
MEMPHIS, Tn. --- The Norfolk Tides (32-13) defeated the Memphis Redbirds (25-21), 13-12, in 11 innings on Tuesday night at AutoZone Park. The Tides took the series opener in a crazy back and forth shootout.
The shootout started off right in the first inning. Daz Cameron knocked in the first run on an RBI single and Lewin Díaz knocked in the next run on an RBI groundout. Memphis responded right back with two two-run homers. Ivan Herrera hit the first one to tie the game and Jordan Walker followed to put the Redbirds up, 4-2.
In the bottom of the second, Memphis gained their biggest lead when Luken Baker roped a two-run single to make it 6-2. Norfolk was able to tie the game in the top-half of the third. Cameron knocked in two more runs on his seventh home run of the season. The Tides scored one more on an error and later drew a bases loaded walk to tie the game at 6-6.
Memphis did retake the lead in the bottom-half of the third when they drew a bases loaded walk themselves. Norfolk wouldn't be able to score again until the sixth when Josh Lester tied the game on a solo homer. Later that inning with the bases loaded, Anthony Bemboom cleared the bases on a triple to make it 10-7.
After Norfolk took their first lead of the game, Memphis came in clutch in the eighth inning with four runs. It started with Herrera knocking a two-run triple. He then scored when Baker knocked a double. Walked knocked in the go-ahead run on a single to go up 11-10 into the ninth.
The Tides were able to load the bases in the top of the ninth with one out. Lester grounded out to Baker at first but it was mishandled. That allowed the tying run to score and force extras. In the 10th, Norfolk was able to advance their inherited runner to third, who then scored on a wild pitch to go up, 12-11.
Memphis did tie the game on an RBI single by Baker to force the game to go to the 11th inning. The Tides would yet again score on a wild pitch to take a 13-12 lead. This time, Reed Garrett was able to hold off Memphis to clinch the victory.
It's a quick turnaround tomorrow, with first pitch at 1:05 p.m. LHP Cole Irvin (4-1, 3.19) is set to start for the Tides while Memphis is scheduled to start LHP Connor Thomas (4-2, 4.29).