10-Run 5th Powers Omaha to 3rd Straight Win over Indianapolis
12 hits and 10 walks help Chasers to 15-7 win at Indy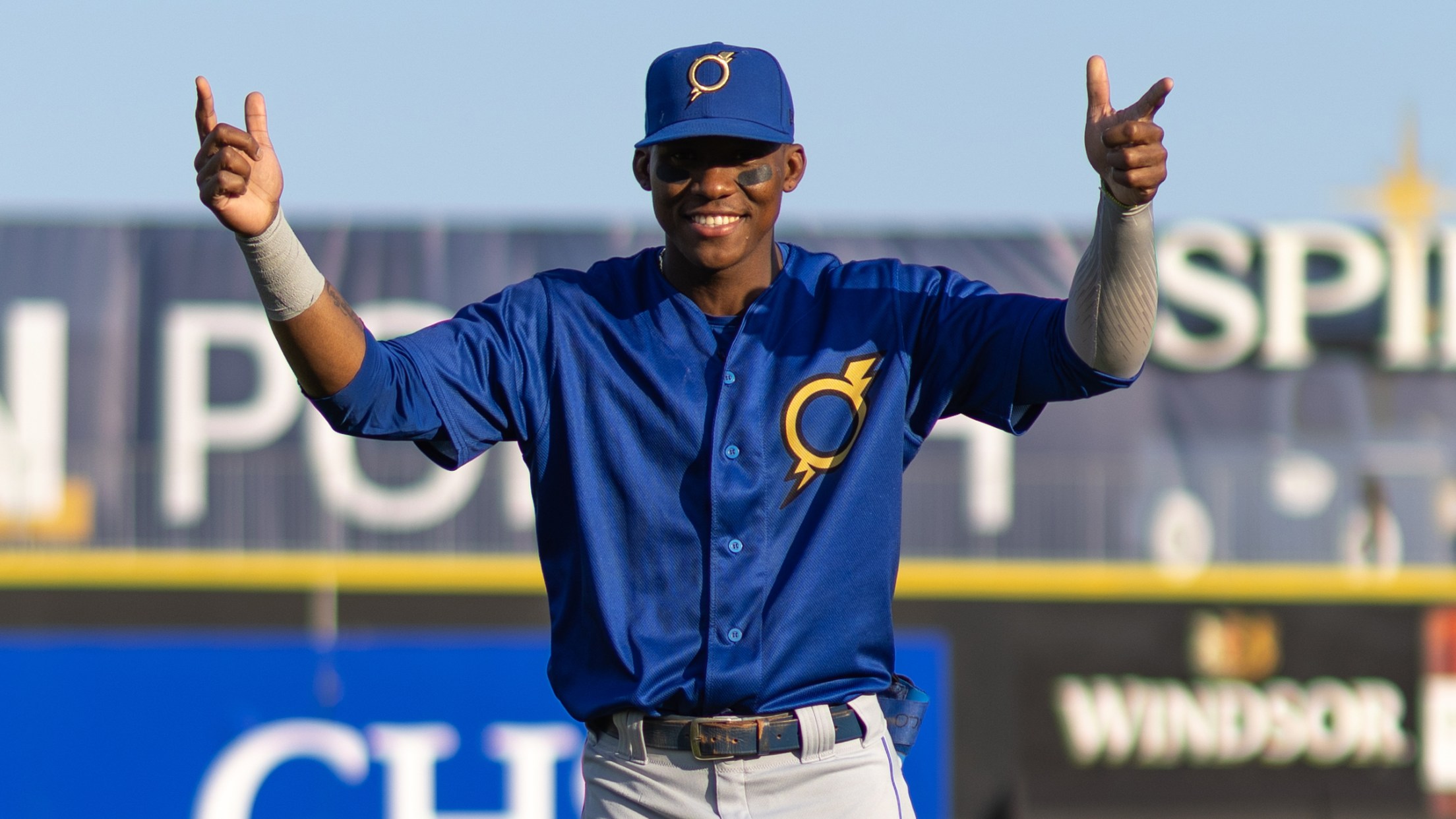 Dairon Blanco went 2-for-4 with three runs batted in during Omaha's 15-7 win over Indianapolis on Thursday. (Nicholas Badders)
INDIANAPOLIS, IND. – The Omaha Storm Chasers won a third straight game over the Indianapolis Indians on the road, scoring 10 runs in the top of the fifth inning en route to a 15-7 win over Indy. Omaha took a lead in the first inning with a sacrifice fly from
INDIANAPOLIS, IND. – The Omaha Storm Chasers won a third straight game over the Indianapolis Indians on the road, scoring 10 runs in the top of the fifth inning en route to a 15-7 win over Indy.
Omaha took a lead in the first inning with a sacrifice fly from Tyler Gentry and RBI single from CJ Alexander, for an early 2-0 lead. Indianapolis countered with two in the third on a two-run double from Endy Rodriguez and the game remained tied at 2-2 heading into the fifth.
The Storm Chasers sent 15 batters to the plate in the top of the fifth inning and tagged Indianapolis for 10 runs in the frame on five hits and 10 walks. Dairon Blanco and Samad Taylor opened the inning with walks, then a wild pitch and steal allowed Blanco to score from third on a groundout by Gentry.
After Taylor stole third base, Logan Porter and Alexander each walked to load the bases, then Brewer Hicklen singled on one and Clay Dungan brought home another with a sacrifice fly, at the time a 5-2 lead for Omaha. With two outs, the next seven batters reached, including a bases-loaded walk to Tucker Bradley, two-run single off the bat of Blanco, three-run double from Gentry and RBI double from Alexander to cap the 10-run frame.
While Indy struck starter Drew Parrish (3-2) for a run in the fifth, the left-hander finished off 5.0 innings with just three runs allowed to earn his third win of the year, his second over Indianapolis.
The Indians knocked reliever Andrés Núñez out of the game with four runs allowed on four hits and a walk over just 0.1 inning of work, but right-hander Jonah Dipoto stranded a pair of inherited runners and went on to fire 2.2 scoreless innings with four strikeouts.
Omaha's scoring didn't stop in the fifth inning, as Alexander added his third hit plus his third and fourth runs batted in of the night in the seventh, with a two-run homer to right field, at the time putting Omaha up 14-7. It was Alexander's team-leading 10th homer of the season, his second straight game with a long ball. Blanco added one more run in the eighth for good measure with a sacrifice fly that scored Angelo Castellano, Blanco's third RBI of the game.
All nine Storm Chasers had hits in the game, led by Alexander's three. Eight of nine players scored runs, including three scored by Blanco and Taylor each. Eight of nine drew a walk, including three by Porter and six of nine drove in runs, led by Gentry's five. Omaha stole four bases as a club, with three from the legs of Blanco, who extended his Minor league lead to 42 stolen bases in 2023.
Marcelo Martinez pitched a scoreless ninth inning for Omaha to finish off the game, his fourth scoreless outing in eight appearances this year.
Now 6-0 against Indianapolis this season, the Storm Chasers will try and secure a series win Friday at 6:05 p.m. CT as right-hander Max Castillo takes the mound at Victory Field.