Chasers Storm Back to Take Series Opener in Indy, 4-2
Omaha scores one in eighth and two in ninth to beat Indianapolis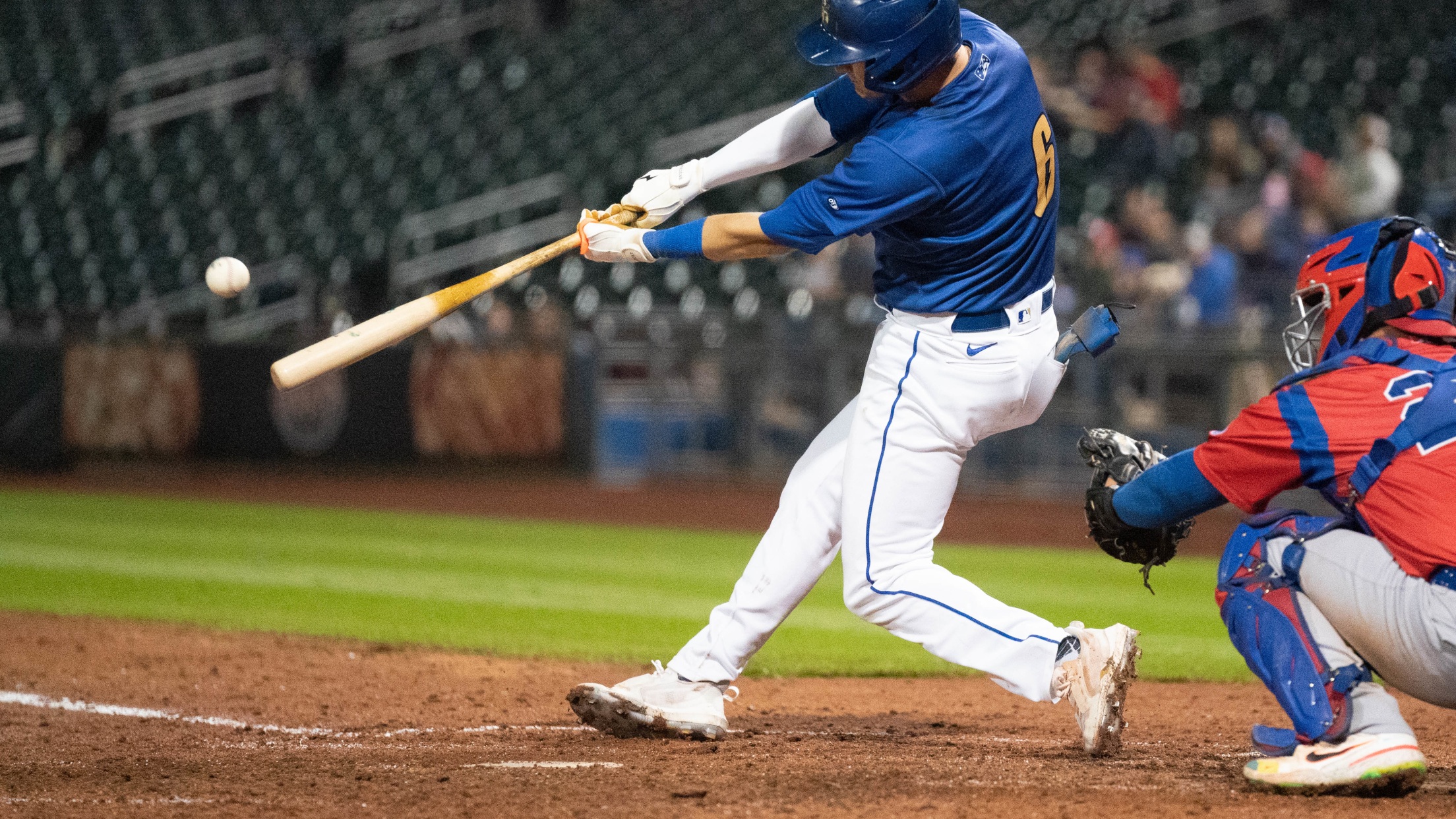 Clay Dungan scored the game-tying run in the 8th and drove home a run of insurance in the 9th, in Tuesday's 4-2 win over Indianapolis. (Minda Haas Kuhlmann)
INDIANAPOLIS, IND. – The Omaha Storm Chasers stayed undefeated against the Indianapolis Indians, storming back with three unanswered runs over the final two innings for a 4-2 win in the series opener Tuesday night. The two teams traded runs in the first, as Samad Taylor doubled, stole third and scored
INDIANAPOLIS, IND. – The Omaha Storm Chasers stayed undefeated against the Indianapolis Indians, storming back with three unanswered runs over the final two innings for a 4-2 win in the series opener Tuesday night.
The two teams traded runs in the first, as Samad Taylor doubled, stole third and scored on a Tyler Gentry groundout. In the bottom of the first, spot starter Daniel Mengden hit a batter with the bases loaded to tie the game at 1-1.
Mengden worked scoreless second and third innings, then handed the ball off to left-hander Walter Pennington for the fourth inning. Similar to Mengden, Pennington loaded the bases in the bottom of the fourth and walked home a run to give Indianapolis a 2-1 lead, but worked scoreless fifth and sixth innings to keep the deficit at just a run.
Through the first seven innings, Omaha was kept to just four hits, including singles in the third and sixth from Dairon Blanco.
Catcher Jakson Reetz opened the eighth with a single, then Angelo Castellano drew a walk. With Clay Dungan pinch-running for Reetz, Blanco bunted the two baserunners over, then Taylor drove a sacrifice fly to the outfield to score Dungan from third and tie the game at 2-2.
Behind Pennington, Andrés Núñez and Collin Snider worked scoreless seventh and eighth innings, respectively, keeping the score close into the ninth inning.
Johan Camargo wasted no time giving Omaha the lead in the top of the ninth, as he crushed his third home run of the season to right-center field to open the inning for a 3-2 lead. Logan Porter doubled with one out, then scored from second on a Dungan double, for a 4-2 lead.
Trying for a save, Brooks Kriske struck out his first two batters in the bottom of the ninth, but loaded the bases on a single and two walks, to put the tying and winning runs on. However, he stranded the bases loaded to end the game with his third strikeout of the inning to secure his second save of the year.
Omaha tries to win its second straight game over Indianapolis Wednesday at 12:35 p.m. CT and right-hander Jonathan Heasley heading to the mound.