Chasers Win Game One Over Saints as Lynch and Waters Take Charge
Waters goes 4-for-5, Lynch throws six scoreless as Omaha beats St. Paul 6-1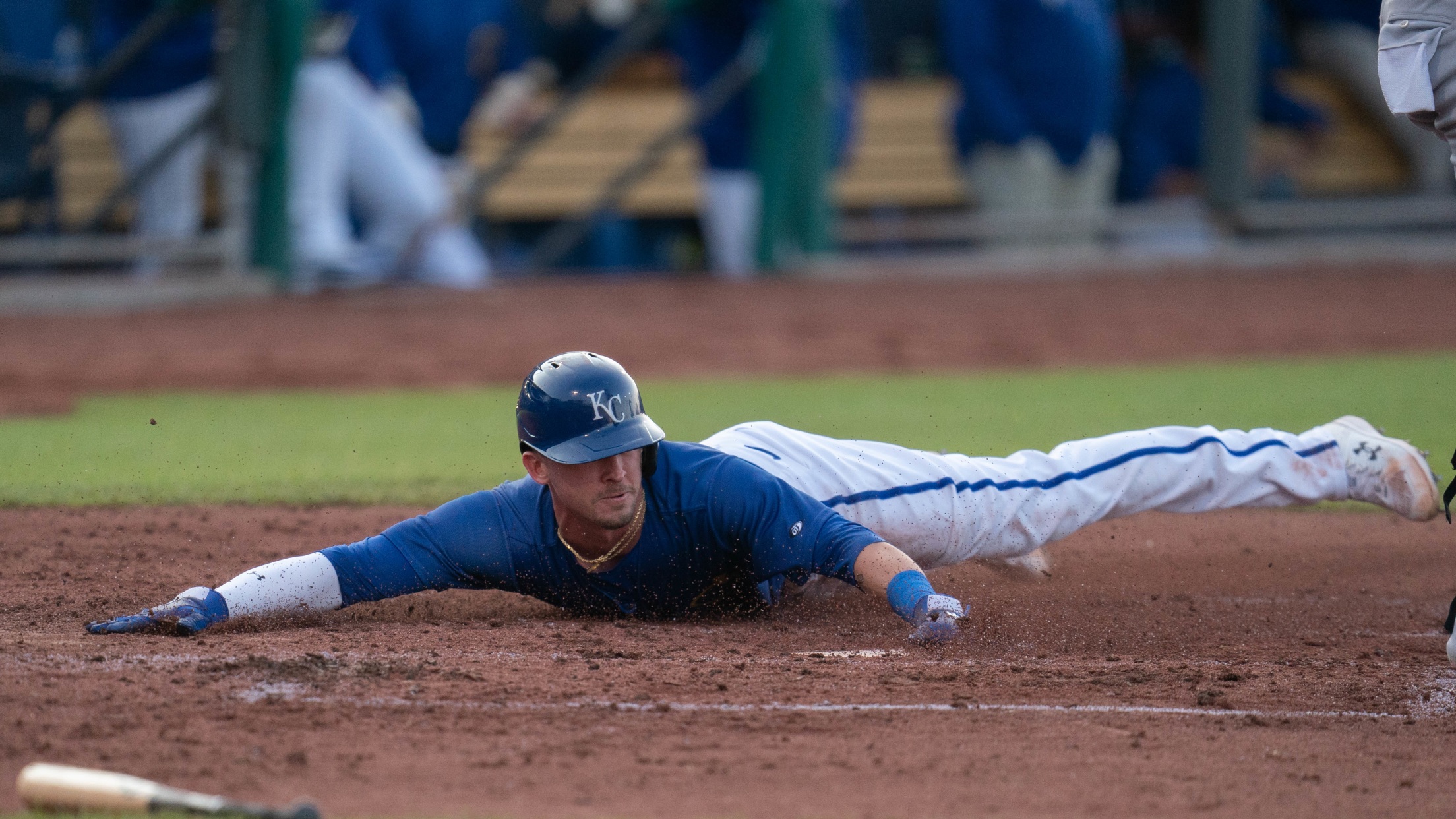 Drew Waters went 4-for-5 in Omaha's 6-1 win over St. Paul Tuesday afternoon, his second straight four-hit game. (Minda Haas Kuhlmann)
ST. PAUL, MINN. –Outfielder Drew Waters produced his second straight four-hit game Tuesday afternoon and Daniel Lynch fired 6.0 scoreless innings as the Omaha Storm Chasers beat the St. Paul Saints 6-1 in the series opener at CHS Field. In his fourth Major League rehab start with Omaha, Lynch cruised
ST. PAUL, MINN. –Outfielder Drew Waters produced his second straight four-hit game Tuesday afternoon and Daniel Lynch fired 6.0 scoreless innings as the Omaha Storm Chasers beat the St. Paul Saints 6-1 in the series opener at CHS Field.
In his fourth Major League rehab start with Omaha, Lynch cruised through six innings, as the southpaw held St. Paul to just three hits with no walks and five strikeouts on just 61 pitches, including 47 strikes (77% strikes).
In his 11th start of a Major Leaugue rehab assignment, Waters opened the game with double on the pitch, then scored moments later on an RBI single from Nick Loftin, giving the Storm Chasers a lead they held the rest of the game.
Greyson Jenista opened the second inning with a double in his first Chasers at-bat, then scored as Dairon Blanco followed with a double of his own four pitchers later. Two batters after that, Angelo Castellano singled Blanco in for a 3-0 lead.
Blanco drove in his second run of the game in the fourth, with a 455-foot solo homer that stretched the lead to 4-0. After Waters singled to lead off the fifth, his third hit of the day, he came around to score on a sac fly from Loftin, stretching Omaha's lead to 5-0.
The Chasers added one more run in the ninth, again driven in by Loftin, as he doubled home Waters, who doubled two batters earlier, for a 6-0 lead.
Behind Lynch's six scoreless innings, 2022 Saints pitcher Evan Sisk threw 2.0 scoreless innings and struck out a pair, preserving Omaha's shutout into the ninth.
The shutout fell short for the Storm Chasers, as the Saints opened the bottom of the ninth with a pair of hits against Collin Snider, then scored a run on a groundout, though Snider retired his final three batters to end the game.
With 3 runs batted in, Loftin has a team-best 17 RBI in 18 games in May, tied for seventh in the league this month in RBI. Blanco's two hits bring him to a .368 average in May (14-for-38) with five extra-base hits and five RBI.
After starting his rehab assignment 1-for-22 (.045) over his first six games Waters is 15-for-26 (.577) over his last six games, with eight extra-base hits.
Omaha will try and win its third straight game Wednesday at 7:07 p.m. CT, as left-hander Anthony Veneziano makes his Triple-A debut with the Storm Chasers.