Loftin and Gentry Crush Homers, Veneziano Earns First Triple-A Win over Memphis
Gentry collects 4 hits and 471-foot homer as Storm Chasers take series opener against Redbirds 7-6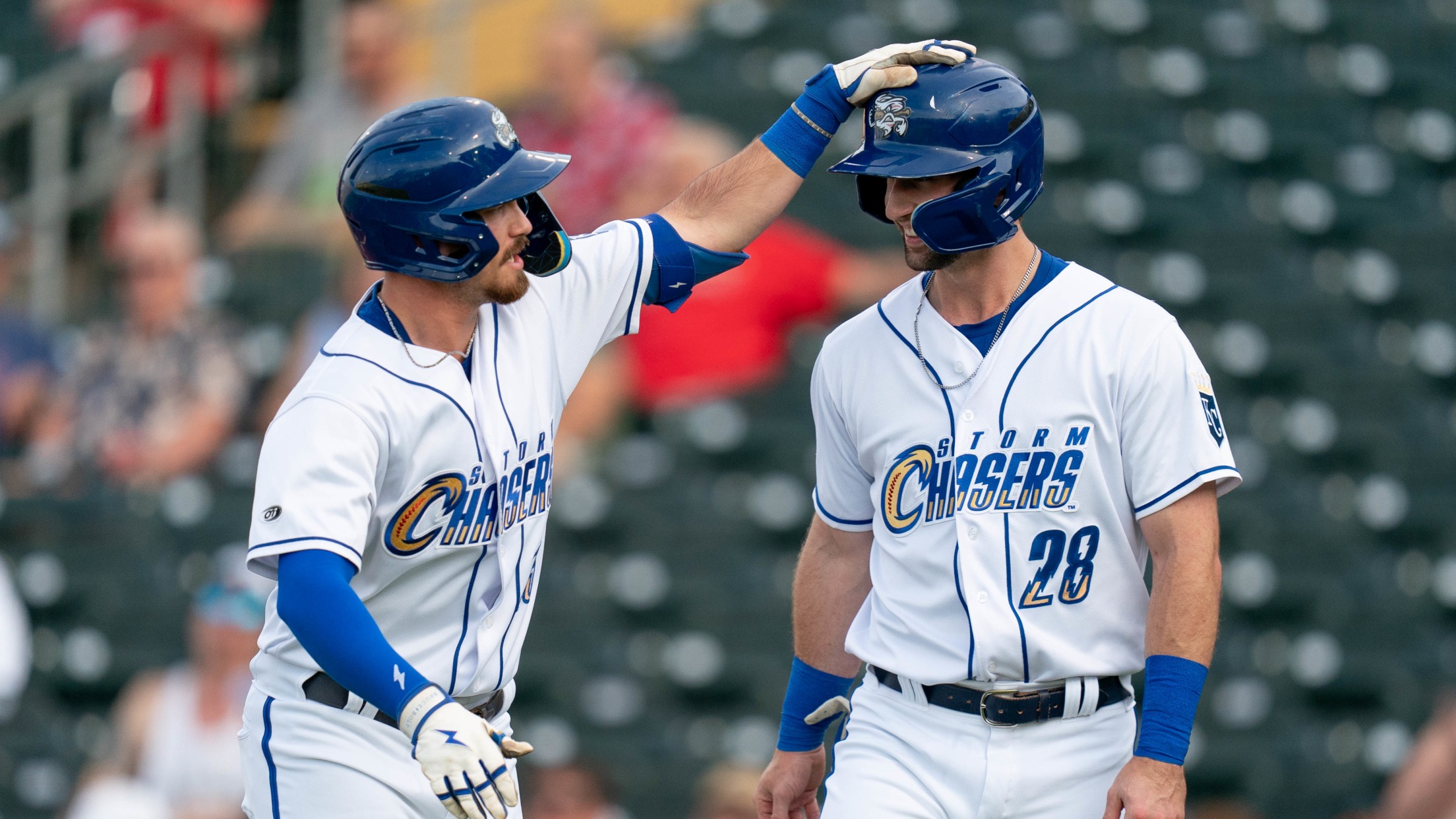 Nick Loftin and Tyler Gentry each homered and came a triple shy of the cycle in Tuesday's 7-6 win over Memphis. (Minda Haas Kuhlmann)
PAPILLION, NEB. – Left-hander Anthony Veneziano (1-0) earned his first Triple-A win Tuesday night, behind a pair of early home runs as the Omaha Storm Chasers scored in the first inning and led the rest of the night, for a 7-6 win over the Memphis Redbirds. After a rough Triple-A
PAPILLION, NEB. – Left-hander Anthony Veneziano (1-0) earned his first Triple-A win Tuesday night, behind a pair of early home runs as the Omaha Storm Chasers scored in the first inning and led the rest of the night, for a 7-6 win over the Memphis Redbirds.
After a rough Triple-A debut last week in St. Paul, Veneziano looked much more like himself at Werner Park on Tuesday, as he pitched through six innings for the third time in his 10 total starts this season and retired 8 straight Redbirds hitters between the first and third innings.
After surrendering a run on a pair of hits and sac fly in the top of the first to Memphis, Omaha promptly took a lead in the bottom half and held a lead all nine innings. After a pair of quick outs, Tyler Gentry doubled and almost immediately came around to score on a two-run homer from Nick Loftin, Loftin's team-leading ninth home run of the year.
The Storm Chasers extended their lead in the bottom of the third, as Nate Eaton opened the frame with a triple, then scored on a two-run homer from Gentry, a 471-foot shot that registered as Omaha's longest this season. Loftin followed up with a double, then scored on the first of three Springfield errors in the game.
While Memphis scored two runs in the top of the fourth, Omaha countered with two in the bottom half, as Brewer Hicklen and Samad Taylor opened the inning with back-to-back doubles. Back-to-back singles from Gentry and Loftin plated one more run for a 7-3 lead, at the time the third hit of the game for both hitters.
Gentry added his fourth hit of the game in the sixth to end the night 4-for-4 and like Loftin, a triple shy of the cycle. Dairon Blanco singled in the seventh for his second hit of the day, but was caught stealing moments later.
While Veneziano allowed a homer in the sixth to lose the chance of a quality start, he finished the night with four runs on five hits and five strikeouts over 6.0 innings. Collin Snider threw a 1-2-3 seventh inning, but walked the bases loaded in the eighth. Behind Snider, Dylan Coleman walked a pair to bring in two runs and put the tying run 90 feet away on third base but was otherwise able to preserve the lead.
Walter Pennington got the first out of the ninth and put a pair of runners on, facing just three batters before Brooks Kriske entered the game and struck out both hitters he faced to earn his first save of the year.
Omaha will try and make it two straight wins over Memphis as the weeklong series continues Wednesday at 7:05 p.m. CT with left-hander Austin Cox on the mound.