Omaha Thrice Homers in 12-6 loss to Memphis
Chasers pitching issues 11 walks in second straight loss to Redbirds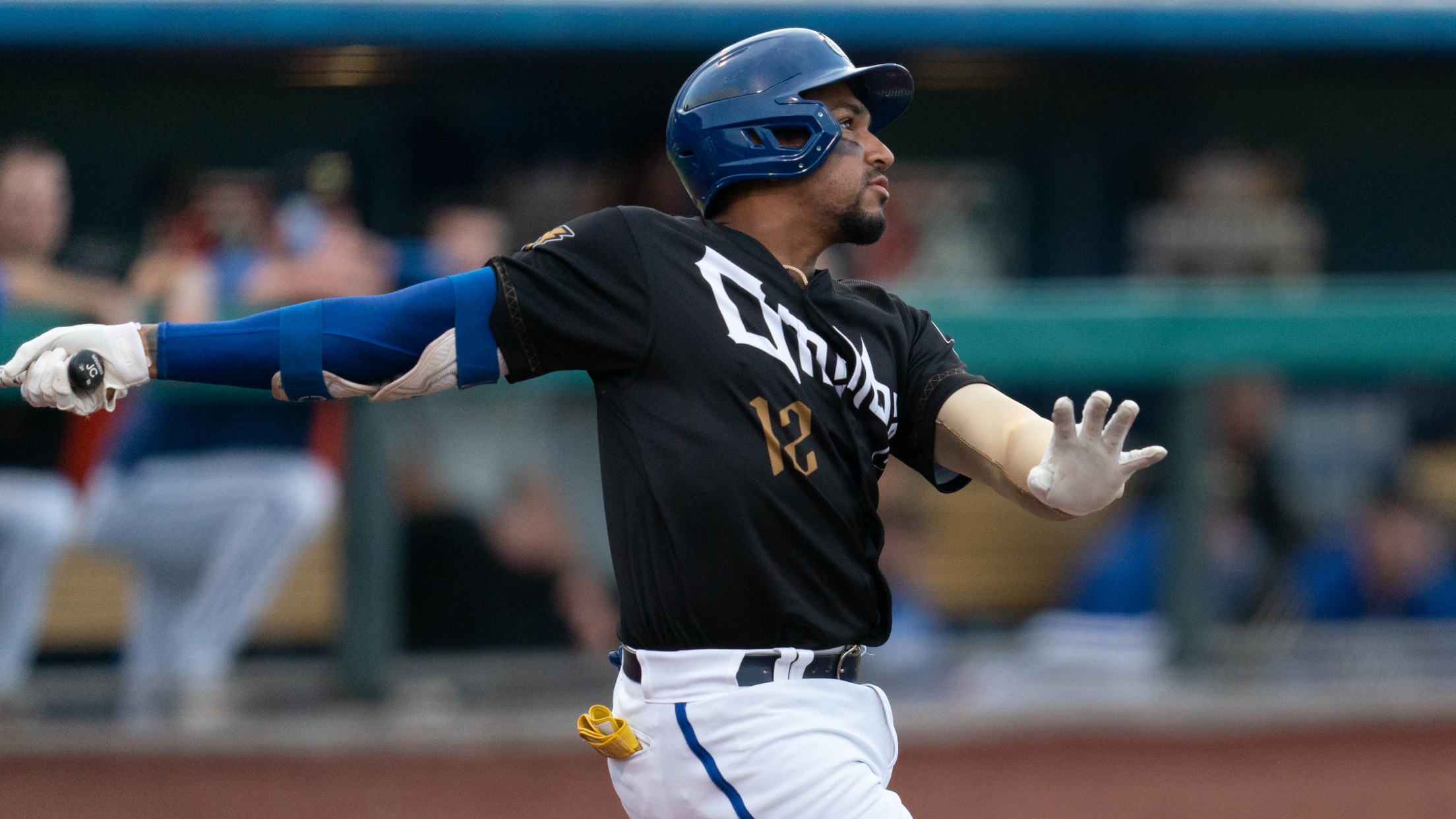 Johan Camargo walked twice and homered in Thursday's 12-6 loss to Memphis. (Minda Haas Kuhlmann)
PAPILLION, NEB. – Despite three home runs, the Omaha Storm Chasers fell to the Memphis Redbirds 12-6 Thursday night, as Omaha pitchers issued a season-high 11 walks in the second consecutive loss. Starter Jonathan Heasley positioned himself for a win early, as the right-hander held the Redbirds to just a
PAPILLION, NEB. – Despite three home runs, the Omaha Storm Chasers fell to the Memphis Redbirds 12-6 Thursday night, as Omaha pitchers issued a season-high 11 walks in the second consecutive loss.
Starter Jonathan Heasley positioned himself for a win early, as the right-hander held the Redbirds to just a run over five innings, with five strikeouts. The only run Heasley allowed was a solo homer on the first pitch of the second to the league's home run leader, Luken Baker.
After Omaha was held scoreless through the first two innings, the Chasers took a lead in the fourth as Johan Camargo connected on a go-ahead two-run home run, his second long ball of the season. That lead carried through the fifth as Heasley exited the game, but Memphis turned things around quickly in the sixth inning. The first 10 Redbirds hitters reached base in the sixth, as Collin Snider and Evan Sisk combined to throw 47 pitches without recording an out. Daniel Mengden worked out of trouble, but the three allowed a total of eight runs in the frame on seven walks and just four hits.
Mengden worked into the eighth and allowed another run, before handing the ball off to Marcelo Martinez, who pitched the final 1.1 innings but surrendered one more runin the eighth.
Omaha kept clawing back, however, as Dairon Blanco singled in a run in the sixth and Brewer Hicklen connected on a solo homer in the seventh. The Chasers made noise in the eighth as CJ Alexander blasted his eighth home run of the season to right field, a two-run shot that brought the score to the 12-6 that held to be final.
In the bottom of the ninth, Omaha loaded the bases with one out on a single and two walks but left the bases loaded, unable to add another run.
Alexander and Angelo Castellano each contributed two hits, while Camargo, Nate Eaton and Tyler Gentry each drew two walks. For Camargo, it was his third two-walk day in six games this year, giving him 8 walks and 8 hits in six games and just 26 plate appearances.
Omaha will try to rebound Friday with left-hander Drew Parrish taking the mound at 7:05 p.m. at Werner Park.