Yorke homers, drives-in five in 13-7 win
Rafaela extends hit streak to 13 games with 5th home run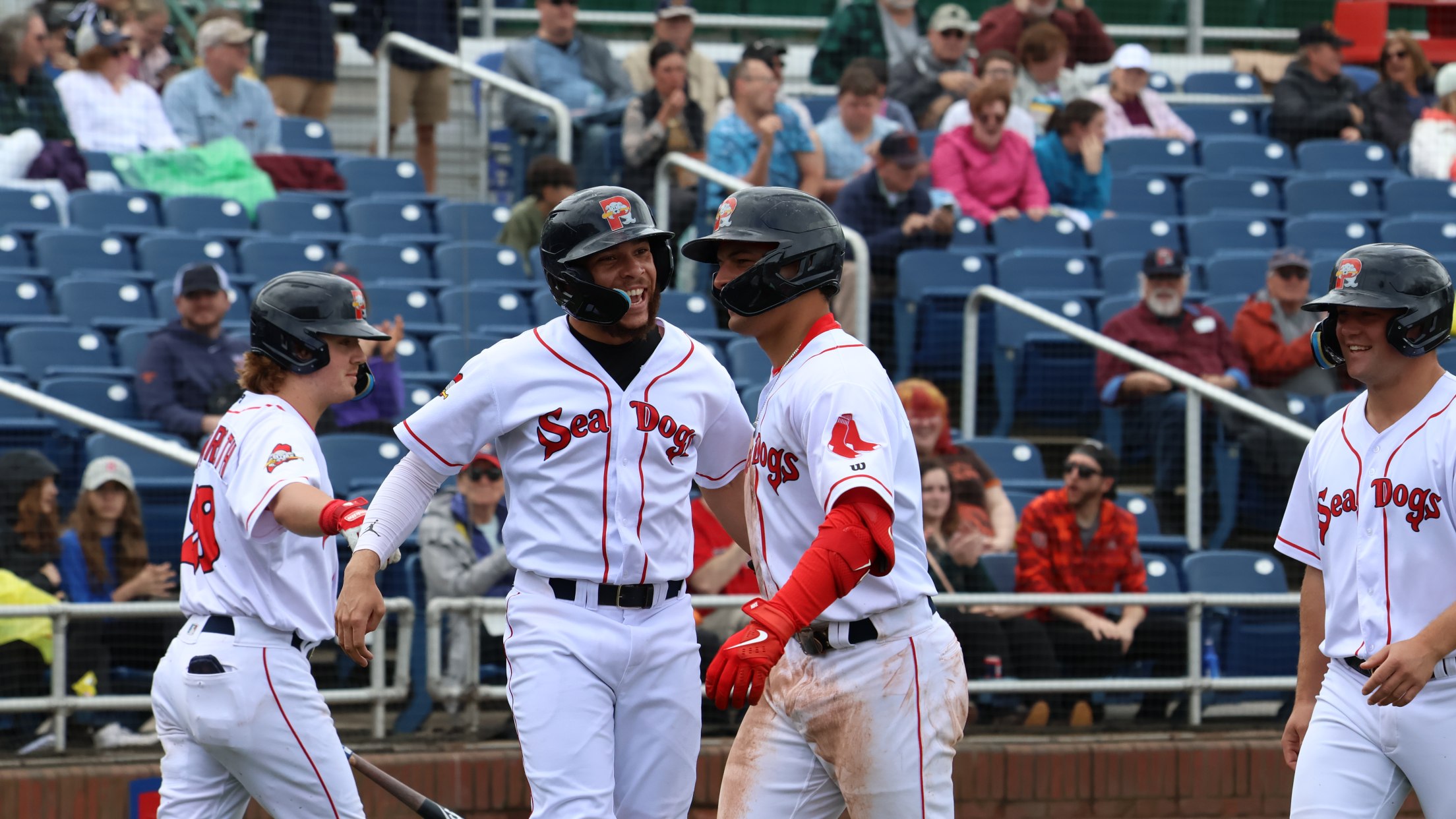 Portland, Maine - Every Sea Dog recorded a hit in Portland's 13-7 win over the Akron RubberDucks (26-27) on Thursday afternoon. With the win, Portland remains in first place of the Northeast Division with a record of 34-20. Nick Yorke and Ceddanne Rafaela both blasted home runs while Rafaela also
Portland, Maine - Every Sea Dog recorded a hit in Portland's 13-7 win over the Akron RubberDucks (26-27) on Thursday afternoon. With the win, Portland remains in first place of the Northeast Division with a record of 34-20.
Nick Yorke and Ceddanne Rafaela both blasted home runs while Rafaela also extended his hitting streak to thirteen games. Nick Yorke, Niko Kavadas, and Corey Rosier all recorded multi-hit games.
Jonathan Rodriguez recorded a two-run home run in the top of the first inning to put Akron on top 2-0.
An RBI double from Joe Naranjo in the top of the third would extend the 4-0 Akron lead.
Portland plated a run in the bottom of the third after Ceddanne Rafaela struck out at the plate before a throwing error by the catcher, Michael Amdidits on a pickoff attempt allowed Matthew Lugo to score from third.
Akron scored three in the top of the fourth courtesy of a two-run homer by Jose Tena before Petey Halpin scored on a throwing error by Rafaela.
Portland sent ten batters to the plate in the bottom of the fourth as Niko Kavadas ignited the offense with a two-RBI double (5). Stephen Scott hit an RBI single to score Kavadas before an RBI double (8) by Corey Rosier had Portland threatening. The seven-run inning was capped off by a three-run blast deep to the scoreboard by Nick Yorke (7) and Portland took the 8-7 lead.
Ceddanne Rafaela launched a solo home run (5) over the Maine Monster in the bottom of the sixth to extend the lead, 9-7.
The scoring erupted in the bottom of the eighth as Yorke recorded a two-RBI single before advancing on a fielding error. A sacrifice fly by Nathan Hickey along with an RBI-single from Niko Kavadas would put Portland up 13-7 as the Sea Dogs batted around for the second time of the ballgame.
Portland reliever RHP Ryan Miller (2-2, 5.18 ERA) earned the win after pitching 2.1 scoreless innings allowing just one hit while striking out one. He did not issue a walk. The hold was given to RHP Ryan Fernandez (1) after 1.0 scoreless inning allowing two hits while walking one and striking out four. RHP Bradley Hanner 1.0 perfect inning. Akron reliever RHP Jordan Jones (1-2, 2.43 ERA) was issued the loss after pitching 2.2 innings allowing two runs on three hits while walking one and striking out three.
The Sea Dogs return to Hadlock Field tomorrow, June 9, 2023 for game four of a six-game series against the Akron Rubber Ducks. First pitch for game four is slated for 6:00pm. Portland will send RHP CJ Liu (4-3, 3.97 ERA) to the mound while Akron will start RHP Tanner Burns (2-2, 3.59 ERA).