All Around Effort Leads Fightin Phils to Morning Win
Pitching Picks up Season High 19 Strikeouts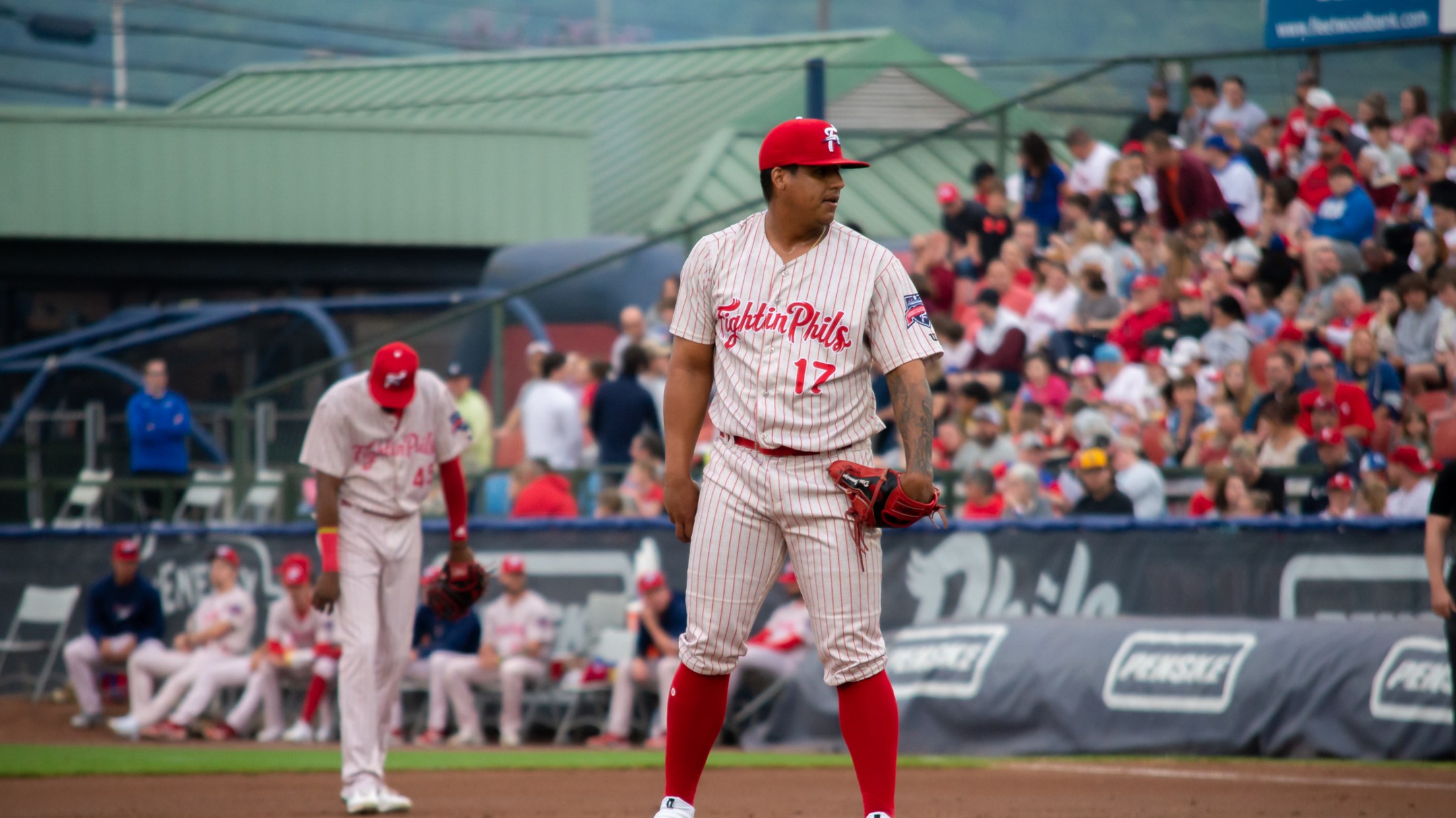 BOX SCORE (Somerset, NJ) - A strong start from Griff McGarry and another offensive outburst awakened the Reading Fightin Phils to an early-morning 9-1 victory over the Somerset Patriots on Wednesday. The Fightin Phils were the beneficiary of a sloppy defensive top of the second from Somerset. Oliver Dunn walked
(Somerset, NJ) - A strong start from Griff McGarry and another offensive outburst awakened the Reading Fightin Phils to an early-morning 9-1 victory over the Somerset Patriots on Wednesday.
The Fightin Phils were the beneficiary of a sloppy defensive top of the second from Somerset. Oliver Dunn walked to begin the inning, then Matthew Kroon followed with a single. Ethan Wilson grounded to first, but Patriots' first baseman Eric Wagaman sailed the throw to pitcher Blas Castano. The error scored Dunn. After McCarthy Tatum was hit by a pitch, Max McDowell hit a pop fly to shallow center that was dropped by Somerset shortstop Trey Sweeney that allowed Kroon to score. Garrett Whitley hit into an around-the-horn double play that Wilson to cross home and put the R-Phils up 3-0.
Reading expanded on its lead in the third. Carlos De La Cruz doubled down the right field line, then the very next batter Johan Rojas hit a single in the same spot to score De La Cruz and put the Fightin Phils up 4-0. Somerset got a run back with a solo blast from Everson Pereira in the bottom of the inning to cut it to a 4-1 Reading lead.
Reading tacked on two more runs in the top of the fifth. Madison Stokes and De La Cruz both walked and then Rojas reached base on a fielders choice. With runners on the corners, Castano was called for a disengagement violation, when he threw over towards Rojas as first for the third time. The violation, which goes down as a balk, allowed Stokes to score. Then, Dunn's red-hot series continued with a single that scored Rojas and put the Fightin Phils up 6-1.
More insurance runs came for the R-Phils in the top of the sixth. Tatum singled and with two outs, Stokes doubled to score Tatum. Then, De La Cruz hit a single to center that plated Stokes and increased Reading's lead to 8-1. In the seventh, Somerset pitcher Indigo Diaz walked four-straight Reading batters to bring home a run. Max McDowell had the bases loaded walk to score Kroon make it 9-1.
While the bats were awake for Reading, the pitching was excellent as well. McGarry got the start and went 2.2 strong innings, picking up five strikeouts. McGarry was pulled after 45 pitches as he continues to ramp up after his early-season injury. Cristian Hernandez followed with two-strong innings and five strikeouts, then Adam Leverett chipped in 2.1 innings and four strikeouts. Max Kuhns then looked sharp while striking five in the last two innings. In total, Reading struck out a season-high 19 hitters in the win.
Hernandez earned the win for Reading to improve to 2-0 on the season. The loss went to Castano who falls to 3-1 on the year. Castano went five innings, allowing six runs (four earned) on five hits, while striking out two and walking three R-Phils hitters.
With the win, Reading improves to 13-21 on the season, while Somerset falls to 21-13. The teams return to the field Thursday at 6:35 p.m. for game three of this week's six-game series. RHP Tyler Phillips is scheduled to get the start for Reading, and he will go opposite Somerset RHP Richard Fitts. The game can be watched on MiLB TV or the Bally Live App.
The Fightin Phils return home on Tuesday, May 23, at 11 a.m. to begin a six-game series against the Harrisburg Senators (Nationals). Tuesday is a school kid game, Thursday and Friday feature postgame fireworks and Sunday showcases an appearance from the Philly Phanatic. Tickets to all games remain available and can be purchased at rphils.com/tickets, by calling 610-370-BALL or in person at the Customers Bank Ticket Office.
The 2023 R-Phils season is presented by Pepsi. Follow the Fightin Phils on Twitter @ReadingFightins, like us on Facebook or follow us on Instagram @Fightins.