Cats Claw Back for Series Opening Victory
Johan Rojas Picks up Three Hits in Loss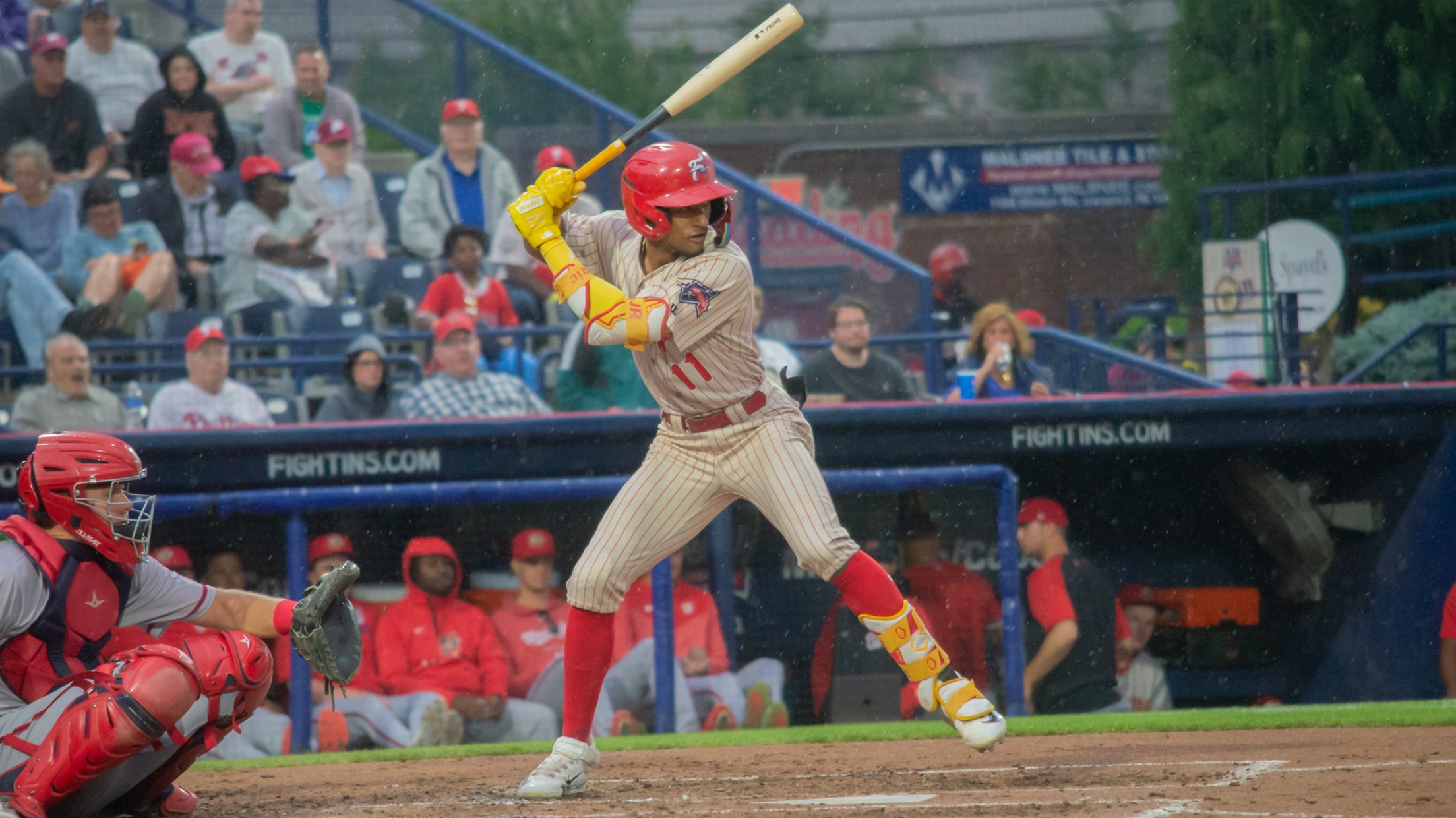 BOX SCORE (Manchester, NH) - Two runs in the bottom of the eighth inning helped the New Hampshire Fisher Cats stifled a Reading Fightin Phils comeback in their 9-8 win on Tuesday night. New Hampshire now leads this week's series 1-0. Offensively, Reading picked up nine hits. Johan Rojas led
(Manchester, NH) - Two runs in the bottom of the eighth inning helped the New Hampshire Fisher Cats stifled a Reading Fightin Phils comeback in their 9-8 win on Tuesday night. New Hampshire now leads this week's series 1-0.
Offensively, Reading picked up nine hits. Johan Rojas led the way with a three-hit performance, while Matthew Kroon and Herbert Iser each contributed two hits a piece. It was Iser's first game in over a month as he was recently activated off the development list.
On the New Hampshire side, Damiano Palmegiani led the way for the Fisher Cats with three hits. Phil Clarke and Riley Tirotta each had two hits as well for New Hampshire. In total, New Hampshire had 11 hits in the offensive slugfest.
Griff McGarry got the start for Reading and lasted four innings. McGarry allowed six hits and six earned runs. He walked two batters and struck out four hitters. Following McGarry were Zach Linginfelter, Andrew Schultz and Keylan Killgore, who all did not allow a run out of the Reading bullpen. Brett Schulze pitched the bottom of the eighth inning and surrendered two runs to give New Hampshire the lead and suffered the loss.
Reading fell down 7-1 early on, but battled back with two runs in the sixth and five runs in a big seventh inning. With the Fightin Phils up 8-7 heading into the eighth, New Hampshire put up two in the bottom of the inning to take the lead for good 9-8.
Connor Cooke got the win for New Hampshire to improve to 1-0 on the season. Schulze suffered the loss for Reading to fall to 2-4 on the season. With the win, New Hampshire improves to 23-22 on the season, while Reading drops to 18-27. The loss snapped a three-game win streak for the Fightin Phils, which match a season high,
Reading is back in action Wednesday morning at New Hampshire. First pitch is set for 11:35 a.m. and you can watch the action on MiLB TV or the Bally Live App. RHP Victor Vargas is scheduled to get the start for Reading, and he will go opposite New Hampshire RHP Sem Robberse.
The Fightin Phils return home Tuesday, June 6, at 7 p.m. against the Binghamton Rumble Ponies to open a 12-game homestand that spans from June 6-18. Tickets to all games are still available, but going fast. Get yours at rphils.com/tickets, by calling 610-370-BALL or in-person at the Customers Banks Ticket Office.
The 2023 R-Phils season is presented by Pepsi. Follow the Fightin Phils on Twitter @ReadingFightins, like us on Facebook or follow us on Instagram @Fightins.