Fisher Cats Pull Away Late as Reading Drops Second Straight
Victor Vargas Went 5.1 Innings in Second Start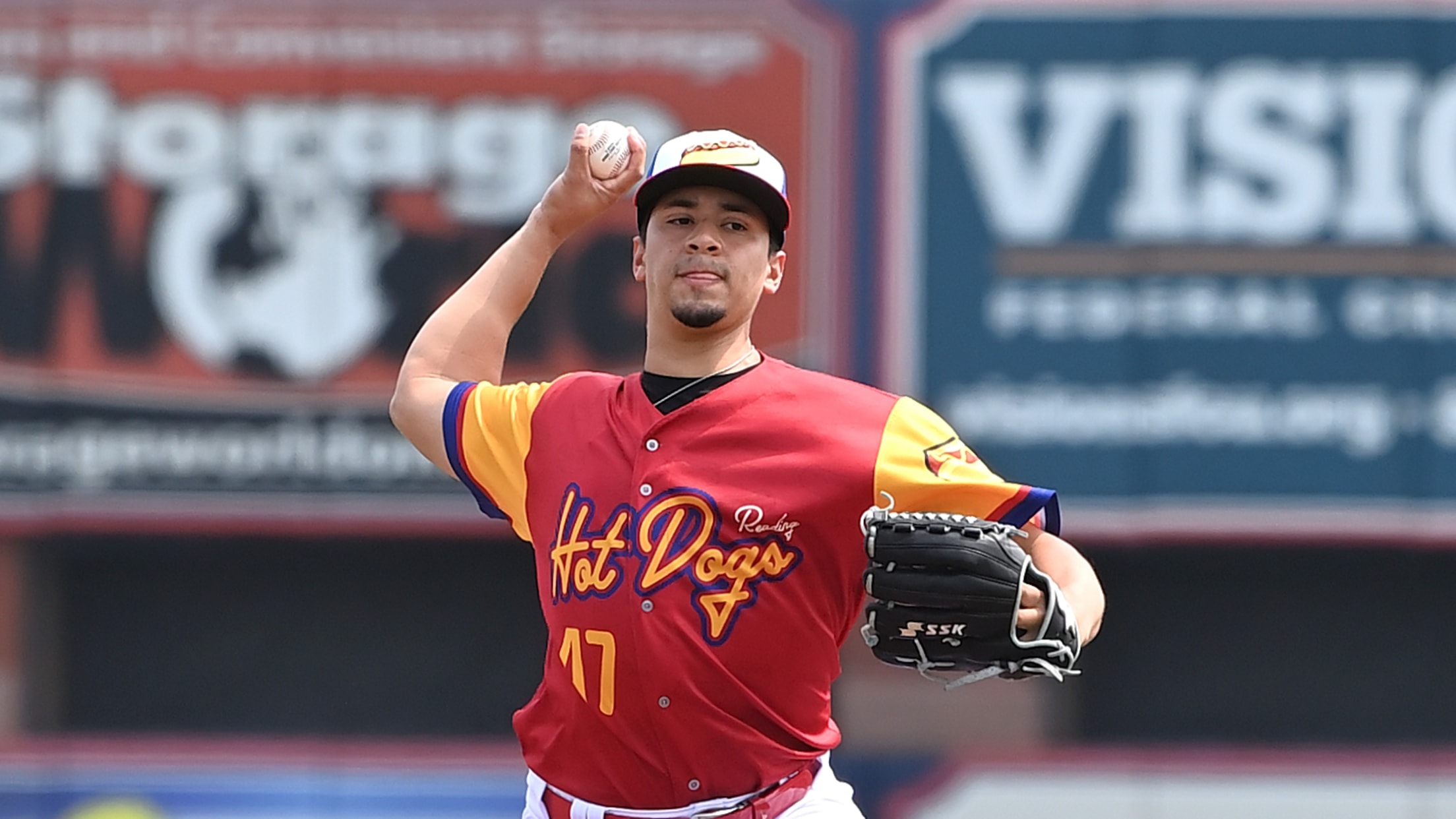 BOX SCORE (Manchester, NH) - It was a quiet day offensively as the Reading Fightin Phils fell to the New Hampshire Fisher Cats 6-2 on Wednesday morning. With the win, New Hampshire has won the first two games of this week's six-game series and now holds a 6-2 edge in
(Manchester, NH) - It was a quiet day offensively as the Reading Fightin Phils fell to the New Hampshire Fisher Cats 6-2 on Wednesday morning. With the win, New Hampshire has won the first two games of this week's six-game series and now holds a 6-2 edge in the season series between the teams.
Victor Vargas and Sem Robberse got the starts for Reading and New Hampshire respectively. Both were strong in a pitcher's duel. Both pitchers induced scoreless frames for the first five innings of the game.
It wasn't until the bottom of the sixth inning for runs to score. New Hampshire struck first as Orelvis Martinez hit his 14th home run of the season to score himself and Leo Jimenez to put the Fisher Cats up 2-0. The home run to Martinez was the last batter Vargas faced Wednesday. He was pulled after going 5.1 innings, allowing two runs on four hits, while striking out one hitter and issuing no walks. Vargas looked strong in just his second start for Reading since being called up from high-A Jersey Shore on May 23.
Robberse was excellent on the other side for New Hampshire. He went five-shutout innings, allowing just three hits. Robberse also picked up five strikeouts and issued three walks in the outing. Alejandro Melean followed with 3.1 strong innings, where allowed five hits and struck out a pair of batters.
New Hampshire broke the game open with a four-run bottom of the eighth inning. With a runner on third, Will Robertson hit a ground ball to first basemen Carlos De La Cruz, but his throw home was late, allowing Martinez to score again. Rainer Nunez then followed with a three-run home run off of Max Kuhns to make it 6-0 New Hampshire.
Reading would not go down without a fight. Nick Podkul led off the ninth inning with a walk, then Cody Roberts singled to put two runners on. Madison Stokes followed with another single to score Podkul and make it 6-1. Johan Rojas singled on a ground ball to short that scored Roberts and made it 6-2. The R-Phils chased Melean from the game in the inning and Mason Fluharty came in and got the final two outs to secure the win for New Hampshire.
The Fightin Phils had not been shutout this season prior to today and were in danger of it entering the ninth inning, before scoring two runs. Reading has now gone 46 games this season without being shut out and is one-of-two teams in double-A, with Arkansas being the other, to not be blanked offensively.
A couple of on-base streaks also stayed alive today for Reading. With Nick Podkul's walk in the ninth, he has not reached base in 18-straight games. Carlos De La Cruz also had a single to extend his on-base streak to 17 games.
Melean earned the win for New Hampshire to improve to 2-1 on the season. Despite a strong start, the loss went to Vargas, who falls to 0-1 on the year. With the win, New Hampshire improves to 24-22 on the season, while Reading drops to 18-28 with its second-straight loss.
Reading is back in action Thursday night at New Hampshire. First pitch is set for 6:35 p.m. and you can watch the action on MiLB TV or the Bally Live App. RHP Tyler Phillips is scheduled to get the start for Reading, and he will go opposite New Hampshire RHP Chad Dallas.
The Fightin Phils return home Tuesday, June 6, at 7 p.m. against the Binghamton Rumble Ponies to open a 12-game homestand that spans from June 6-18. Tickets to all games are still available, but going fast. Get yours at rphils.com/tickets, by calling 610-370-BALL or in-person at the Customers Banks Ticket Office.
The 2023 R-Phils season is presented by Pepsi. Follow the Fightin Phils on Twitter @ReadingFightins, like us on Facebook or follow us on Instagram @Fightins.