Fisher Cats Victorious in Saturday Pitchers Duel
Josh Hendrickson Strong Over 5.1 Innings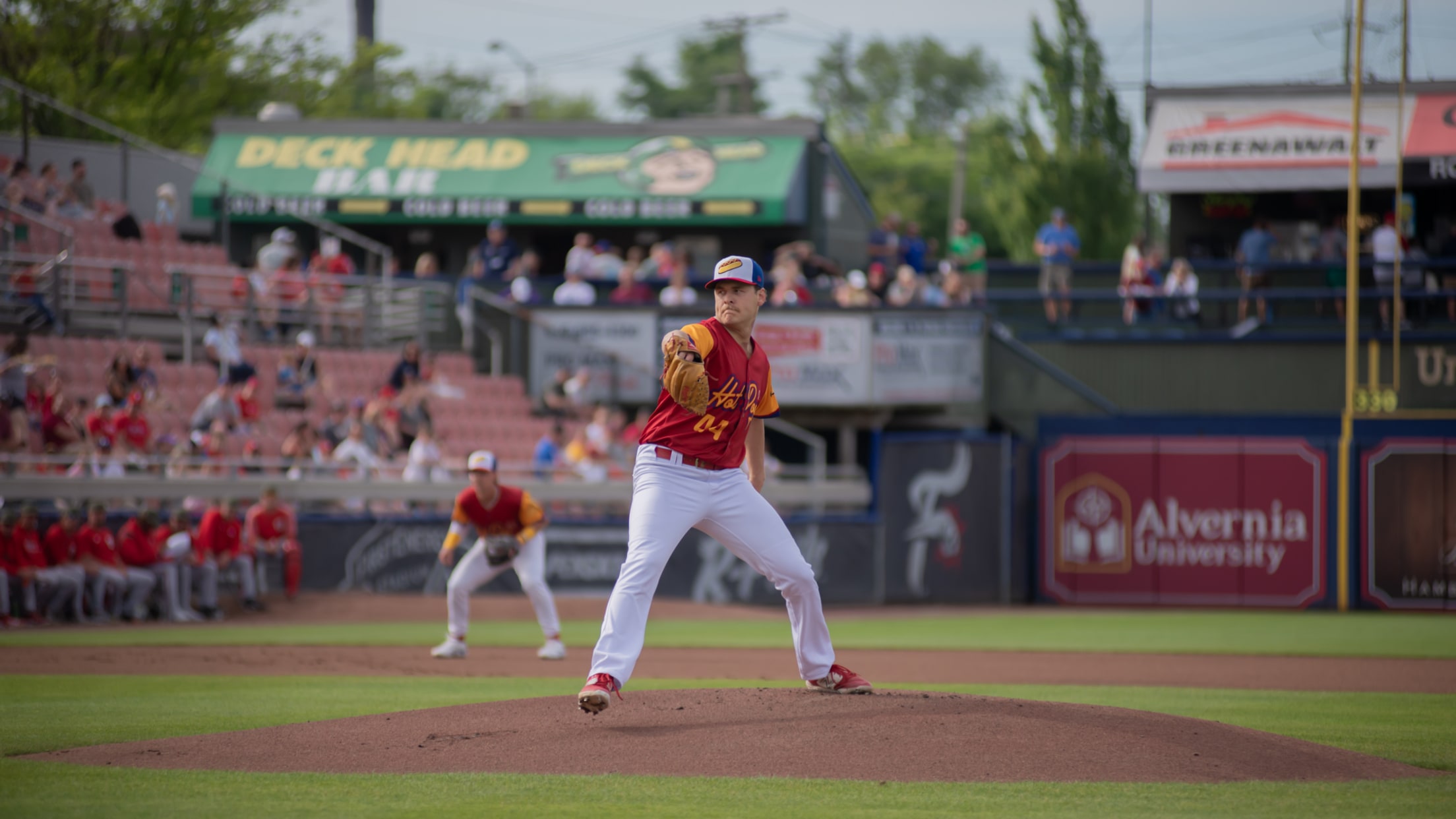 BOX SCORE (Manchester, NH) - It was another quiet night offensively as the Reading Fightin Phils fell 2-1 to the New Hampshire Fisher Cats on Saturday night. The Fisher Cats clinched the series with tonight's win, now holding the 4-1 edge. After Reading was unable to score with bases loaded
(Manchester, NH) - It was another quiet night offensively as the Reading Fightin Phils fell 2-1 to the New Hampshire Fisher Cats on Saturday night. The Fisher Cats clinched the series with tonight's win, now holding the 4-1 edge.
After Reading was unable to score with bases loaded in the top of the third, New Hampshire responded with a run of its own in the bottom of the frame. Zac Cook reached on an infield single, moved to second on a sacrifice bunt by Steward Berroa, stole third and then scored the game's first run on an Orelvis Martinez ground out to third.
In the top of the fourth, the R-Phils were the beneficiary of control issues from New Hampshire starter Jimmy Robbins. Nick Podkul hit a single up the middle and was replaced at first after Ethan Wilson hit into a fielder's choice. McCarthy Tatum then hit into an infield single and Wilson moved to third on a throwing error by Damiano Palmegiani. Tatum advanced to second on a wild pitch and then Oliver Dunn walked. With bases loaded, Max McDowell walked to score Ethan Wilson and tie the game at one. But, that's all Reading could garner in the inning as Cody Roberts and Madison Stokes were retired to end the inning.
New Hampshire struck back in the bottom of the fifth. Karl Ellison led off the inning with a double and moved to third on a single from Berroa. With runners on the corners, Orelvis Martinez hit a sharp ground ball to third baseman Nick Podkul. Podkul had to dive, so the only play he had was to first, which allowed Ellison to score and put New Hampshire up 2-1.
Hendrickson was strong again for Reading. He went 5.1 innings, allowing two earned runs and striking out three hitters. On the other side, Robbins went five innings, allowing one-earned walk, with four walks and five strikeouts.
Robbins earned the win to improve to 2-4 on the season. Hendrickson suffered the loss to drop to 1-4. TJ Brock earned the save, his first since being called up to double-A New Hampshire. With the win, New Hampshire improves to 26-23, while Reading falls to 19-30.
Reading is back in action Sunday afternoon in New Hampshire. The first pitch is set for 1:35 p.m. and you can watch the action on MiLB TV or the Bally Live App. Reading's starter for tomorrow is still to be announced, while RHP Adam Kloffenstein will go for New Hampshire to finish the series.
Notes:
With a single in the top of the fifth inning, Carlos De La Cruz extended his on-base streak to 20 games. It is the first 20-game on-base streak for an R-Phils since Logan O'Hoppe (5/14-6/8/2022), which spanned 21 games. De La Cruz also now owns an 11-game hitting streak
With a single in the top of the second inning, Nick Podkul has now reached base in 20-of-21 games he's played in this season. Podkul snapped a 19-game on-base streak with an 0-4 game last night. Podkul also had his sixth multi-hit game of the season
Josh Hendrickson recorded another strong start for Reading. Over his last two starts, Hendrickson has pitched 10.1 innings and allowed just two runs. He has also ten strikeouts the last two starts.
Reading scored a season-low one run for the second night in a row and for the fourth time this season. The last two games follow a 13-run output on Thursday night
Dropping this week's series, Reading has now fallen in six-of-nine series this season. The R-Phils hold a 1-6-2 record across nine series, including a three-game, five-game and seven six-game sets
The Fightin Phils return home Tuesday, June 6, at 7 p.m. against the Binghamton Rumble Ponies to open a 12-game homestand that spans from June 6-18. Tickets to all games are still available, but going fast. Get yours at rphils.com/tickets, by calling 610-370-BALL or in-person at the Customers Banks Ticket Office.
The 2023 R-Phils season is presented by Pepsi. Follow the Fightin Phils on Twitter @ReadingFightins, like us on Facebook or follow us on Instagram @Fightins.