Late Harrisburg Rally Sinks Fightin Phils
Carlos De La Cruz and Max McDowell Both Homer in Loss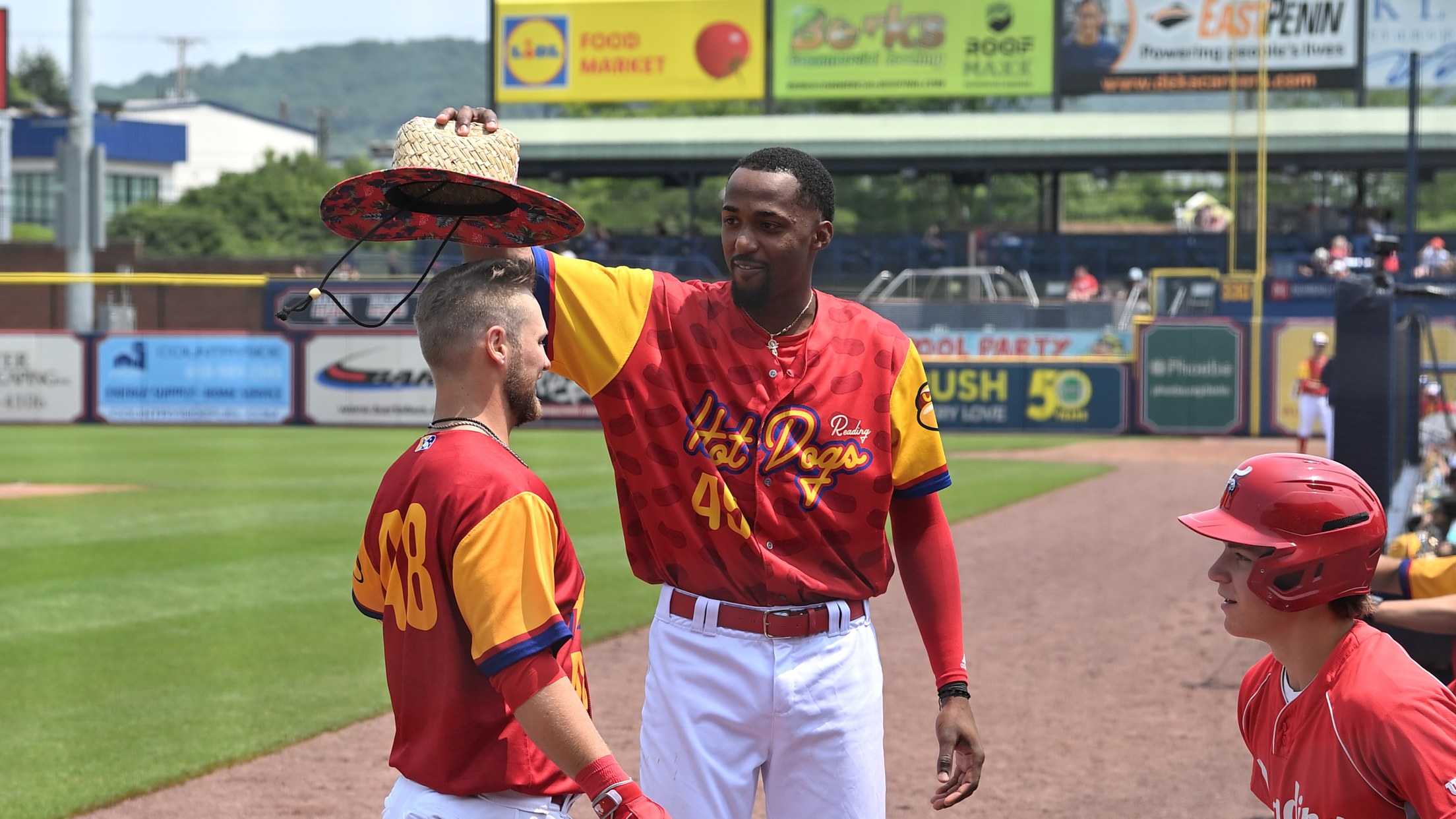 BOX SCORE (Reading, PA) - Home runs from Carlos De La Cruz and Max McDowell were not enough as the Reading Fightin Phils fell to the Harrisburg Senators 8-5 to open the homestand on Tuesday morning. Reading starting pitcher Victor Vargas made his first outing with the team since being
(Reading, PA) - Home runs from Carlos De La Cruz and Max McDowell were not enough as the Reading Fightin Phils fell to the Harrisburg Senators 8-5 to open the homestand on Tuesday morning.
Reading starting pitcher Victor Vargas made his first outing with the team since being called up from the Phillies high-A affiliate Jersey Shore Blue Claws. Vargas struggled to get going, walking three batters in the first two innings.
The Senators got the bats going in the third inning, with two solo home runs. Jose Sanchez was first to strike, after a homerun over the center field wall. Blake Rutherford was next with another home run to left field to put Harrisburg up 2-0.
Reading had a chance to retaliate in the bottom half of the third inning. McCarthy Tatum singled to lead off the inning, keeping his recent hot streak alive. After a walk from Garrett Whitley, Madison Stokes reached after a fielder's choice, getting Tatum out at third. Whitley would later get picked off at second base by starting pitcher Alex Troop. Stokes reached third after a throwing error by the third baseman Jack Dunn, but ultimately would not be able to score after a pop-up from Johan Rojas to end the inning.
Harrisburg added on in the top of the fourth, thanks to another solo home run from Dunn. The third home run of the day off of Vargas. Zach Linginfelter would come in for relief, getting the first batter he faced to ground out. In 3.2 innings of work, Vargas allowed four hits and walked three.
Reading would fight back in the fourth, after back-to-back doubles from Nick Podkul and Tatum. Podkul would score to cut the lead to 3-1 Harrisburg.
Linginfelter found himself in trouble in the fifth, after three walks to the first three batters he faced. Manager Al Pedrique would make a call to the bullpen for Adam Leverett, who would get Reading out of the inning with no runs coming across.
Reading got cooking in the fifth. After a single from Madison Stokes, Carlos De La Cruz would homer to tie things up at three. This was Cruz's ninth home run of the season. Max McDowell would join the party next, grilling another home run for the Fightin Phils to put Reading up 5-3.
The struggles from the Reading bullpen continued after Adam Leverett was able to get through the sixth with no damage. Andrew Baker would come in for relief first, walking the first batter of the inning Sanchez. Sanchez would reach third, after Robert Hassell III reached on a fielder's choice and a wild pitch. Sanchez would score after a ground out from JT Arruda. A single from Blake Rutherford scored Hassell to tie the game up at 5-5.
Another single from Donovan Casey would end Baker's day. New pitcher Max Kuhns walked the first batter Frankie Tostado to load the bases. Two more runs would score after a single from Terone Harris III and a sacrifice fly from Dunn to put Harrisburg up 7-5.
Harrisburg tacked on in the eighth inning. After a lead off double from Hassell off of Kuhns, Rutherford would record his third RBI of the game thanks to a single to left, putting Harrisburg up 8-5.
Joel Peguero would close things out for Harrisburg for his fifth save of the season. Although Stokes started the inning off with a double, Peguero would be unfazed and record the next three outs to give Harrisburg the win over Reading 8-5.
Odalvi Javier earned the win for the Senators to improve to 1-0, while Baker suffered the loss fall to 0-2 on the year. With the win, Harrisburg improves to 20-19 on the season, while Reading drops to 15-24 with the loss.
Reading and Harrisburg are back in action Wednesday night at 6:45 p.m. for game two of this week's six-game series. RHP Griff McGarry is scheduled to start for the Fightin Phils, and he will go opposite Senators' RHP Michael Cuevas. Pregame coverage is underway at 6:30 p.m. at rphils.com/radio. The game can be watched on MiLB TV or the Bally Live App.
Thursday night is the next Throwback Thursday, featuring the Reading Keystones and also a postgame fireworks show. Friday is another Savage Auto Group Fiesta Friday, as the R-Phils play as Los Luchadores de Reading, with postgame fireworks as well. Saturday is this year's "Wizards and Wands Celebration," featuring the world's most famous Wizard and Carpenter MEGA Blast Fireworks postgame. Finally, Sunday will feature an appearance from the Phillie Phanatic. Tickets to all games are available at rphils.com/tickets, by calling 610-370-BALL or in-person at the Customers Bank Ticket Office.
The 2023 R-Phils season is presented by Pepsi. Follow the Fightin Phils on Twitter @ReadingFightins, like us on Facebook or follow us on Instagram @Fightins.