McDowell Mashes Walk Off for Reading
Reading wins First Game of Series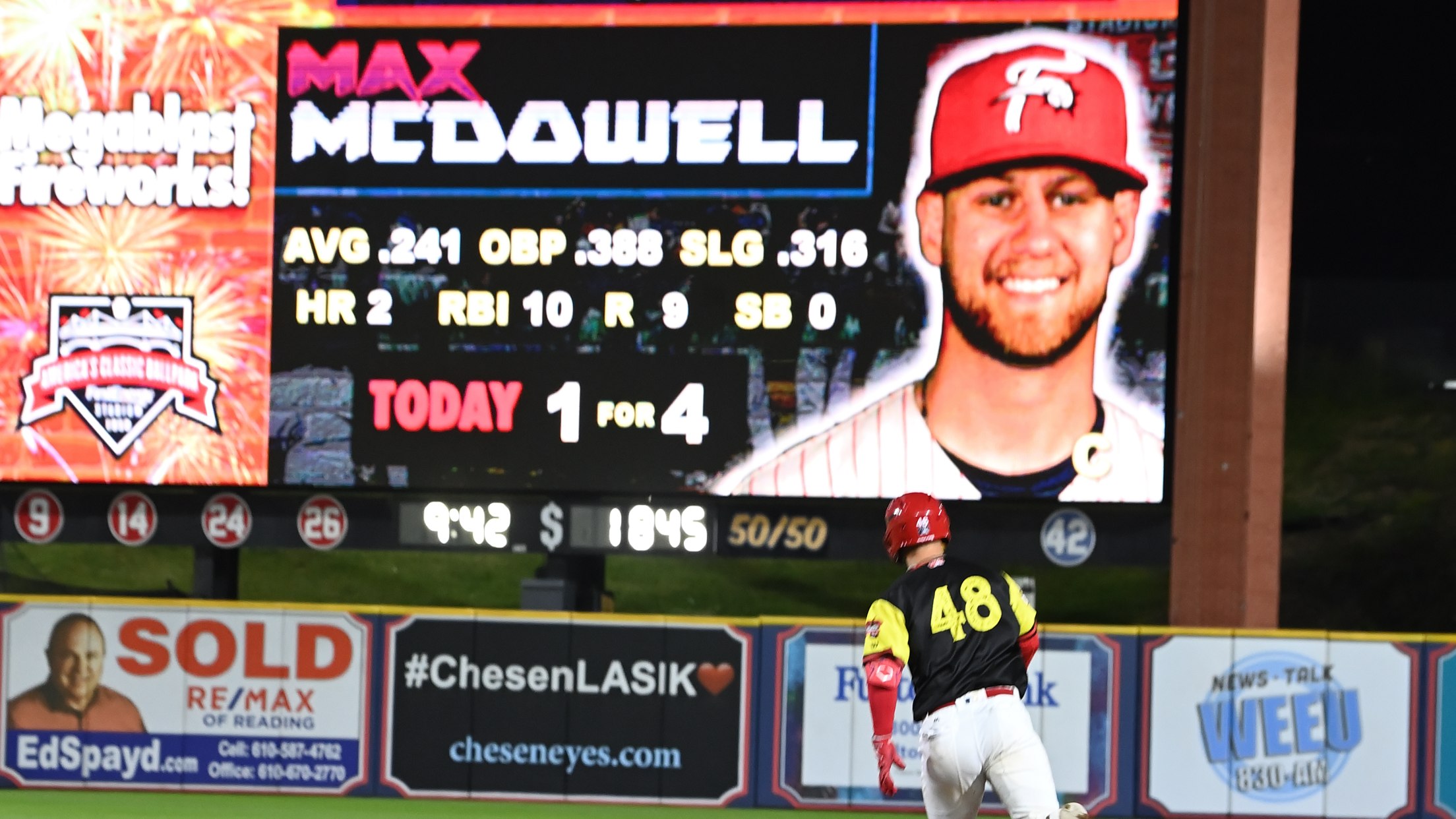 BOX SCORE (Reading, PA) - Max McDowell was the hero in Baseballtown on Friday night. A three run walk off home run gave the Reading Fightin Phils the win over the Harrisburg Senators 10-9. Reading fought its way back after multiple big innings from Harrisburg in the fifth and eighth
(Reading, PA) - Max McDowell was the hero in Baseballtown on Friday night. A three run walk off home run gave the Reading Fightin Phils the win over the Harrisburg Senators 10-9. Reading fought its way back after multiple big innings from Harrisburg in the fifth and eighth innings.
Reading starting pitcher Mick Abel looked impressive through his first four innings of work on the night. Abel struck out nine Harrisburg Senators on the night, which was a season high for Abel.
The lone run through four came off the bat of Frankie Tostado. A deep homerun gave the Senators the lead 1-0 in the fourth.
Abel struggled in the fifth inning. After not allowing any walks through four innings, Abel walked the first two batters of the inning Brady Lindsly and Jose Sanchez. Jackson Cluff would come up with a single to score Lindsly and move Sanchez to third, making it 2-0 Senators. Harrisburg was not done there. After another walk to Robert Hassell III, a sacrifice fly from Donovan Casey would score another run to make it a Harrisburg 3-0 lead.
Abel allowed another hit to Frankie Tostado to score Cluff to make it 4-0 Harrisburg. Tostado later stole second, and Abel would allow his fourth walk of the inning to Yasell Antuna. Leonel Valera would capitalize and hit a soft double to right to score Hassell and Tostado. The Senators batted around to score five in the inning, making it 6-0 Harrisburg.
Abel would be pulled after 4.2 innings of work, allowing six hits and walking four while finishing with nine strikeouts. Andrew Schultz would come in for relief to get Reading out of the inning.
Reading fought its way back into the game in the sixth. Madison Stokes started things off with a single to center field. Carlos De La Cruz would follow and hit a single of his own. Stokes and De La Cruz would gain another bag after a wild pitch from Harrisburg starting pitcher Jackson Rutledge. This allowed a sacrifice fly from Johan Rojas, scoring Stokes to make it 6-1 Reading. Ethan Wilson followed up with a single to score De La Cruz to make it 6-2 Harrisburg.
Oliver Dunn kept it going for Reading. A home run off the RACC train sign in right field added two more runs for Reading. This was Dunn's fourth of the season. Malvin Pena would come in for relief of Rutledge, striking out Max McDowell to get out of the inning.
The woes in the bullpen for Reading continued in the eighth. Zach Linginfelter kept Harrisburg scoreless in relief of Schultz in the seventh, but was unable to do the same in the eighth. Lindsly would get the Senators going with a single to start. Lindsly moved to 3rd after a balk and a ground ball from Sanchez. Cluff kept his bat hot, doubling to score Lindsly to make it 7-4 Harrisburg.
Max Kuhns would come in relief of Linginfelter after only getting one out in the inning. Kuhns struck out the first batter he facedHassell, but allowed a double to Rutherford to score Cluff to make it 8-4 Senators. Harrisburg added one more after a throwing error from Tatum scored Rutherford to make it 9-4, adding another run to the second big inning of the night for the Senators.
Reading battled back once again in the eighth. Ethan Wilson started the inning with a single off relief pitcher Evan Lee. After Dunn followed up with a walk, McCarthy Tatum singled to score Wilson to make it 9-5 Harrisburg. After a walk to Cam Cannon, Odalvi Javier would come in for relief for Lee. Madison Stokes would not allow Javier to get comfortable, smacking a double to left to score Dunn and Tatum to make it 9-7 Harrisburg. Javier would recover, getting De La Cruz to fly out and get out of the inning with the lead in tack.
Reid Staller came in for relief of Javier to try and close things out for Harrisburg. Rojas singled to start the inning, and later stole second. Nick Podkul reached first on a walk due to a pitch clock violation on a full count. With two outs in the inning, Max McDowell came in to save the day. A three-run walk off homer gave Reading the win and some much needed momentum in the second half of the home series.
Max Kuhns earned the win for Reading to improve to 1-2 this season, while Schaller suffered the loss to fall to 1-3 on the year. With the win, Reading improves to 16-26 on the season, while Harrisburg drops to 22-20 with the loss.
Reading and Harrisburg are back in action Saturday night at 6:45 p.m. for game five of this week's six-game series. LHP David Parkinson is scheduled to start for the Fightin Phils, and he will go opposite Senators' LHP Mitchell Parker. Pregame coverage is underway at 6:30 p.m. at rphils.com/radio. The game can be watched on MiLB TV or the Bally Live App.
Saturday is this year's "Wizards and Wands Celebration," featuring the world's most famous Wizard and Carpenter MEGA Blast Fireworks postgame. Finally, Sunday will feature an appearance from the Phillie Phanatic. Tickets to all games are available at rphils.com/tickets, by calling 610-370-BALL or in-person at the Customers Bank Ticket Office.
The 2023 R-Phils season is presented by Pepsi. Follow the Fightin Phils on Twitter @ReadingFightins, like us on Facebook or follow us on Instagram @Fightins.