New Hampshire Fends Off Late Reading Rally to Claim Series
Nick Podkul Homered in Loss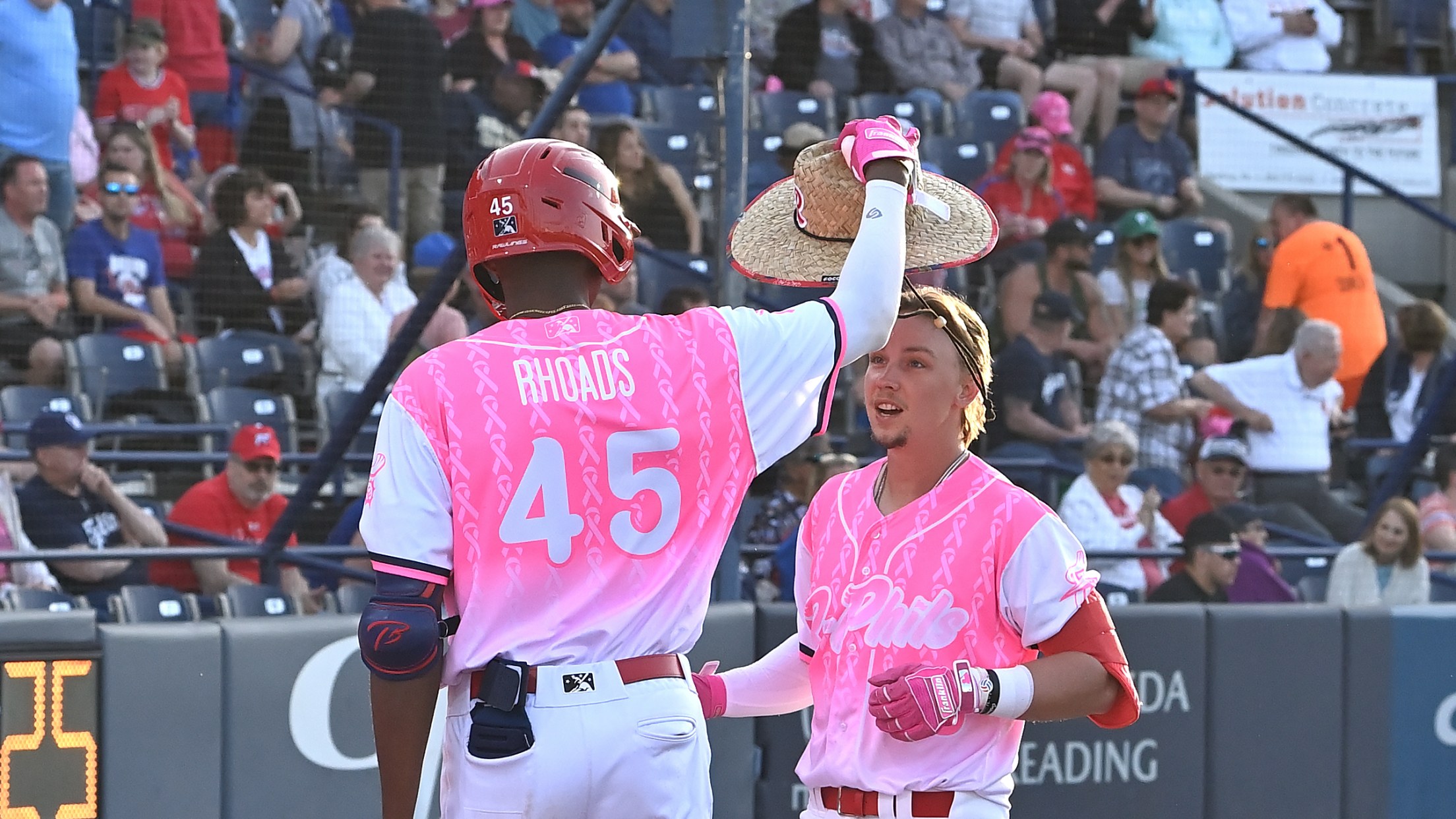 BOX SCORE (Reading, PA) - A late rally from the Reading Fightin Phils in Sunday's 7-5 loss to the New Hampshire Fisher Cats. New Hampshire win the series four games to two with the win. The Fisher Cats mashed two more home runs today to to bring their series total
(Reading, PA) - A late rally from the Reading Fightin Phils in Sunday's 7-5 loss to the New Hampshire Fisher Cats. New Hampshire win the series four games to two with the win.
The Fisher Cats mashed two more home runs today to to bring their series total up to 18.
The Fisher Cats got out to the early 2-0 lead in the third inning thanks to the bat of Dylan Rock. After a lead off single from Karl Ellison, Rock hit a monster two-run home run to center field off the first pitch he saw from starting pitcher Josh Hendrickson. This was Rock's second home run of the season.
New Hampshire followed up with two more runs in the fourth inning. Orelvis Martinez reached first after a throwing error by Matthew Kroon. Martinez would later score after a double from Luis De Los Santos to center field, who took third after a throwing error from Johan Rojas. Ellison tacked on to the lead with a sacrifice fly to right, his second RBI of the day.
The R-Phils battled back in the bottom half of the fourth. Kroon rebounded from his error to single to right field. Ethan Wilson followed up with a double, which moved Kroon over to third. McCarthy Tatum stayed hot after his home run Saturday. Tatum singled to center to score Kroon, making it 4-1 New Hampshire. Reading scored another after Martinez had a throwing error on a Nick Podkul grounder, scoring Wilson.
Reliever Max Kuhns came in for the starter Hendrickson to start the sixth. Hendrickson pitched five innings, allowing seven hits and striking out one. De Los Santos stole second, and eventually reached third after a throwing error by Kuhns on the pick off attempt. De Los Santos scored on a fielder's choice from Ellison, who was responsible for the Fisher Cats first three runs. Zac Cook added to the lead with a two-run homerun, making it 7-2 Fisher Cats. This was Cook's second home run in two days.
Nick Podkul added one for the Fightin Phils in the seventh, after Reading went hitless in the fifth and the sixth innings. A solo homerun made it 7-3 New Hampshire. This was Podkul's second home run of the season after starting the season on the development list.
The R-Phils kept fighting into the eighth inning. Rojas singled to start the inning off of relief pitcher Adrian Hernandez. Kroon would follow with another single, and Ethan Wilson later would reach on a fielders choice. Tatum would stay hot and double to center field, scoring Rojas and Wilson. Making it 7-5 New Hampshire.
A two hit night from Tatum was ultimately not enough to get back the lead. Fisher Cats pitcher Troy Watson would come in for relief of Hernandez, and shut Reading out the rest of the way. Although he did walk the first batter he faced McDowell, Watson would get Stokes to line out to end the inning. Watson finished the ninth and get his third save of the season, striking out one and putting the R-Phils down 1-2-3 to finish the game. Bash picked up the win, improving to 1-0. Hendrickson suffered the loss and is now 0-3.
With the win, New Hampshire improves to 17-15 on the season and returns home to open a series with Binghamton on Tuesday at 6:35 p.m. Reading falls to 12-20 on the year and after tomorrow's off day begins a six-game series at Somerset on Tuesday at 6:05 p.m.
The Fightin Phils return home on Tuesday, May 23, at 11 a.m. to take on the Harrisburg Senators. Tickets to all six games from May 23-28 remain available and can be bought online at rphils.com/tickets, by calling 610-370-BALL or in person at the Customers Bank Ticket Office.
The 2023 R-Phils season is presented by Pepsi. Follow the Fightin Phils on Twitter @ReadingFightins, like us on Facebook or follow us on Instagram @Fightins.