Offense Quiet in Friday Night Loss to Fisher Cats
Phillies No. 2 Prospect Mick Abel Tosses Quality Start with Seven Strikeouts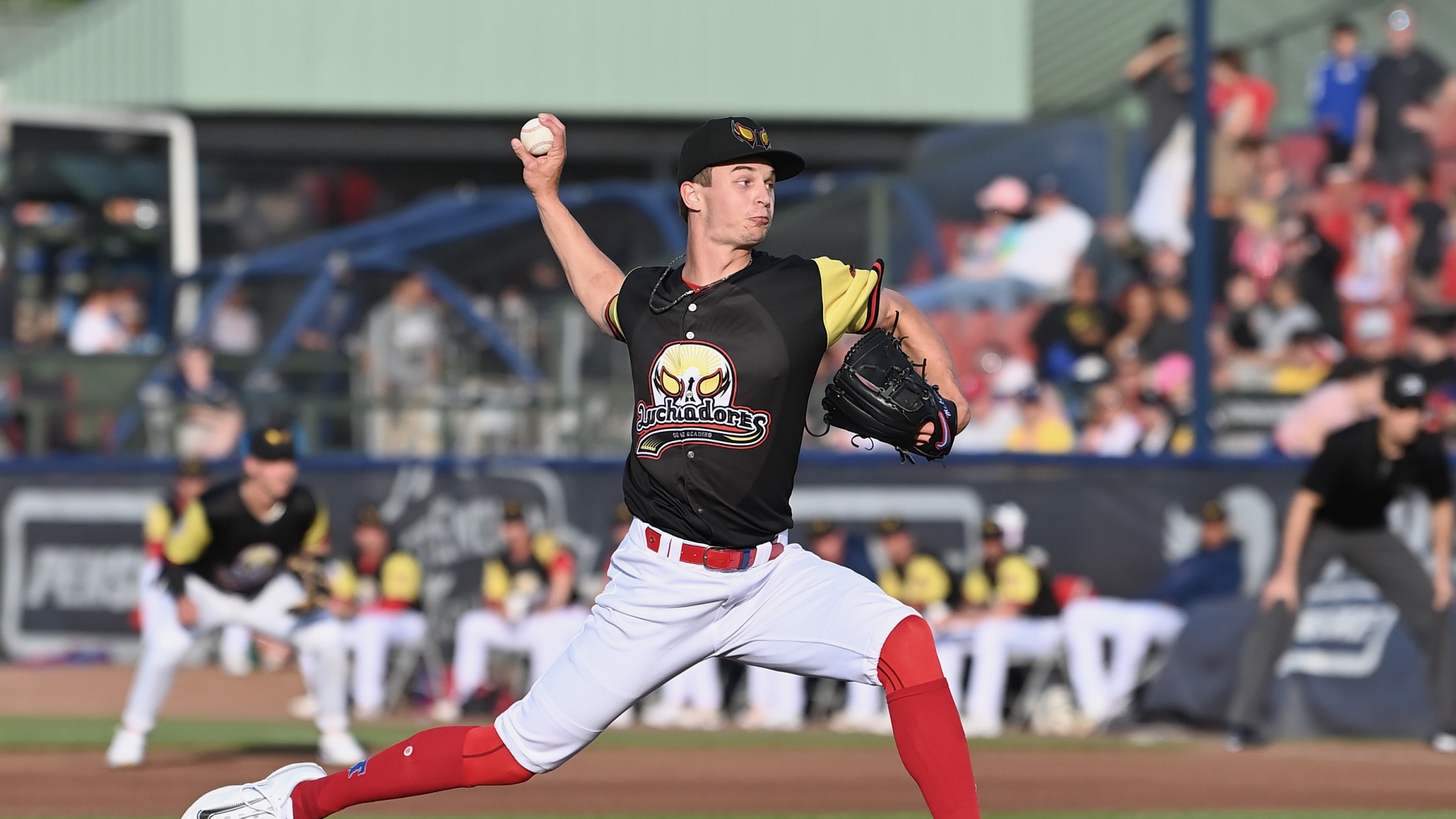 BOX SCORE (Manchester, NH) - It was a quiet night offensively, as the Reading Fightin Phils fell 4-1 to the New Hampshire Fisher Cats on Friday night. New Hampshire holds a 3-1 edge in this week's series. The R-Phils offense went to work with two outs in the top of
(Manchester, NH) - It was a quiet night offensively, as the Reading Fightin Phils fell 4-1 to the New Hampshire Fisher Cats on Friday night. New Hampshire holds a 3-1 edge in this week's series.
The R-Phils offense went to work with two outs in the top of the third inning. Madison Stokes and Carlos De La Cruz worked back-to-back singles off New Hampshire starter Paxton Schultz. With runners on the corners, Johan Rojas drove an 0-2 pitch to right field to score Stokes and put Reading ahead 1-0.
New Hampshire tagged Mick Abel for two runs in the bottom of the fourth. Damiano Palmegiani led off the inning with a home run to tie the game at one. Will Robertson and Riley Tirotta walked and Phil Clarke followed with a single to load the bases. Sebastien Espino then lifted a fly ball to center that scored Robertson and put the Fisher Cats up 2-1.
Reading threatened in the top of the seventh inning, still trailing. New Hampshire pitcher Nick Fraze loaded the bases by allowing singles to Max McDowell and Cody Roberts. De La Cruz then walked, which chased Fraze from the game. Connor Cooke came in and immediately fell behind 3-0 in the count to Rojas. But, Cooke battled back to strike Rojas out swinging and end the inning with the bases loaded.
Abel's day came to an end after the sixth inning. It was another quality start for Abel as he struck out seven hitters over six innings pitched. He worked around four walks and four hits allowed. He was replaced by Adam Leverett in the bottom of the seventh inning.
Leverett got tagged for two runs in the frame. Leo Jimminez singled and Orelvis Martinez followed with a walk. Palmegiani then singled to load the bases up. A wild pitch from Leverett scored Jimminez, then Rainer Nunez flew out to right and drove home Martinez to make it 4-1 New Hampshire.
Paxton Schultz earned the win tonight for New Hampshire to improve to 3-3 on the season. Schultz went five innings and had nine strikeouts. Mick Abel suffered the loss to fall to 2-3 on the year. With the win, New Hampshire 25-23, while Reading falls to 19-29.
Reading is back in action Saturday night at New Hampshire. First pitch is set for 6:03 p.m. and you can watch the action on MiLB TV or the Bally Live App. LHP Josh Hendrickson is scheduled to get the start for Reading, and he will go opposite New Hampshire LHP Jimmy Robbins.
Notes:
With an 0-4 performance tonight, Nick Podkul's 19-game on-base streak came to an end. Podkul's on-base streak dated back to Apr. 20, when he made his season debut after coming off the development list
With a hit and walk tonight, Carlos De La Cruz improved his on-base streak to 19 games. That matches Podkul's now-ended streak for a season-high. The last Fightin Phil to have an on-base streak over 20 games was Logan O'Hoppe last season
Reading's one-run scored tonight matched a season-low. The R-Phils also scored one run on Apr. 15 against Hartford and Apr. 23 at Portland
Paxton Schultz's nine strikeouts tonight matched a season-high by a Reading opposing pitcher. The last pitcher to hit that mark was Nick Zwack of Richmond on Apr. 8
The Fightin Phils return home Tuesday, June 6, at 7 p.m. against the Binghamton Rumble Ponies to open a 12-game homestand that spans from June 6-18. Tickets to all games are still available, but going fast. Get yours at rphils.com/tickets, by calling 610-370-BALL or in-person at the Customers Banks Ticket Office.
The 2023 R-Phils season is presented by Pepsi. Follow the Fightin Phils on Twitter @ReadingFightins, like us on Facebook or follow us on Instagram @Fightins.