Parkinson Powers Pitching to Series Split
Madison Stokes Homers for Second Straight Game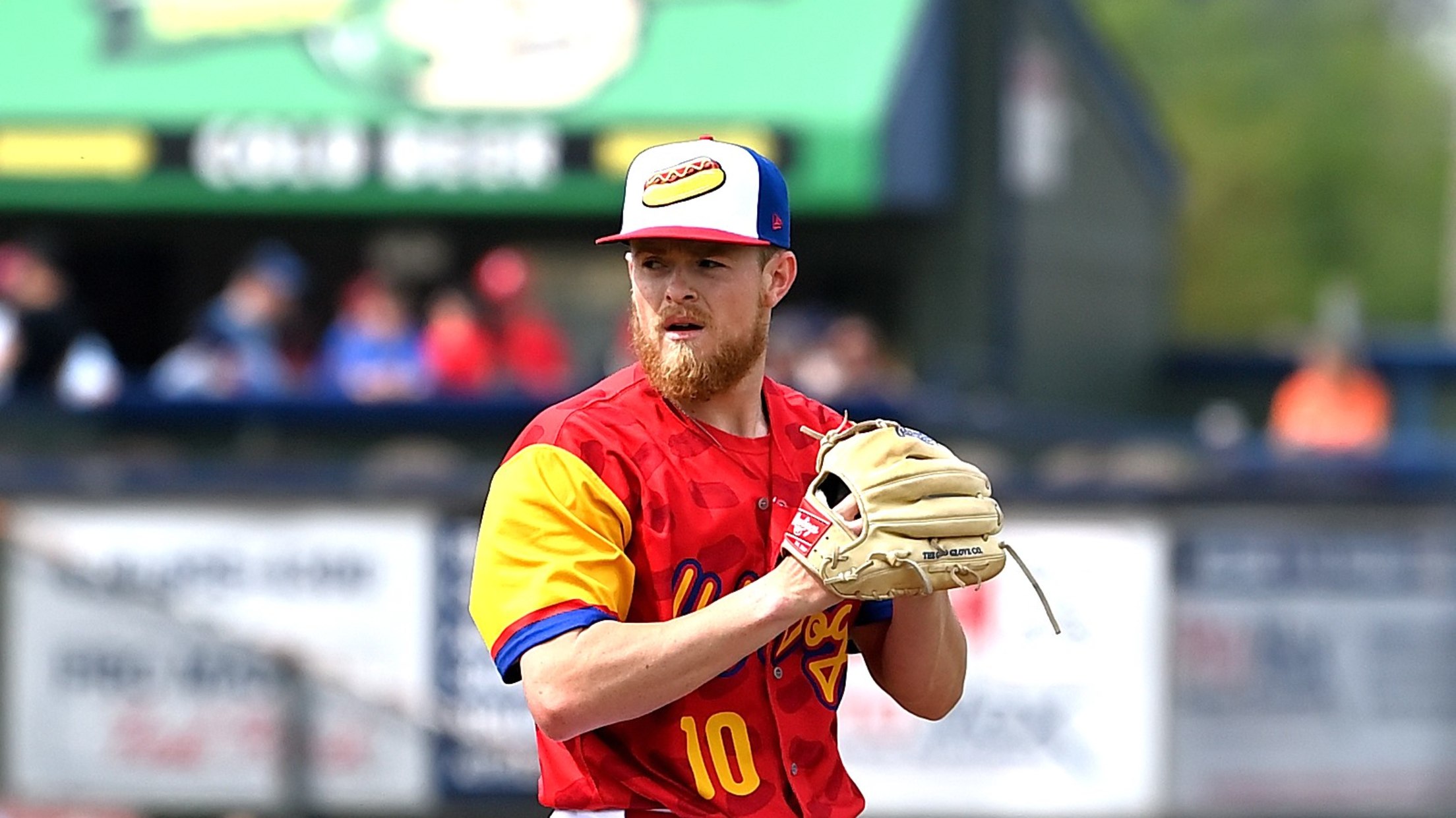 BOX SCORE (Somerset, NJ) - Five-strong innings from David Parkinson set the tone as the Reading Fightin Phils captured a 3-1 triumph over the Somerset Patriots on Sunday afternoon. The win earned a split in the series for both teams and it was the R-Phils second-straight win. Parkinson got the
(Somerset, NJ) - Five-strong innings from David Parkinson set the tone as the Reading Fightin Phils captured a 3-1 triumph over the Somerset Patriots on Sunday afternoon. The win earned a split in the series for both teams and it was the R-Phils second-straight win.
Parkinson got the start for Reading and set the tone with five innings. He allowed seven hits and one earned run while walking two and garnering seven punch outs of Patriots' hitters. Parkinson also earned his first win of the season to improve to 1-2 on the season.
Reading's bullpen was lockdown once again behind Parkinson. Cristian Hernandez, Tyler McKay, and Brett Schulze combined to throw four innings, allowing no runs on just two hits, while mostly pitching to contact with three strikeouts, one a piece. Schulze threw a 1-2-3 ninth inning to earn his fourth save of the season for the Fightin Phils.
On the Somerset side, Blane Abeyta was solid as well. He started for Somerset and tossed 5.2 innings, allowing two earned runs on just two hits, while also picking up seven strikeouts and one walk. Abeya did suffer the loss though to fall to 2-2 on the season for the Patriots.
Offensively, it was timely production that propelled Reading. The Fightin Phils scored first in the top of the fifth with two runs. Madison Stokes walked and Cam Cannon doubled to put runners on second and third. With Cody Roberts up, a balk scored Stokes. Then, Roberts hit a sacrifice fly to center that scored Cannon to put Reading up 2-0.
Somerset responded with a run in the bottom of the inning. Back-to-back singles from Somerset put runners on base, then Austin Wells singled to center to score Trey Sweeney and make it 2-1 Reading.
In the top of the seventh, the Fighitn Phils tacked on an insurance run. Madison Stokes blasted a home run to make it 3-1. It was also the second-straight game Stokes had hit a home run after not hitting any prior to Saturday.
Aside from the Stokes home run and Cannon double, Reading's offense was quiet for much of the day. The Fightin Phils were outhit 9-4, but it didn't matter with key hits during the game.
With the win, Reading improves to 15-23 on the season, while Somerset falls to 23-15 on the season. The teams split this week's series, each taking three games a piece. Reading will return to Somerset from July 4-9.
The Fightin Phils return home on Tuesday at 11 a.m. to begin a six-game series against the Harrisburg Senators (Nationals). Tuesday is a school kid game, Thursday and Friday feature postgame fireworks and Sunday showcases an appearance from the Philly Phanatic. Tickets to all games remain available and can be purchased at rphils.com/tickets, by calling 610-370-BALL or in person at the Customers Bank Ticket Office.
For fans who can't make it out to the ballpark on Tuesday, pregame coverage is underway at 10:45 a.m. on rphils.com/radio.
The 2023 R-Phils season is presented by Pepsi. Follow the Fightin Phils on Twitter @ReadingFightins, like us on Facebook or follow us on Instagram @Fightins.