Phillies José Alvarado Scheduled to Make Rehab Appearance with Reading
Alvarado Owns 0.63 ERA over 14 Games with Phillies this Year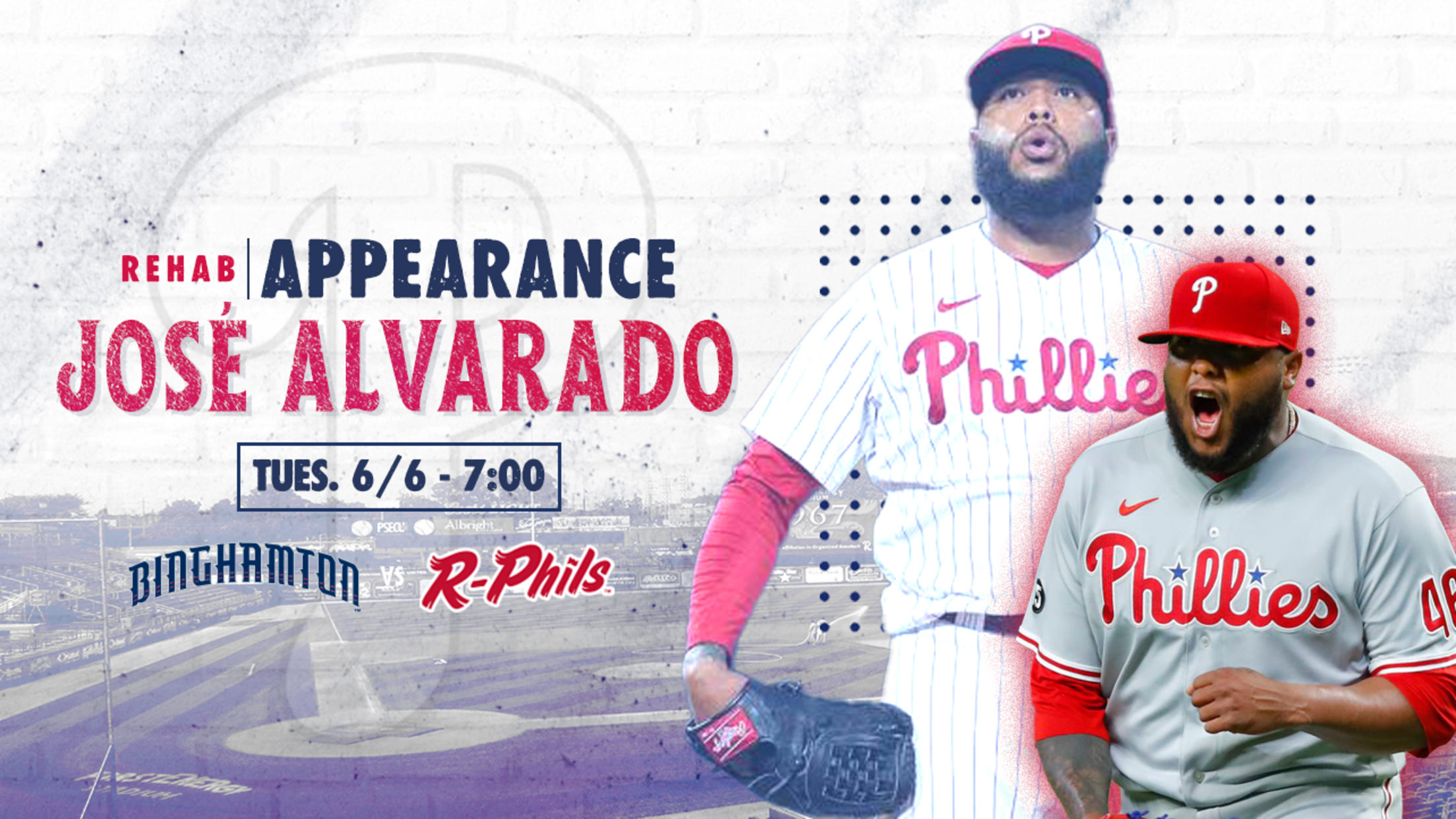 (Reading, PA) - Philadelphia Phillies relief pitcher José Alvarado is expected to make a rehab appearance with the Reading Fightin Phils on Tuesday this week. Reading welcomes the Binghamton Rumble Ponies (New York Mets) to open a six-game series this week. Prior to getting injured, Alvarado started the season red-hot
(Reading, PA) - Philadelphia Phillies relief pitcher José Alvarado is expected to make a rehab appearance with the Reading Fightin Phils on Tuesday this week. Reading welcomes the Binghamton Rumble Ponies (New York Mets) to open a six-game series this week.
Prior to getting injured, Alvarado started the season red-hot for the Phillies. Through 14 appearances, he has a 0.63 ERA and five saves. Alvarado has recorded 24 strikeouts in 14.1 innings pitched. He was placed on 15-day injured list on May 10 (retroactive to May 8) with left elbow inflammation.
After a little less than a month off, Alvarado made a rehab appearance at triple-A Lehigh Valley on Sunday, pitching a scoreless inning with a strikeout. Alvarado will continue to ramp up with the Reading Fightin Phils before re-joining the Phillies.
Alvarado is currently in his third season with the Phillies. He was traded from the Tampa Bay Rays to the Phillies in December of 2020 and has flourished as a late-inning reliever for the Phillies. In 2022, Alvarado appeared in 59 games and went 4-2 with a 3.18 ERA. He had 81 strikeouts over 51 innings pitched. He consistently flashes a fastball in the upper-90s and touches 100 miles per hour as well. Alvarado also played a big role in the Phillies run to the 2022 World Series, appearing in 12 games last October.
The Venezuela native began his career with the Tampa Bay Rays when he signed as an International Free Agent in 2012. Alvarado made his Major League debut with Tampa Bay in 2017 and spent four seasons with the Rays, appearing 149 games from 2017-20.
Head out to FirstEnergy Stadium on Tuesday to catch José Alvarado and the Fightin Phils as they welcome the Binghamton Rumble Ponies (Mets) to town. First pitch is scheduled for 7:00 p.m. and tickets can be purchased at rphils.com/tickets, by calling 610-370-BALL or in-person at the Customers Bank Ticket Office.
The 2023 R-Phils season is presented by Pepsi. Follow the Fightin Phils on Twitter @ReadingFightins, like us on Facebook or follow us on Instagram @Fightins.