Reading Falls in Back and Forth Slugfest
Seven Run Seventh from Somerset Sinks R-Phils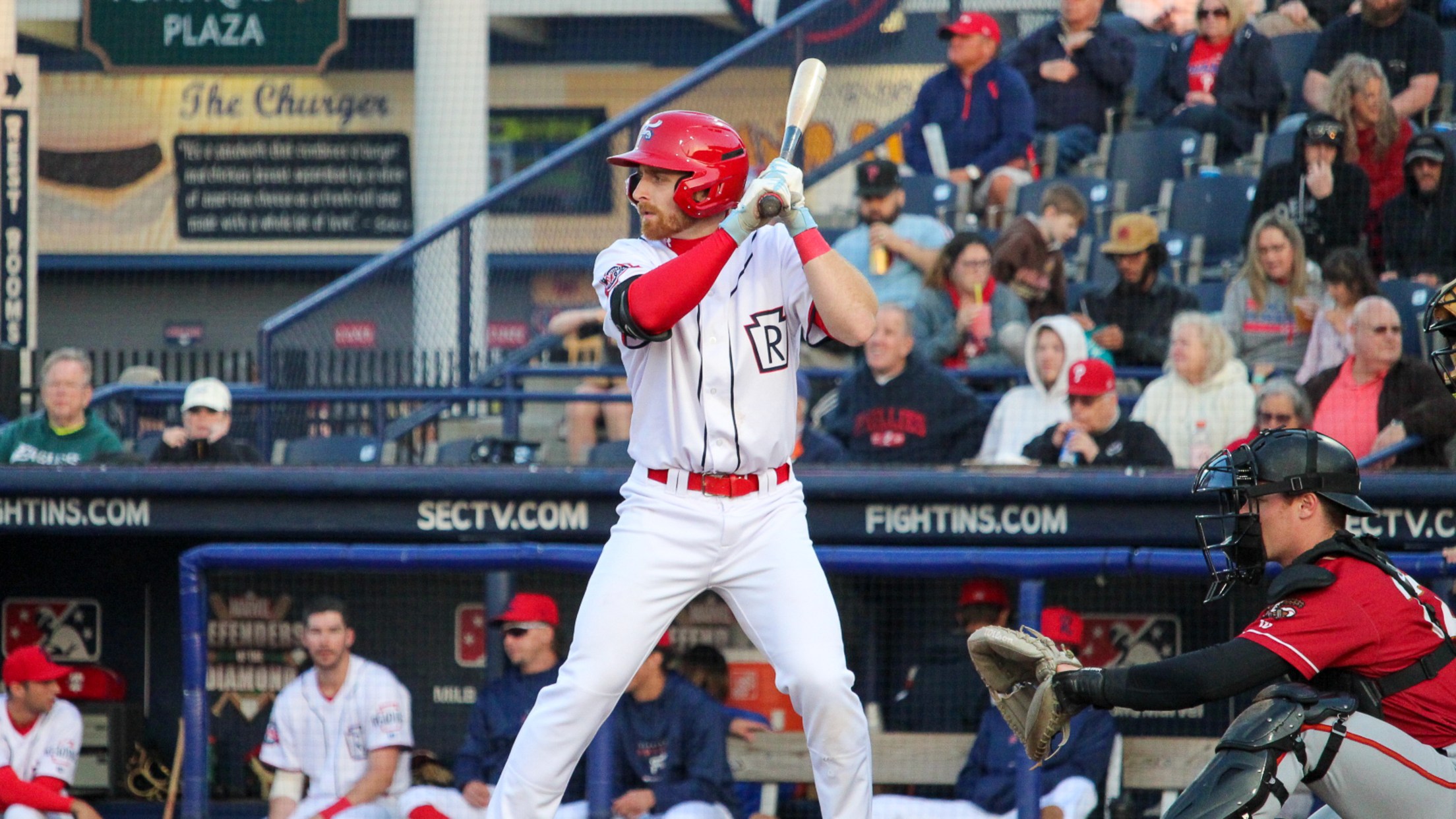 BOX SCORE (Somerset, NJ) - In a back-and-forth slugfest, a seven-run sevneth inning from the Somerset Patriots propelled them to a 14-10 win over the Reading Fightin Phils on Tuesday night. Somerset wasted no time getting on the board. With Jasson Dominguez on base, Austin Wells singled him home on
(Somerset, NJ) - In a back-and-forth slugfest, a seven-run sevneth inning from the Somerset Patriots propelled them to a 14-10 win over the Reading Fightin Phils on Tuesday night.
Somerset wasted no time getting on the board. With Jasson Dominguez on base, Austin Wells singled him home on a line drive to left. Then, Everson Pereira roped a double to center field that scored Wells and put Somerset up 2-0.
In the top of the second, Reading struck back. Matthew Kroon doubled and then Oliver Dunn walked. McCarthy Tatum followed by staying red hot with single to center that scored Kroon and cut the deficit for Reading to 2-1. The Fightin Phils tied the game up in the top of the fourth when Cody Roberts lifted a fly ball that scored Dunn, who reached on a single, as apart of a multi-hit night against his former team.
In the bottom of the inning, Trey Sweeney doubled and Jason Dominguez followed by reaching on an error from Kroon at third. Wells belted a three-run home run over the right-field fence to put the Patriots back ahead 5-2.
Reading began to cut into the three-run deficit in the top of the sixth. Dunn started off with his fourth home run of the season to make it 5-3, which was also his third home run in a week. Two batters later Roberts crushed a homer to make it a one-run deficit. Then, Carlos De La Cruz put the exclamation point on a three-home-run inning with a two-run blast to put Reading up 6-5.
The seesaw continued in the bottom of the inning. Brandon Lockridge triped, and with him on third, Sweeney hit a sacrifice fly to left field to score Sweeney and tie the game. Dominguez followed with a home run to put the Patriots now up 7-6.
But, as the trend was all night, Reading responded in the top of the seventh. Matthew Kroon doubled and stole third. With Kroon on third, Dunn hit a double to left that scored Kroon and once agian tied the game up. Dunn stole third and scored when Tatum grounded into a fielders choice. The throw home was late and Reading was once again up, this time 8-7.
In the bottom of the seventh, Tyler Hardman lifted his sixth home run of the season to tie the game up at eight. Zach Linginfelter loaded up the bases with a trio of walks, then Sweeney singled home two runs with a knock to right, which put Somerset back up 10-8.
Dominguez followed with a single to score another run and put Somerset up 11-8, still in the seventh. Another run scored on a wild pitch from Andrew Baker. Dominguez then scored on a single from Pereira to make it 13-8 Somerset. Another run scored when Caleb Durbin worked a bases-loaded walk to make it 14-8. Somerset batted around as seven runs came to the plate in the inning. Reading tacked on two in the top of the eighth to make it 14-10.
In his rehab start, Luis Severino 3.1 innings, giving up two earned runs on six hits, while striking out three and walking one. David Parkinson started for Reading and lasted four innings, allowing 7 hits and five runs, but only two were earned. Neither pitcher factored in the decision tonight.
Tanner Myatt earned the win for the Patriots to improve to 1-0, while Linginfelter suffers the loss to fall to 0-1 on the year. With the win, Somerset improves to 21-12 on the season, while Reading drops to 12-21 with the loss.
Reading and Somerset return to the field tomorrow at 11:05 a.m. for game two of this week's six-game series. RHP Griff McGarry is scheduled to get the start for Reading, and he will go opposite Somerset RHP Blas Castano. The game can be watched on MiLB TV or the Bally Live App.
The Fightin Phils return home on Tuesday, May 23, at 11 a.m. to begin a six-game series against the Harrisburg Senators (Nationals). Tuesday is a school kid game, Thursday and Friday feature postgame fireworks and Sunday showcases an appearance from the Philly Phanatic. Tickets to all games remain available and can be purchased at rphils.com/tickets, by calling 610-370-BALL or in person at the Customers Bank Ticket Office.
The 2023 R-Phils season is presented by Pepsi. Follow the Fightin Phils on Twitter @ReadingFightins, like us on Facebook or follow us on Instagram @Fightins.