Trash Pandas Announce 2023 Weekly Promotions
Each game at Toyota Field features exciting elements for fans to enjoy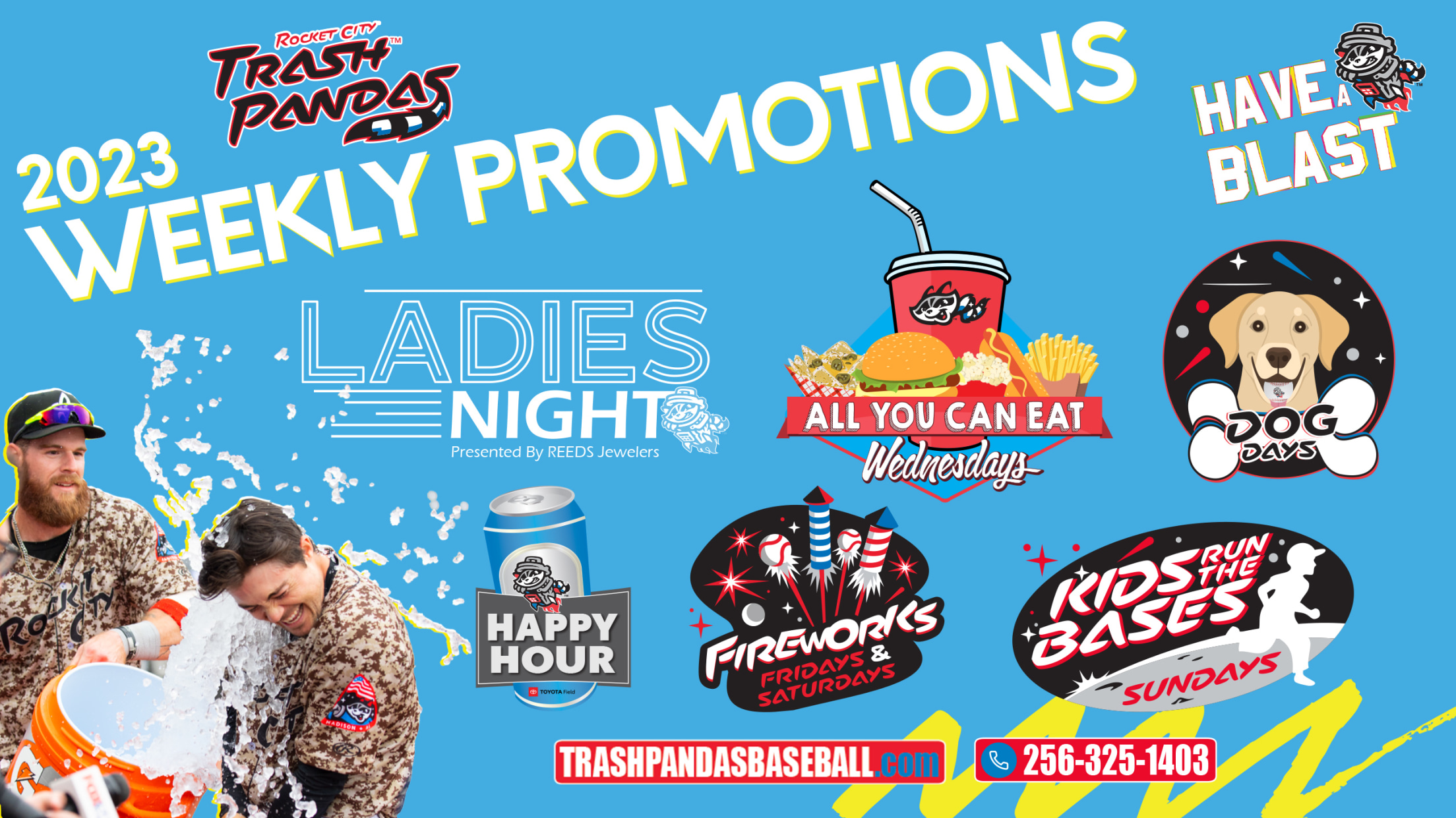 With the calendar now turned to 2023, baseball is almost here! The Rocket City Trash Pandas begin the third season in franchise history in just over three months on Thursday, April 6 against the Chattanooga Lookouts, with first pitch at Toyota Field scheduled for 6:35 p.m. The 2023 season will
With the calendar now turned to 2023, baseball is almost here! The Rocket City Trash Pandas begin the third season in franchise history in just over three months on Thursday, April 6 against the Chattanooga Lookouts, with first pitch at Toyota Field scheduled for 6:35 p.m.
The 2023 season will feature many fun promotions during Trash Pandas home games at Toyota Field. Now, the Trash Pandas are pleased to announce the weekly promotional schedule for the upcoming season, with each day of the week bringing different fun to the ballpark.
TUESDAY: The first day of most homestands will begin with Ladies Night, presented by Reeds Jewelers. All fans in attendance will have the opportunity to win great prizes and enjoy $5 wine specials throughout the night.
WEDNESDAY: New to the promotional calendar in 2023 will be All You Can Eat Wednesdays (excluding the three Education Day games on April 19, May 3, and September 6). All tickets are specially priced with a $9 increase to include a selection of unlimited food such as hot dogs, burgers, fries, nachos, popcorn and fountain drinks at Gravity Grille and Dumpster Dive concession stands. The Bullpen Bar will also offer unlimited hot dogs, nachos, and fountain drinks. Advance ticket prices for All You Can Eat Wednesdays start at $17 for seating on the Budweiser Berm, with box seats starting at $25. Full ticket options will be available online.
Returning on Wednesday (also excluding Education Day games) will be Dog Days, where fans can bring their furry friends to Toyota Field and sit with them on the Budweiser Berm. A $1 donation per dog will directly benefit a local animal-based non-profit. All dogs must remain in the designated Dog Zone in the Budweiser Berm and in the Toyota Outfield Experience for the duration of the game. Fans can take their dogs with them to take advantage of All You Can Eat options at The Bullpen Bar. Groups with dogs can utilize those options at concession stands, but dogs must remain in the designated Dog Zone.
THURSDAY: Each Thursday night game at Toyota Field will feature a pregame Happy Hour at the Inline Electric Rock Porch, with $3 domestic drafts available from 5-7 p.m. Thursday is also Burgers and Buds Thursday, where fans can get a burger and a Bud or Bud Light for just $12, available at Dumpster Dive and Gravity Grille concession stands.
FRIDAY and SATURDAY: Following every Friday and Saturday night game at Toyota Field, a dazzling fireworks spectacular will light up the Rocket City sky. Friday night will bring the debut of the Trash Pandas' new Halo Blue Uniforms, an homage to both Rocket City's parent club, the Los Angeles Angels, and the local aerospace community.
SUNDAY: After all Sunday home games, kids are invited to take the field and run the bases. The Trash Pandas will wear their signature camouflage uniforms for Military Sundays, with veterans scheduled to throw the first pitch before each game and a special recognition for all active and retired military throughout the game.
NIGHTLY BULLPEN BAR SPECIALS: Each night at Toyota Field, The Bullpen Bar in left field will have drink specials from the time the gates open until first pitch, with $5 wines and $5 signature drinks available nightly.
The full 2023 Trash Pandas promotional schedule will be released in the coming weeks, with fan favorites such as bobbleheads, jersey auctions, and more returning this season!