David Calabrese Finds His Way From Canada To Rocket City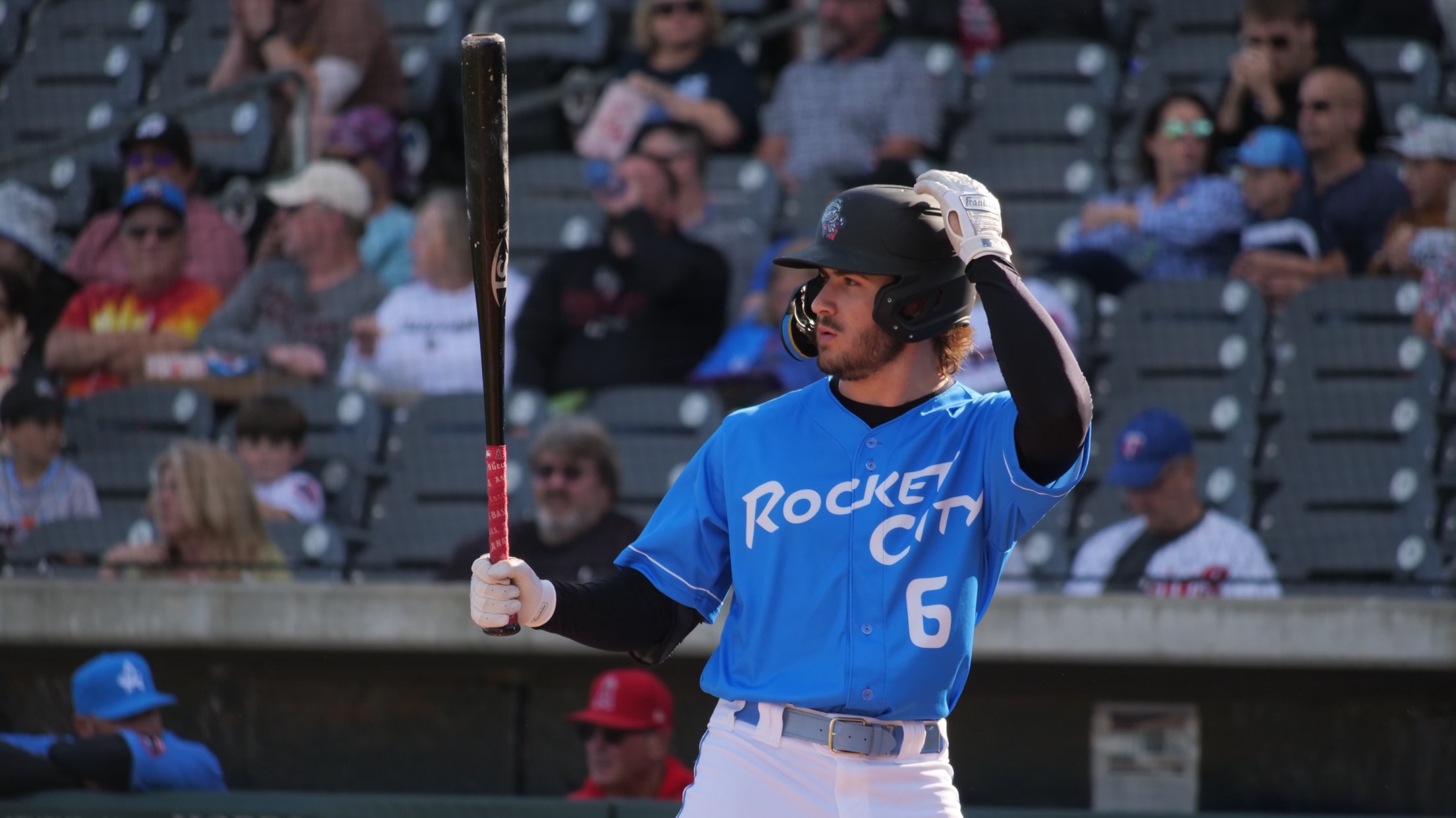 (Lucas Dolengowski/Rocket City Trash Pandas.)
When he was 14 years old, David Calabrese made a life-changing decision. Born and raised in Canada, Calabrese had two loves as a kid, hockey and baseball. A fan of both the Toronto Maple Leafs and Toronto Blue Jays, Calabrese grew up watching the likes of the great Sidney Crosby
When he was 14 years old, David Calabrese made a life-changing decision. Born and raised in Canada, Calabrese had two loves as a kid, hockey and baseball. A fan of both the Toronto Maple Leafs and Toronto Blue Jays, Calabrese grew up watching the likes of the great Sidney Crosby and Roy Halladay, excelling on the ice and on the diamond.
But when he was a teenager, Calabrese chose to focus on baseball full-time. It was not an easy decision, but it was one that needed to be made.
"Growing up in Canada, it's hockey first everywhere you go. But from a young age I grew a great liking towards baseball," Calabrese said. "I played both hockey and baseball until I was 14. Then at that time, it got a little hectic with hockey, baseball, and school. So, I chose to stick with baseball and commit to it year round. But playing both sports year-round, I think that really helped get me to where I am today."
With the decision behind him, Calabrese concentrated on baseball. While in high school in Canada, he played travel ball for the Ontario Blue Jays. His team traveled throughout the United States and Canada for competition, putting him on the map of professional scouts, which was the first time he thought he may have a future in the game.
"It was never really a realization that I could play professionally until late in high school. For my first couple years in high school, I was under sized and under looked at," Calabrese said. "It took a hard work and a little bit of growing to realize that college and, toward the later part of high school, professional baseball would be an option. But I really wasn't worried about it. I just loved playing the game and wherever it took me, it took me."
The original plan was for Calabrese to attend college in the U.S. He committed to Arkansas and was on track to head south in 2020. But the Los Angeles Angels had other plans, selecting Calabrese with the 83rd overall pick in the third round of the draft that summer. Watching the draft at home with close family, Calabrese got the call that would change his life.
"To this day, it was probably the coolest day of my life. There was a whole lot of uncertainty around that day because we didn't know in which direction the draft would go," he recalled. "But luckily it all worked out. I was happy the Angels chose me and getting that call was something I'll never forget. To be there surrounded by my family made it a special day."
Calabrese chose to sign with the Angels and forgo his commitment to Arkansas, beginning his professional career. His introduction was a slow one. Due to pandemic restrictions, Calabrese was limited to training at home for the first few months of his career before playing instructional ball in the fall of 2020.
His climb through the Angels' system began in 2021 with the Arizona League Angels. In 2022, he was assigned to Low-A Inland Empire in San Bernardino, California, his first experience with a full-season affiliate. With the 66ers, he flourished, hitting .250 with seven home runs, 64 RBI, 68 runs scored, and 26 stolen bases in 112 games to help Inland Empire reach the playoffs.
"That is exactly what you dream of, waking up and being able to play a game every day. That was a very cool aspect of playing a full season last year, getting to go to the ballpark every single day. That's what we all love to do," he said. "Even getting that taste of California too. That's what all of us are working towards. In Inland Empire, we were close to Anaheim so we were able to be close to the Angels and see what the big-league guys were doing and how we could learn from them was cool."
In 2023, Calabrese went to spring training looking to move up in the organization. He performed well, earning a promotion all the way to the Trash Pandas, skipping the High-A level entirely. Now, he is the second youngest player on the team at 20 years old, playing a key role in the early part of the Trash Pandas' season. Through 31 games, Calabrese has produced three home runs, 18 RBI, six doubles, and 10 runs scored. The jump to Double-A has been a big one, but it's a challenge Calabrese is embracing.
"Everyone at this level is better. The players are better, they're more specific with their routines. Being able to learn from a lot of the veteran guys that have been here before and what they do on a daily basis, it helps you make that adjustment," he said. "I knew it wasn't going to be easy to make this jump. But I'm focused on what I can control. That's my attitude and how I got about my business. I'm starting to get acclimated to it."
An early highlight for the outfielder came on April 28 at Chattanooga, when he hit a pair of home runs, added a double, and drove in four in a 9-6 Trash Pandas win, the first multi-home run game of his professional career. With the first quarter of the season behind him, Calabrese is looking forward to the challenge of the rest of the season and knows what he needs to do to help the team succeed.
"I'm here to play winning baseball. It's as simple as that. At the end of the day, I'm not worried about the numbers. I've never worried about the numbers," he said. "I have the desire to win. Being able to come here knowing we have a good team and being able to a contributing factor I important to be. I'm here to work hard and be a good teammate, be the guy that everyone wants to be beside."