Kyren Paris Takes Big Step Forward In 2023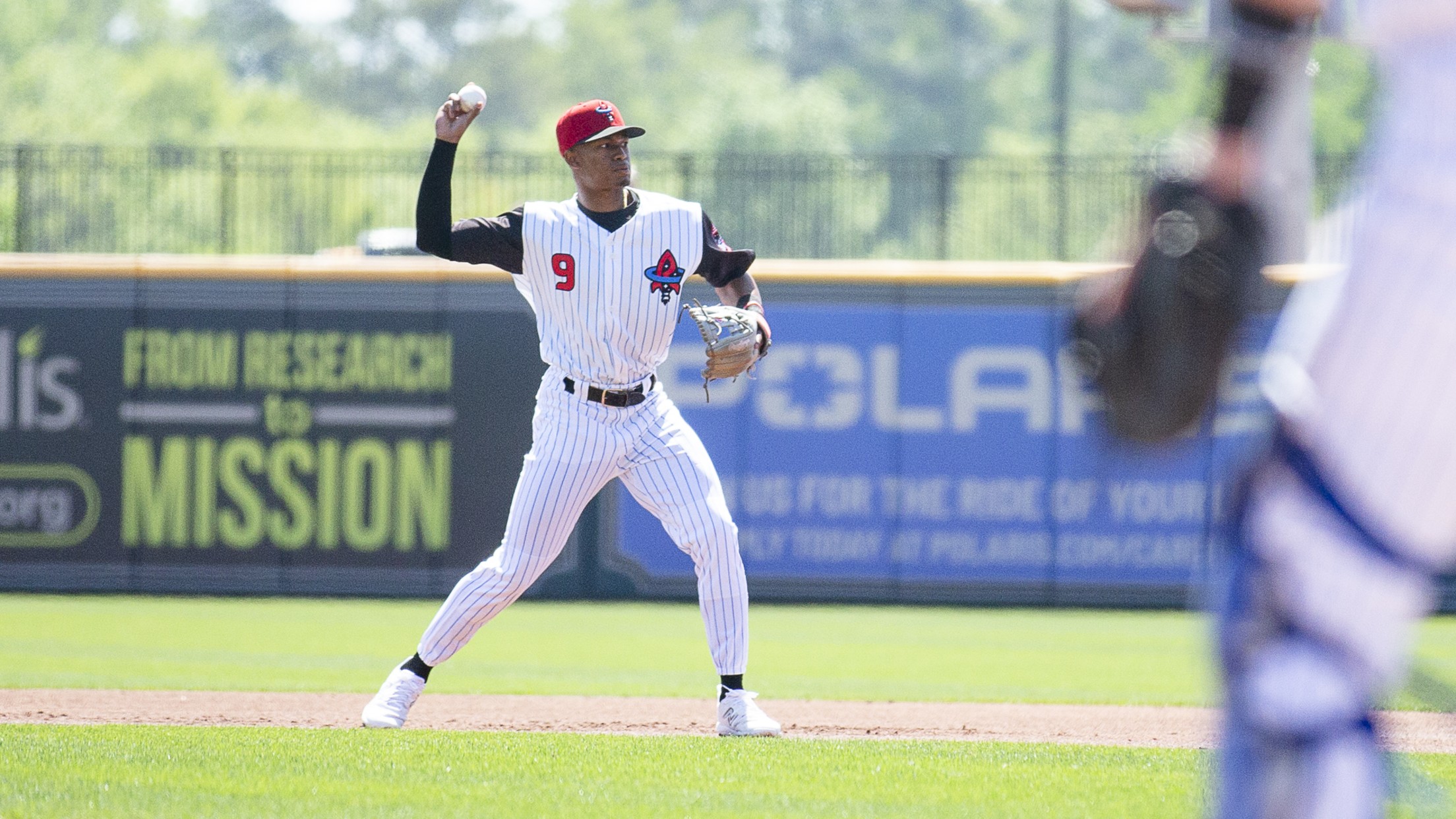 Kyren Paris has been one of Rocket City's most consistent players in 2023. (Javier Sanchez/Rocket City Trash Pandas)
Kyren Paris grew up wanting to be an athlete. As a child, he grew up going to Oakland A's games at the Oakland Coliseum and as a child even met baseball legend Rickey Henderson. Now playing professional baseball himself, Paris says the moment he met the Hall of Famer still
Kyren Paris grew up wanting to be an athlete. As a child, he grew up going to Oakland A's games at the Oakland Coliseum and as a child even met baseball legend Rickey Henderson. Now playing professional baseball himself, Paris says the moment he met the Hall of Famer still sticks with him.
"That was super cool to meet him when I was young," Paris recalled. "He came to one of our camps in Oakland. Being able to learn from him about being fast and being able to steal bases is something that really inspired me."
Paris has kept those lessons with him throughout his life, which led him to the current role at the top of the Rocket City Trash Pandas lineup. Drafted in the second round of the 2019 draft, Paris has used his speed as a big weapon to move up the Angels' system, and it has paid dividends in the Rocket City.
Through the first month of the season, Paris has played in 23 of the Trash Pandas' 24 games, batting in the top third of the lineup each time while leading the team with six home runs and five stolen bases. He's also second on the team with 17 walks and six doubles.
ICYMI: @kyren_paris ripped his league-leading 6th home run this afternoon! 🚀 pic.twitter.com/qnQzbLq1w2

— Rocket City Trash Pandas (@trashpandas) May 4, 2023
"I'm excited to be a part of this team and play a leadership role and hopefully keep leading us to some wins," he said. "My goal Is just to show up with a plan every day and execute that plan individually and for the team. As a collective group when we all come together, it's special."
After graduating from Freedom High School in Oakley, California in 2019, Paris had to wait and see what happened at the upcoming MLB Draft. The Angels selected him 55th overall, and that set him on the path to Rocket City.
"Everything happened quickly. I was at home with all of my family, and we were just watching and waiting until the call came," Paris said. "After the draft I went out to Anaheim and met some of the players and front office people. Then the next day we were practicing in Arizona and then we started playing games. The whole experience went by fast."
While everything happened quickly for Paris in 2019, everything slowed down in 2020. In what was supposed to be his first full professional season, Paris, along with everyone in baseball, was halted due to the pandemic. When the Major League season began, Paris joined a group of prospects at the Angels' Alternate Training Site in Long Beach. Although there were no official games, it was still a valuable season.
"It was an unbelievable experience being around all the veteran guys and being able to learn from all these guys playing at the highest level. Despite me being so young, I learned a lot from that experience," he said. "It kept me prepared, especially when we were able to play in the instructional league after the season. I felt very prepared because I never stopped working."
A fractured fibula limited Paris to just 47 games in 2021. Fully healthy in 2022, Paris was a force for High-A Tri-City. He was named Northwest League Player of the Week on August 14 and had a season-long 23-game on-base streak throughout the month of August. In 89 games for the Dust Devils, he stole 28 bases while hitting eight home runs, driving in 32, and scoring 58 runs. That led to a promotion to the playoff-bound Trash Pandas on August 30.
"I was so excited after putting in all the hard work in a tough league to hit in," he said of joining Rocket City. "I just wanted to come in and make an impact right away. I'm glad I was able to do that and experience the playoff push we had. It was very special."
FIRST DOUBLE-A GAME.

FIRST DOUBLE-A DINGER.@kyren_paris HAS ARRIVED. pic.twitter.com/dX1gUfoeoW

— Rocket City Trash Pandas (@trashpandas) September 1, 2022
Paris did make the impact he wanted to, batting .359 with three home runs, eight RBI, 10 runs scored and five stolen bases in 14 games to end the regular season. He appeared in two playoff games for the Trash Pandas, the first postseason experience of his professional career. The Trash Pandas didn't get the ending they were hoping for with a first-round exit. But still, the experience was invaluable for Paris and his Trash Pandas teammates.
"Having that experience, I definitely feel prepared coming into the new season," he said. "We have a great ballclub and going forward with the Angels to be able to have that experience to keep pushing forward and eventually bring home the championship."
Paris and the Trash Pandas continue their quest for their second straight playoff berth in May, with 18 home games on the calendar for the second month of the season.