Healthy Trey Cabbage Back Hitting In Triple-A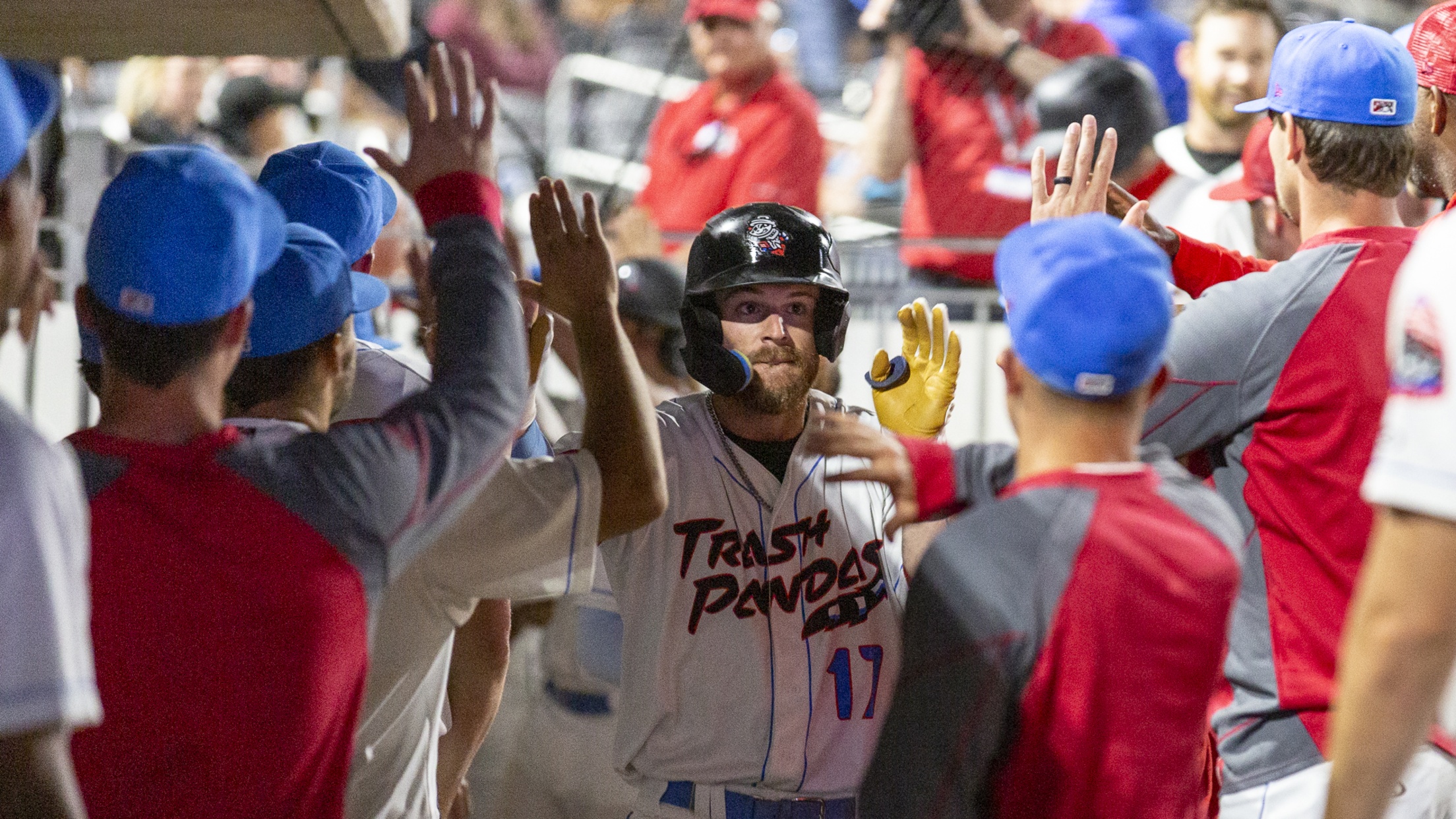 Trey Cabbage had a strong 2022 with Rocket City before a season-ending injury in May. (Javier Sanchez/Rocket City Trash Pandas)
Around one year ago today, Trey Cabbage's season came to an end. The star slugger for the Rocket City Trash Pandas sustained a broken arm after a full speed collision with a runner on the field in Pensacola. It would be his final appearance for the Trash Pandas. That was
Around one year ago today, Trey Cabbage's season came to an end. The star slugger for the Rocket City Trash Pandas sustained a broken arm after a full speed collision with a runner on the field in Pensacola. It would be his final appearance for the Trash Pandas.
That was on May 13, 2022. Over the five previous weeks, Cabbage was on the run of his career, hitting 10 home runs, driving in 32, stealing 10 bases, and scoring 21 runs in 30 games to lead the Southern League and home runs and RBI through the season's first month.
He amazed fans with his towering home runs and line drives to all parts of the ballpark. In April 2022, he became the first left-handed hitter in the Statcast era to hit a ball over 120 miles per hour with a single at Birmingham. On May 6, Cabbage delivered his most memorable swing, a walk-off grand slam to send Toyota Field into a frenzy with a 6-2 win over Chattanooga.
BOTTOM OF THE 9TH
TWO OUTS, TIE GAME
BASES LOADED
RAIN POURING DOWN

TREY CABBAGE WALK-OFF GRAND SLAM DEEP INTO THE NORTH ALABAMA NIGHT pic.twitter.com/wQT1qAjBFI

— Rocket City Trash Pandas (@trashpandas) May 7, 2022
Exactly one week later, the injury in Pensacola brought his season to a screeching halt.
What a difference a year can make. With the grueling rehab stretch behind him, Cabbage is back at full strength in 2023, hitting moonshots like he never left.
He began the year at Major League Spring Training before making his Triple-A debut for the Salt Lake Bees. Currently with the Bees, Cabbage is hitting .305 with 12 home runs, 26 RBI, 29 runs scored, and nine stolen bases in 38 games. His 487-foot blast against Reno on April 18 is currently the longest home run in all of professional baseball in the 2023 season. Cabbage's most memorable performance came on May 16, when he crushed a pair of home runs, including a game-winning solo shot to complete back-to-back-to-back home runs in the bottom of the eighth inning in a 9-8 Bees win over Las Vegas.
Before the start of the regular season, we caught up with Cabbage to talk about his exciting time with the Trash Pandas, the recovery process, and what it was like to play with some of the best talent in the world at spring training.
Q: What was your initial reaction to the injury you sustained last May?
A: I remember the whole thing very vividly. I can still hear the sound of getting hit and going down. A bonus is I went into shock immediately so I wasn't in very much pain for a while. But pain soon came after just mentally and physically. Not being able to play anymore and compete with my guys. That really took the wind out. It was a tough rehab stint but I'm back and excited for the season.
Q: Even though you were injured, you still came back to town for the playoff clinching win last June. What did it mean to be there even though you couldn't play?
A: It was amazing. Being in rehab felt like worlds away from my guys, my teammates. Getting to come back and celebrate the clinch of the first half made it feel closer to home, that I was still connected. It was awesome by the Angels organization to allow us to go there and celebrate what we had a part in.
Q: What exactly was your recovery like? What physically went into getting your arm repaired?
A: I'm bionic now, at least that's what I like to say. I've got a plate and six screws in my arm. I had surgery in Los Angeles a week after I got hurt. I couldn't bear any weight on the arm for a while. I wasn't allowed to use my hand for a couple months. Three months into it was starting to hit with both hands and start hitting off the tee. But it was a long process. I finally got healthy and I was cleared to start playing in October. It was five months of starting to come back. I spent most of the time out in Tempe rehabbing I would go out back and forth to Los Angeles for checkups.
Q: You were on the run of your career with the Trash Pandas before the injury. How tough was the mental side of your rehab with after your season ended in an instant?
A: When it first happened, I went into shock and didn't have much physical pain. But the mental and emotional pain of not getting to play anymore with being on the run that I was on, it took the breath out of me. Early in the rehab I was on a sweat restriction because of the surgery. It was tough to stay positive early on during the rehab because it felt so far away from being normal.
Q: What are some personal highlights from your stint with the Trash Pandas?
A: Obviously the walk-off grand slam. That's every kid's dream. It's what you think about doing in the backyard all the time. But honestly it was just playing with the guys every day. We went out and grinded when we had it and when we didn't have it. We went out there and we played our hind ends off every day. There was an energy in that clubhouse like we were together, we fought for each other. Going out there every day with the guys. It was an awesome place to be.
Q: What was it like when you were told you were going to Major League Spring Training in 2023 after the long recovery in 2022?
A: It was excitement, relief, obviously nerves. Playing with the two best players on the planet in Shohei Ohtani and Mike Trout and getting to see them every day, it's exciting to be around these guys and watch how they work. Getting a shot to play in big league games Is really cool. I feel closer to the big leagues than I've ever been, so I'm fired up.